For some people, jewellery means going all out with bling, diamonds adorning their neck and wrists. Others opt for a simple and elegant look, impressive in an understated opulence. Regardless of which way you lean there's something for every mood out there today.
Often, the distinctive design has less to do with aesthetics and more to do with the values the brand or collection promises. We feature four major signature collections from leading jewellery brands, each with a signature style that embodies the brand's ethos and the impact they want to have on their clientele.
Thematically ambitious, ranging from the mythical serpent, to a woman's liberation and divine femininity, embedded with exquisite stones in expert craftsmanship, these collections are an intricate display of luxury, artistry, and style endurance.
Serpenti collection from Bulgari
As the ultimate emblem of glamour and elegance, the Serpenti jewellery collection nurtures breath taking design and craftsmanship, resulting in signature pieces that have become collector's items. 
The Serpenti collection contains bags, rings, bracelets, and watches as part of its design repertoire. Ideally, the jewels can be worn independently or in an interesting twist as odd or even pairings. Incorporating odd-numbered compositions in jewellery design adds to balance and beauty and enables one to creatively nuance one's style quotient. Simply because odd numbers are visually distinctive and therefore, memorable. However, a matching or signature statement piece from this collection can hold its own to emphasize any ensemble. Moreover, the creations add a layer of 'second skin' with their cutting-edge geometries, sensual curves, exquisite suppleness, and unique design.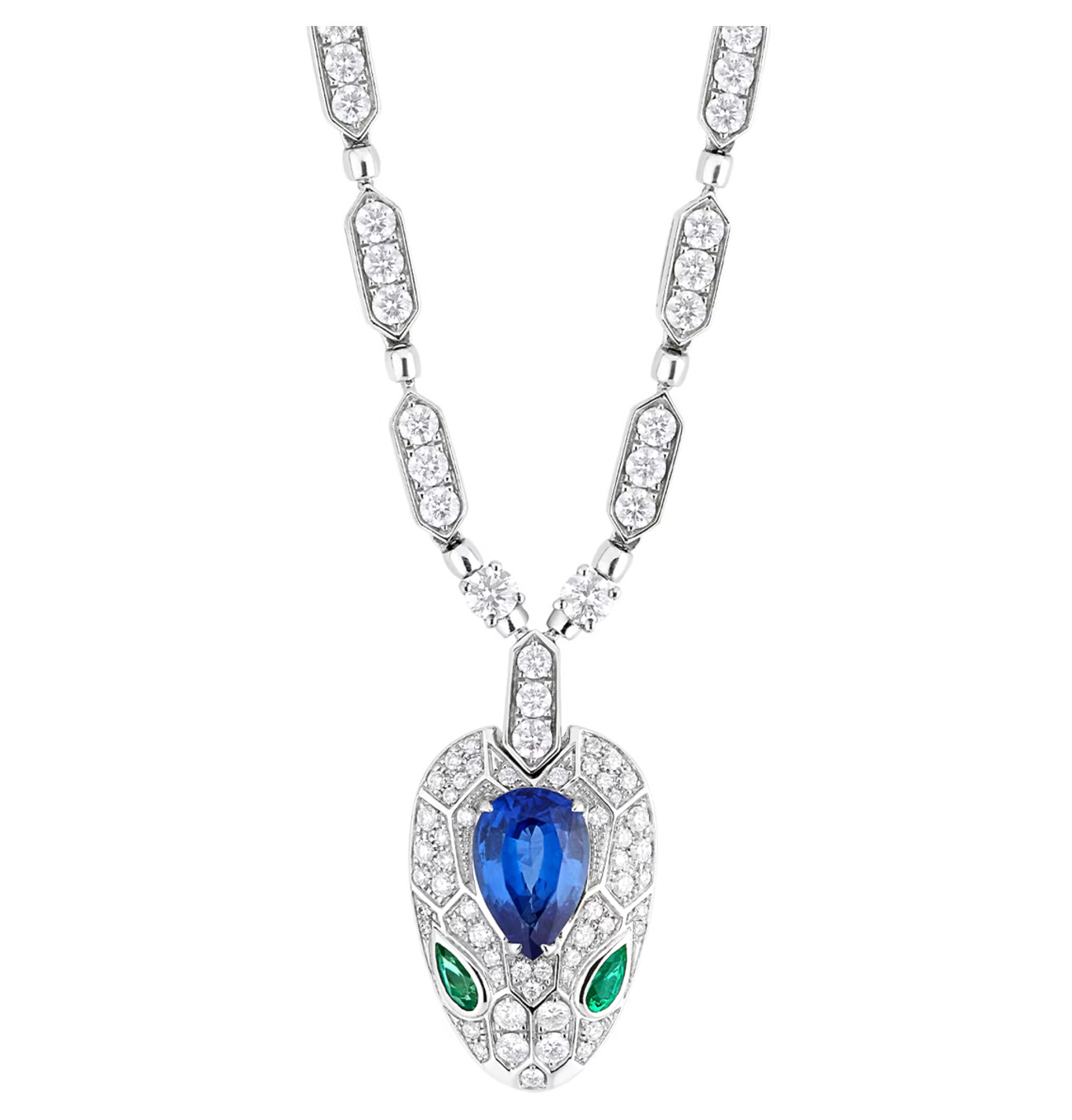 This timeless collection continues to innovate and takes diverse forms in its incarnations. Their newest collection combines ultra-modern geometric scales with the glitter of finely cut diamonds, blending contemporary colours with the snake's emblematic softness and flexibility. 
The serpent is Bulgari's crown jewel, its house icon, as well as a perfect symbolism of a predator, an animal that represents sensuousness and agility. It also reflects the brand's Italian heritage, where the snake represents the iconography of Roman times, signifying good fortune. A signature trend since the last century, the serpent is an integral part of most of the brand's pieces, especially evident in its range of exquisite watches.



Bulgari has brought into its jewellery line the timelessness of its brand – one that signifies opulence, wearability and a certain je ne sais quoi and owning one of its pieces is not just a luxury purchase, but an investment, both in terms of style and value appreciation.
Launched in 2009, Tiffany Keys are a timeless and eccentric metaphor of sophistication. With its classy yet simple craftsmanship, the Keys can be worn independently or layered together for more visual impact. The collection consists of necklaces, pendants, and delicate chains. Some of the better-known designs from the Tiffany Keys jewellery collection include the Tiffany Victoria™ key of mixed-cut diamonds set in platinum and the Knot key with its brilliant round diamonds in 18k rose gold. The stylish designs of this universally popular collection are rooted in ideals of love, self-reflection, and self-expression. 
The Tiffany Keys come in a variety of materials, such as sterling silver, 18k yellow gold, rose gold, and platinum, encrusted with gemstones such as pink sapphires, blue sapphires, tsavorites, or yellow diamonds. The choices are endless with a wide range of key accessories such as necklaces, pendants, rings, and more.



Tiffany Keys are symbols of a promising tomorrow. Dazzling and timeless, the array of this fascinating collection captures all the elements of key design – whether you choose to adorn yourself with one or several. They are emblematic creations of eternal beauty, the results of truly masterful work. Tiffany Keys are no ordinary keys. The iconic pendants and charms are strung on a delicate ball or oval-linked chain and can be worn either alone or several together. The layered look is particularly impressive, with its history dating back to a vintage set of keys, the oldest set of which was made in the 1880s.
Every key tells a story. These personal talismans symbolize the role of powerful and inspiring women thought leaders who are carving the future. The brand and its iconic presence over time has made the Keys a must-have in any collector's jewellery stash.
Graff Dubai's Signature Kiss Collection
The House of Graff showcases exquisite fine jewellery, handcrafted by designers. They boast pure diamond jewels and a combination of emeralds, rubies, sapphires, and pearls that spell luxury in cut and design. Graff's Kiss motif consists of minimalist stud earrings that are synonymous with enduring love. The collection includes contemporary pendants, earrings, bracelets, and rings worn as either minimalist statements or in flirtatious combinations.


Delicate enough to be worn every day, their Kiss studs are part of the playful Kiss collection of jewels, which includes stackable diamond bangles, pendants, and rings. One in particular, the pavé diamond earrings by Kiss, weighing in at 0.63 carats, are easily one of the most romantic gifts one can receive. 

When a scintillating row of pavé diamonds and a gleaming band of white gold intersect, the three-dimensional kiss motif emerges. With devotion woven into each piece, the collection is a modern declaration of love, sealed elegantly with a kiss.
The Alif collection by Damas aims to be a tribute to every living woman. The collection was created and inspired from the majestic first letter of the Arabic alphabet, beautifully signifying strong roots, proud origins, and the core pillar as 'Assel' in Arabic. Alif symbolizes the empowerment and triumph of the woman of today.  Damas is known for capturing this empowered spirit of standing tall and strong just like an Alif. The classic design is given an uplift with its grooved, highly polished motif, curved aesthetic, and ever-relevant style in a selection of gold, diamonds, mother of pearl, and semi-precious stones.




The pieces are available with or without diamonds and in different colours of gold, offering a layered style open to newer possibilities and varieties. In addition, Alif features a diverse range of bracelets and bangles to suit individual style needs. Designed in austere gold, they are studded with precious stones and can be stacked together in sophisticated understatement.
Collier de Chien By Hermès
Out of a fable, one customer's flight of fancy resulted in a piece that became ubiquitous to the Hermès name. In 1927, a daring customer looking for a belt to accessorize her outfits was especially drawn to a dog collar pattern that Hermès had introduced. The request inspired the house to create a belt decorated with four-faceted Médor studs and adorned with a ring. The purity of the belt's lines and volumes eventually led to the creation of the iconic Collier de Chien bracelet.






This absolutely stunning 18ct white gold Hermès Collier De Chien bangle features a clasp in the erstwhile style with a loop in the centre. It features diamond-accented studs at each end with a total carat weight of 0.24ct. As a piece it definitely tells the world one has arrived, and one has acquired a certain status that is reflected in the shimmer of the piece.
As the bard said, 'All that glitters is not gold' but the shimmer and sparkle of these signature pieces will certainly leave you shining every time you wear one. And, whoever said money doesn't buy happiness, never bought an iconic piece of wearable luxury such as these.