Superfoods, a term we often hear these days refers to foods that are powerhouses of nutrients with minimal calories. They are full of Vitamins, Minerals, Antioxidants, and Phytochemicals (chemicals in plants responsible for smell and colour). Majorly superfoods are plant-based, but a portion of it comes from dairy and fish too. Examples of some of the popular superfoods are berries, avocado, almonds, kefir, salmon, quinoa etc.
What Makes Any Food a Superfood?
The food on your plate can be categorized as a superfood when it has any or all of these in good proportion:
1. Antioxidants that are natural molecules present in certain foods. Their role is to neutralize free radicals (that are the byproducts of energy production, also called toxins) in our bodies. These antioxidant molecules help in preventing health problems like heart disease, cancer, arthritis, stroke, respiratory diseases, immune deficiency, and also helps in reducing inflammation, detoxification etc.
2. High vitamin and mineral content that helps the body to build stronger immunity.
3. Healthy fats that reduce the risk of heart diseases and regulates cholesterol levels.
4. Fibre found in most of the superfoods helps in preventing diabetes, cancer, digestive problems and can even reduce the effects of ageing.
Are Only Superfoods Sufficient for The Body?
One big myth is believing that consuming one or two superfoods on a daily basis will help the body protect itself from any chronic disease. Superfoods only help us in preventing the diseases by building up the immunity, and detoxification of the body, but by itself does not guarantee a healthy diet. Eating a particular kind of food alone can lead to a deficiency of other nutrients in the body. This is the reason that superfoods should be combined along with a well-balanced diet.
A well-balanced diet includes fruits, vegetables, whole grains, legumes, lean proteins, dairy products, nuts with a limited amount of refined sugar, fats and salt. Eat a "super diet" rather than only a few specific foods. The combination of a healthy and nutritious diet and physical activity works wonders for the body.
Berries: The most popular superfood, berries are high in antioxidants, healthy fats, fibre, vitamins, magnesium, potassium and phosphorus. Studies have shown that berries can help suppress and repair oxidative damage and help maintain normal blood sugar. Some of the commonly used are acai berries, blueberries, Indian gooseberries (amla).
Soya: Soya beans are rich in isoflavones (a phytochemical) which helps in reducing LDL (bad cholesterol) in the blood. It also helps in increasing bone mineral as it's the richest source of plant protein.
Avocado: Avocados are high in monosaturated fats and help in improving HDL (good cholesterol) in the body. Also rich in Vitamin E and B6, leads to red blood cell formation, leading to detoxification and promotes good skin health. It has high levels of Vitamin A, which helps in reducing the risk of cancer, heart diseases and is good for eyes.
Kefir: Kefir is one of the most probiotic-rich foods in the world. It is a cultured, fermented beverage made from kefir grain and raw milk. This looks like yoghurt and is rich in protein, Vitamin B, potassium and calcium. It helps in improving the healthy bacteria ratio in the gastrointestinal tract, that prevents diarrhea and IBS. As its fermented, people with lactose intolerance can also consume Kefir.
Quinoa: Quinoa is a super grain that is high in fibre, iron, potassium and is the highest source of protein amongst the grain family. Being naturally gluten-free, it is mostly used as a substitute for rice and is also suitable for people with celiac disorders.
Ginger: A prevalent spice used all over the world, ginger has the power of boosting the immune system, fight infections, and it also gives protection against cancer. It has been used for good digestion, nausea and to reduce inflammation and decrease muscle pain.
Salmon: Salmon is a rich source of omega-three fatty acids, that helps in lowering the risk of heart disease and stroke. It helps in controlling blood pressure, reducing inflammation and boosts the mood. Being rich in Vitamin D and selenium helps in preventing cell damage and is very good for skin, nails and bones.
Tips to Make Your Diet a "Super Diet"
⦁ Include Rainbow colours on your plate with a variety of vegetables, fruits, dairy products, grains, and lean meat
⦁ Add shredded greens to soups and stir-fries
⦁ Opt for lean meat like chicken and fish
⦁ Add berries to oatmeal, cereal and salads
⦁ Include vegetables or fruits in your snacks
⦁ Include green or matcha tea daily
⦁ Use turmeric, cumin, oregano, clove, ginger, and cinnamon in your daily cooking
⦁ Snack on nuts, seeds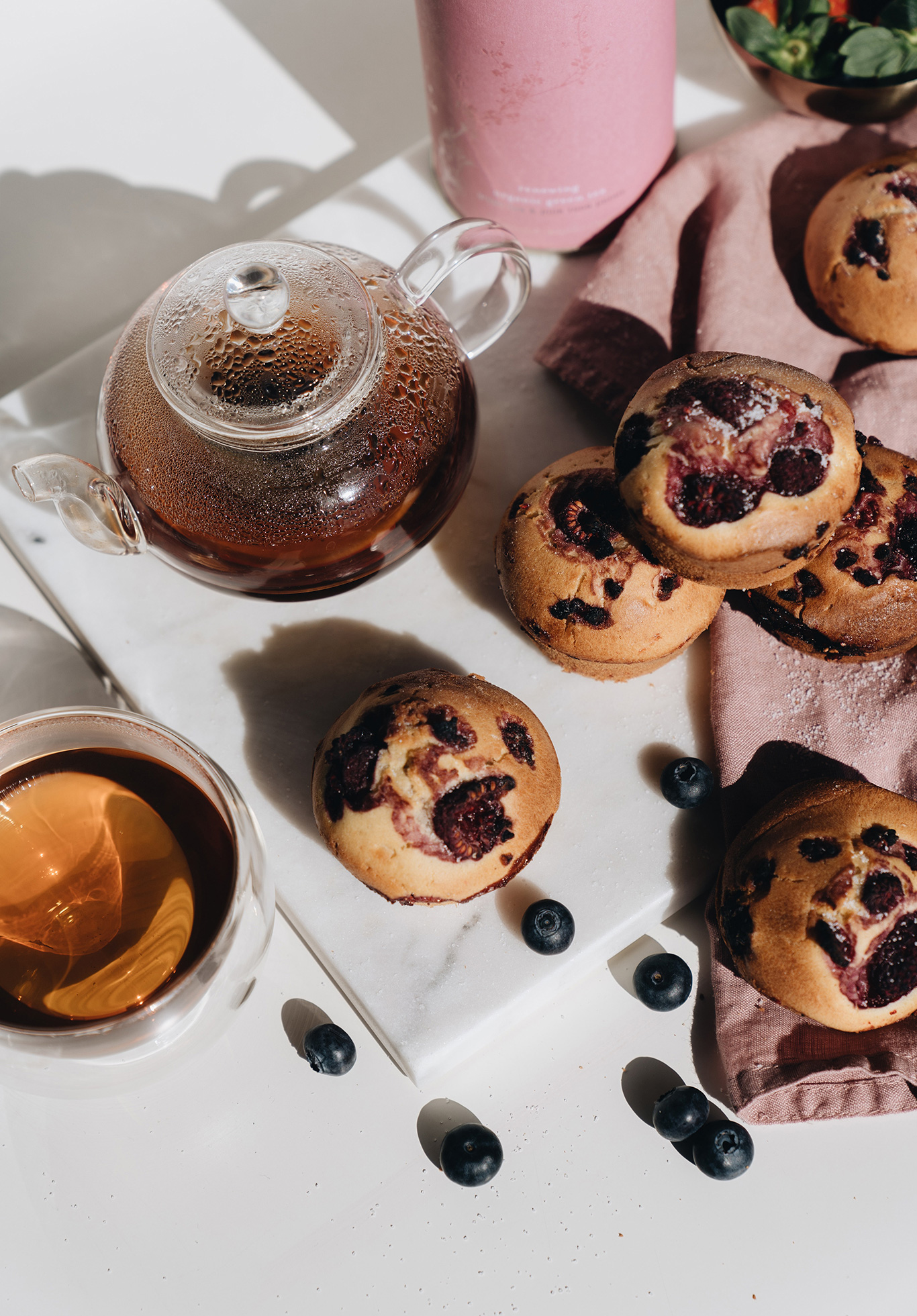 | Ingredients | |
| --- | --- |
| Whole wheat flour | 1½ cup |
| Oats powdered | ¼ cup |
| Baking powder | 1 teaspoon |
| Baking soda | ½ teaspoon |
| Fine salt | ½ teaspoon |
| Ground cinnamon (opt) | ¼ teaspoon |
| Honey or maple syrup | ½ cup |
| Extra-virgin olive oil | ⅓ cup |
| 1Plain Greek yoghurt | 1 cup |
| Vanilla extract | 2 teaspoons |
| Blueberries, fresh | ⅓ cup |
| Powdered Sugar for sprinkling on top | 1 tablespoon |
Method
⦁ Preheat the oven to 200 degrees Celsius. Grease the muffin tin with cooking spray or little butter.
⦁ In a large mixing bowl, combine the flour with the baking powder, baking soda, salt and cinnamon. Whisk them all together. (keep aside 1 tablespoon of flour for later use).
⦁ In another bowl, add the oil and honey or maple syrup and beat together. Add eggs and beat well, then add the yoghurt and vanilla. Mix well. Pour the wet ingredients into the dry ingredients slowly and mix well.
⦁ In a small bowl, toss the blueberries with the remaining 1 teaspoon flour (this helps prevent the blueberries from sinking to the bottom). Gently fold the blueberries into the batter. The mixture will be of thick consistency.
⦁ Pour the batter in the moulds. Sprinkle the tops of the muffins with sugar. Bake for 16 to 19 minutes, or until the muffins are golden on top and a toothpick inserted comes out clean.
⦁ Place the muffin tin on a cooling rack to cool.
⦁ Can be stored in the fridge for 4 to 5 days for later consumption too.