"Everyone looks at your watch and it represents who you are, your values, your personal style." —Kobe Bryant
A watch is no longer just a device that ticks its hands and tocks time. It is so much more. Not only does it represent your image, it also embodies your reputation and character. It is a statement piece that can amplify the impression you are trying to make. A wristwatch is an attractive, relatively eye-catching timepiece that has the power to dazzle or dampen your outfit. It has the power of lending its charm, pulling together, and completing your overall appearance.
Not just a mechanism that measures the passage of time, watches are an emotion, a tradition, an heirloom, sometimes a legacy passed down within families from generation to generation. Can one forget the reputed Jorg Gray wristwatch which President Obama wore in 2008 while taking his oath for office? The chronograph timepiece was presented to then-Senator Obama in 2007 by his Secret Service troop, as a gift for his 46th birthday. It's clear then that a watch doesn't just tell time; it creates history.
Each feature of a watch tells a story. Let's unearth whether your watch is making an impact in building your image and enhancing your appearance, what it says about you, and where can you wear it?
Versace Palazzo Empire Black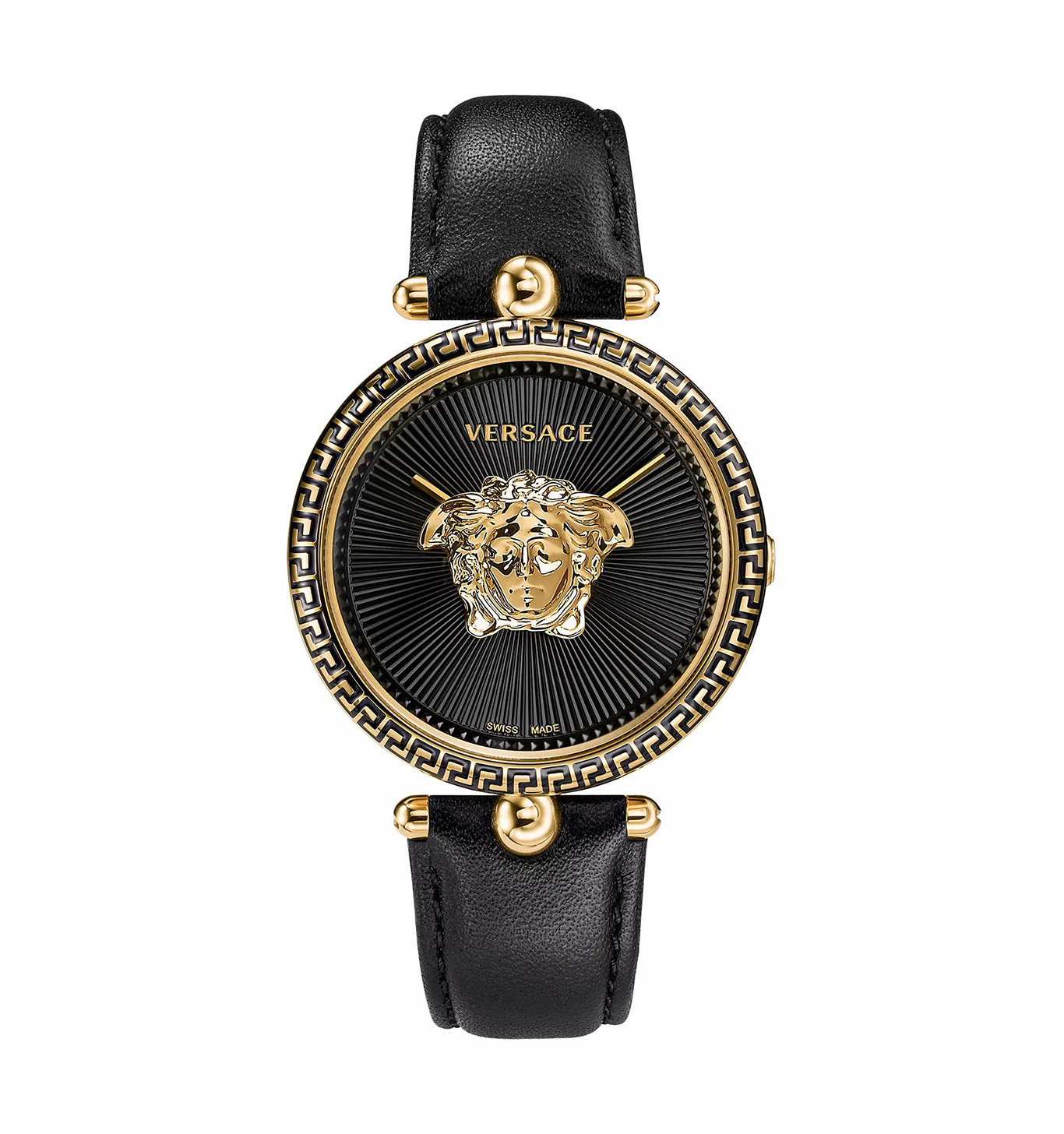 The watch expresses: The Medusa head – the famous Versace emblem, and the Greek key pattern along the dial's edge imply Italian Luxury, making it a desirable possession.
The round black dial with spokes radiating out from the center denotes expansiveness. The sapphire crystal covering represents a wearer with tough robust power. Not glass, the crystal is a specialized material that is significantly expensive to make and hence gives a lavish air to the hands it adorns.
A leather strap makes the watch more 'everyday'. The simple and elegant black leather strap latched on with the golden lug lends it an informal yet sophisticated classic feel.
How to wear it: Like the Little Black Dress and a Black Blazer is a staple in every woman's wardrobe, a black leather watch is in her accessories box. This piece can be worn on many occasions, be it for a formal business event or an informal time out with friends.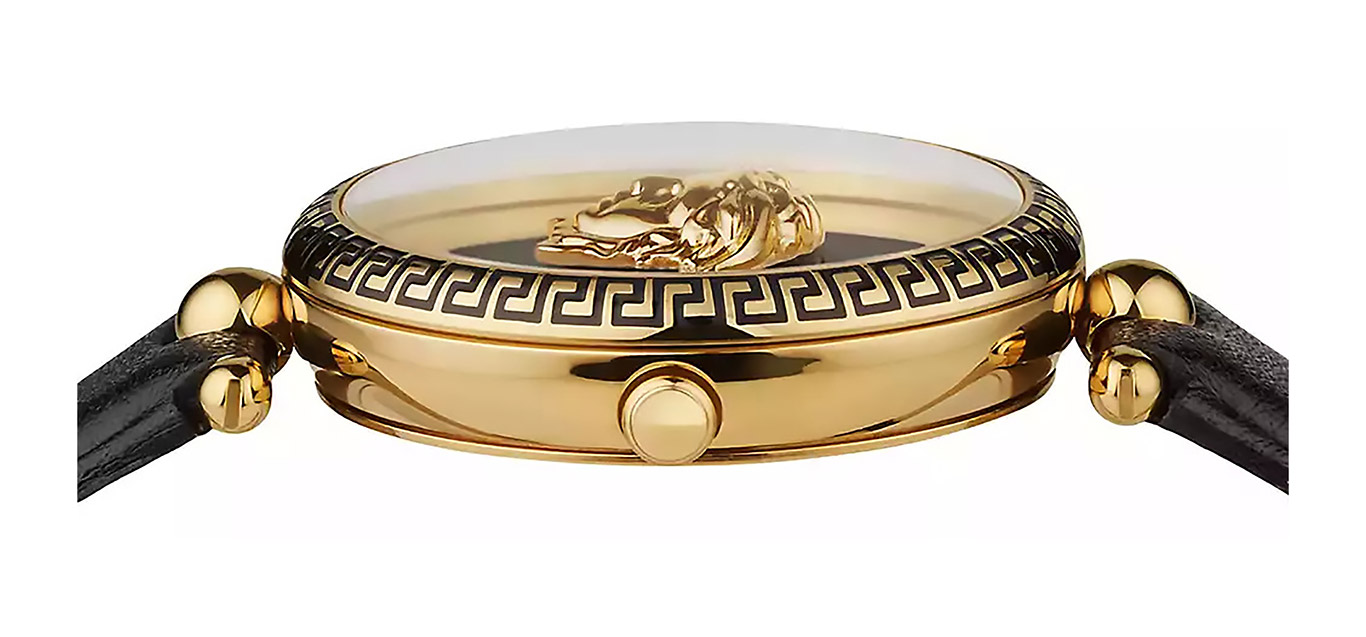 Styling Tip: The leather strap and the metal used in the watch should be coordinated with the footwear, purse and its handles, and other embellishments in the outfit.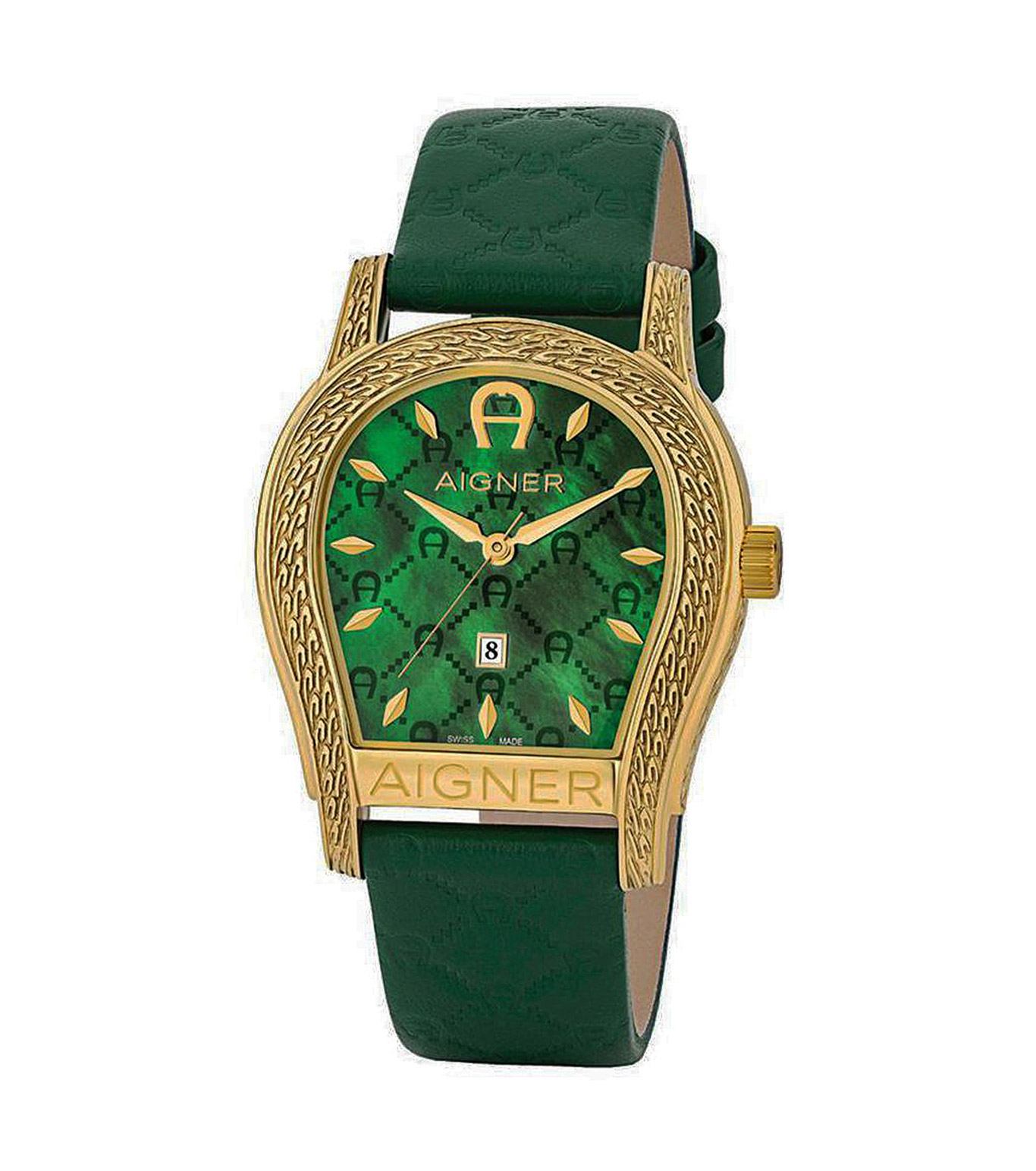 The watch expresses: With its distinct horseshoe design and detailing, an AIGNER ladies' watch reflects its owner's deep sense of exclusivity and confidence. It is crafted for women who understand fashion as a statement of vogue and individuality.
What makes it a piece dé resistance is its deep emerald green color, which is symbolic of balance and harmony. Seen as a color of luck, freshness, and growth, it promotes a sense of calmness, whether it's being expressed in nature or by ourselves.
How to wear it: With its emerald color and unique dial shape, this watch is a statement piece for sure. Apt to wear at weddings, parties, informal and casual gatherings.

Styling Tip: Use any hue of green in your outfit, and it will balance your dress, especially if you don't want the watch to be the focal point in your ensemble. When coordinated with neutrals like white, beige, nude, greys, the watch draws attention, adding a burst of intense color to a garment that needs some uplifting.
Michael Kors Access Gen 4 Two-Tone

The watch expresses: Rose gold holds the energy of love, grace, and elegance. Whereas silver conveys innovation, dignity, and controlled responsible sophistication.
The silver stainless-steel strap has an aura of weldability yet sturdiness and gives the wearer an unbeatable strong look, softened by the smooth round dial. The ring of tiny diamonds at the edge and the inside, with the little heart lends it that dainty grace, and the heart-line adds an element of liveliness.
The grainy grey dial with what looks like stars in a galaxy adds a sparkling charm. The date feature on the dial is perfect for the woman who is conscious of her day being used well.
How to wear it: The watch is big and sporty and also has a dash of brilliance and femininity that makes it apt for a chic casual, semi-formal, or informal occasions.
Styling Tip: This two-toned watch is a good choice as it complements all skin types. The rose gold, silver steel, and the studded diamonds gives you more options to play around with, combining it with other additions in the attire such as shoes, handbags, and eyeglasses.

The watch expresses: "Les Must de Cartier" was the very first slogan used by Cartier and speaks for itself. Simply meaning – Cartier, is a must!
The silver dial with blued-steel sword-shaped hands and Roman numbers represents the Roman spirit depicting wealth, pride, and territorial expansion, which was the center of the Roman society.
The 18K rose gold strap designed more like a bracelet, and the gold casing with the beaded crown set with a sapphire cabochon, screams opulence from every angle.
The sharp, straight, and chiseled look gives one the aura of a true leader ready to make a million-dollar deal.
How to wear it: An heirloom piece, it is undoubtedly made for formal and the all so important black-tie events.

Styling Tips: Style in itself. Wear it with your matched suit; to add an extra ounce of chutzpah.
Tissot tradition powermatic open heart

The watch expresses: Tissot, first started in 1853, proudly displayed on the watch's face, indicating it to have a reputation in the market. Shows reliability of the wearer too. The silver dial with charming detailing in a simple round rose-gold casing with indexed numbers sends a message of warmth, simplicity, and organized determination.
The open heart at the top, which displays the watch's mechanism (heartbeat), is symbolic of an unbiased, open, and dignified compassion. The embossed strap lends the piece a bit of spunk and boldness.
How to wear it: A watch that is suitable for everyday wear, it goes best with semi-formals and semi-casual styles.
Styling Tips: Team it with a brown leather belt and brown leather shoes for a neat, complete look.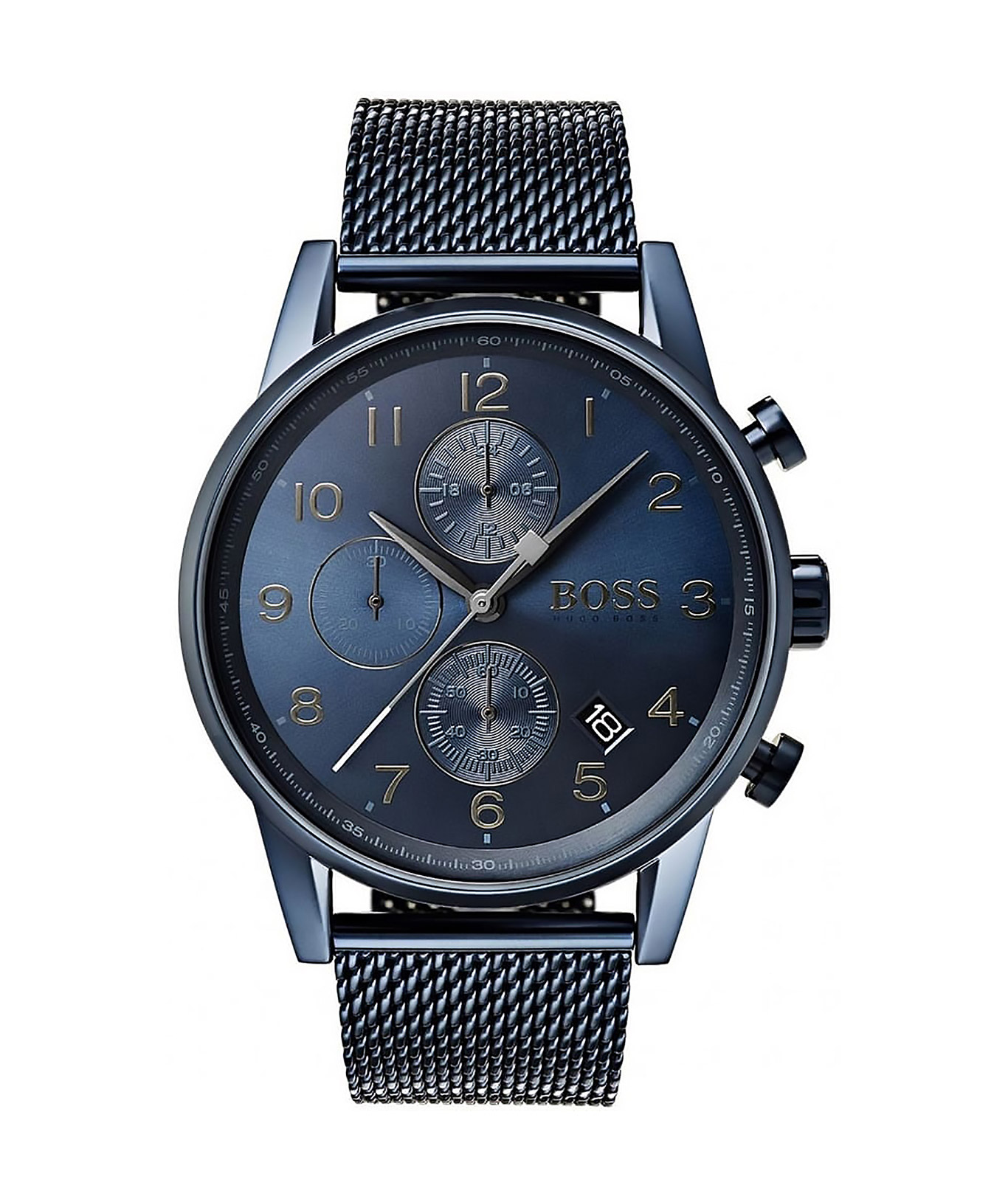 The watch expresses: This chronograph watch finished in tonal blue ion-plated stainless steel, with 30 minute counter and 24-hour subdials, is for the man who does not fear to experiment with fashion and trends.
The mesh strap gives it a designer look and feel, along with the tenacity that a mesh is made to withstand; this watch is a stylish way of adding color into your wardrobe.
It powerfully communicates a dare-to-try attitude, an outgoing, multi-tasking, adventurous and free-spirited persona.

How to wear it: Goes well with business formals, semi-formals, and semi-casuals.

Styling Tip: Match all your metals (pen, shoe and belt buckles, tiepins, and cufflinks) for that sleek easy on the eye well-coordinated look.