Global Village Dubai 2021 has enthralled visitors and how! Now extended by two weeks until May 2nd, we chalk out the standouts from the glittering season 25 and aspects you should make the most of while it is here.
Even the most grumpy person in the world would be hard-pressed not to smile when there are stunning fireworks overhead. Needless to say, the beautiful fireworks are one of the many reasons that people visit Global Village apart from shopping and tucking into some delicious food. The fireworks made their dramatic entry on 4th March and have been attracting more and more visitors since then.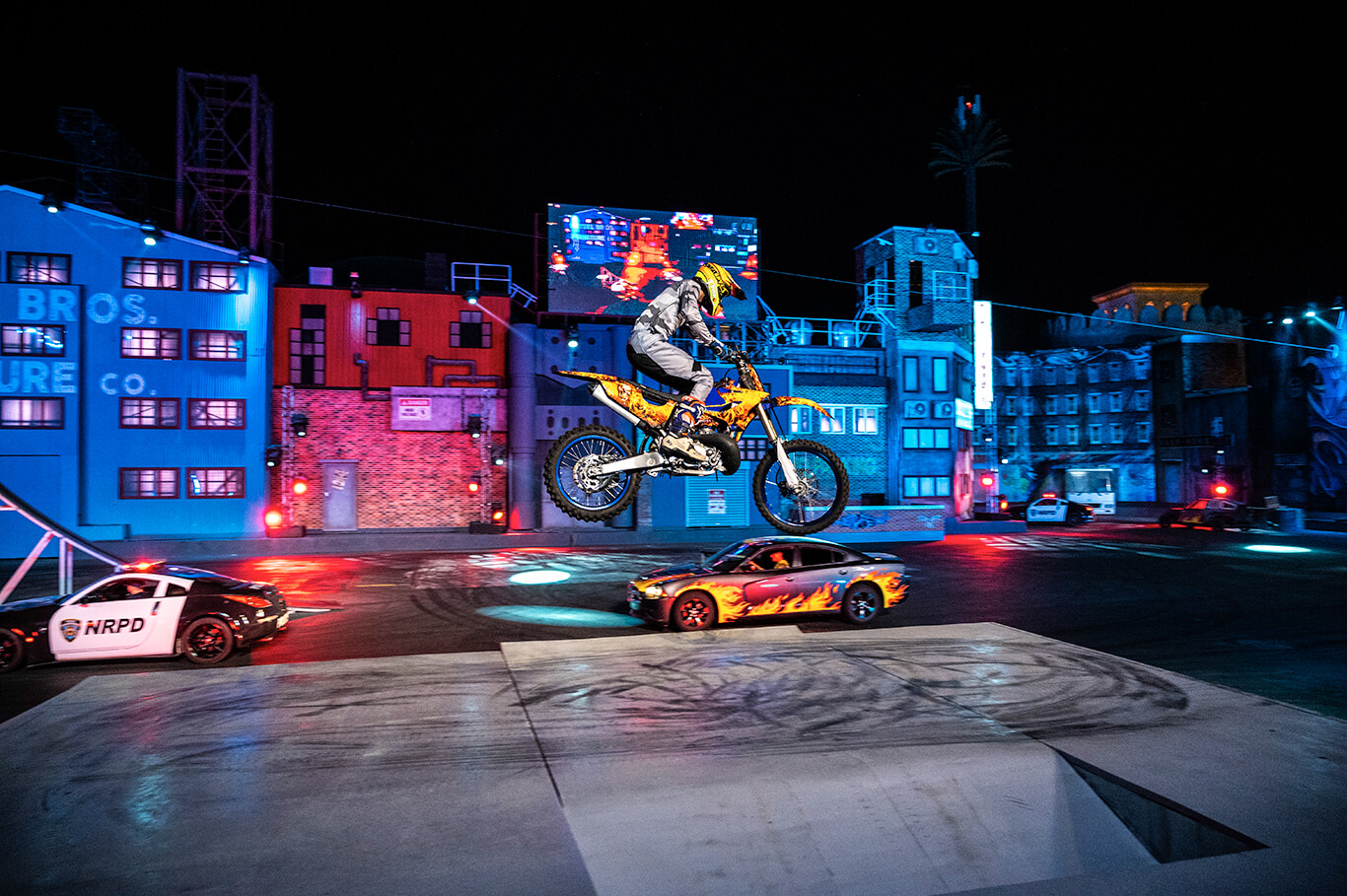 Architectural, Entertainment, And Food Options Galore
Another highlight is the Insta-worthy art installations designed to celebrate the unity of the seven Emirates and the remarkable cultural diversity of this great country. The festival park has been a way of bringing together a wide variety of cultures as people visiting there take a tour of different parts of the world in just a few hours. The various pavilions designed along the lines of historical or local architecture give riveting glimpses- from London's Big Ben to Italy's Pisa Tower, India's Taj Mahal to Egypt's Old Pyramids – a visual treat all in one place.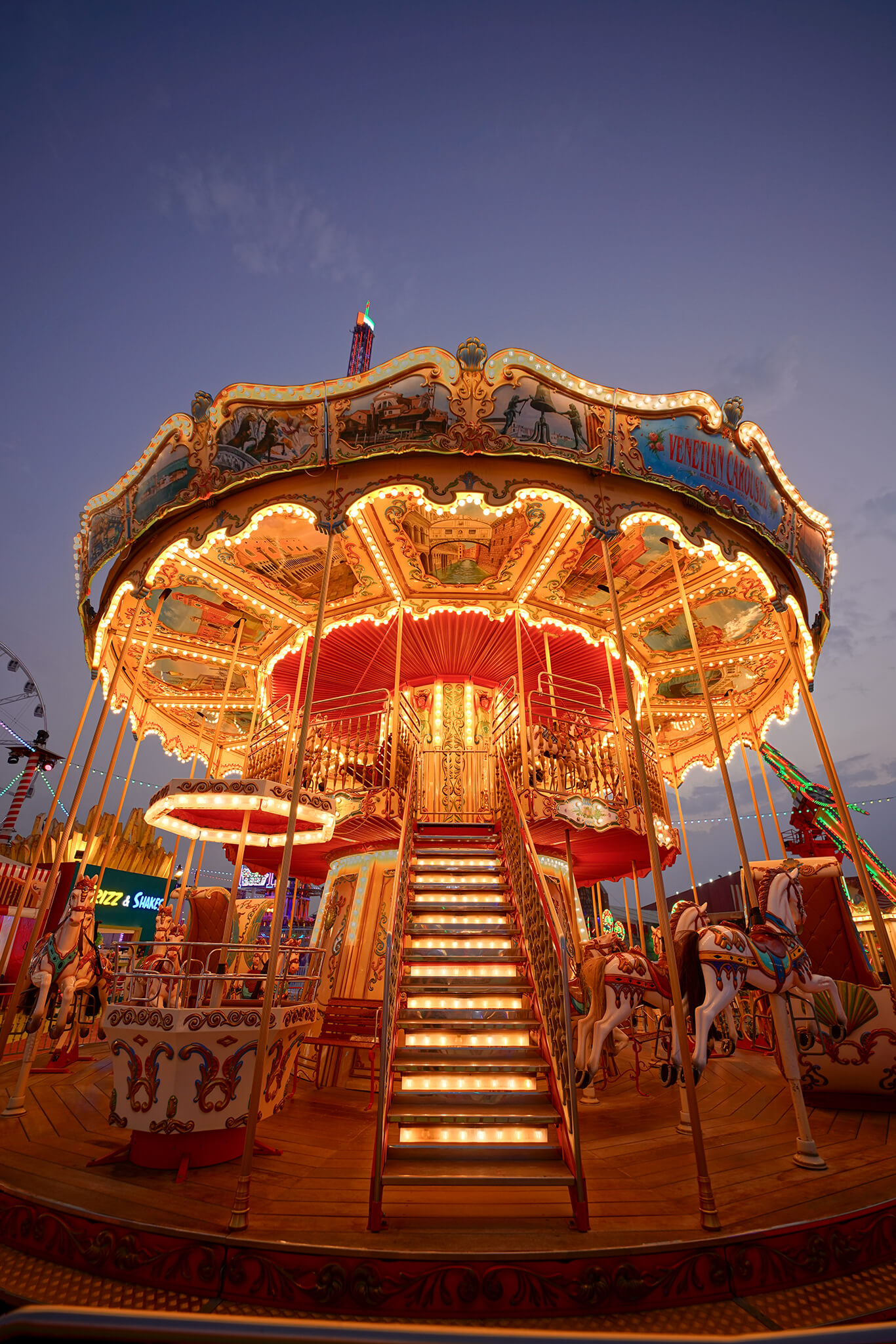 True to its name Global Village houses a theme park on one end and a massive market on its other side. The 26 pavilions in which you can witness almost all the different cultures of the world are truly worth a visit. The products are showcased around 3500 displays, where visitors can buy all kinds of handicrafts, while the place has more than 200 options where visitors can purchase snacks of their choice.
Attractions like The Stunt Show and the ever-popular Carnaval are other crowd-pullers. From supersized games of Snakes and Ladders to special, child-friendly performances and shows, and a ride of the Funfare keeps the kids regaled. Families will also be able to enjoy giant games like Four-in-a-row and Battleships (Pirate style). All-star character shows on the lineup include Octonautes, Care Bears, Peter Rabbit, PJ Masks, Chotta Bheem, and the unmissable Don't Do The Dodo show.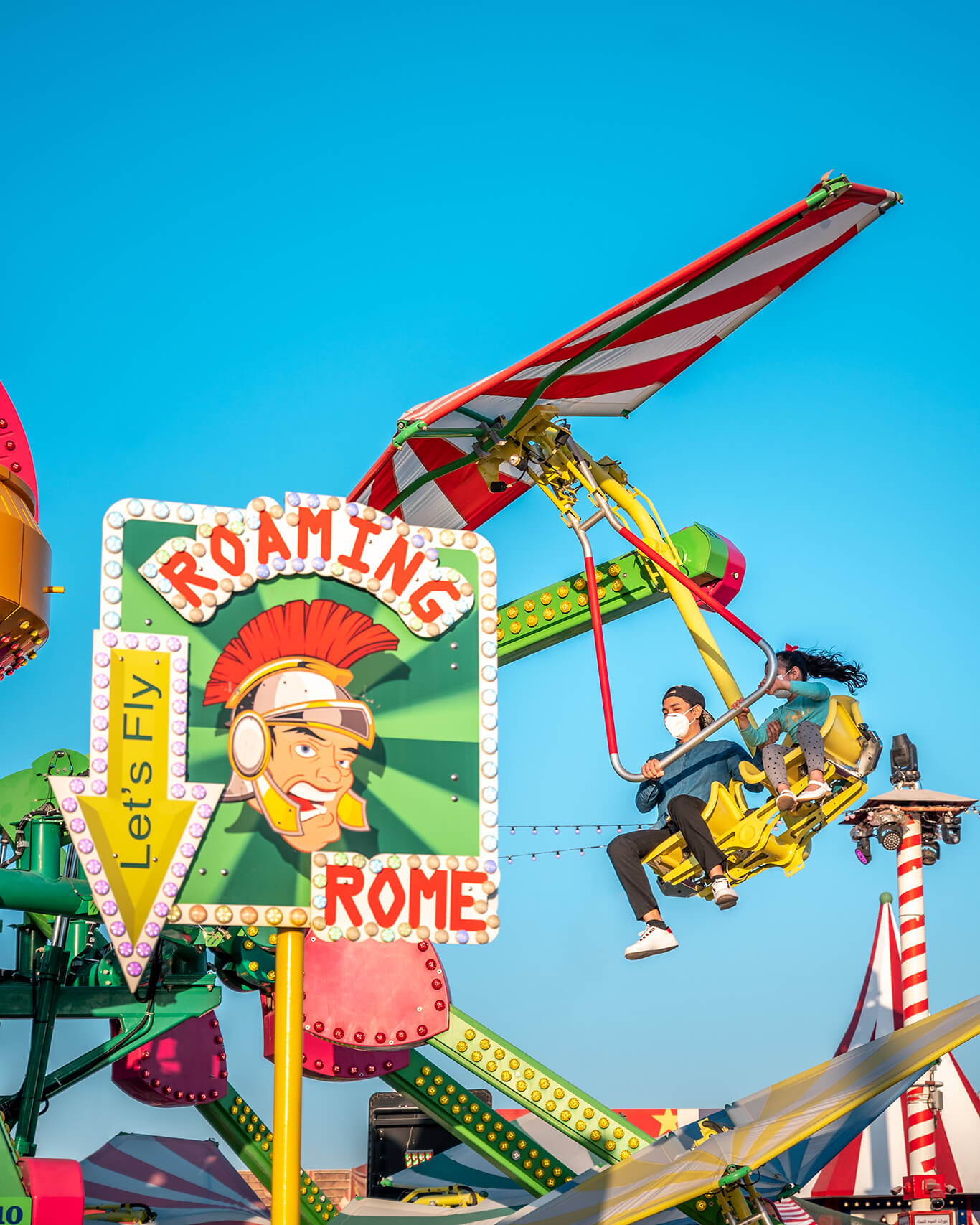 The Global Village agenda is dedicated to children until the 10th of April, with numerous activities planned across the park to further enhance the Silver Jubilee Season experience for younger members of the park's fanbase. It is also running an 'Ice Cream Fest' simultaneously that lets kids simply pick up an ice cream booklet and earn raffle tickets by tasting their way through five of the 25 specially curated frozen sensations. Guests who try five or more flavors can enter a draw to win a Playstation 5 and an iPhone 12. This contest will be running until April 10th.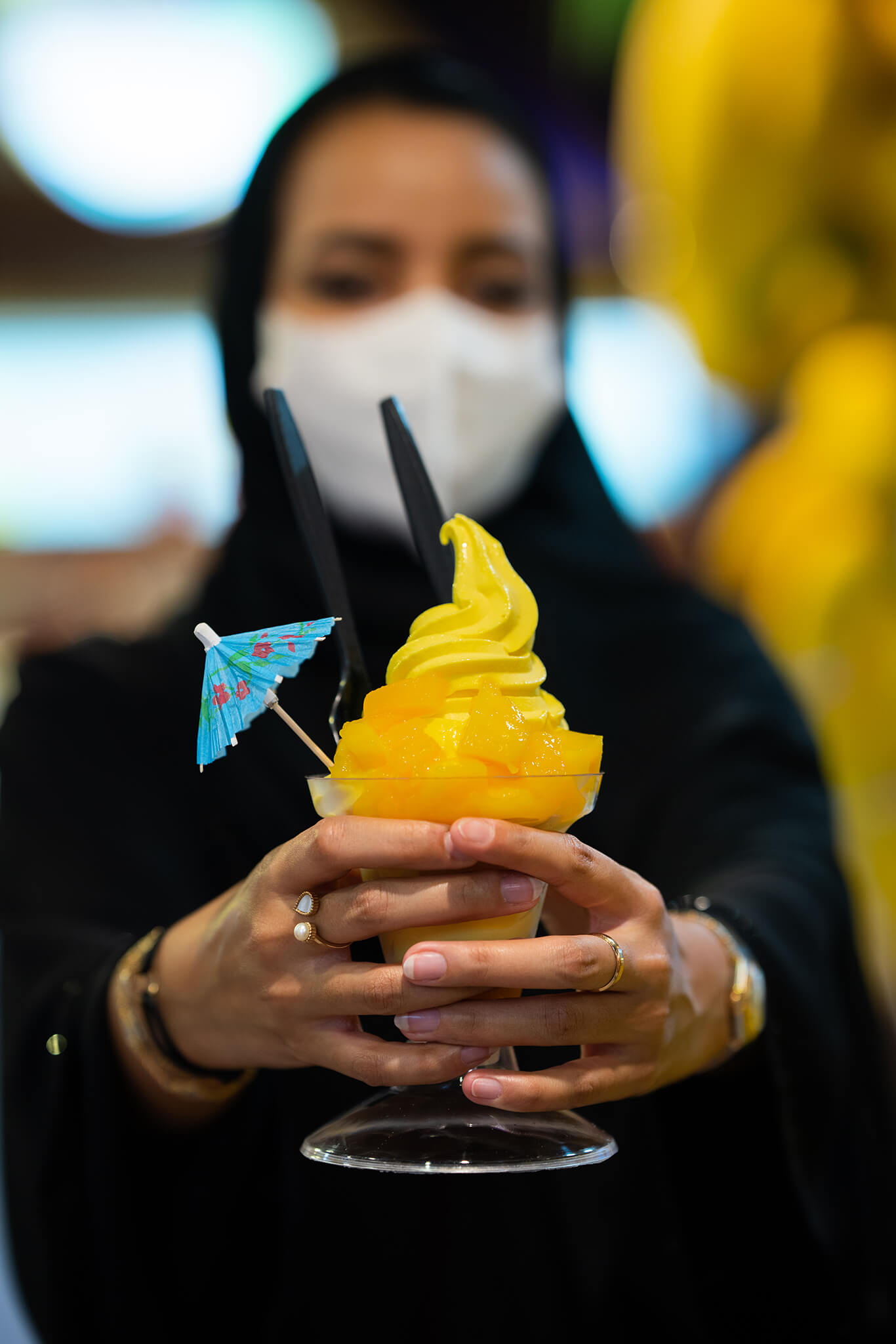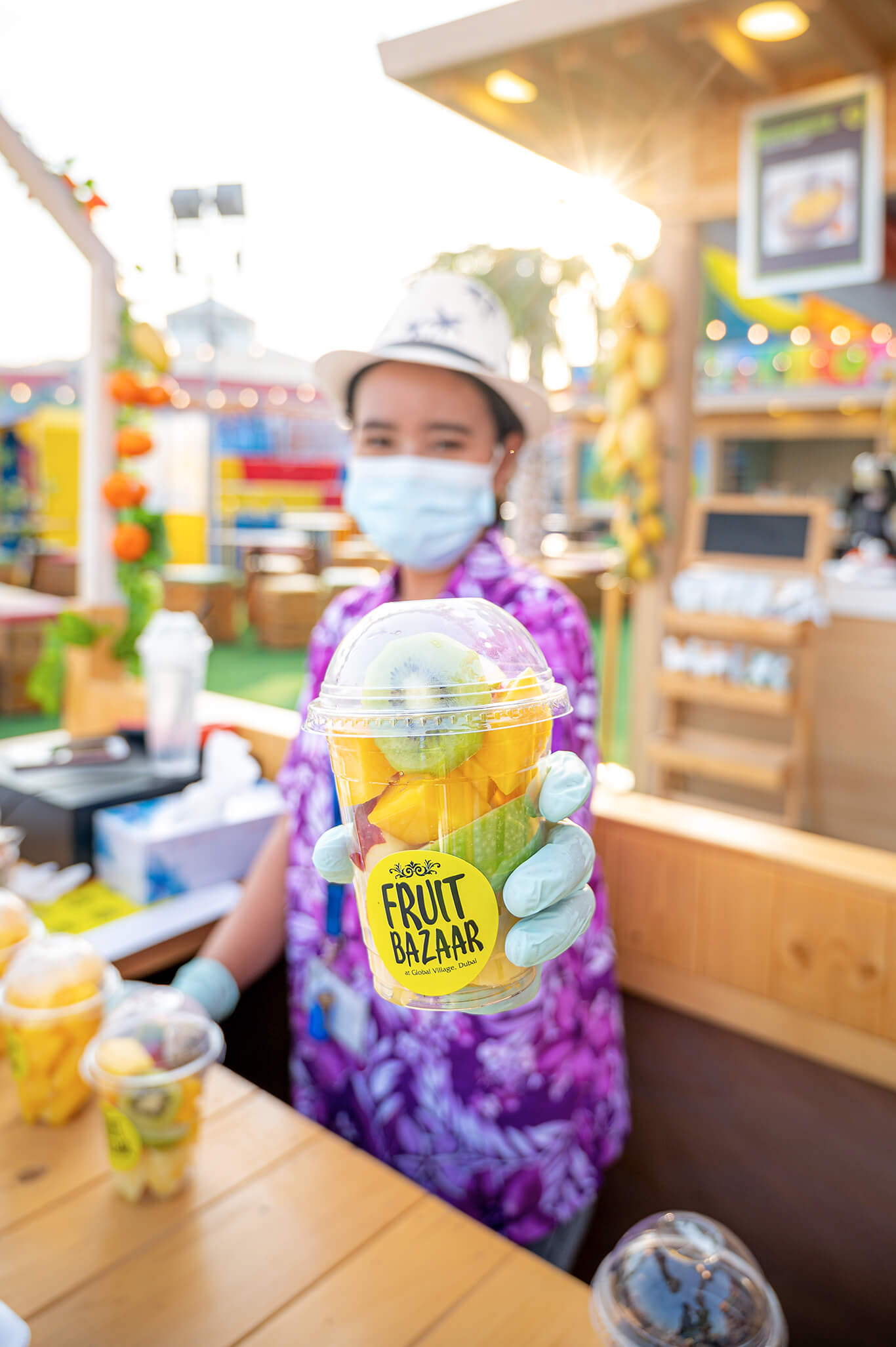 Furthermore, food lovers are in for a treat, with over 200 eateries offering exciting and unusual culinary options available at the festival this year. Think buffalo chicken and dynamic shrimp samosas, Cheetos and samosa paratha, stuffed grape leaves, fried chicken in a waffle cone, cereal latte, and more to serve foodies enough reasons to visit multiple times.
An Edition of Guinness World Records
The 25th season of Global Village had to be unique, and it indeed turned out to be one record-breaking edition with the many records it set this season.
It will stay etched in the hearts and minds of visitors, considering that the extravaganza has been making news and records each day. It moved closer to its target of 25 Guinness World Records titles and claimed the record for 'Most people in a video relay holding a sign' as part of a larger internal campaign to promote vaccination for staff and partners.

It claimed the Guinness World Records title for a great cause on February 4th. The park claimed the 'Most Awareness Ribbons Made By A Team In One Hour' title to honor World Cancer Day 2021. The multi-colored ribbons were then openly placed for guests to pick up to increase awareness.
Valentine's Day celebration was made even more memorable with Global Village breaking yet another Guinness World Record title, this time for the 'Largest Mosaic using stuffed toys'. The iconic Carnaval Banana was used to create the eye-catching red love heart made with over 400 giant bananas, which measured 144.8 square meters and added to the spirit of love and togetherness.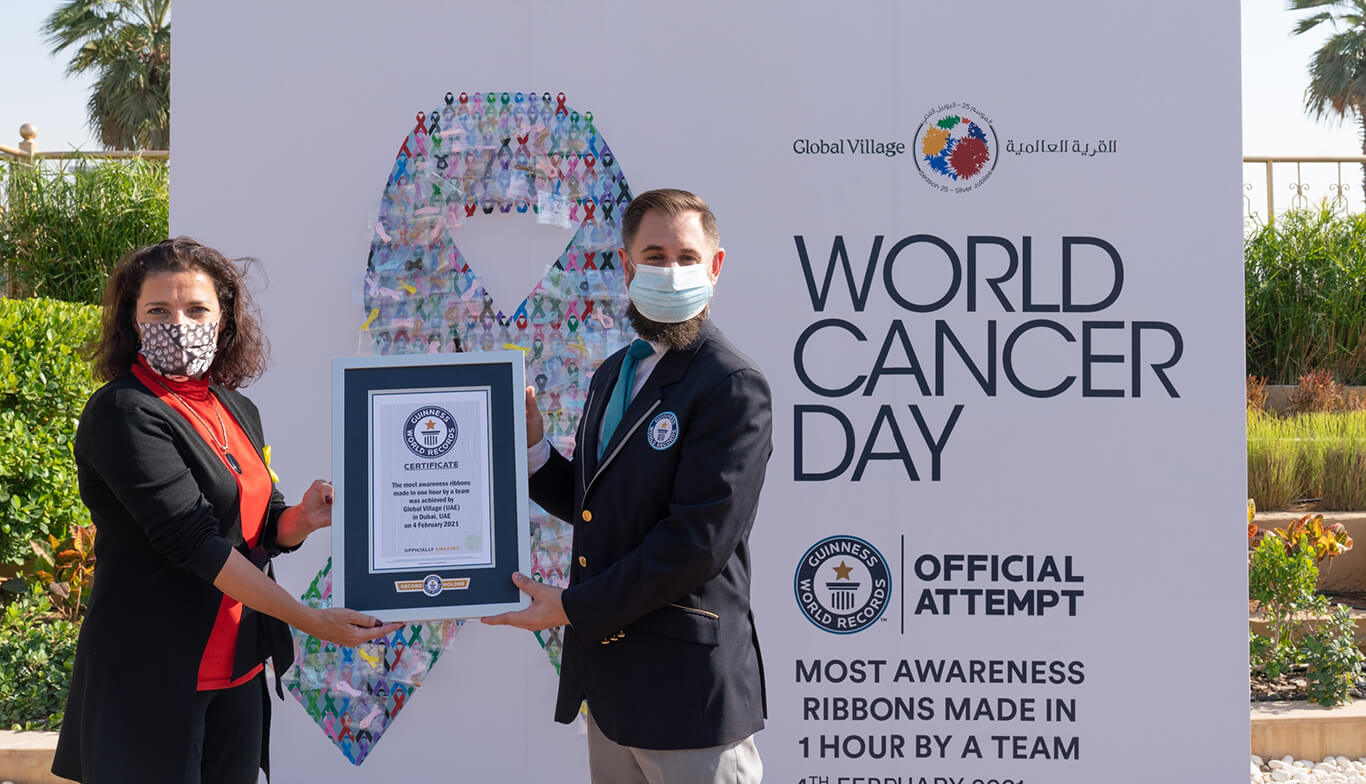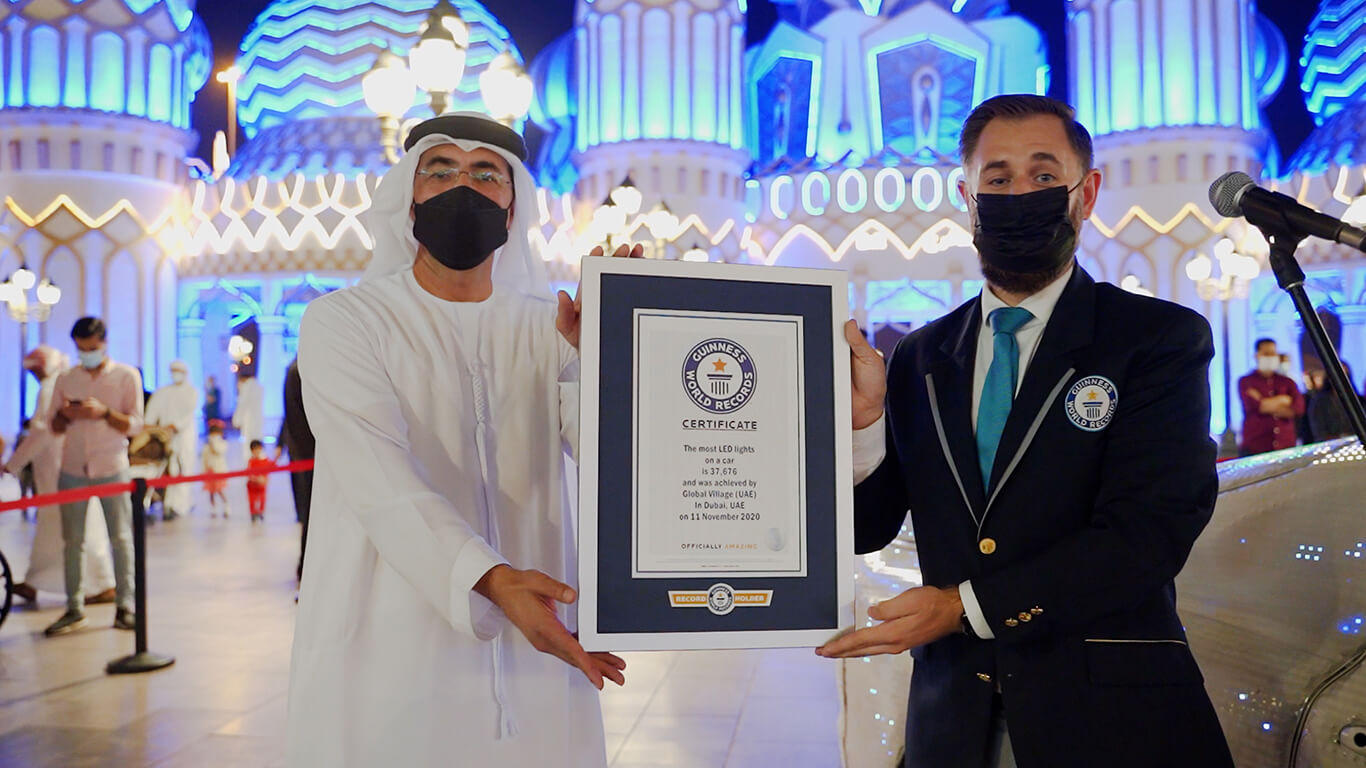 Kids Fest is known for its giant board games, and this year, Global Village claimed the "Biggest Board Game – Snakes and Ladders" title with another Guinness World Record win.
Another talking point was when a 2.7 meter tall "guest" entered the park through the entrance gate using a ticket measuring 1.02m2. The guest was greeted by Guinness World Record's official adjudicator, who confirmed that the fully operational ticket is indeed the Largest Admission Ticket in the world, as limited edition silver-plated tickets went on sale. Ripley's Believe It Or Not! will display the ticket as its museum attraction until the end of the season.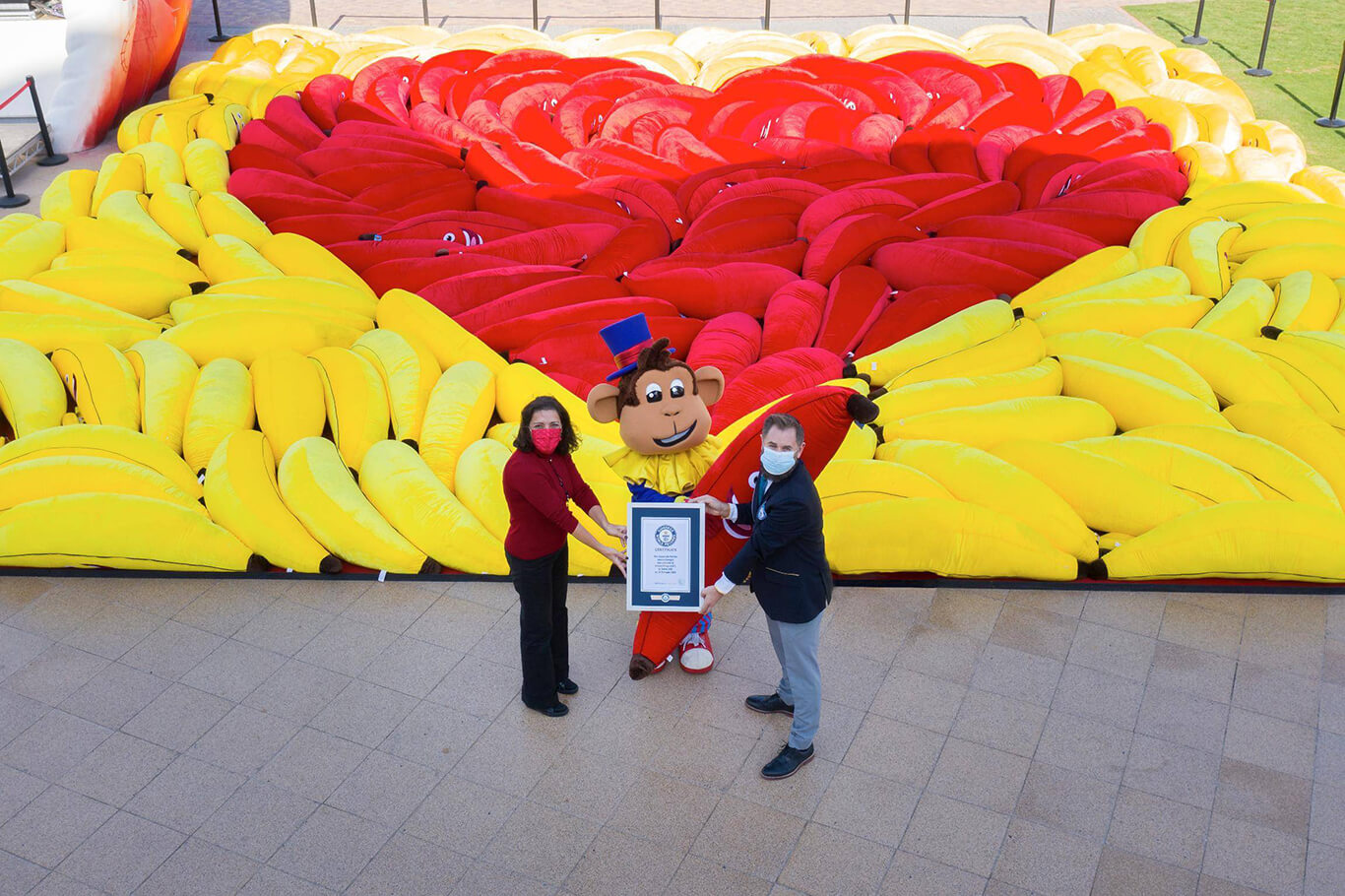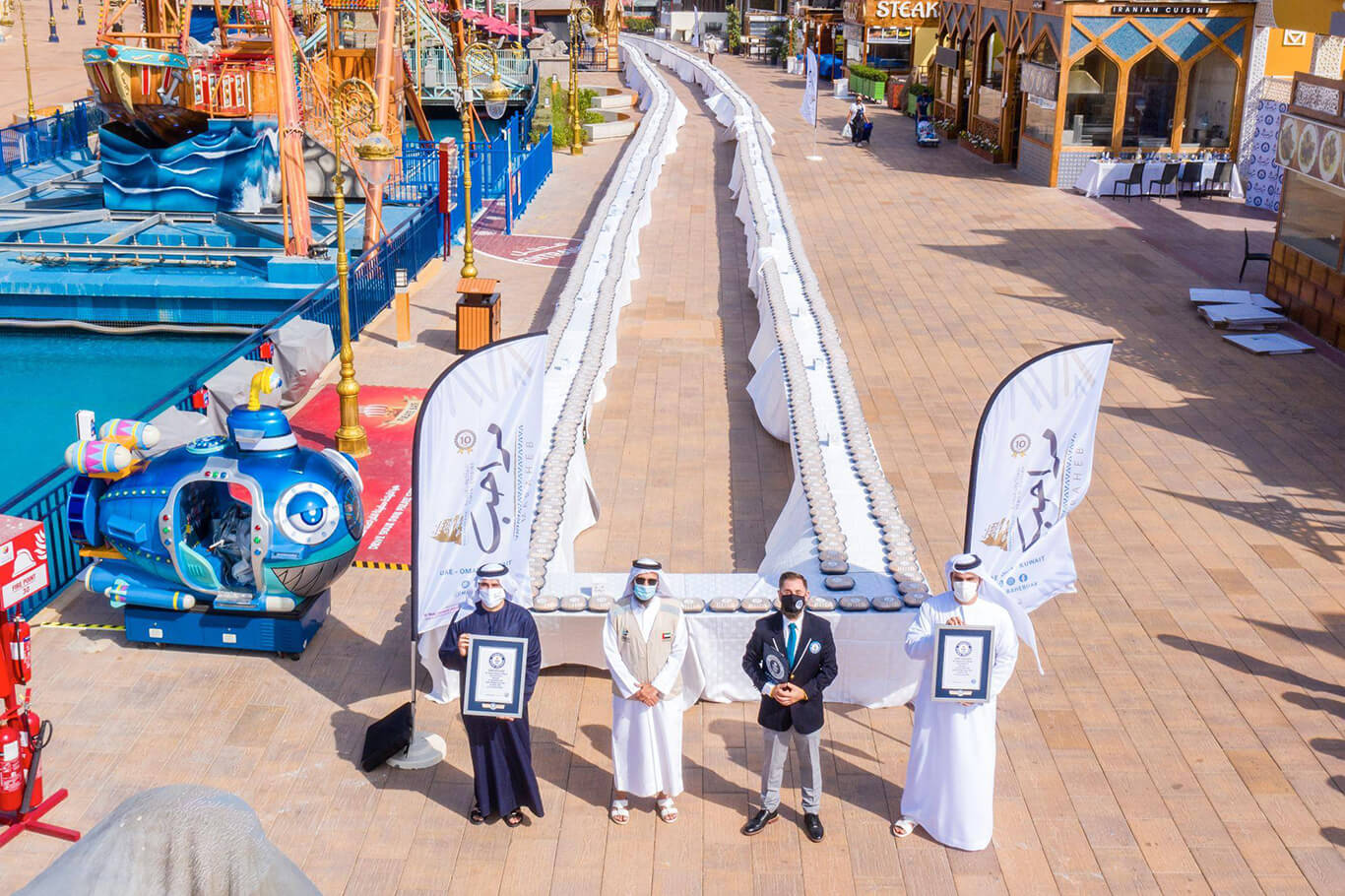 Moreover, Global Village 2021 scooped yet another Guinness World Records title for the most LED lights on a car to the world's largest 'Pin Badge Word.'
International Happiness Day was celebrated in Global Village with a lot of euphoria. The festival announced an honorary name change of Kiosk Street to Happiness Street in another successful Guinness World Record attempt. Moreover, the new street sign is made up of over 3,000 smiley-faced pin badges forming the words 'Happiness Street'. This Instagram-worthy street sign is now officially the "Largest Pin Badge Word" in the world.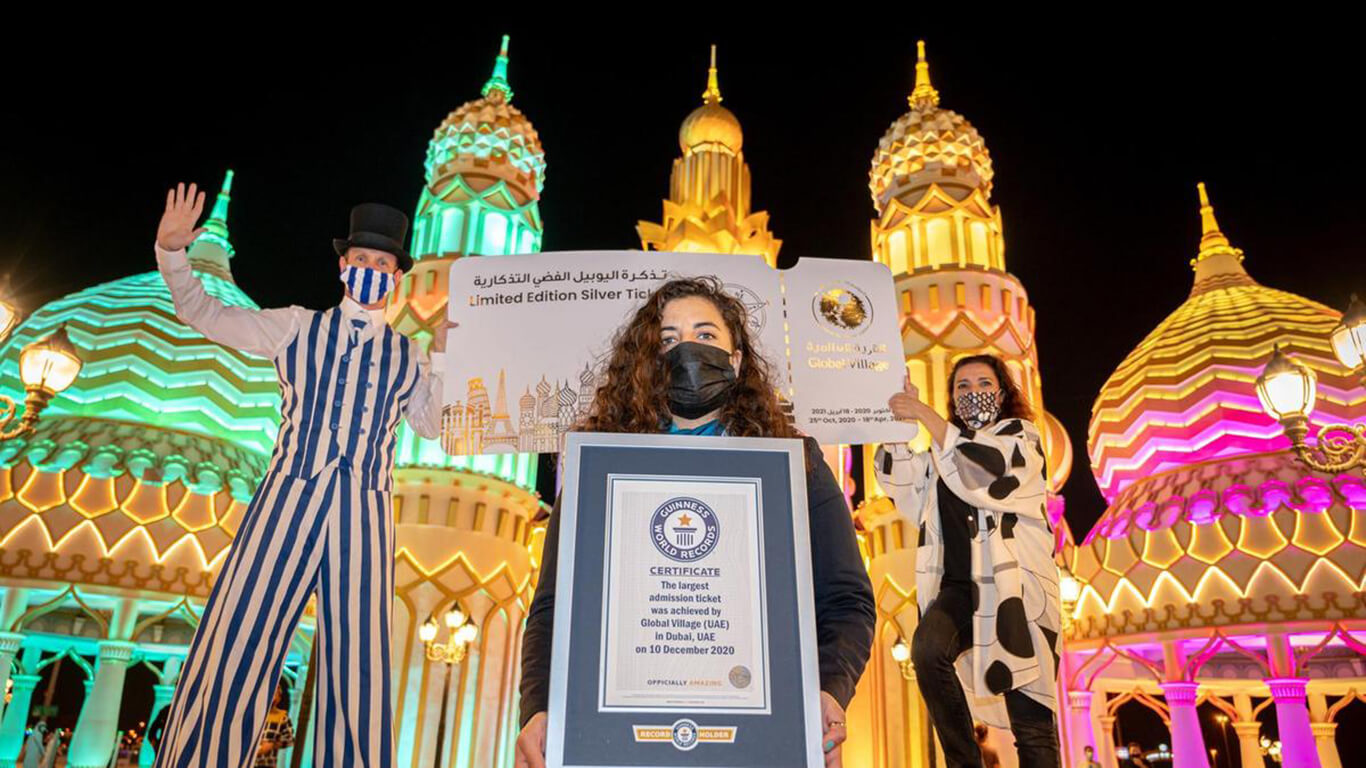 Furthermore, famous landmarks were lit up in yellow. The largest underwater screen and the iconic Wheel of the World were adorned with smiley faces to celebrate International Happiness Day with a difference. As evening drew closer, guests soaked in the sights and sounds amid fun and frolic while complying with all Covid-19 precautionary norms.
Global Village 2021 is all set to be extended by two weeks until May 2nd, 2021 (Sunday). Aside from having extra days to enjoy the village grounds, visitors can make even more memories of experiencing the spirit of Ramadan during the first two weeks of the Holy Month, while they also enjoy shopping for unique Ramadan goodies from around the world.
During Ramadan, operating hours will change from the usual timings. The park will remain open from 6 pm to 2 am daily to accommodate guests during Iftar and Suhoor timings. So make the most of this marvel of an event while it's still here.