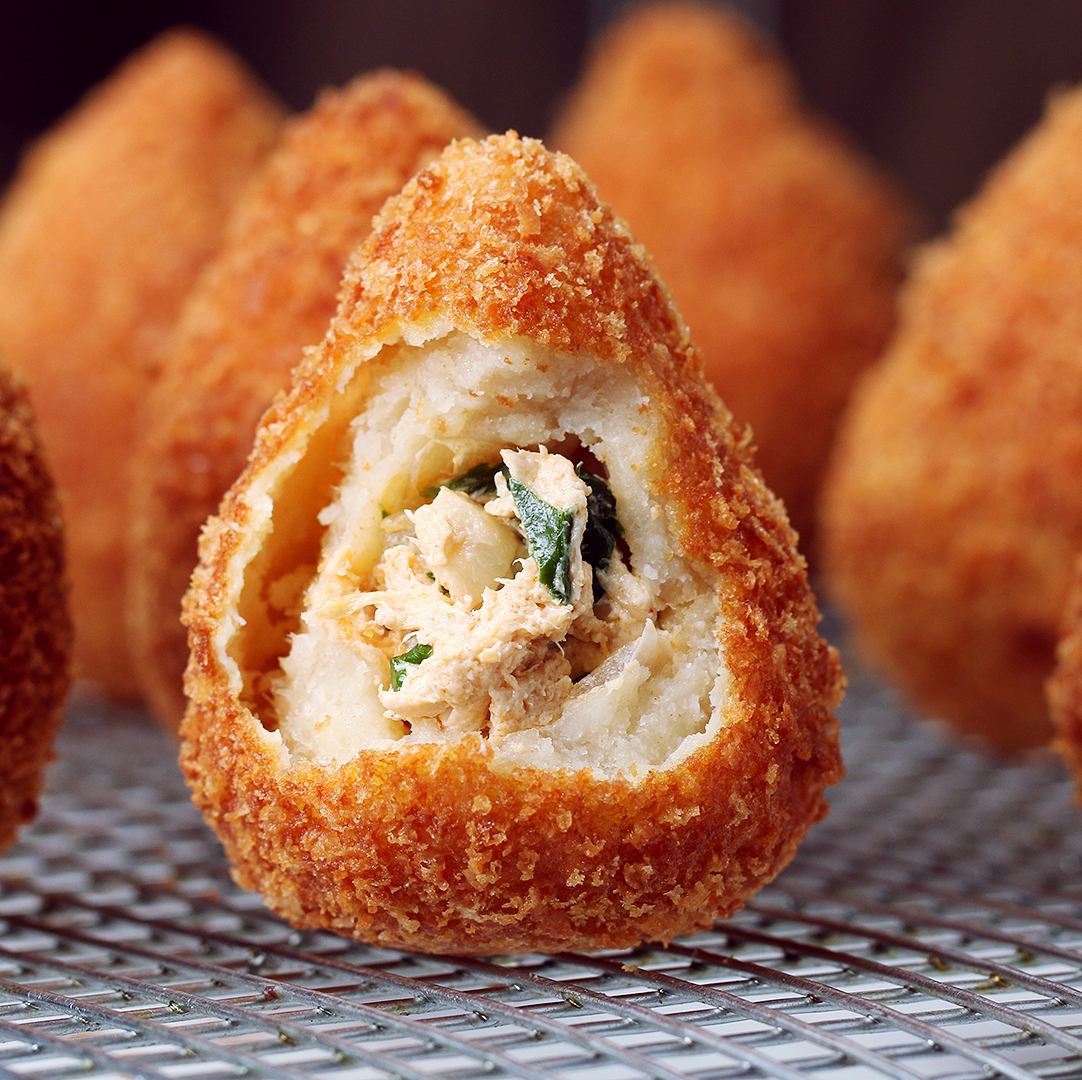 Coxinha, pronounced as co-shee-nya literally means 'Little Thigh', and it refers to chicken drumsticks. Brazilian Coxinha, is a deep-fried croquette made of shredded chicken and cheese covered in a soft dough, which after breaded and deep-fried, gets a beautiful golden crunchy crust that is so hard to resist.
Found in many sizes, from tiny cocktail bites to large street food snacks, it is popular appetizer served at parties, celebrations, and cafes, and is a prominent part of the Brazilian culture.
Serves: 9-10 people / Prep time: 15 mins
Cooking time: 45 minutes
For the Coxinha balls
For the filling
| Ingredients |   |
| --- | --- |
| Olive oil | 1 tablespoon |
| Garlic cloves, minced | 4 |
| White Onion, diced | 1 |
| 2 Cups Chicken cooked, shredded | 250 g |
| Paprika, or cayenne pepper | ½ teaspoon to taste |
| Salt | to taste |
| Cream cheese | 110 g |
| Fresh parsley, chopped | 3 tablespoons |
| Ingredients |   |
| --- | --- |
| Unsalted | 1 tablespoon |
| Whole milk | 470 ml |
| Chicken broth | 60 ml |
| All-purpose flour | 250 g |
| Eggs, beaten | 1-2 pcs |
| Panko breadcrumbs | 100 g |
| Oil | for frying |
— Method —
In a medium saucepan, heat olive oil, then sauté garlic and onions until soft and brown. Add shredded chicken, salt, and paprika (or cayenne pepper). Mix to combine.
Transfer mixture into a bowl, add cream cheese and parsley. Mix well.
In the same saucepan, add butter, chicken broth, and milk. Bring to a boil. Stir in flour until dough is formed.
Transfer dough to a flat surface. Knead the dough while it is warm, but not hot.
Pinch a piece of dough, about the size of a large egg, and roll into a ball. Using your hands, flatten the dough and spoon filling into the center. Wrap the dough into a pear shape ensuring there are no holes.
Heat Oil to 180˚C, in a saucepan. Dredge the coxinha in egg and panko, then deep-fry till golden brown and cooked through.
Drain on a towel, or wire rack.
Serve it with chimichurri sauce
For the chimichurri sauce
(Chimichurri, classic Brazilian condiment)
Ingredients

 

Olive oil
1/2 cup
Red wine vinegar
2 tablespoons
Parsley, finely chopped
1/2 cup
Garlic, finely chopped or mincedcooked, shredded
3-4 cloves
Red birds-eye chili, deseeded
and finely chopped
1
Dried oregano
3/4 teaspoon
Coarse salt  
1 level teaspoon
Pepper to taste
1/2 tablespoons
— Method —
Mix all ingredients together in a bowl. Allow to sit for 5-10 minutes to release all of the flavours into the oil before using. Ideally, let it sit for more than 2 hours, if time allows.
Chimichurri can be prepared earlier than needed, and refrigerated for 24 hours, if needed.
For the Blackcurrant jelly and chimichurri frosting
— Serving suggestion —
| Ingredients |   |
| --- | --- |
| Black currant jelly | 50 g |
| Chimichurri sauce | 50 g |
| Cream cheese spread | 100 g |
| Lemon juice | 1-2 tbsp |
| Lemon zest | ½ tsp |
| Cayenne pepper | ½ tsp |
Season the cream cheese spread with lemon juice, zest, pepper. Pipe 1 tablespoon at the base of a shooter glass. Add a teaspoon of blackcurrant jelly and 1 teaspoon of the chimichurri sauce and top each glass with the coxinha. Garnish with micro-herbs or as desired. J