If the objective of your business is to sell more products or services, then marketing is what helps you achieve that goal. A few questions to ask when considering 'Marketing', the fourth Pillar of eCommerce, should help formulate an apt digital marketing plan that aligns with your eCommerce needs.
Some of the questions to ask would be
What is eCommerce Marketing?
Isn't digital marketing and eCommerce the same?
What's the best eCommerce marketing strategy?
Which one should I be using for my eCommerce store? Which one will work for me?
Using Google and getting some know-how on the complex world of 'Digital Marketing' comprising of SEO, Google search, Google display, Social Media, Email marketing, Affiliate marketing, I knew it was time to get a mentor and learn the nuances of the field from the masters themselves. This was the right way to forge ahead in an area that had caught my fancy since 2006. 
I clearly remember the pictorial representation on 'Digital Marketing' taught by my guide and mentor, Prof. Ratan K.K, that is now gravely cemented in me. Having read a lot about each of these silos in digital marketing individually, I had never imagined the power that an integrated mix of these tactics could bring in. Today, 15 years later, the power of 'Integrated Digital Marketing' brings me exemplary results in almost all the campaigns that I execute and manage.  


Each of the above silos can be classified as a digital marketing tactic set on a digital platform. Each platform has its own set of target audience and deliverables. Campaigns are set on these platforms aiming to achieve the best deliverables possible. Each of these campaigns is then closely tracked and analyzed to ensure that we are hitting the desired Key Performance Index (KPIs) defined. 
In an 'Integrated Marketing' setup, campaigns are envisioned with strategies that criss-cross each of these silos resulting in a better 'Return on Investment'(ROI) on ad spends and a higher impact of the advertising campaigns resulting in stronger ad-recalls. The audience of each of these silos are cross-marketed using lists, platforms, and collaterals aligned with each.
The Key takeaway here would be to understand that:
A 'Marketing goal' defines your KPIs
A 'Strategy' defines the path to your goal
A 'Tactic' is the platform where you are going to execute your strategy
Clear on these, we can now delve into understanding ways to align digital marketing tactics with our strategy and achieve our set marketing goals.
'eCommerce' encompasses the platform that enables you to sell your products, while 'eCommerce Marketing' is the use of various digital marketing platforms and tactics that draws traffic to enable product purchase along with payment realization. It can be said without a doubt that eCommerce and digital marketing go hand in hand, and a huge pie of the marketing budget is channeled in developing digital marketing strategies that result in generating meaningful interactions with potential and returning customers based on their online behavior on your site. This helps build brand awareness and places your business at the forefront when the customer is ready to buy. 
A simple marketing funnel consists of 
⦁ Creating awareness about your eCommerce store
⦁ Driving traffic to the store
⦁ Converting visitors into paying customers
⦁ Getting your customers to keep coming back for more
Ideation and strategizing during the initial stages of setting up an eCommerce store helps align marketing channels, tactics and sets a marketing strategy that suits all marketing components from communications to the sales cycle.
Identifying your Buyer Persona
A detailed description of a fictional person representing your 'target audience' is called a buyer persona. This process consists of describing the characteristics of your best potential customer in great detail right from the name, demographic details, interests, including behavioral traits that can be marked and mapped to your product categories. Understanding your persona's goals, pain points, and buying patterns will help you create marketing campaigns and communication content that connects and gets better ROI. 
Your buyer persona should guide everything from product development to your brand voice to the social channels you use. Since different groups of people may buy your products for varied reasons, you might need to create more than one buyer persona. This helps in the proper segmentation of your customers and product alignment that keeps unsold stocks at manageable levels.
Product taxonomy helps to develop a product hierarchy that arranges products into categories so that customers can find what they want in the least possible clicks. Proper tags are used to group products into the right categories, which forms the base of a useful search function that yields relevant results, great user experience, and enhanced sales with strong conversion ratios. Various attributes are then applied to the products in each category.
In the eCommerce world, by preparing a robust taxonomy for your products, you create an eCommerce site that makes it easy for search engines to find your products, for your customers to add items to their carts, and ultimately, complete that order.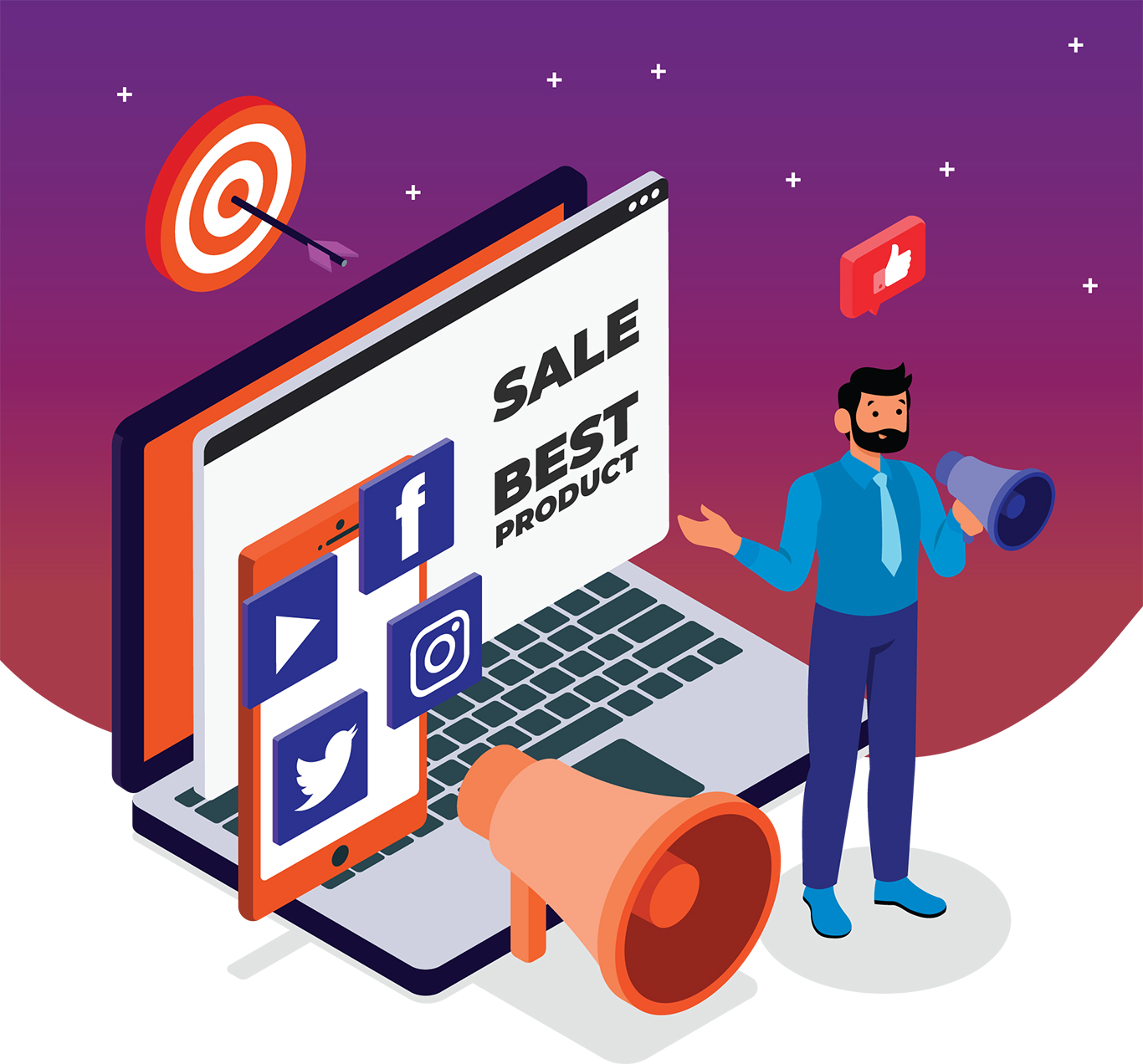 'eCommerce advertising' can be defined as the methods through which your products can be promoted using various digital marketing platforms. These ads may come in the form of display ads, banner ads, or rich media ads. Please find listed below some of the most prominent channels and their KPIs that can be used to market and sell your eCommerce products.
Why Facebook
Most trafficked social media site
Top social search engine
Create a community around your business
Connect and engage with current and potential customers
Promote content you create, including webinars, blog articles, or other resources
Generate social proof and credibility along with sales potential
KPI's Measured
Number of fans
Conversation rate
Engagement ratio
Sentiment
Why Twitter
Allows you to connect with your target audience easily
Allows you to send information to your followers in real-time
Allows you to increase traffic to your website and blogs
Helps customers to stay updated with the latest trends
Building brand and visibility
Get mobile with Twitter
KPI's Measured
Number of followers
Follower/ following ratio
Retweets
@connects: both @replies and @mentions
Why Instagram
Allows you to connect with your target audience easily with #hashtags, @mentions
It's currently a very friendly, amicable community
Identify influencers and promote Influencer Marketing 
Allows you to increase traffic to your website and blogs
Connected with other social platforms like Twitter, Facebook, Foursquare, Tumblr, Flickr
KPI's Measured
Number of followers
Follower/ following ratio
Comments and Shares
Both #hashtags and @mentions
Why YouTube
Second most extensive search engine after Google
It has the potential to go viral
People would much rather watch something than read it
Global and local audience
Brand awareness and recognition
Leverage sharing options by using bulletin boards feature
Submitting to other social media sites increasing reach
Instant distribution of information
Making own customized channel and customer base
KPI's Measured
YouTube Insight
Views
Shares
Audience Retention
Engagement
Why Blogs
Creating a real dialogue with those who matter
Develop your position and your reputation as an expert
Public Relations & Press Releases
Awareness
Educational Marketing
Multiple Authors
Instant distribution of information
KPI's Measured
Number of visits
Traffic Source
Top viewed posts
Subscriber rates
Social Shares per posts
Once you identify the platforms and the KPIs that you would want to track, the next step is to develop a marketing plan. A step-by-step approach to enable digital marketing for eCommerce would be:
Create a marketing strategy
Decide the eMarketing objectives
Decide on eMarketing tactics
Align tactic to eMarketing objectives
Plan and evaluate strategies for each decided eMarketing tactic.
Implement & go live with each tactic
Track, Measure, and Analyze
Optimize the tactics
Review the tactics
Repeat
Once you have the right strategy in place, you can always add some more eCommerce marketing ideas to increase online sales.
Upsell your products
 Reduce abandoned carts
Reward your loyal customers
Ensure post-purchase follow up
Use email marketing extensively
Keep generating email subscribers
Improve your email campaigns
Send wish-list reminder emails
Send an offer for abandoned cart emails
Go high on
Put product-related videos on YouTube
Influencer marketing
Affiliate marketing
User-generated content (UGC)
Generate word-of-mouth marketing
Set up referral marketing campaigns
Launch search engine marketing campaigns
Set up relevant re-targeting campaigns
Product listing ads
By working on some high performing strategies and tactics to help you reach your goals, one can tweak to fit your niche, and you can build the perfect plan for your eCommerce store.