In the quaint beach town of Byblos, Lebanon, Kristel was raised amidst hues of artistic inclination instilled by her father, a painter and sculptor who encouraged her to follow her calling. Heeding her genetic and nurtured instinct, she drew and painted all the time as a child and instinctively chose graphic design as her major, although it wasn't a popular vocation at the time. On graduation, she worked as an in-house designer for seven years, but soon, she was restless to return to her exploration of traditional, individual art, where her signature voice murmured waiting to be discovered.
In relentless pursuit, Kristel let herself awash in color and technique. No medium, no color, no prevalent style was left untouched. Oil paints, watercolor, acrylic; she dabbled in each one. Her experience as a designer got her acquainted with artwork software and programs that surprisingly broadened her perspective even in traditional arts. Her inherent knowledge leaned on the skills and lessons she acquired, and her innate voice grew bolder, more distinct with each attempt.
Despite possessing what many may call an inborn talent, Kristel is convinced of the importance of critical training for an artist. Her four-year course imparted skills that have indubitably shaped her flair and technique. Kristel recalls that the first two years of university were intensely creative with a flurry of studies around drawing, painting, and even photography. She made time to take additional courses such as oil painting, which she couldn't learn independently and needed some help with. The extensive work experience endowed her with technical expertise, rounding up her already impressive skill set.
Asked to label her style, and she dismisses it with a laugh. "I call it eclectic because I like the word," she admits with a chuckle. Her art is a truce between clashing ideas, simple yet complex, black and white yet violently colorful. She revels in the use of traditional motifs, landscape, flowers, and patterns, but there's an undeniable modern touch too, with contemporary figures, the distinct abstract design, and shadowy depiction of human torment. Boxing her style up into one category isn't  terribly important to her. Contemporary or traditional, she views it as a blend that's uniquely her.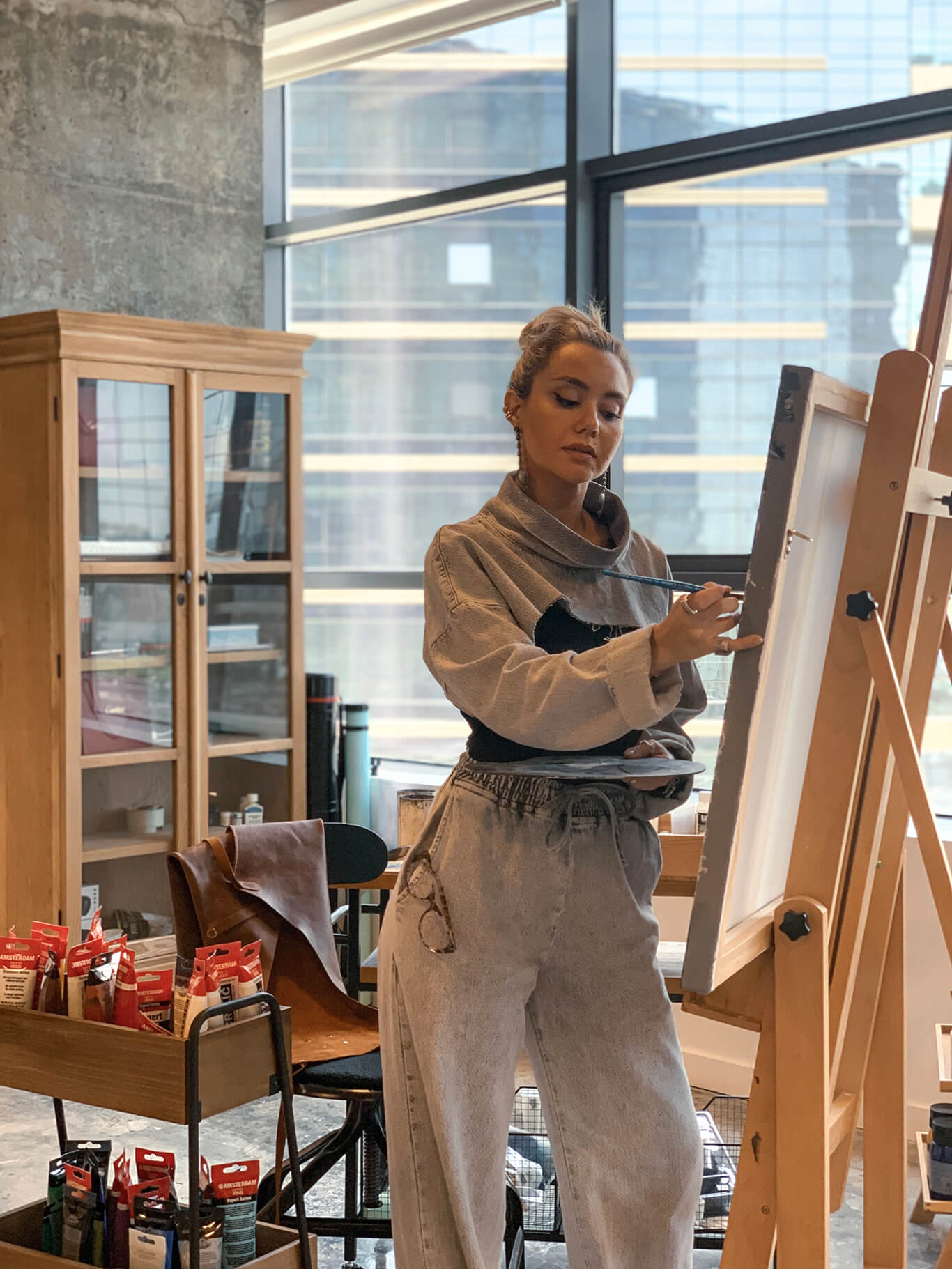 Stirrings of Psychomachia
Art often has a muse, and not every muse is a person. Before the pandemic, Kristel delved into the myth of Pandora's box. As the lore goes, Pandora, crafted by Zeus as the first woman, succumbed to her pressing curiosity and opened the box in her care, unleashing unspeakable evils trapped within it onto humanity.
Her research for this artwork lured her down the rabbit hole of depictions of virtues and vices in mythology, hurtling to a stop at 'Psychomachia', considered to be the first and most influential 'pure' medieval allegory, where four cardinal virtues and vices battle for the human soul. The word is now synonymous with the 'battle between good and evil'.
Exoritur quoties turbatis sensibus intus
Seditio, atque animam morborum. rixa fatigat,
Qaod tunc praesidium pro libertate tuenda,
Quaeve acies furiis inter praecordia mixtis,
… Vincendi praesens ratio est, si comminus ipsas
Virtutum facies, et conluctantia contra
Viribus infestis liceat portenta notare.
It rises when the disordered senses inside
Revolution, and the soul of our diseases. doused tires
Correspond to good from the defense of the liberty of the, then,
What land battle rage between the ribs mixed
… Of conquering the reason for this is the present, the very close quarters, if the
Deeds, and to wrestle against
With hostile powers, wonders, that they be allowed to point out.
Excerpt from "Psychomachia", Prudentius, 15th century AD
Stanzas of its composition are depicted across the collection. 'Atonement' shows a woman agonized by the memory of her vices. 'Sands of time' depicts an hourglass with precious grains of time just falling away, evoking powerful introspection in the passage of life.
Despite extrinsic inspiration, self-expression is the most important thing for her. "I see the idea in my mind, what I want to create." Her style draws from post-impressionist Henri Matisse, who she briefly trained under, drawing heavily from his play with color. The other artist she looks up to is Andi Warhol, who was a leading figure of the pop-art movement.
Kristel is impassioned by the poem and its commentary on the human condition. "In the journey of our life, we have these deep conflicts within us. We are always in the battle between good and evil, within ourselves; in our daily thoughts and our daily decisions."
Above all, she is almost stubborn in her endeavor to depict positivity. "In the poem, the good wins, and that is what I want to depict in all my artworks."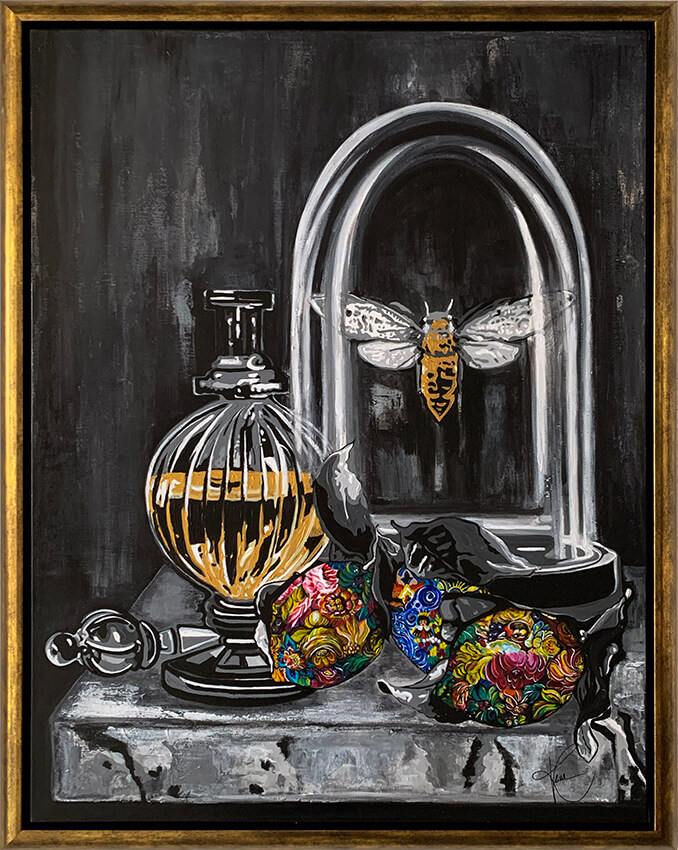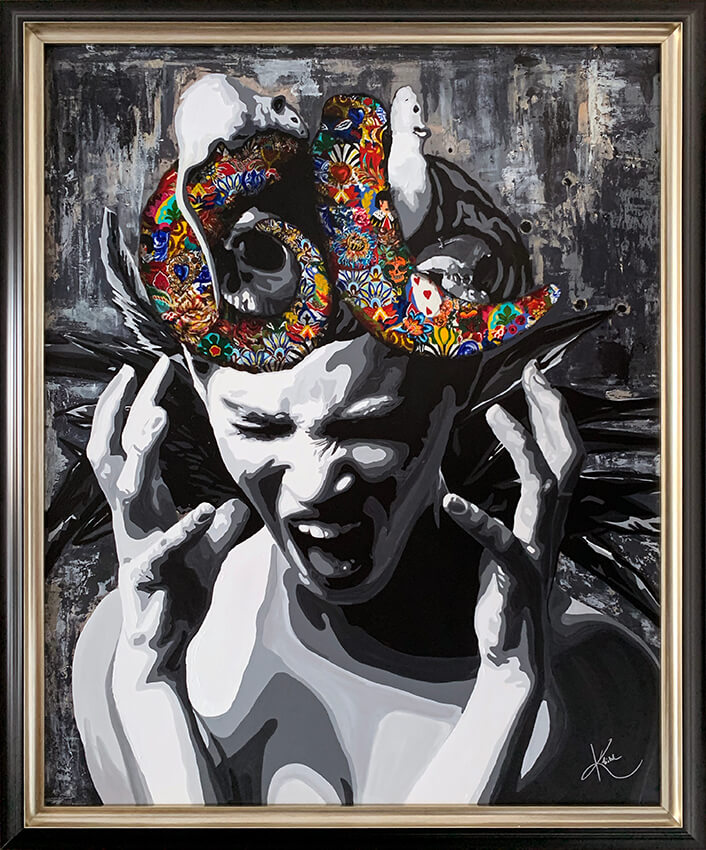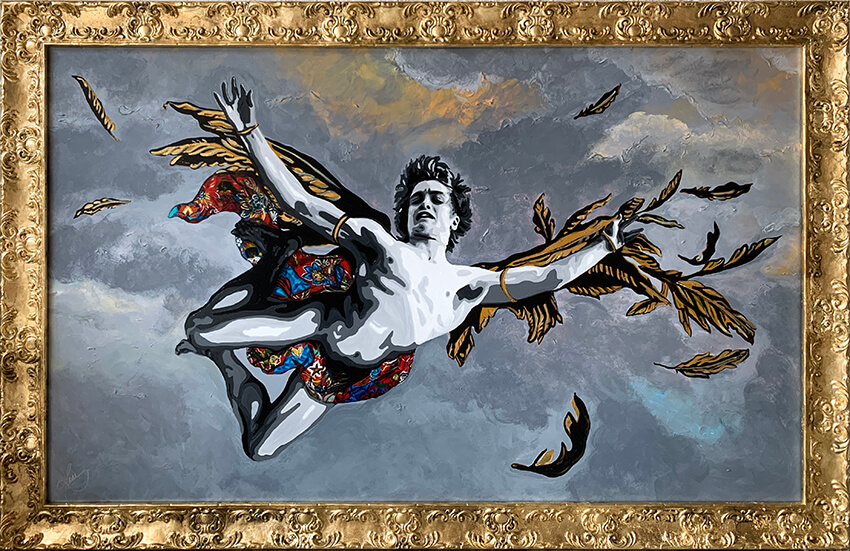 Matters of Digital Provenance
NFT began making a serious appearance last year, which in essence allows digital art to be tokenized and purchased, with a value assigned to its unique and authentic status. Kristel is the first female artist in UAE to launch NFTs of digital art and hence, has actively defended its worth and virtue in modern art. "It has the same creative process, it takes the same amount of time, and it is no less in any way than traditional art," she proclaims.
NFT has created a new market for digital artists to sell their work. This is a new channel where artists get to sell directly to collectors with no middlemen. There's a certificate of authenticity for digital art, which can otherwise be easily replicated or downloaded hundreds of times from the internet. The certificate preserves original ownership, such that there is defining trail of dealings leading back to the artist, helping them get their due. Reselling gives a royalty to the artist. "This helps build a provenance, a history every time it changes hands. It's something to be excited about."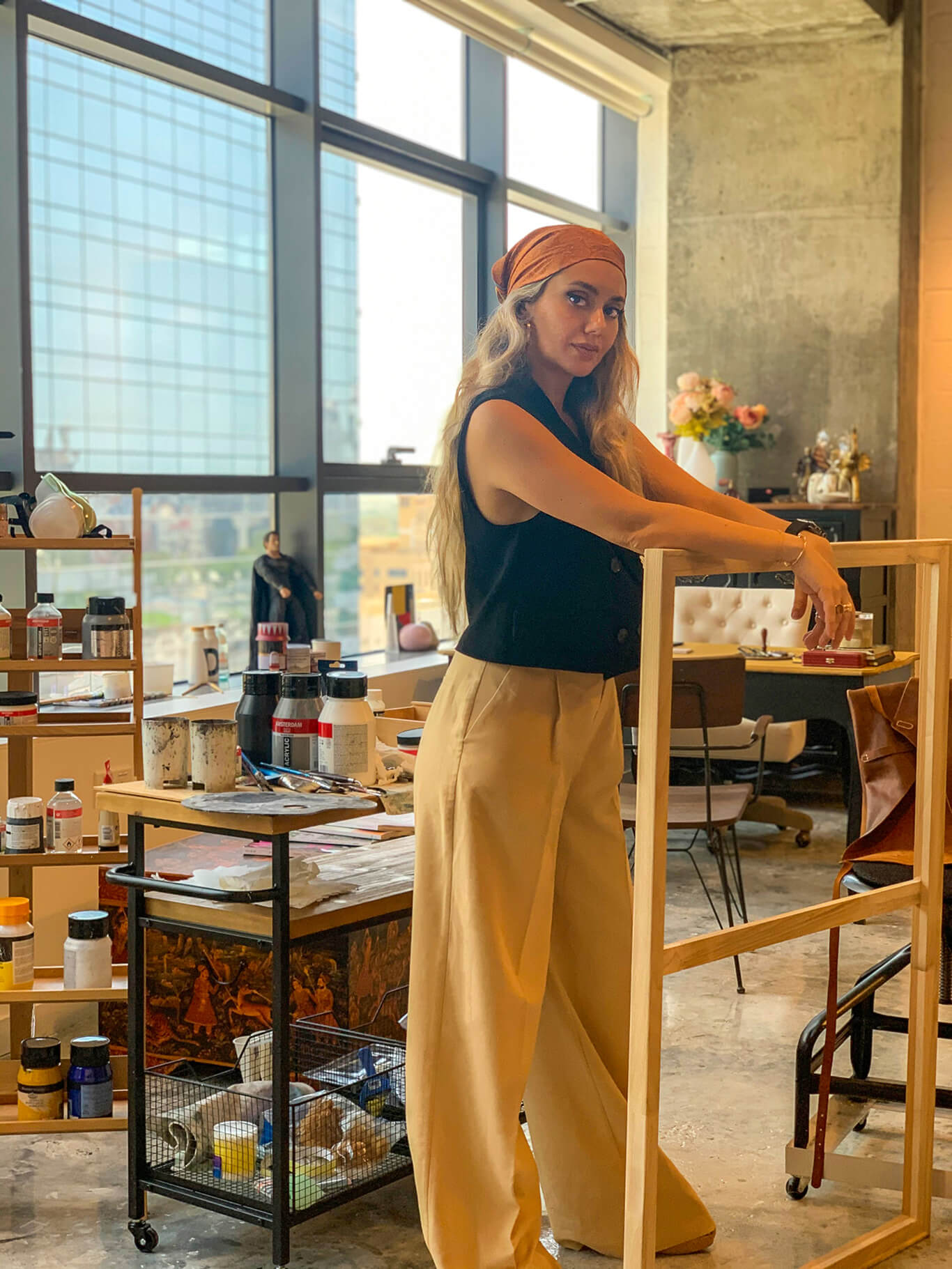 Kristel admits to feeling pressured to prove herself whenever she is showcasing her digital work alongside her traditional acrylic work. Critics sometimes tend to be dismissive of digital art, thinking it is computerized or that it isn't as much of a challenge as what is perceived to be 'real' art. Despite being merely different mediums, some critics think one is easier than the other.
Digitally she creates limited editions (about 25 pieces) drawn using a computer, printed on canvas, and then shipped to galleries across the globe. When she began collaborating with galleries in Japan, renowned for exhibiting the work of celebrated artists, Kristel was pleased to discover they were selling 10 to 20 of her artworks every month, across a vast and enthusiastic clientele, which was a great recognition of her craft. She received feedback that her work on both canvas and print was of great quality, and she had returning clients. As her fame grew, the criticism ceased to matter. "NFTs too, give us reassurance that digital art is here to stay," she says, quite pleased as she has sold ten pieces as NFTs from her latest collection 'Psychomachia'.


Today, Kristel's work adorns the walls in major cities like Shanghai, Hong Kong, Taipei, Tokyo, Delhi, Texas, New York as well as in Sidney, Zurich, Istanbul, Vancouver, Paris, Amsterdam, Venice, and across the Middle East. London's Eclectic Gallery is gearing up to display 8 pieces from 'Psychomachia' in the upcoming week. On the home turf, Kristel's Gate Avenue gallery in DIFC is showcasing her latest collection till the end of July 2021.
For something to bloom, there needs to exist fertile land to thrive. For Kristel, UAE was the canvas on which she painted her destiny, and it has flourished in color. "I moved to Dubai 14 years ago, got my first real job, met interesting people who have shaped my personality, who have honed me as an artist. I have my family here, so Dubai is home for me." Furthermore, having received her golden visa from the Dubai Culture and Arts Authority is a stamp of validation, as is the warmth and acceptance she receives here. The remuneration she gets affords her to keep trying new things and taking risks with the craft.
"I have lived here longer than I have anywhere else. I would not have been an artist had it not been for Dubai," she signs off, grateful for the success she has seen and all buoyed for her future work.