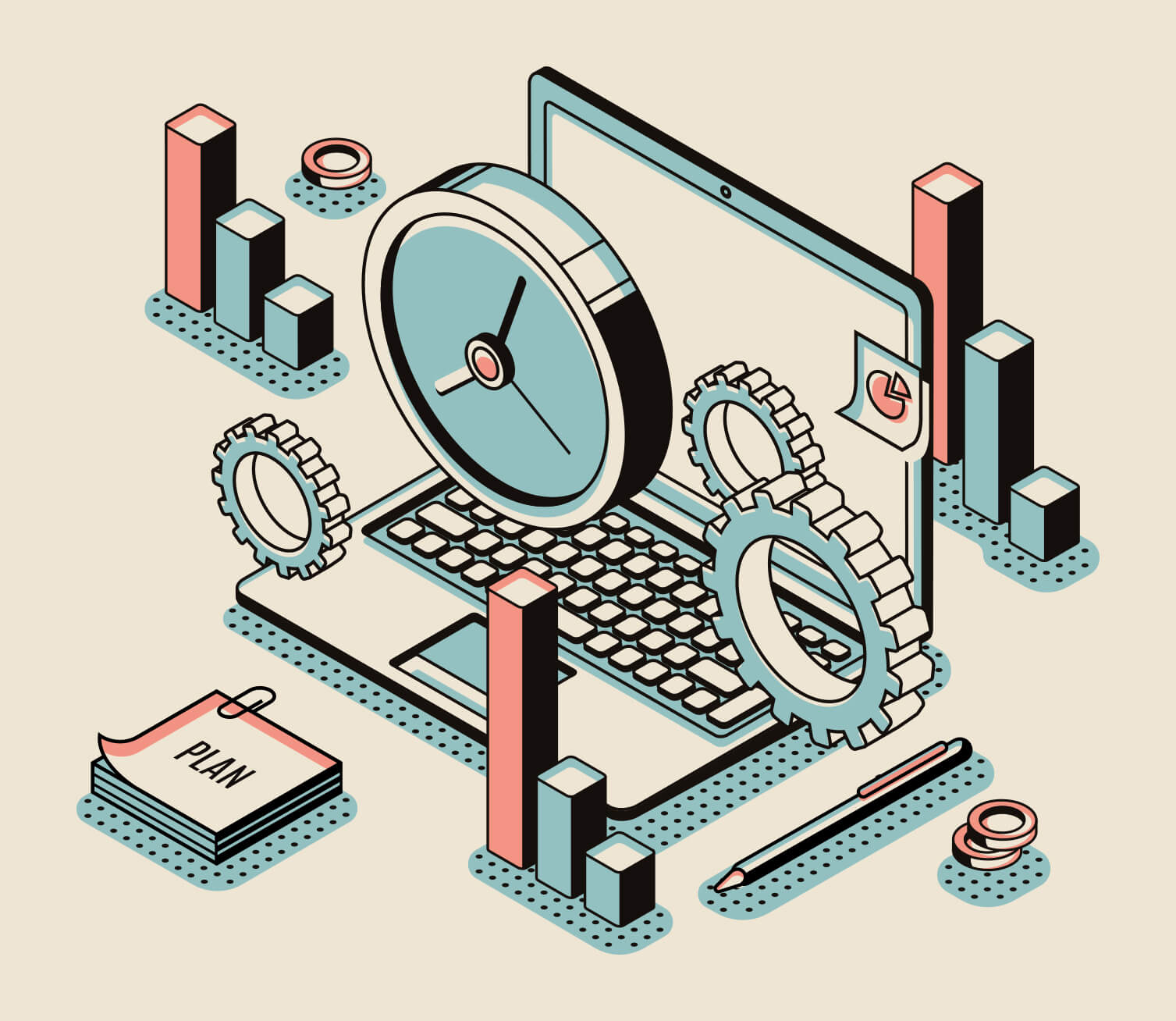 Flexibility is the buzzword of the year. Discarding rigidly enforced schedules, we've done a complete 1800 to the freedom of choice – to choose when, how, and where we work. Anecdotally, a well-planned yet flexible organizational style leads to a more responsive workplace where employees feel involved. According to CompareCamp, "73% of employees said that having flexible work arrangements increased their work satisfaction." The previous year has truly tested the limits of flexibility for many companies, and modified work schedules have been trending upward since then, aided by new technologies. Companies today are left with no choice but to change and grow. We bring you some of the apps that are making scheduling a breeze.
A robust communication is the backbone of a workplace. But scattered manual tasks, over-reliance on spreadsheets for planning, and other such shaky solutions cause an office to go haywire. Now, forward-thinking businesses are investing in scheduling software that automates manual processes and integrates information from unrelated systems.
High-quality interactions are crucial for any organization that deals with customers and clients, such as restaurants, gyms, and franchise businesses. If your business relies on multiple calls to dispatch the workforce or rearrange their schedules, you run the risk of expensive errors. The lack of connectedness and choppy communication can cost time and money.
As a business, it's imperative to improve the ability to juggle multiple jobs where an appropriate number of employees have been scheduled for important projects or shifts. A scheduling tool will instantly notify a shift conflict or a day off. It lets you know the amount of time your employee spends on a project compared to others or is underworking. Customer experience and employee well-being increases when they are prevented from doing repetitive tasks or double-scheduled for the same task. By using a powerful scheduling tool, you can streamline the chore of distributing the schedule to your employees in a single click and informing of an update or a change in schedule by gaining real-time visibility into worker availability.

WorkAxle: With companies increasingly concerned over their employees' productivity and work-life balance, the new flexi-time is being widely adopted. WorkAxle, for instance, promises to be the one-stop solution for businesses of all kinds: Food & Beverage, Retail, Logistics, Hospitality, Transportation, Manufacturing, Education, and many more. They've got an answer to every riddle – managing part-time and full-time staff, time-related statistics such as hours worked, late arrivals, absences, to going a step above with sales statistics and weather analytics.
The WorkAxle software's mission states, "Time management becomes complicated when you have over 1,000 employees. WorkAxle helps employers provide a more flexible work-life balance to employees with flexible scheduling throughout the workplace."
Getting Your Ducks In A Row
Scheduling software needs to meet some competitive criteria for remote work – like being cloud-based and optimized for mobile devices where new schedules can be accessed 24/7, even on the go. The easy accessibility encourages employees to look to the app and not to their immediate superior for things such as changing a work shift, asking for a leave, or putting in a request for a performance review. While the errors and miscommunications are minimized, the apps also ensure that hourly workers are fairly compensated for their time without confusion or needless hassles. This contributes greatly to employee well-being and hypes your reputation as a business that runs like a well-oiled machine. There are a few apps that can help you with this:


Monday.com: Another scheduling wizard is Monday.com, with its namesake being what workers deem the most terrifying day of the week. While it shares qualities with all effective scheduling solutions, some traits make it unique – such as its ability to be integrated with tens of other email and data share applications, super-easy automation of repetitive tasks, and ability to visualize work as a map, calendar, timeline or more. The Chart View and Timeline View options in Monday.com give you an overall picture of how projects are progressing, the timeline prepared, and how your teams are adhering to it – both for individual tasks and entire projects. These views offer great data visualizations, making it easy to manage projects, tasks, and team members alike.


Deputy: When Steve Shelley's business expanded, he was faced with a problem he should have predicted – endless employee-admin. Doing it all himself was unthinkable, so he enlisted the help of Ashik Ahmed and Deputy was born. Eighteen years later, Deputy is making scheduling easier for 250,000+ workplaces around the globe.
According to Deputy, using a spreadsheet in plotting timelines and schedules loses 20% of a manager's time. Software Advice positions Deputy as cloud-based human resource management (HRM) solution that caters to businesses of all sizes across various industry verticals and provides them employee management and scheduling functionalities. According to them, "Deputy helps businesses become more profitable, connected, and trusted by each team member — our goal is to make that happen for workplaces in every community, worldwide." Boasting of big-ticket clients like Amazon and Nike to small businesses such as vet hospitals and health food stores, their website is chock-full of glowing testimonials from those who have entrusted them with their business.
Have you ever found yourself in a place where you feel you never have enough time for everything? One overlooked reason is that you are not effectively scheduling your time. Golda Meir, former Prime Minister of Israel, once said, "I must govern the clock, not be governed by it." There is enormous potential in an established routine. Sticking to it not only means you lead a more disciplined life, but it frees up your time for rest and relaxation too. With hours clearly ear-marked for their purpose, you spend less time and energy having to make last-minute adjustments. Schedules are proven to keep you on track, quelling the distraction of social media and reducing mental stress. By allocating specific time for everything, you stay on track and keep moving forward more effectively and efficiently. Here are a few popular productivity apps:


Todoist: In 2007, Amir Salihefendic struggled with managing his personal commitments, part-time jobs, and university projects, so he set about creating a task management system, and Todoist was born. Fast forward to today, Todoist has seen some impressive milestones – more than 25 million users worldwide, over 1.5 billion tasks created, with corporate clients like Facebook and Disney.
Amir explains, "Productivity is an ever-evolving field that's part psychology and part technology. Everyone is different, so what works for one person does not apply to everyone. We created key features, like Todoist Karma, that rewards people for accomplishing tasks. Todoist Karma keeps people engaged by holding them accountable to establishing a daily task goal. We also made it easy for people to track their tasks, so they will commit to a system – Todoist integrates with everything and is available on all major platforms." The developers also kept in mind to accommodate different use cases – from fitness to healthy meal planning, from aviation to wedding planning.
Todoist usage patterns have seen a steep curve. "When people get indoctrinated, they use Todoist. A lot! It becomes part of their personal and work life — something they cannot live without. It becomes an extension of you."

Remember the milk: One of the best personal time management apps, Remember The Milk, states, "Managing tasks is generally not a fun way to spend your time. We created Remember The Milk so that you no longer have to write your to-do lists on sticky notes, whiteboards, random scraps of paper, or the back of your hand." They promise a range of customizations – from the way you prefer your reminders, as lists or as tagged tasks, to picking the perfect theme to reflect your mood. They also have a nifty little built-in system for those who have a habit of postponing tasks, so this one is worth checking out.
It's hard to believe since businesses seem unpredictable, but here's the truth – a better scheduled and planned business has a higher chance of making it big than one with the most ground-breaking idea.
Deploying an airtight system for the scheduling and grunt work leaves the leadership with plenty of time to work on good ideation for the business. Today, a single scheduling app can come to the rescue in getting maximum productivity for businesses by helping management prioritize work, allocate the resource to meet professional commitments, and help people plan their day-to-day priorities. If you are a small business, use the trial period of any such app to get extensive feedback from your team about its functionality and effectiveness – this will help you before you commit to one of them.
In personal life too, humans multitask out of necessity, so most are overwhelmed by it. We often bite off more than we can chew. The average work-goer with kids, responsibilities and random errands is often frazzled at the demands of everyday life. Given our busy lives the demand for scheduling apps will only increase, forming an essential component of the self-help universe that also comprises of productivity hacks, self-growth and awareness tips, fitness goals, and mindful eating. As people aspire to become more focused, alert, less wasteful and ultimately derive the best of their 24 hours, these are not apps that will see a decline any time soon.