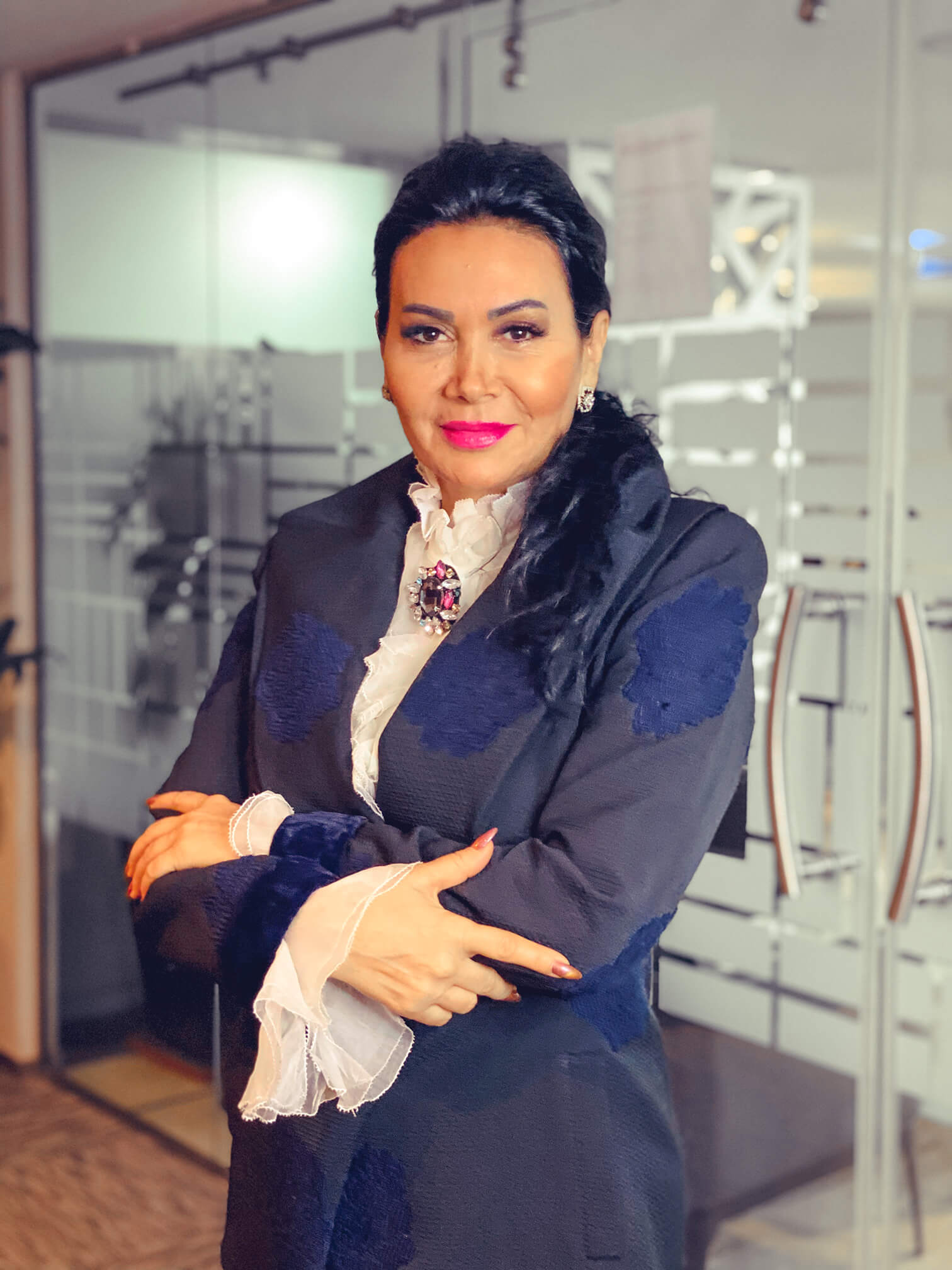 Fashion speaks before you've said a word." – Luminita Rizescu is an embodiment of the phrase. A lawyer by profession, she has seen every type of case under the sun, but cases linked to design and fashion have a special place in her heart, given her penchant for style and couture. One might think these fields are as different as chalk and cheese – for Luminita, they blend like the river into the vast sea.
Luminita's mother, a vivacious persona herself, was overjoyed to have a daughter with whom she could share her passion for beauty, dress up, and the finery of fashion. Raised in communist Romania, she fondly remembers her simple childhood, 'no Instagram' as she succinctly puts it, playing hide and seek, training hard at gymnastics, sometimes up to 4 hours a day, all while keeping her nose to the grindstone at school.
A few years after pursuing engineering in Fine Mechanics and Tools, she studied law about the same time as her brother, drawn by her interest in the field and her desire to help people.
In The Bylanes of Business
Luminita has an indubitable entrepreneurial instinct, fostered in a newly minted democratic Romania. After the revolution, investors flooded the place, and business was booming. Students were encouraged to seek internships, form start-ups, and help local businesses with paperwork to gain approval from the authorities. The revolution opened up a formerly cordoned society.
Luminita started in commercial fashion, designing a fur collection in China. When she came to Dubai, her furs made their segue to the ramp at the International Fashion Week. The year after, she went ahead to create creations of fur on abaya, combining Middle East with European flair, which was received enthusiastically by local fashionistas. It was instinctual for her to combine her passion for law and fashion into a meld of its own. "When you have a passion or a hobby, you bring your energy to it," she says matter of factly.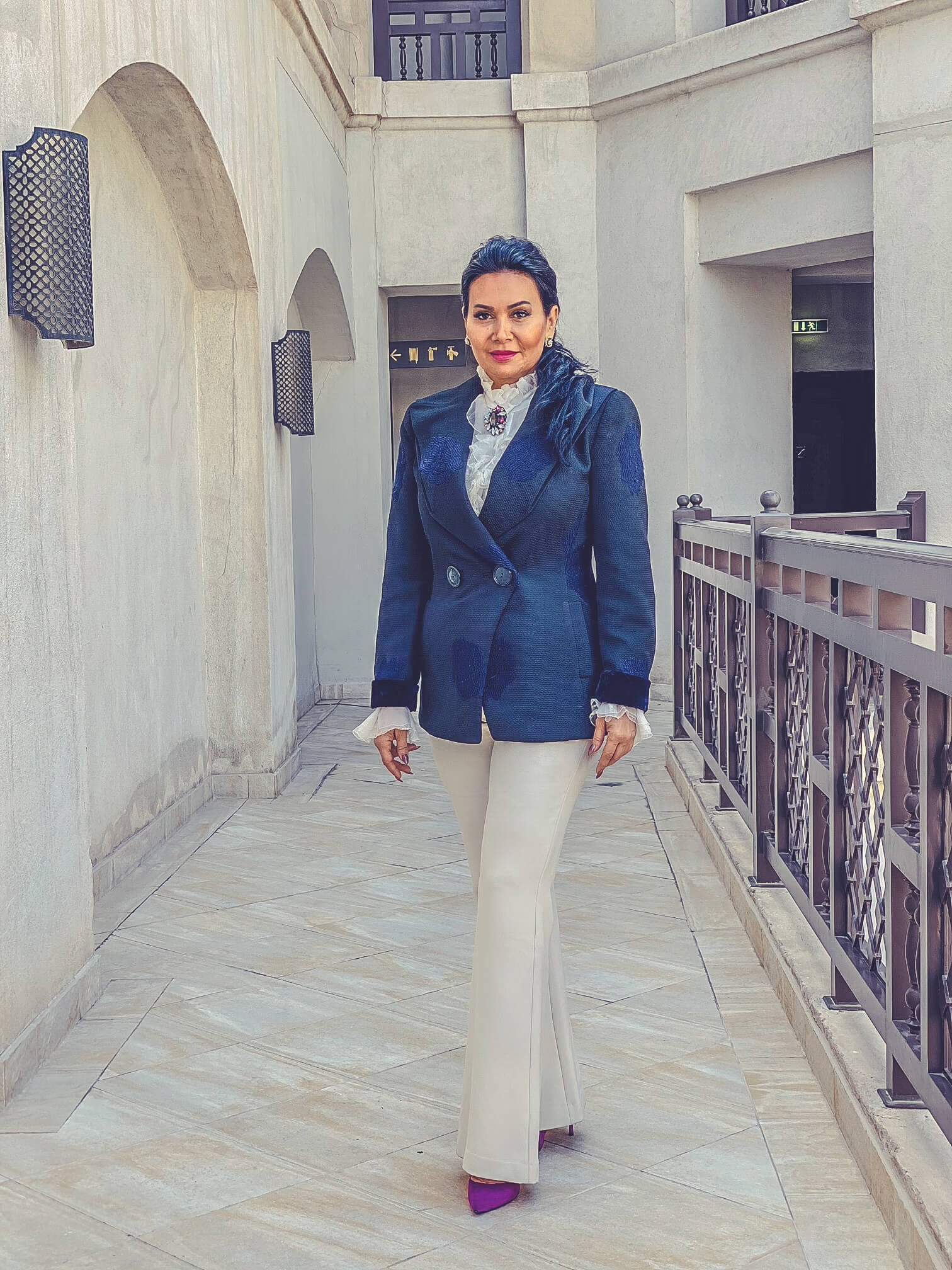 Luminita has an impressive legal career. She headed a law firm in Romania and has represented before the Supreme Court. In Dubai, she is among the top brass at 'Al Safar and Partners' as a senior legal consultant. While highly accomplished today, the beginning was not without its challenges; UAE law is different from European or US law. When she began practicing, she had to translate her knowledge and understanding to the local rules.
Fashion law has its own diversity. "The spectrum sees all kinds of people – small industries, retailers, designers, all concerned with their rights. Sometimes, the big brands come as well. Intellectual Property is one of the biggest issues in the market because people are not aware of their rights and responsibilities. A lot of people approach me, trying to get answers." Luminita is quick to advise. "First, protect your brand. And not just in fashion, but any business," she clears.
One of her clients is a make-up artist who developed a range of make-up brushes. On Luminita's counsel, her first order of business was to get trademark registration for her signature brushes. Now, it is safely protected under the Intellectual Property legislation. Several of her clients are safeguarded thanks to this simple advice.
No matter the brand's size, any brand's image and earnings can be destroyed because of counterfeiting. At the outset, it may seem like headlining a fashion show or showcasing your collection on an international ramp spells success. In reality, it's hardly that simple. After the showcase comes the tricky part when you hope your product will sell in markets. Being purchased right out of the collection is very rare, so it needs to be bought by stores as consignments. This exposure brings the risk of counterfeiting. If the designer has neglected using intellectual property rights to safeguard their creations, they cannot sue the miscreants for liability in the event of theft. Regardless of the size of the brand, everyone needs protection from such counterfeiters; hence copyright law is a must to make them bulletproof.
Smaller brands also need to be aware of their unique challenges. While established or legacy brands like Louis Vuitton or Chanel have throwaway budgets for strategy, marketing, advertising, and legal protection, smaller brands do not have this luxury. Their small scale and relative anonymity require them to stay extra alert regarding avoiding legal pitfalls.
Luminita has seen many changes and morphs in the fashion business over her 20 years of practice as a lawyer. In the last decade, fashion has seen a global revolution, attracting progress, diversity, and gender neutrality into its fold. Despite her hectic schedule, she is concurrent with fashion trends and developments around the world. The fashion industry has made over 1.4 trillion dollars since 2014 and created over 700,000 jobs, which is incredible for an industry as diverse, creative, and unpredictable as this. This has caught the interest of the legal community to protect the rights of new creators of authentic fashion.
"The global market did amazing business, even in the pandemic," she reveals. Emerging markets such as Europe and Asia, as well as online business, saw a meteoric rise. The restrictions on people's movement and artistic expression forced many to create their best work, leading to a renaissance of sorts in the field of art.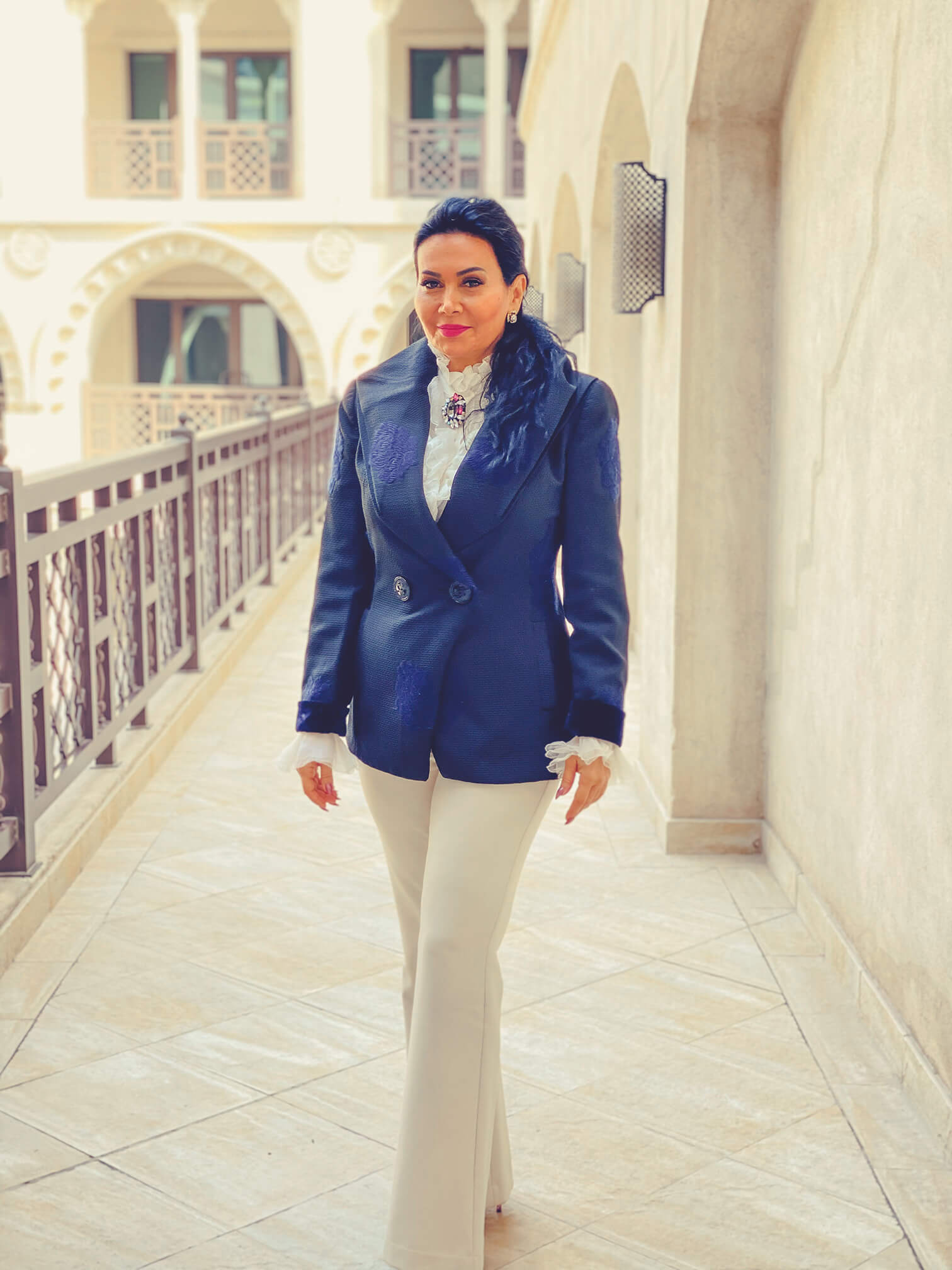 An Outcry For Accountability
Public consciousness creates a push for more accountability from brands, even major ones who escape due to their clout and recognition in the fashion world. Watchdog organizations have brought the retribution of such fashion labels. 'Diet Prada' was an Instagram account established by two then-anonymous founders, who in 2017 were revealed to be well-known fashion professionals Tony Liu and Lindsey Schuyler. While initial content was often satirical and light-hearted, the account became a more serious voice in campaigning for integrity and accountability within the fashion industry, against cultural appropriation and lack of diversity in glamour circles.
Every artist – whether a designer, photographer, or author should know that when they do not register their patent or trademark, it leaves them exposed to risk. In the event of plagiarism, which could happen by either a competitor or a big brand as well, a trademark or copyright means that there are weapons with which your lawyer can fight your battle. Without them, the lawyer and the client are in hot water. Luminita explains that in several cases, even hard proof such as pictures, witnesses, dates, etc., does not amount to much without the original designer owning the copyright. It is easier with trademark certificates, intellectual property certificates, which Luminita stresses for the protection and security of her clients.
Getting Fluent In Legalese
What would she advise those just starting out in fashion? "If you start a business, you need two people for sure – a lawyer and an accountant." Consulting a lawyer at the very outset safeguards small and local artisans from legal trouble down the road. Her issue is that people delay coming for legal recourse, which makes matters complicated. "People do not come in the beginning. They only come when they have a problem. Very few come when they haven't fallen in jeopardy." What she means is, before drawing up terms such as tenancy contracts or advertising contracts with media companies for promotional activities, make sure you have a lawyer present. The object being shared between the two parties should be very clearly specified.
The other aspect is that of legal fees. Depending on the rules of the Dubai court, number of arbitrators, government fees, and other taxes, the fees can vary wildly. Many retailers and small businesses do not understand these specifics. Sometimes due to the legal fees involved, the minor party cannot even afford to start the lawsuit. If they choose arbitration in Dubai court, it could be afforded, but the lack of awareness coupled with meager finances could spell doom. All this could be avoided with timely and basic legal counsel. The business should not stress about legal literacy; they should instead focus on the right advice from the right source.
Luminita is also quick to dispel some myths about lawyers. Contrary to popular belief, a wise lawyer will look to settle more than anything else, seeking amicable resolution. "In a fight, there are casualties," she cautions. More damage can be avoided by assessing the situation.
Not that winning isn't important. "I am a Supreme court lawyer in my country, and I like combat," she quips. But based on her colossal knowledge, experience, and strategy, if there is a way to settle on her client's terms, she will always try her best to make it happen for the client's benefit. "When it comes to my client's freedom, his kids, his fortune, or his estate, it's about treating the client and his matter as the most important thing. I give my 100% to my client", she affirms.
On the personal front, Luminita radiates contentment. Both her sons have inherited her penchant for law, with one having completed his law degree and the other just starting at Middlesex University in Dubai. She mentions that she often receives calls from strangers, women in need, and mothers without support who reach out to her, hapless and desperate. She chooses empathy over apathy, going above and beyond to help them. Some of her passion projects include collaborating as a legal consultant for Said Omari's Paris publication 'Magazine Style', writing blog pieces and articles to educate people about legality in fashion, and representing top end clients from around the world, including Bollywood biggies from India, and the high-end men's skincare brand 'The Art of Shaving' from New York. "Darling, I'll tell you what, I don't have goals anymore!" she laughs and says, but we think she's passionate enough for a few more big wins coming her way. Safe to say, this lawyer has her plate full.