The illustrious legacy of the world's largest rice miller and exporter, KRBL Ltd., traces its documented history to 1889, at Lyallpur in undivided India. Visionaries in themselves, founders Khushi Ram and Behari Lal were brothers who had diverse business interests. They owned ten cotton spinning mills, two rice mills, sixteen commission agencies in eighteen pre-partition Indian cities, and even a bank. The business activities diversified further to oil and finally went on to find its foothold with trade in rice. Beyond business, the one vital aspect of the two brothers was their exceptional integrity and business ethics. This was so strong and so well established that the business community as well as the general public reposed great trust in the KRBL value system of transparency, honesty, and fair play. The metric standards, the weighing scales, and measures used by KRBL were considered the industry standard. It was this intrinsic goodwill and sterling reputation derived from practiced values which proved to be the greatest asset of KRBL and has continued into the present day.
After Independence in 1947, the brothers had to leave behind almost their entire business empire and assets in the new country of Pakistan. Stepping into a new ecosystem with nothing but an immaculate reputation to follow, a strong network, and lasting relationships formed pre-independence, the KRBL family stayed resolute in their pursuit of reviving their business.
Determined to re-erect their empire on core KRBL principles of high integrity, serviceability of debt, and staying financially self-sufficient even in times of what experts labeled as 'despair', the company developed a rather unique export outlook while the other players continued servicing solely within India.
Innately enterprising and fearless, Anil Mittal, present Chairman and MD of the integrated rice company, established a direct export relation with Saudi Arabia which helped promote scale and growth. While on a business trip to Japan, he was deeply inspired by their ferocious investment in rice mills and then decided to implement the same back home in India. Another incident still narrated in business circuits is that he partnered with milling technology providers in Germany to set up a state-of-the-art rice mill in India in 1992 and insisted that this company set up a manufacturing base to supply subsequent machines Made in India to KRBL. After this, there was no looking back for them.
Staying ahead of the curve with constant innovation, timely investment in technology, unique problem solving, and brand development, today, KRBL products are preferred by consumers across eighty-two countries, with two of its subsidiaries in the USA and the UAE. Wholetime Director and Head of International Division of KRBL Ltd., Priyanka Mittal, looks back at their 132-year-old rich heritage reconstructing their collective journey.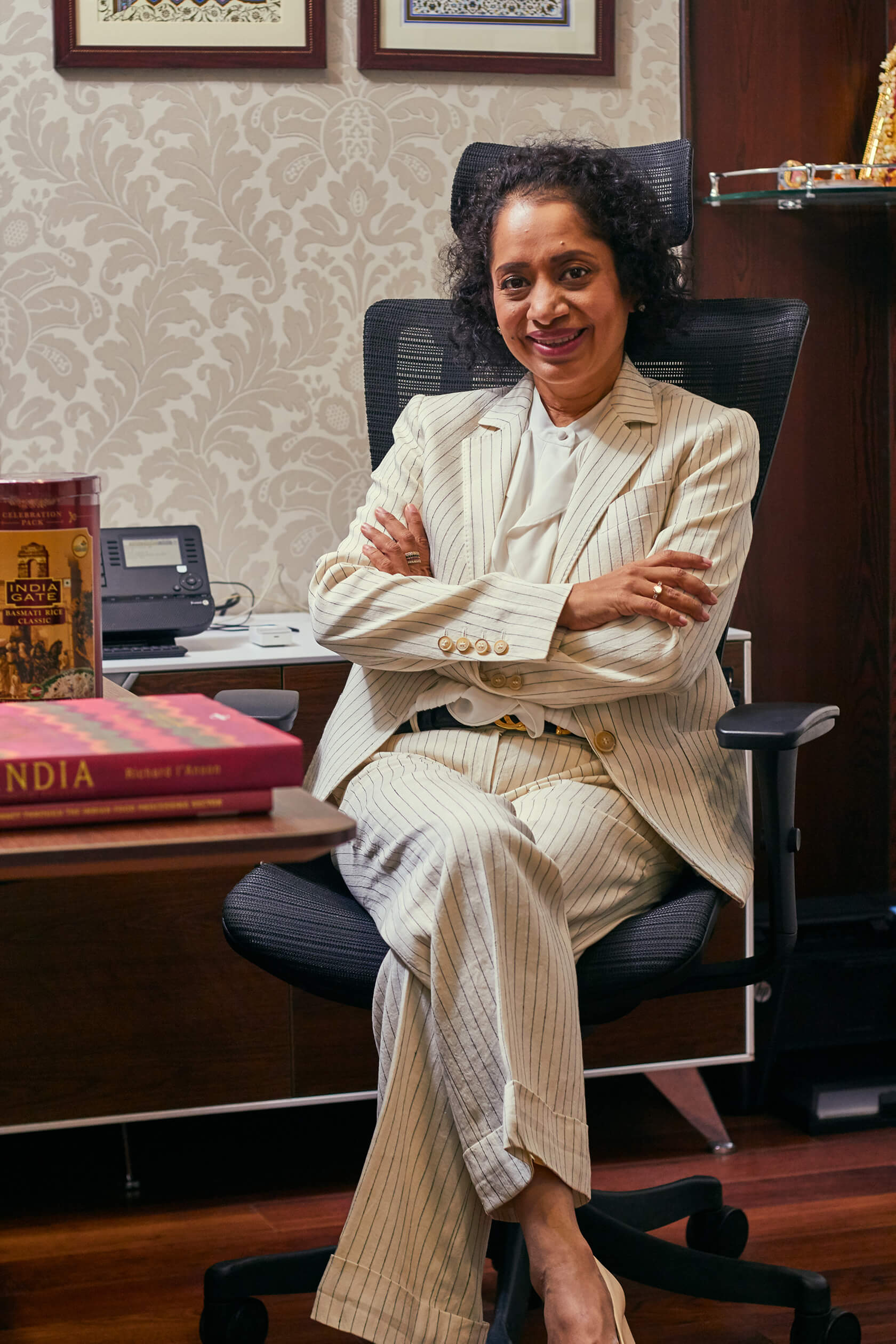 Precise and articulate, our interlocular of the day Priyanka Mittal is the descendent of the KRBL lineage with a distinct business presence of five generations.
Brought up in a progressive education-oriented family with strong values and traditions, she was raised by strong women who defied gender norms and ran the house with military discipline and efficiency. While chores at a young age instilled a pride of work in her, she imbibed the essence of core KRBL principles from her father, inspired by his aspirations for the country and Indian agriculture. She grew up bearing in mind that sound education is the cornerstone of success and entrepreneurship. And so, to sharpen tenets of economics, trade, finance, skills of negotiation, and ethics, she became the first girl in her family to head out of the country for formal training in business administration.
An intellectual since school, she found her voice at the University of Southern California. The reflection of the skill that she honed over several years was witnessed by an eminent panel at the 'Women in Parliaments Global Forum (WIP) Annual Summit'13', where she brought to light various subjects of global importance like gender pay disparity, shared values rather just pursuit of profits, and a system in support of women at work.
When the company's vision for Indian sustenance was being met back in the subcontinent, their long-term partners in Nigeria, Africa, expressed a desire to replicate the same in their country as a step towards self-sufficiency. Merely twenty-four at the time, Priyanka, under the able stewardship of her father, presented a proposal to the Nigerian government heads. As destiny would have it, Nigeria's then finance minister was a woman who was deeply impressed by the young entrepreneur's commitment to food security and sustainability. Looking back at the successful deal that proved to be a milestone in her life, Priyanka recalls: "It took a leap of faith from one woman and the implementation from another to make it happen."
Several years down the line, it is under her strong leadership as the Marketing Director that the brand 'India Gate' finds itself a trusted place in the hearts and households of its consumers across the globe. KRBL's flagship brand is the most valued on every metric and enjoys a leadership position globally.


From the humblest households to the most illustrious ones, families celebrate every occasion with togetherness with festive meals cooked with India Gate Basmati Rice. The reputation of the brand, which today is the most admired in its product category, was by no means built overnight.
Her face lights up as she talks about her brainchild, which accounts for over 70% percent of KRBL's revenue over the past seven years. "I remember carrying five kg sample bags, going to distributors and retailers, manning stalls and cooking on-spot at trade fairs. Like anything of enduring value, the brand journey of India Gate is one of deep confidence, obsession over quality, a quest for acquiring consumer trust through experience. It is a brand that owes a very significant part of its growth to consumer trust and a share of their heart. "More than a mere brand, India Gate Basmati Rice is an intrinsic part of every family's kitchen preferred by the greatest number of royal families across the world as much as by consumers," says Priyanka with apparent pride.
Swimming upstream, with consumer delight and their satisfaction being focal points, all Priyanka asked herself was, "Sure, you built this aura. But are you delivering?" The team of professionals employed an unconventional marketing strategy by letting the brand speak for itself and relying solely on word of mouth in its initial years. Once the brand reached a certain scale, the usual tenets of branding were brought in that require investment, visibility on the retail shelf, and impressive media campaigns to engage larger audiences.
"The goal of India Gate was to position the best of India to the world, and we have largely succeeded to that mandate," ascertains Priyanka. Their next goal was to prove to the world that India could maintain that premium positioning. Their third goal with India Gate was their ability to deploy the dollars back in the supply chain. "Unless you are sharing value across the supply chain, it will not sustain," she adds.
Gratified, she shares that although she has never traveled in a private jet, her brand India Gate has, when it was airlifted from India for the Middle East Emir's event in the UK, impeccably coordinated by the embassy.
The name India Gate was no accident and sought to put 'India' front and center instead of a 'point six-inch sticker on the back of packets, as was done in the past. With a loyal consumer base that spans from Saudi Arabia to Australia, it's safe to say the company has succeeded in upholding the pride of Indian agriculture.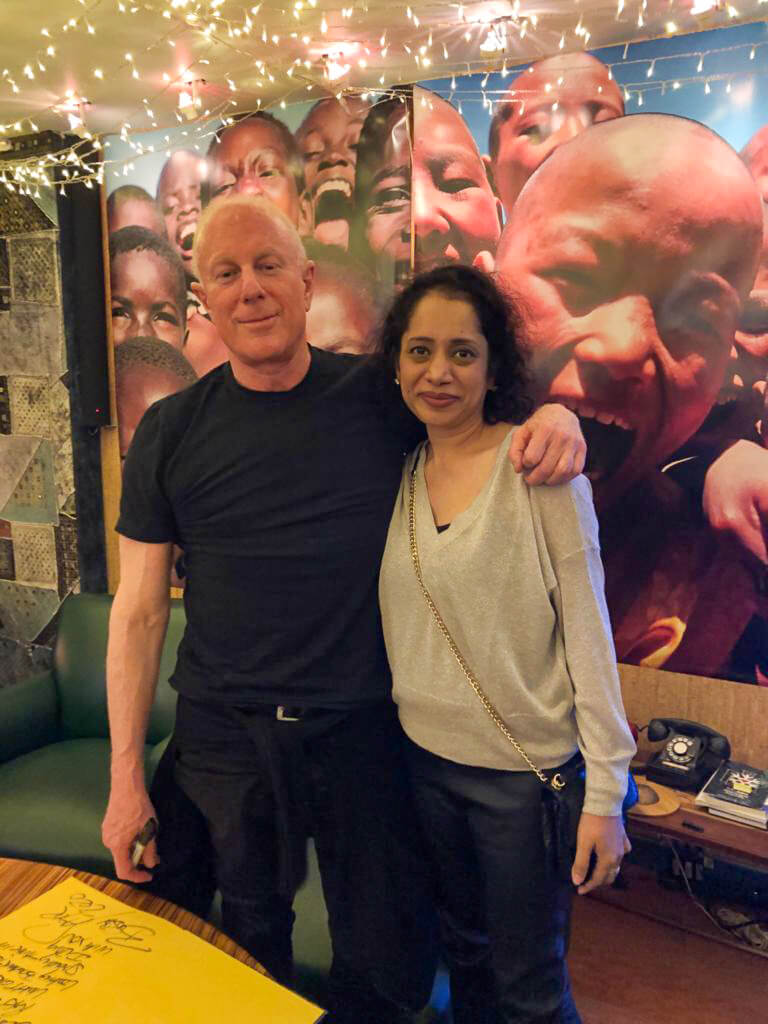 KRBL did not stop at the booming success of India Gate basmati and believed there was room for a value brand and launched another variant by the name of 'Nur Jahan', named after the Mughal queen of the same name, a strong female presence during the Mughal period. As we speak, the brand holds the title of the second most in-demand rice brand in specific markets, has a premium version of itself, and a regional rice element of Nur Jahan Sona Masoori, which is gaining huge traction in the UAE market. Branching out of a pure Indian, south Indian, and Asian diaspora of consumers in the UAE and the US, the product now has a global presence.
Having successfully established craftsmanship in Basmati, KRBL Ltd. has diversified into bringing India's regional aromatic rice varieties (such as Jeerakashala, Sona Masoori, etc.) to the world. Putting into perspective public health and nutrition, KRBL launched India Gate quinoa, flaxseed, chia seed, amaranth seed, and rice bran oil. Today the company has a thriving health offering portfolio. Every employee comes to work each day with the collective vision that maximum consumers worldwide start their day with India Gate and end their day with it.
The foundation of KRBL values was put to the test when COVID-19 struck took the world by absolute surprise. Even though they were advised to stay at home, employees stayed high purpose ensuring goods reached the last mile customers. Passionate and exuberant, they were committed to delivering excellence. As a leader, Priyanka felt privileged to witness this beyond purpose delivery. The tough time also brought into the spotlight micro episodes of leadership as people kept the momentum high. On the eighth day during the lockdown, people came back to the grind at the plant, following the COVID protocols of checking temperatures, distancing socially, and doing the needful in case anyone showed symptoms. She believes mental well-being is a shared initiative, and the plant heads stepped up to help ease emotional upheaval amongst employees. The team came out of COVID more robust, collective, and composed.
In Priyanka's opinion, the pandemic brought about catastrophic changes not just within the organization but also beyond them. "The investment in human capital has largely bridged the gap between pay disparity from more gender-balanced companies and countries into businesses in countries where this large gap still exists, but COVID has pulled this agenda back by a few years, bringing into question again the division of labor." She holds the firm opinion that the post COVID world needs to rebalance the gender equation with renewed purpose and result.
With a business of the scale such as KRBL Ltd., every day brings with it challenges of the scale of a similar measure. On a personal front, Priyanka deployed astronaut Neil Armstrong's mantra of 'put your head down and paddle away', blocking the noise. Although building conviction was particularly hard for her, she was sure that performance triumphs over prejudice. "Contrary to popular belief that the middle east is a patriarchal society, I remember many stories of prominent local Arab families in GCC that have stood by my side, making the vision of India Gate come true," gleams Priyanka. This acceptance and support proves that stereotypes are untrue.
While larger sectoral government-led challenges like pesticide resolutions presented themselves, a graver problem of food safety started turning increasingly into a negotiation point for trade concessions between countries. This, she expresses, is rather unfortunate. The journey of the business is also routinely marred with several such external issues, which the team firefights with factual data, research, resilience, and grace.

Any organizational structure needs to have exceptional leadership in combating problems from COVID to internal challenges and those pertaining to external government policies. According to Priyanka, leadership is a function of how you respond to circumstances. "Being an equanimist in success and failure is the mark of a true leader," she quotes from the Bhagavad Gita. According to her, while tasting failure and constant reinvigoration of self is essential for long-term success, she deems complacency as suicidal. She also believes that to identify the pitfalls, one must form an internal group within the organization whose only job is to try and destroy you with intellectual honesty, constructive dissent, and contra views before someone from outside the firm attempts to do it. That way, you will stay ahead of the game.
"Appreciate legacy, stay agile and observe trends inside and outside the organization," she implores to young leaders stating that critical thinking is vital for a leader. Driven by intellectual critique, it is crucial to be brutally honest and expect the same from the team. Not surrounding oneself with those who echo your thoughts, a leader must never be afraid of questions, suggestions. S/he must empower and encourage people who have cogent and credible feedback.
Her advice to entrepreneurs is to be always unique with their service or product offering; being merely efficient in pricing and similar in operating dynamics, ideas, disruptions, tweaks is unsustainable. She also believes that the timing of actualizing ideas, executing them flawlessly, and constantly refining them is everything. She states, "make a business move when the consumer doesn't need it, and it'll get no traction." Consciously agile, she believes that once utility value is established, it is important to pivot around the offering to stay relevant.
Expressing her concerns over a mindset that starts a business only to sell it, she believes that only purpose-led businesses last in the long run. Profit and revenue is a by-product of the intent and fades out if not purpose aligned.
She also believes that good leadership is about making oneself redundant and focusing on succession planning. Given her vast experience, she believes institutionalizing the business is of paramount importance. "Good leadership involves swinging from one branch to another. The art lies in understanding when to let go," states Priyanka.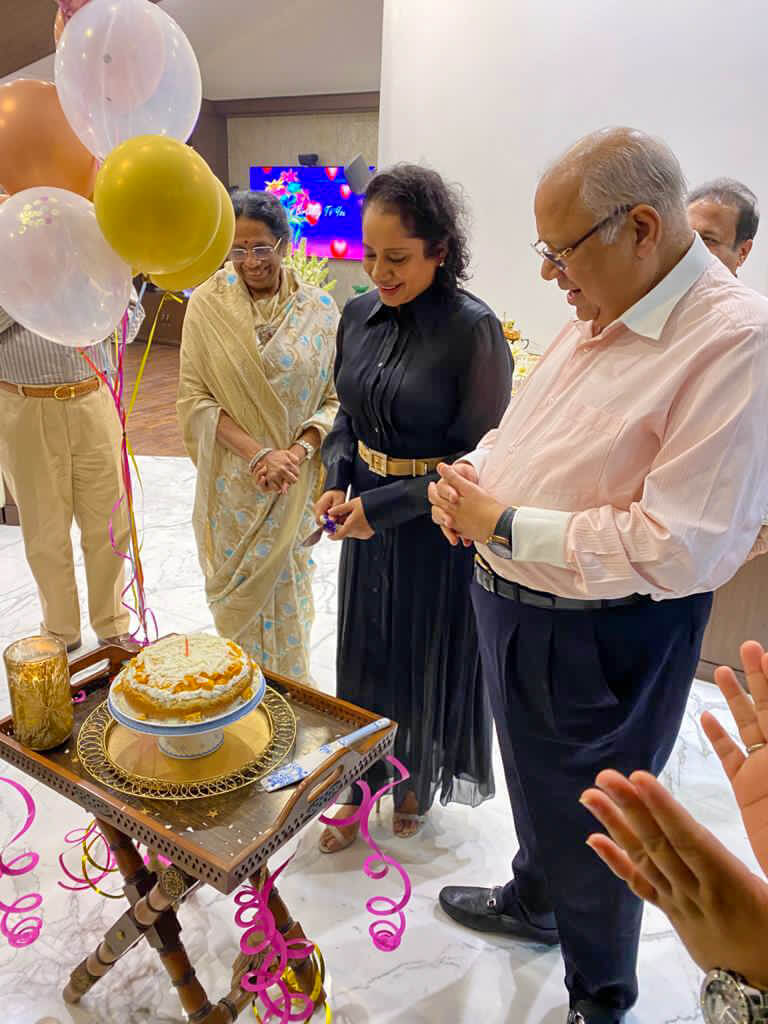 A Part of The Cosmic Canvas
Having dedicated her life to enhancing the quality of Indian agriculture through KRBL, she hopes to dedicate a hundred percent of her time to focus on the struggle of attaining food sustainability. A patron of several causes, Priyanka has, over the years, come to a deeper spiritual understanding that she is neither the doer nor the observer. She is an instrument, a vector entrusted with a task and the karmic responsibility to dedicate to it fully. She is mindful of her position in the vastness of the universe and believes she has enough faculties to fulfill her part of the cosmic mandate. She stands tall as a flag bearer, identifying herself as merely a custodian of the future generation.
And so, she devotes herself to the impact of everything she can do by not deluding herself into believing she is the doer and controller of the outcomes, and this has been the greatest realization of her journey.
While her father and mentor, Anil Mittal, is her constant source of guidance and inspiration, her mother, Preeti Mittal, has played a vital role in keeping her grounded. Her close-knit family is completed by her brother, who handles another unit of the business, and her five-month-old Maltese pup, which has brought her much joy.
Recalling her fondest memory so far, Priyanka narrates the story of an elderly woman from the Kingdom of Saudi Arabia who traveled a thousand kilometers to Dubai to meet her at a Gulfood event. As she came to the stands, the lady kissed her hands and blessed her, for she hadn't experienced anything like what India Gate had offered to her.
The love and respect her brand has gained across the globe remain Priyanka Mittal's greatest achievement so far. Dedicating herself to sustainability, food safety, and food security for the world, she marches with her team each day, representing the grace of Indian Agriculture globally.