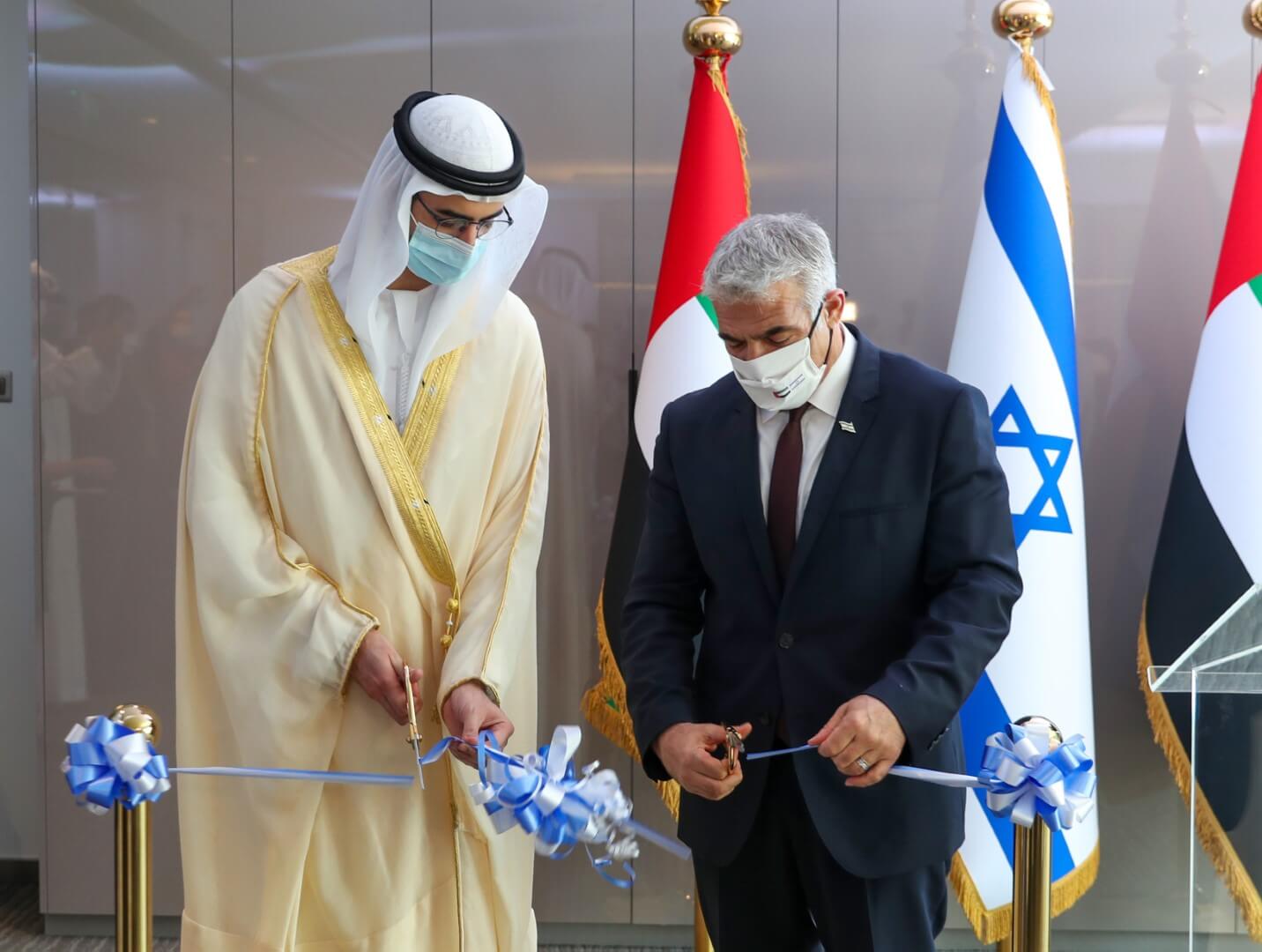 Israel's Foreign Minister and Alternate Prime Minister Yair Lapid hailed the growing relationship between the two countries during his first visit to the UAE.
According to Israel's top diplomats, just within ten months the Israel-UAE bilateral trade has reached over AED2.5 billion ($675.2 million) since signing of the Abraham Accords in September. The Abraham Accords instated on August 13, 2020, are a joint statement between Israel, the United Arab Emirates, and the United States. Subsequently, the term now is also used to refer collectively to agreements between Israel and the United Arab Emirates and Israel and Bahrain.
Lapid, who arrived in Abu Dhabi on Tuesday for a two-day official visit, said, "It is estimated that the bilateral trade potential will multiply many times over in the coming years."

Placing The Foundation Stone
The other noteworthy event was the inauguration of the Israeli Embassy in Abu Dhabi. Lapid inaugurated the embassy in the presence of Noura Al Kaabi, Emirati Minister of Culture and Youth.
"This is a historic moment. And it is a reminder that history is created by people. People who understand history and are willing to change it. People who prefer the future to the past," Lapid said later at the press conference.
He added that Israel's pavilion at Expo 2020 Dubai is another stepping-stone in building relations. Business cooperation between Israel and UAE too has seen a steep rise. "Since September 2020, several transactions, valued at tens of millions of dollars, have been signed between Israeli and Emirati companies in the fields of AI, cyber, renewable energy, water security, health, and more," Lapid said.
The new Israel's foreign minister said the Abraham Accords has undoubtedly brought peace to the region. After opening flight services, over 200,000 Israelis have visited the UAE, Lipid told media in Abu Dhabi.
His words reflect optimism. "The first year [of Abraham accords and his first official visit] are just the beginning of the journey. We need to allow our economies to integrate and prosper. We need to preserve the open dialogue and open-mindedness."