Covid lockdown restricted human population to their homes and rekindled the need to get back to nature. Social media caught fire with viral DIY gardens and balcony posts, and even the most reticent gardeners began to discover their green thumb. The smallest balconies and rooftops sported trendy foliage and home gardens began to flourish.
Scientifically it makes absolute sense that we bring living plants into our homes and backyards. Our ancient, cave-dwelling ancestors lived in forests for millennia, and our DNA carries that racial memory. Moreover, being near nature calls to and soothes the primitive parts of our brain and universally evokes a sense of wellbeing and freshness.
Unsurprisingly, the green fever has only gained in strength. UAE has especially seen a significant resurgence in this design style – be it rooftop gardens, tiny balconies spotting a few plants or vast, manicured, beautiful spaces adorning statuesque villas.
Real estate companies have taken this trend in stride as well. Properties with well thought out exterior spaces are more alluring. People want to find refuge and sanctuary in their homes, and a landscaped yard or a charming green balcony is the way to go. Commercial spaces like cafes, hotels, restaurants, and even malls are seeing a lot of budgets dedicated to landscaping.
Landscaping is the discipline of architecture that deals with designing outdoor spaces like yards, gardens, lawns, rooftops, or indoor spaces connected to outdoors – like courtyards, patios, foyers, or skylit spaces.
Architect and Landscape Designer Arpit Jain says, "Landscaping is an integral part of architecture. No structure design is complete without considering the ground space and landscaping of its open or semi-open areas."
The Major 2022 Trends for Outdoor Landscaping
While landscaping can encompass many elements, plantation remains an integral part. Designed to evoke certain emotions in the user like a sense of awe, tranquility, peace, as well as happiness and vitality, landscaping is not about throwing plants wherever one's fancy lands. Professional landscapers carefully consider and select flora and guide your entire space towards a design aesthetic to reflect your style and sense of purpose. Form and function are the battle cry of today and the current trends reflect this design philosophy. Let's check them out.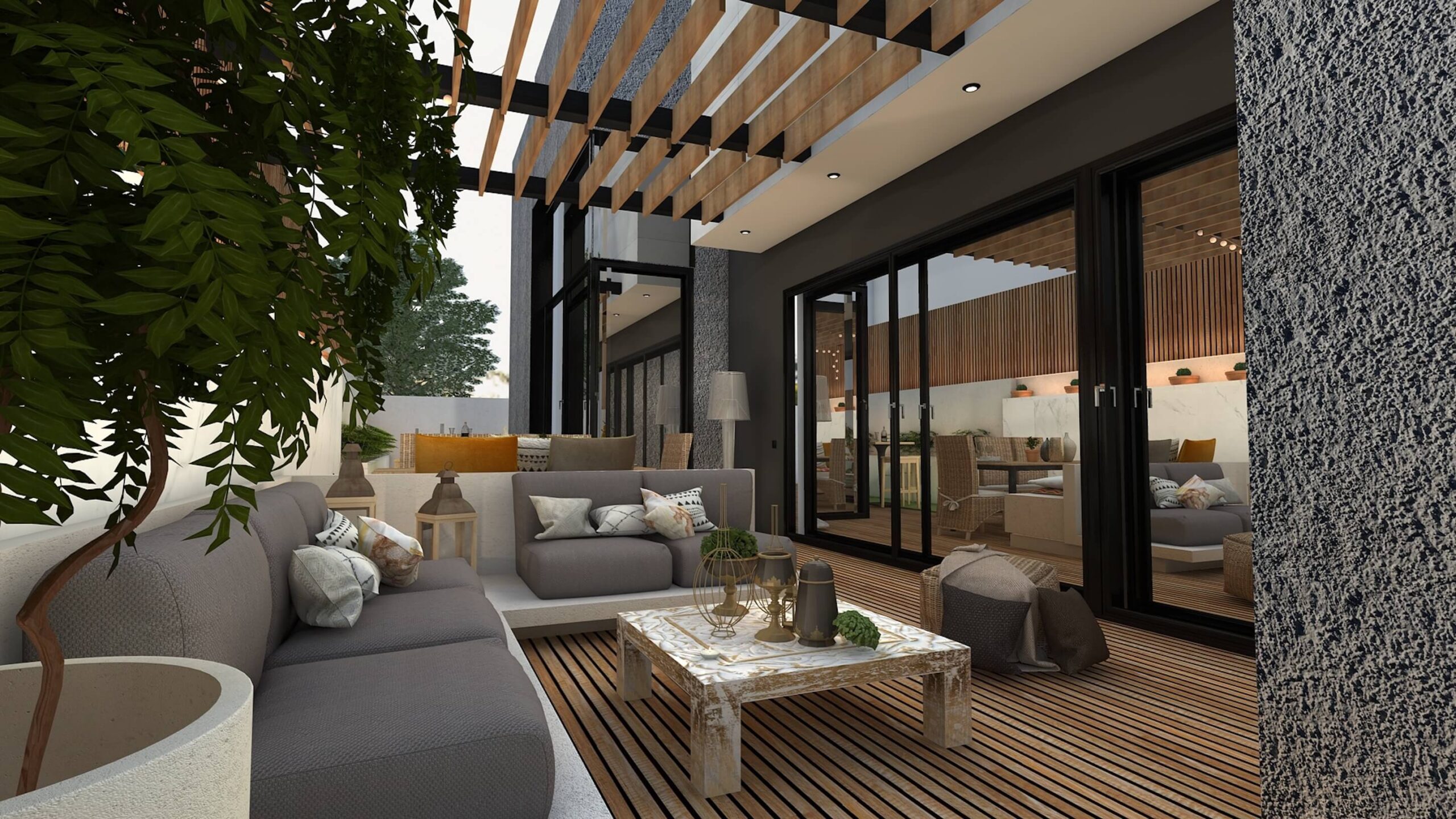 The most defining trend for outdoor landscaping this year is seeing the outdoors as an extension of the indoors, bringing the style, comfort, colors, and vibe of the home's interior and continuing it outdoors. Incorporating features like firepits, barbeque pits, outdoor kitchen, stylized patios, and gazebos are some ways to make outdoor living more engaging. Comfortable seating matching the color schemes of the home is also trending right now. Customized pool bars, fish ponds, and even artificial beaches are designed for a better outdoor experience. Plunge pools – three by three meters in width and depth and ideal for wading and lounging are very popular right now as an interactive water feature. Nothing is impossible, only limited by the customer's imagination and budget.
Continuing the theme of outdoor living, more and more people are using their outdoor spaces to entertain guests and throw parties. Winters in UAE are incredibly pleasant, and the best house parties always spill outside. Barbeques, outside dining and drinks, events like anniversaries, birthdays, and even movie nights – the culture for alfresco entertainment have become very popular indeed. Live fencing – sectioning off an area with a living hedge for express purposes is an in-demand feature.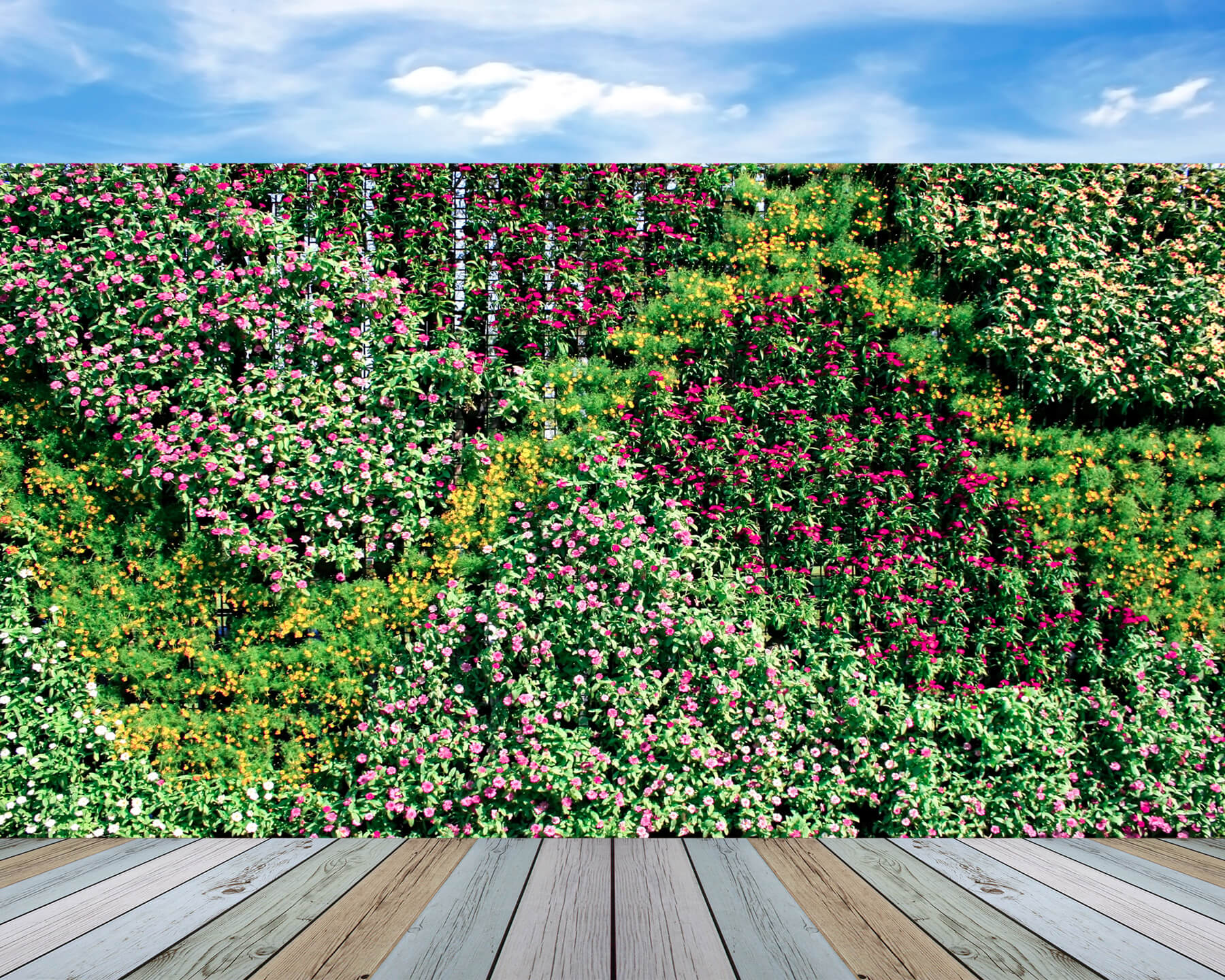 A design concept for bigger spaces like cities, towns, and suburb planning, it has perforated private landscaping as well. It involves planning with economy, sustainability, function, durability, and form in mind. For example, landscapists in cities are coming up with innovative 'Vertical Garden' ideas – utilizing walls for plantation and layering the vegetation vertically to create green density in smaller spaces – The 'Miyawaki method' is one of the most popular plantation methods where around three hundred trees and shrubs can be planted easily in a parking space of six cars. Used worldwide by landscapers and urban designers, the Miyawaki method has helped cultivate more than 3000 forests in urban settings.
Technological Convenience
A plethora of smart outdoor lights are available now whose intensity, colors, and brightness can be controlled via smartphones to set different vibes. Sophisticated sound systems suited for outdoor acoustics to provide immersive sound, smart irrigation systems powered by AI to auto irrigate as per current weather conditions to keep foliage healthy, and even special wifi so that there is always connectivity and opportunity for more entertainment like outdoor gaming, video-streaming… now you can be close to nature, twenty-first-century style.
Sustainable and Eco-friendly Elements
A lot of elements used for outdoor landscaping are now focused on reducing carbon footprint. Landscapers now use more indigenous plants for plantation, use systems to consume wastewater for irrigation, build beauty features from natural elements like stone and wood, and use renewable sources like solar energy to power lights and fountains.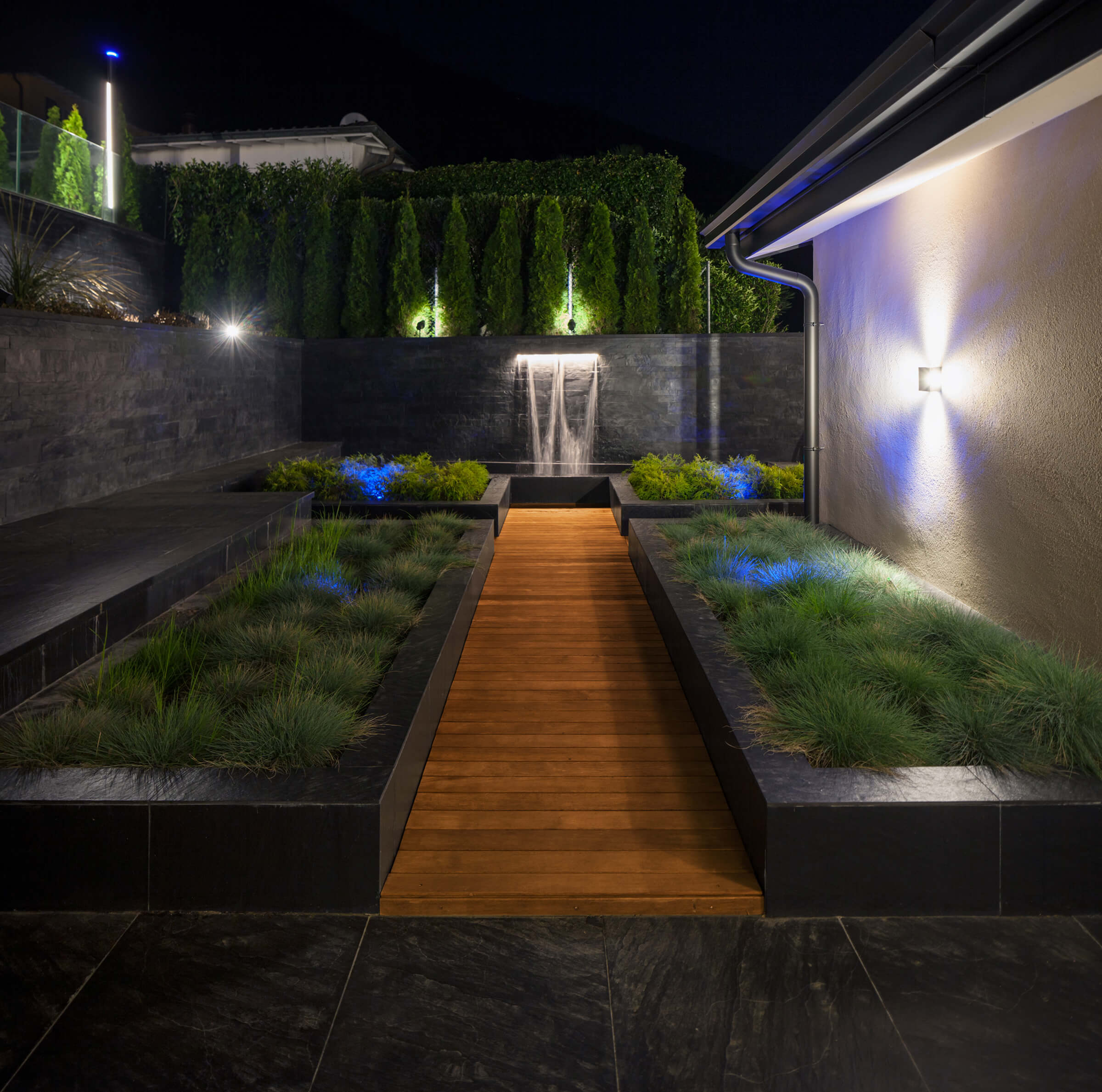 The prime purpose of a green outdoor space remains the same – to provide a place to experience serenity and peace. Rather than focusing on showy elements, landscapers now focus on bringing true comforting elements to the user – like a personalized zen garden, aromatherapy patch for certain ailments, water feature to increase calmness of mind, paths for walking and exercise.
While these trends look exclusive to larger spaces and professional landscapers, there are a lot of ways that you can incorporate them into your own green space, especially an open or semi-closed balcony. Let's admit it, many of us are city rats and apartment dwellers. But, urban landscaping is for everyone. Depending on budget and interest, all of us can have a little bit of a green haven in our lives. An obvious way to start is with plants suited to the climate, that are easy to care for. Wild riotous bunches of deep-colored Bougainvilleas, stately Frangipani, swoonworthy Hibiscus, and pretty Takoma are some examples. Pair them with hardy succulents, cacti, and grasses to create variety. Appointing a comfortable seating area with outdoor furniture is another essential part of landscaping. Designing a seating space transforms any outdoor area from a pretty spot to a true haven to sit and relax. Utilize the vertical space to add visual interest by hanging pots and baskets dripping with plants to add height and drama to your little garden.
Stringing some outdoor lights adds whimsy and spark and instantly elevates the space. Adding a focal point like a decor piece or a fancy plant can give an interesting direction to your landscaping. Placing artificial grass is a quick, easy, in-trend way to increase the space's appeal without the hassle of growing actual grass. A bug hotel or bird feeder will bring some pretty friends to your garden. Installing a small sound element like a water feature is also a great way to bring tranquility to your landscaped haven.
These are just some of the ways to make a striking difference, with minimal effort, to your outdoor living space. It's always better to try and start with a few plants and build up your garden from there. Use your imagination and creativity to create a verdant escape, both for body and mind. A little goes a long way with outdoor landscaping.