Skiing holidays can be one of the best ways to enjoy a winter vacation and offers a great escape from a busy city and work lifestyle. No matter your age, 3, 15, 40, or even 90, skiing is loads of fun and offers the peace of the mountains with the rush of silent speed. Skiing is great for family fun times; keeping an eye on each other and laughing over the odd fall. None can deny the beauty of snow-covered mountains, silver-tipped trees and clear blue skies and sipping warm cocoa after a day out on the slopes.
Ski trips have you up early and outside all day and often get you out of your comfort zone. You'll likely be on the slopes for a good number of hours and work out some rarely-used muscles – a great way to burn off some of those holiday pounds. As a beginner, it can be a learning curve to figure out, but before long you'll be able to move at a good speed and explore the magical landscape – an experience that is both exhilarating and peaceful at the same time. If you're a party person, you'll find many resorts that toss a fantastic party scene where you can grab a drink or chill at various bars and clubs after hitting the slopes. Or stay inside and curl up with some hot chocolate near a fire.
From Switzerland to France, and Canada to Austria, there are incredible destinations all around the world, renowned for their ski paradises. But let's take a look at destinations that are lesser known.
North India is fringed by the greatest mountain range on Earth. It is not only considered to be extremely snow-sure, but also a paradise for ski fanatics. The snow is thick and perfect for ski adventures between December and February.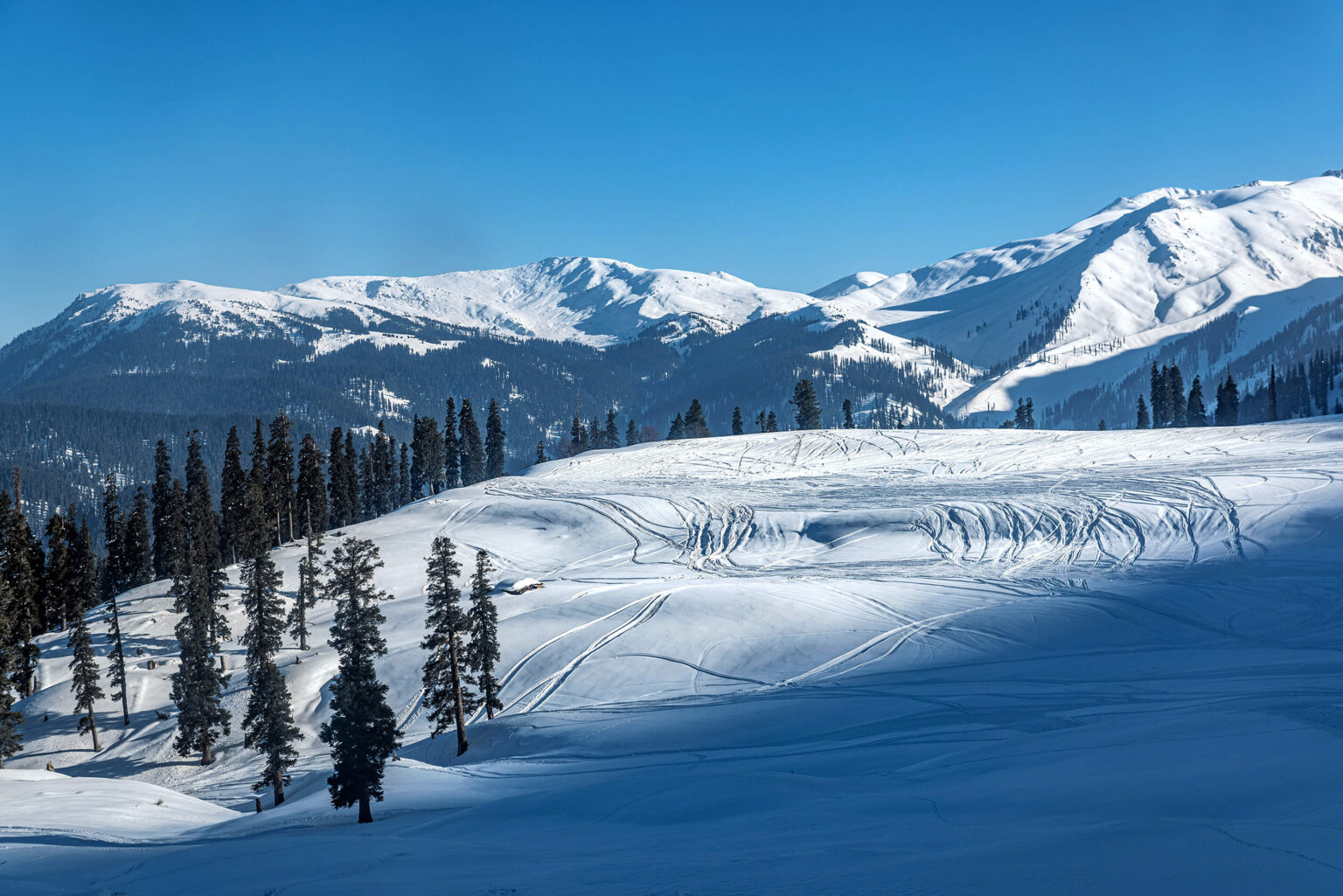 Gulmarg, in Jammu and Kashmir, is known for presenting the best skiing in India and is reminiscent of a Swiss village. Ranked as the 7th best skiing destination in Asia, this valley of flowers offers an ideal site for long-run and off-piste skiing. One can ski from two points in Gulmarg – Kongdori and Aparwahat Peak, both of which will provide you with an exhilarating experience! The 'powder' in Gulmarg is comparable to the finest in the world and powder skiing is what the experienced skier looks out for.

Kufri in Himachal Pradesh is one of the best places for skiing in India with several setups that provide skiing facilities and training. The smooth and gentle slopes make it easier for beginners to enhance their skills at the foothills of the Himalayas while the pros can flaunt their skills down the slope – ski equipments are available for hire, as well. Known as the skier's paradise, Kufri is legendary for its amazing views and adventure activities. When the snow spreads over the slopes of Kufri, the picturesque beauty and crisp climate pave the way for an exceptional holiday. Apart from skiing, tobogganing, is the new new winter sport on offer, where you can slide down the slopes on a runnerless sled called a toboggan, without too much skill and a lot of abandon for a fun and exhilarating time in Kufri.

Situated at an altitude of 8100 feet, Narkanda in Himachal Pradesh is well-known for its numerous ski slopes and is located on the India – Tibet Road. During winter, the slopes come to life with skiers. The instructors guide the skiers and provide all the necessary safety gear, equipment and training. With easy access and fewer crowds as compared
to other ski destinations in India, Narkanda boasts a safe, but thrilling ski experience. Besides skiing, the place also has various trekking routes and rock-climbing opportunities, surrounded by forests and woodlands, a must for all adventure-seekers.
If you're smitten by the Himalayas, then an unforgettable ski adventure is waiting for you in the mighty Caucasus Mountains which are considered a continuation of the Himalayas. Apart from food and wine, Georgia has some of the greatest skiing in Europe as the country's greatest asset is its snow-capped mountains.
Located in the heart of the Caucasus Mountains at an altitude of 2,200m (7,218ft) above sea level, Gudauri has trails for all skiers. It has the finest powder in Europe and is an ideal place for freeriding with four types of runs – slalom, giant slalom, super slalom, and speed skiing. Gudauri is diverse enough for a week of skiing with an incredible range of off-piste options and an ever-expanding 75 km of slopes. You'll also appreciate the modern lift systems, cheap lift passes, and fabulous food and wine. The absence of rocks, deep snow, and long skiable verticals make Gudauri the most sought-after destination.
Once a training ground for the Soviet Olympic Alpine ski team, Bakuriani, today, is a 4-season resort town full of entertaining options as it receives loads of snow in the right weather conditions. Located in south-central Georgia, Bakuriani has incredible 'learn to ski' facilities, an excellent value lift pass, and non-skiing activities. Escape the skiing crowds and immerse in a real experience at the virtually empty glade and alpine terrain off-piste freeriding. The three interconnected ski areas, Didveli, Kokhta, and Mitarbi, span 18 kilometers of downhill slopes with dining options, night skiing, and an alpine roller-coaster.
An ancient highland town in northwest Georgia, Mestia, Georgia's free riding Mecca, seldom has a deficit of snow. Mestia gains its perks from the quiet, crowd-free runs, blanketed with powder at the elevation of 1,500m (4,920ft) in the Caucasus Mountains. With new lift infrastructure and easier access to more great skiing terrain, ski tourism is quickly becoming very popular in the area. Mestia has limitless opportunities for fresh tracks surrounded by an unspoilt wilderness waiting for you to explore.
The Switzerland of the Middle East
The Lebanese mountains begin their steep climb very close to the Mediterranean Sea, making for incredible sea views on clear days. From family-friendly beginner runs to adrenaline-spiking peaks, the slopes of Lebanon offer a friendly atmosphere for skiing and snow activities during winter.

Mzaar Kfardebian is probably one of the busiest ski destinations in the country with 42 slopes, 18 chairlifts, and 50 miles of ski trails. Beginners are caught enjoying the sport on the lower slopes that are wide and gentle, while experienced skiers head to the upper peaks for more challenge or search for new tracks with fresh powder with the help of guides from the ski school. From the top of Mzaar, you'll have views of the Beqaa Valley to the east, and on clear days, coastal towns and the capital Beirut to the west. When you're not making tracks, you can also visit the ruins of a Phoenician temple and a Roman tower at Mzaar.

Nature lovers will find paradise on earth in the Cedars. Located in the country's highest range with deep-green forest, The Cedars is Lebanon's oldest ski area. This high-altitude area is blanketed by an endless white layer almost all year round and is perfect for advanced cross-country skiers. For beginners, Cedar offers many snow-wire lifts on gentle slopes. Make it to the mountain top with several chairlifts for off-piste skiing or downhill thrills. The Cedars is full of ancient trees and are known for its Cedars of God forest reserve. It is worth going just to witness the stunning views of the northern mountains and the mystic Kadisha Valley. After you've done skiing, explore the nearby churches and villages scattered throughout the valley.
Surrounded by jagged ridges and terraces bearing thousands of trees, Laqlouq (also spelt Laklouk) is best for alpine and cross-country skiing. Perched at an altitude of between 1750m and 2000m with 8 km of slopes and 9 lifts, Laqlouq is one of the finest family-friendly skiing areas – families choose Laklouk for its friendly ski school. It's also home to natural wonders – arches and a waterfall. You can visit the legendary cave of Afqa and the spectacular Balou Balaa, one of the most remarkable of Lebanon's beauty spots in neighboring villages.

Skiing can be safe and fun when done correctly. Make sure you have the right gear and be aware of your surroundings. It's always best to take safety precautions to minimise the risk that comes with skiing. However, once you get the basic learning and put in some of the work to master the sport and the gear, the yield is as splendid as the mountains themselves and creates memories that you will treasure for the rest of your life.