The festive season can seem overwhelming with a mountain of tasks to be completed. There's food to prepare, gifts to pack, events to keep track of, and not to mention the most important and everyone's favourite part – Christmas tree décor!
Back in the old days the trees, as we know it, were mainly associated with Christian symbolism but tradition has evolved to become somewhat more secular. The ancient Egyptians, Chinese and Hebrews decorated evergreen trees with wreaths, and garlands to symbolize eternal life. Tree worship was common among pagan Europeans, after which the tradition crept into Christianity, especially in the Scandinavian region.
The Germans set up a Paradise tree outside their homes on 24th December – the religious feast day of Adam and Eve. Initially, they hung wafers on it – symbolizing the Christian sign of redemption, but these were replaced with cookies of various shapes. Besides, the homes also had a 'Christmas pyramid', a triangular construction of wood where Christmas figurines were stocked away. The Christmas pyramid and the Paradise tree merged in the 16th century, becoming the Christmas tree we know today, becoming popular with German Lutherans by the 18th century.

In the 19th century, the Christmas tree made its debut in England, popularized by Prince Albert and Queen Victoria. Thus, was born the much-known Victorian tree – decorated with candles, candies, ribbons, toys, and much more. This style of tree soon gained popularity in various other parts of the world – North America, Japan, Austria, Switzerland, Poland, and the Netherlands especially. And then in the 1930s, the USA developed artificial trees that garnered much popularity around the world.
Centuries ago, real fruit was used to decorate Christmas trees in France but the tradition stopped after a bad harvest one year. Martin Luther started the tradition of using real candles in the 16th century as a way of recreating a starry Christmas Eve sky. In Ukraine, spiderwebs and spiders are regularly used to decorate the Christmas tree as it was believed a spiderweb turns to gold on Christmas morning.
In America, people still decorate their trees with popcorn on strings, calling back to a time when outdoor Christmas trees were decorated with food to feed birds and wildlife. Australians celebrate a summery Christmas and hence adorn their trees with different types of shells, reflecting the season. Finland follows a unique tradition of using geometric ornaments made of rye straw, hung over Christmas tables, that stays until midsummer, as they are meant to bring a good harvest. Denmark uses homemade paper hearts called 'julehjerte'. In Japan handmade origami birds are often seen on many Japanese Christmas trees.
The Swedish use their national flag as Christmas décor, while people in Iceland and Norway decorate their trees with figures from local folklore.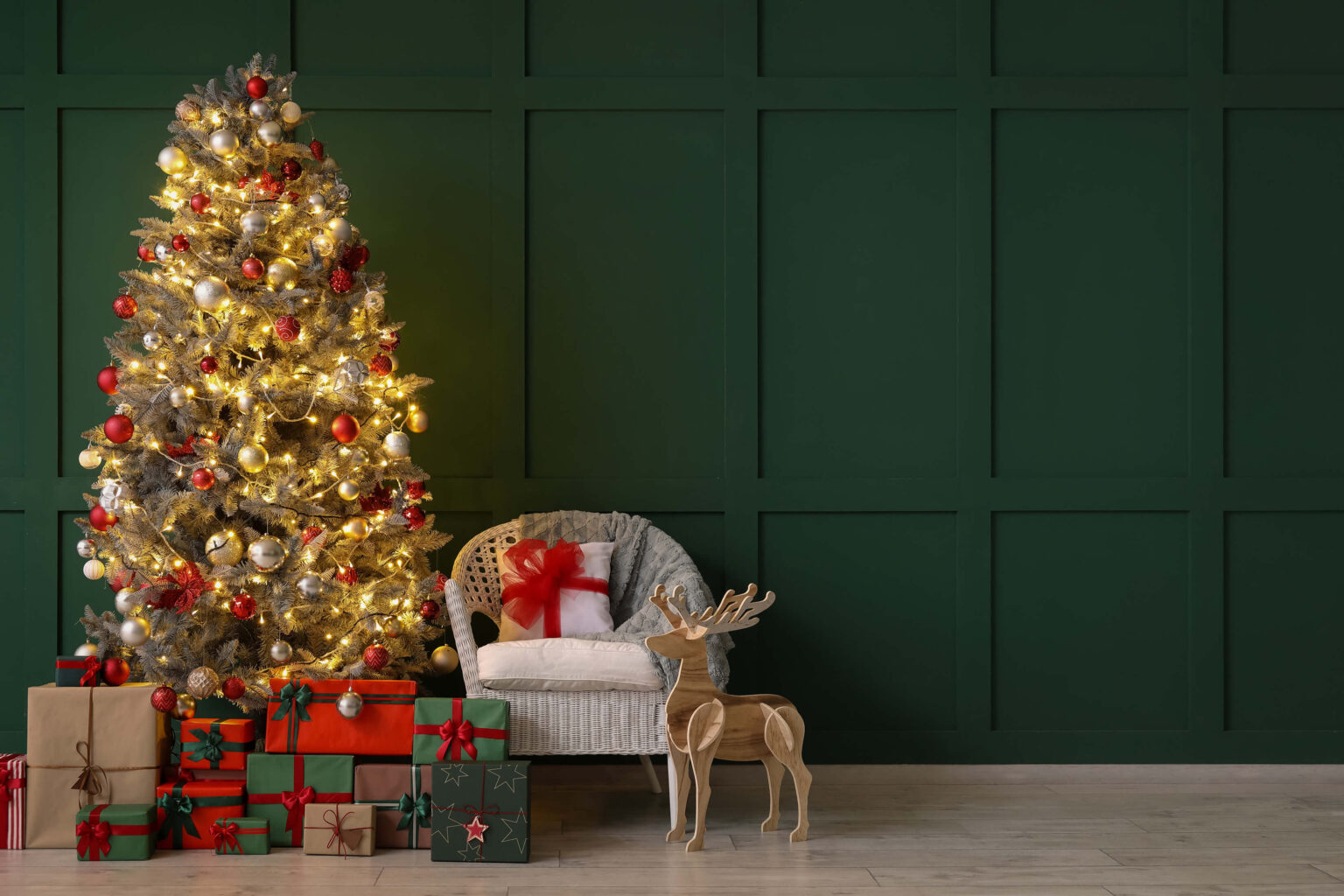 Traditionally, Christmas trees are not to be set up until Christmas Eve and they are removed after Twelfth Night which is the 5th of January. People in the US and Canada put up Christmas trees before American Thanksgiving, however, Roman Catholic homes keep the tree until Candlemas, which falls on 2nd February.
Some of the world's most popular landmarks ring in Christmas with the installation of a larger-than-life Christmas tree. The Christmas tree at London's Trafalgar Square attracts thousands of Londoners to watch the lighting of the tree donated by the people of Norway; a token of thanks for help received in World War II – a tradition ongoing since 1947.
Another iconic installation takes place each year at Brussels' Grand Place. Every year tourists and residents assemble in anticipation to catch a glimpse of 'Winter Wonders' – the installation ceremony of the 18 meters high spruce. The 50-year-old spruce is brought under police escort to the Grand Place, lifted with cranes, and placed inside holes dug specifically for this purpose. Beautifully decorated each year, sometimes more modern, contemporary installations are put up as well; a reflection of changing times and styles.
Universal Studios, Osaka, Japan; Byblos, Lebanon; Rockefeller Center, New York and many other popular tourist spots across the world also follow Christmas tree traditions of their own, each drawing a crowd of some proportion for a viewing.
Whatever the global trend, there's nothing more magical than the sight of a tree in your own home during Christmas. So, pour yourself some mulled wine, put on the Christmas tunes, and get ready to be inspired. From elegant vintage to classic red and gold, here are 2022's top Christmas trends that you can use for your home.
Bringing back the good, old traditions, red and gold Christmas trees are back in trend this year. Red always works well against the green of the Christmas tree, adding a sense of elegance and luxury. Deck it up with gold ribbons, stars, and other ornaments. For most, gold décor can be unapologetically glam, but matt gold finishes will give it a more muted finish.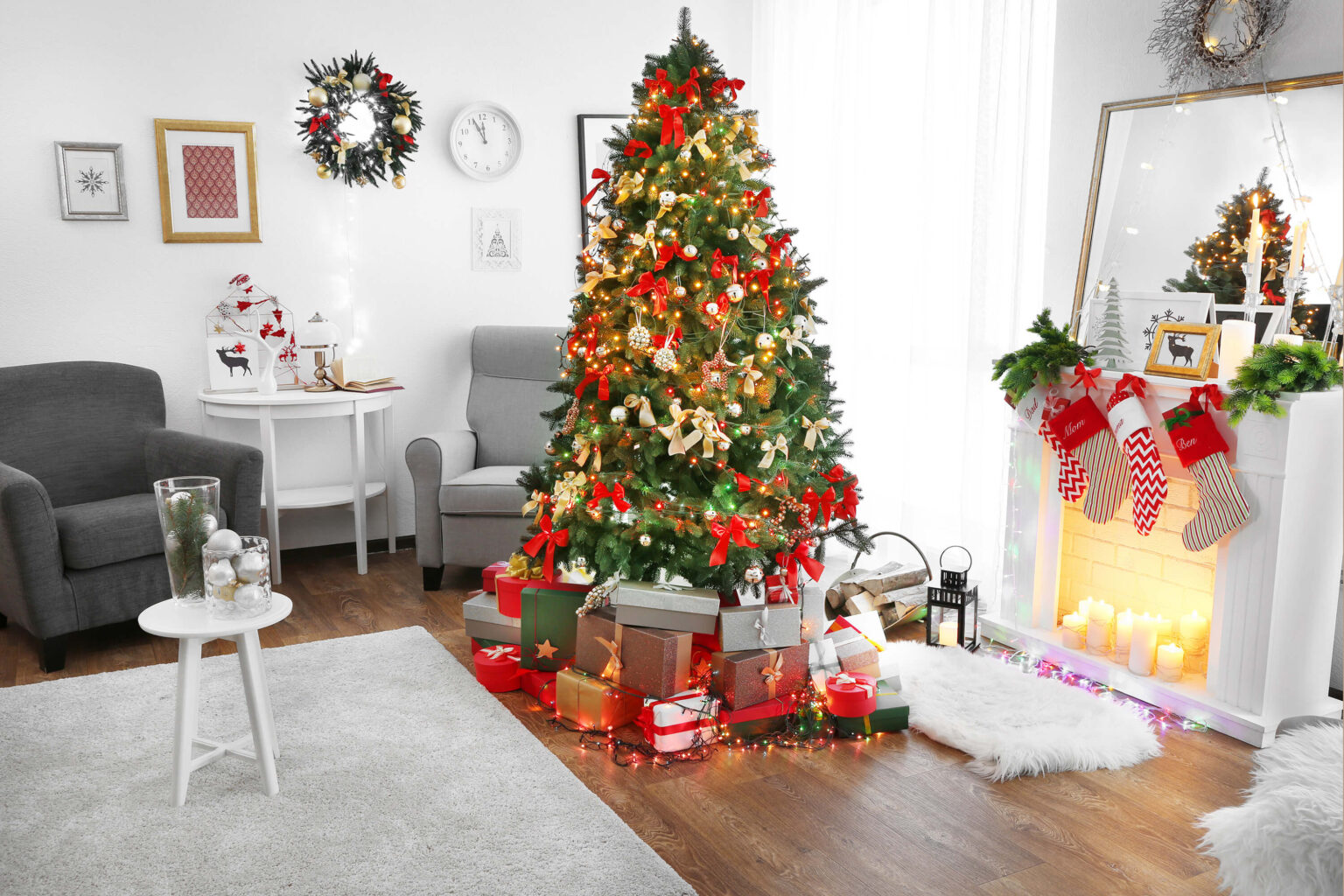 Snow-tipped Christmas trees will bring to life a white Christmas, irrespective of the weather. Add pastel or neutral hues to your snowy sophistication to stay en pointe this season. Also, navy is the new red of the season! Pair navy accents with white, red, gold, or even green for the perfect touch of grandeur in the entryway, formal living, or dining space.

Give your tree a Boho makeover. Opt for a 'pretty in pink' theme – whether it's an all-pink tree or a few blush-toned ornaments dotted around. Accentuate the tree with blush-toned ribbons, feathers, and bows, along with other elements of your tree. For a further on-trend touch of boho, include natural elements, such as wooden pieces, pine cones, wood cane lighting, vases, and furniture for a relaxed, fun Christmas look.

The Nutcracker Ballet by Tchaikovski is still a must-watch tradition if you can get to a show around Christmas and is very much the in-thing this season. Back in the 17th century, these figurines were believed to bring good luck and protect the home. From cute-looking soldiers to vintage baubles and ornaments, this storybook theme is sure to grab centre stage. Or go bold and install a large nutcracker in the place of a tree.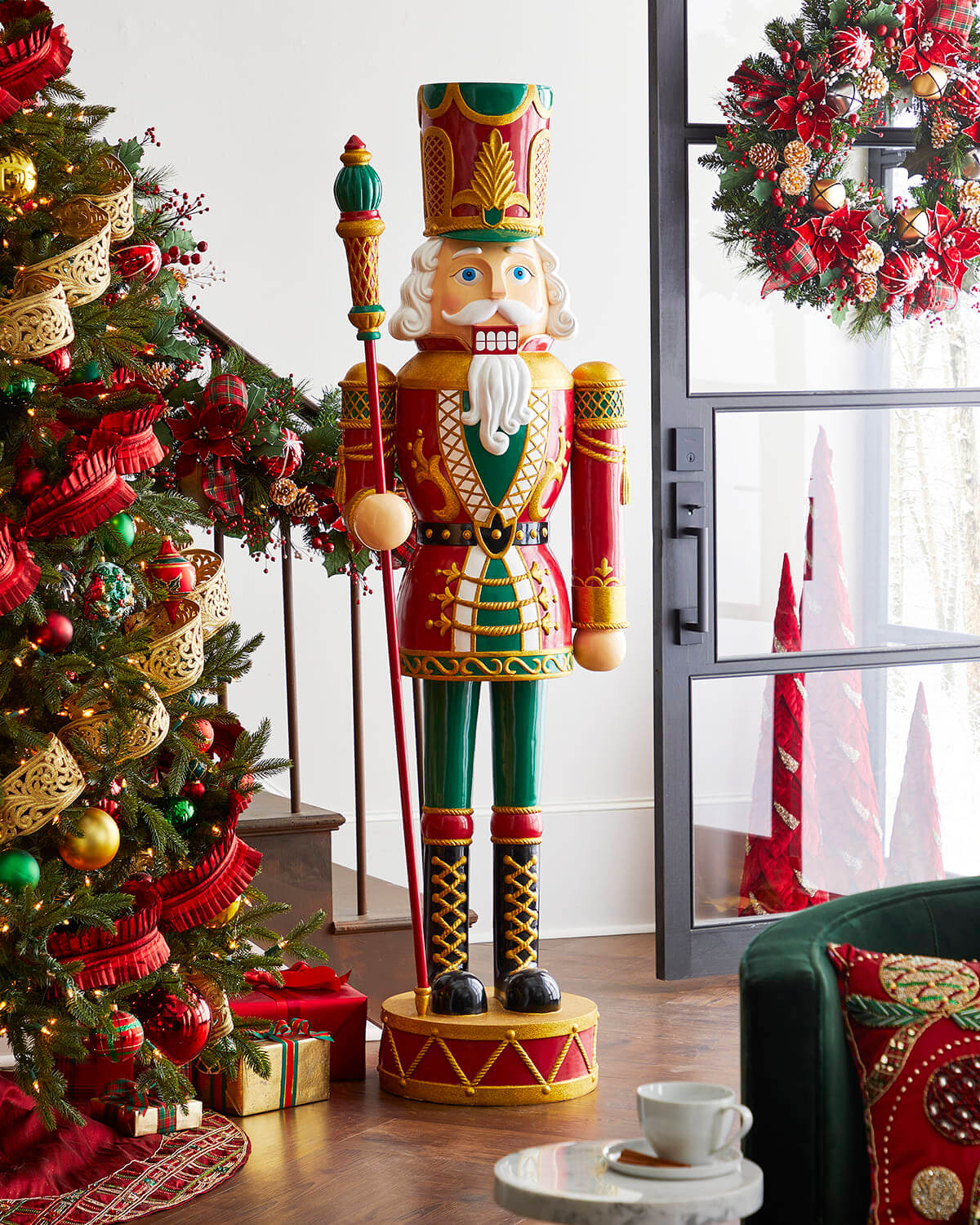 Forget baubles and stars. This time make a show-stopping, floral-theme Christmas tree the talking point of your party. Take inspiration from Bridgerton- the season's biggest TV show and shop for some fabulously full faux flowers. Team it with ornate feathers, pearl-edged ribbons and organza bows and load up with presents below.
Whether you choose to take a leaf out of historical traditions or snap up current trends, make sure that tree-decorating is a fun time for you, your family, and friends. Make a party of it, sing carols, eat mince pies and put together a tree that holds love and the memories of another year gone by, and filled with hope for the one to come.