He doesn't turn green and grotesquely muscular at the drop of a hat, but he does display feats of Hulkulean strength when he's at the gym and at fitness competitions. Powerlifting prodigy, freak of nature, future strong man, there are many epithets attached to Larry Wheels, but the ones that matter the most are social media influencer and self-made entrepreneur. He's just 26 and he's already broken a few world records in the sport of lifting, he's a popular bodybuilder, a helluva arm wrestler and a real 'John Connor' style future contender in the strongman fraternity. A multidimensional celebrity, there's one quirk that's less talked about Larry. He gave up the enticing proposition of making a home in Los Angeles and moved to Dubai in 2019. Why did he do it? Well, a few days ago, Larry put up a video on YouTube where he spoke at length about his decision to move to Dubai permanently. But, there's more to his tryst with the Emirates. There's a genuine reason for entrepreneurial freedom and social media convenience behind Larry's choice of calling Dubai home. And that just proves the fact that, this city of opulence and opportunity is one of the best places in the world to be.
It was early 2019, when social media sensation and powerlifter, Larry Wheels was training in Iceland with strongman legend and 'The Mountain' from Game Of Thrones, Hafthor Bjornsson. Thor was basically initiating Larry into the world of strongman, while helping him ascend his abilities as a powerlifter. By his own admission in the YouTube video, Larry got an incredible offer from Don Idrees and Mark Boyd, co-owners of World's Ultimate Strongman (WUS) competition in Dubai. Larry was offered a six-week incubation programme where his stay and expenses would be covered entirely as part of the WUS programme along with Dubai Sports Council, represented by Saeed Hareb. What did Larry think? "Dubai had always seemed like Narnia to me, in the sense that, everything in Dubai, from what I had heard before getting here, was the biggest and best." No wonders then that the young muscleman made a beeline to Dubai, so much so that, when he left Reykjavik, he didn't even go to his hometown LA, he just dashed for the Emirates. When Larry arrived the razzmatazz and allure of the beach city left him mesmerized. There was no going back, and he's admitted that he has no intention of moving out from Dubai anymore, because quite frankly, it's paradise on Earth.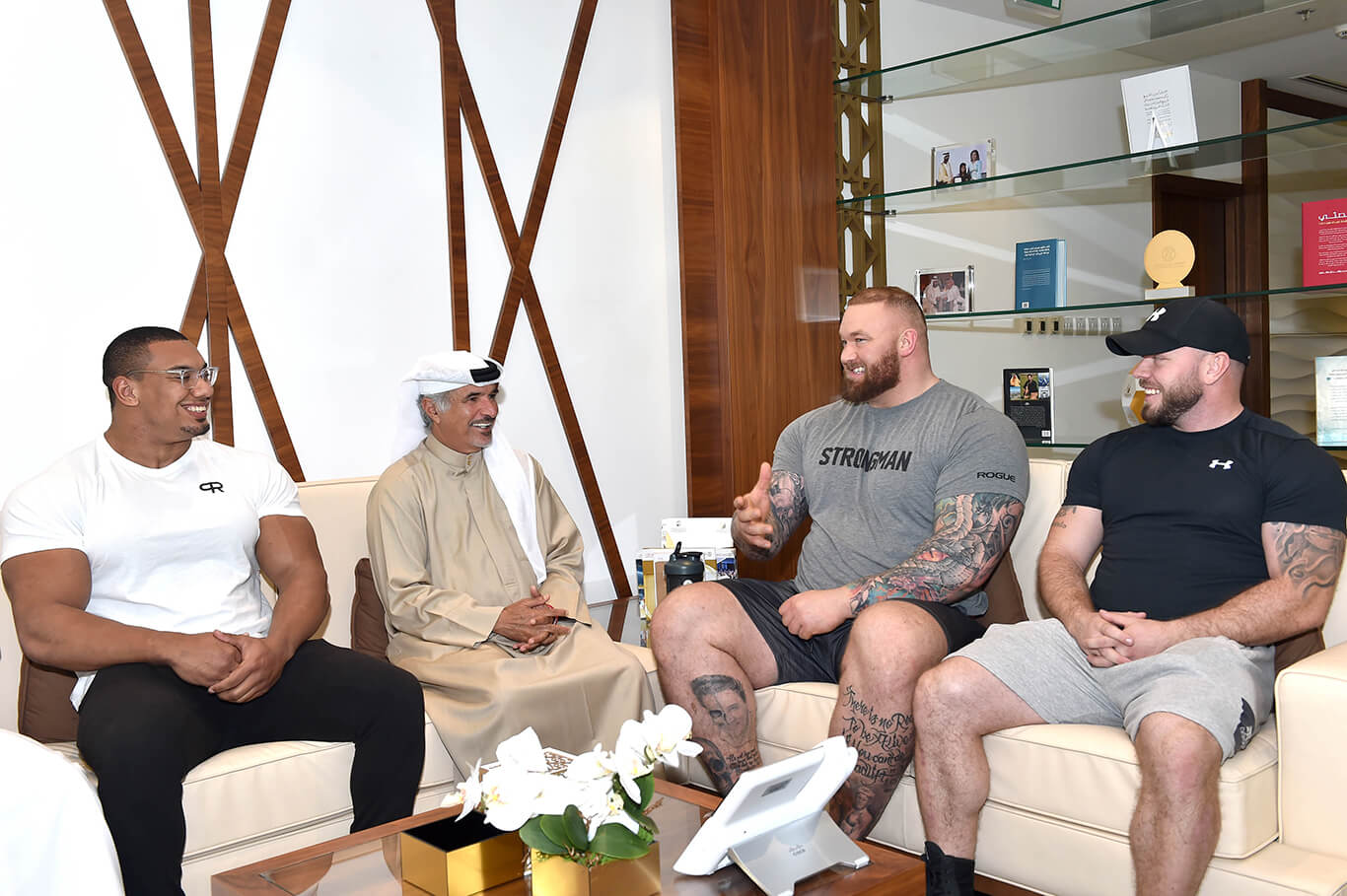 What has Dubai given Larry, that's made him a devoted resident? The answer to that question is a resounding, 'everything'. Ever since he's shifted base to UAE, Larry's followers on Instagram have crossed 2.3 million. Not just that, his YouTube channel now has 1.6 million subscribers with aggregate views in excess of 435 million. When it comes to the world of social media and YouTube, those numbers are staggering. And the reason why Larry's been able to sustain and grow his brand online is the fact that Dubai's tourism allure and world class infrastructure (not just in terms of fitness) invites a lot of known faces. That's why Larry's been able to collaborate with other influencers/fitness names like Blessing Awodibu, Andrew Jacked, Morgan Aste, Ryan Crowley, Devon Larratt and more and create a steady flow of viral worthy content on both YouTube and Instagram.
It's great to earn money from your social media presence, but the older, more orthodox channels of business also hold value. In Larry's case, he's got a fitness brand called Personal Record aka PR. Under this brand, Larry sells fitness apparel, lifting gear, health and bodybuilding supplements and more. It's an e-commerce based platform that also has a membership model, where subscribers get additional benefits of following curated fitness programs by Larry, that help them take their lifting and bodybuilding game to the next level.
Larry's case gives us a key reason why choosing Dubai as your base is the best decision for new entrepreneurs. And the reason why this city is such a lucrative place to do business is because it imposes no corporation taxes on its businesses. That's a huge relief for upcoming enterprises and no wonder then, that a young and happening entrepreneur like Larry Wheels chooses Dubai as his preferred destination.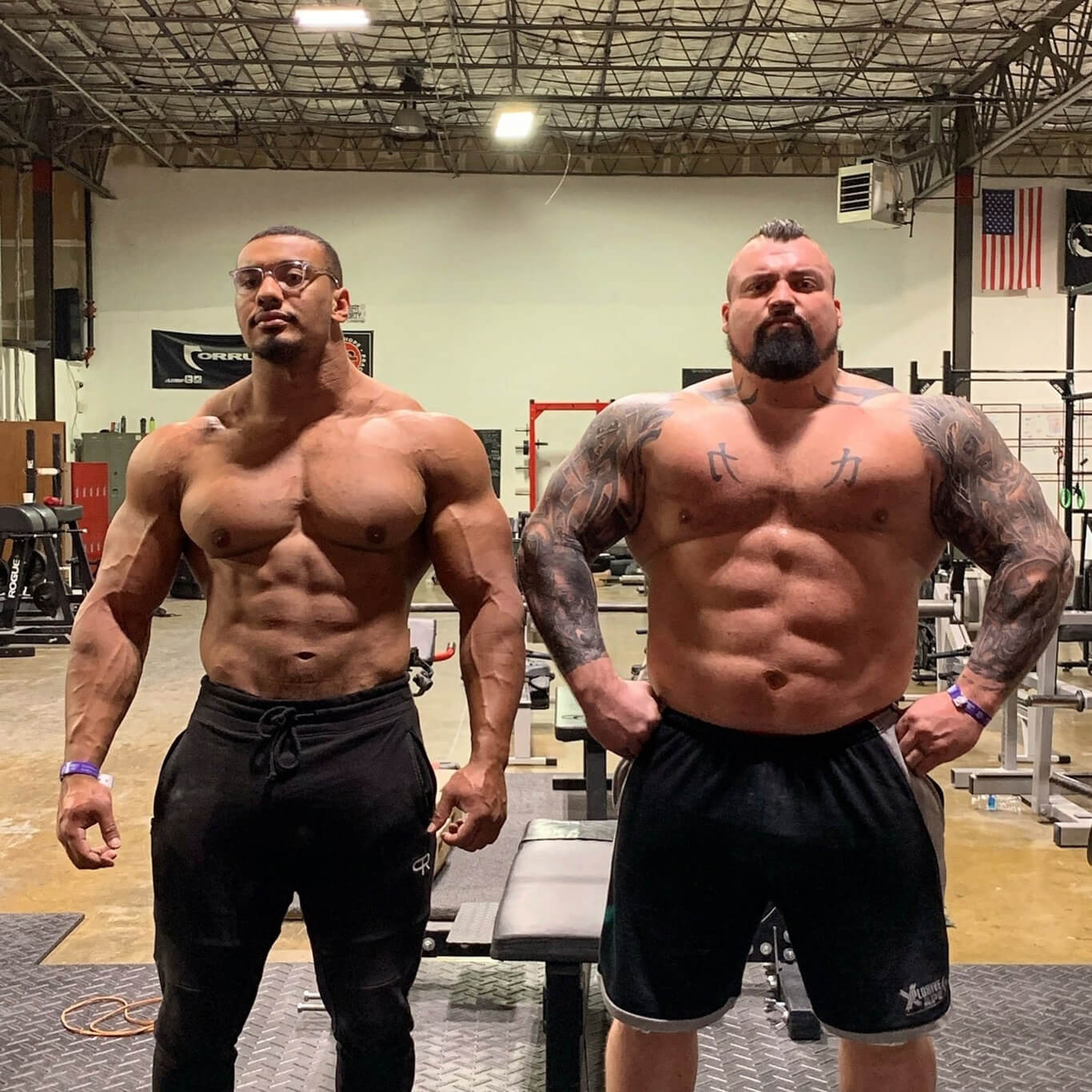 Before he landed in Dubai, Larry Wheels was gaining major momentum for his bromance with the likes of Hafthor Bjornsson, Eddie Hall and even some love from Arnold Schwarzenegger. But, ever since he started breaking personal records and creating daily content on YouTube, Larry's found a new calling. He's forged new friendships with arm wrestling legend Devon Larratt and the sport's old guard Suhail Khan has also been one of Larry's constant support systems in Dubai. So much so that under Larry's passion and persistence, his gym has become home to a sort of weekend arm wrestling club. Larry invites anyone and everyone to show up at the gym and wrestle with him and his friends on an open table. The result is that every week, you get pros, amateurs and rank rookies cueing up and having their 15 seconds of arm-wrestling fame on Larry's channel. Not just that, a new sporting rivalry has cropped up, too, fuelling the numbers on Larry's channel and adding to his brand value. Larry has already had a showdown of sorts with 21-year-old Russian arm wrestling prodigy Schoolboy aka Aleksandr Beziazykov. So much so that there's a major match coming up between the two which Larry's fans are billing like it's a Mayweather versus Pacquiao main event. In all fairness, this upcoming match to be held in May, is really a big deal because it is being organized by Core Sports as a pay-per-view event sanctioned by the World Armwrestling League. The match is quite appropriately titled, King Of The Table.
So, the social media influencer, bodybuilder, powerlifter, personal trainer is about to turn a new leaf and be a professional arm wrestler, too. About 2 years ago, Larry had featured in a 39-second video where he decimates five hulking bodybuilders in a dash arm wrestling match, only in the end we catch him handing out money to the losers and thanking them for their cooperation. While this parody video was just casual entertainment, it actually ended up getting 133 million views. Destiny has a funny way of bringing success to those who try.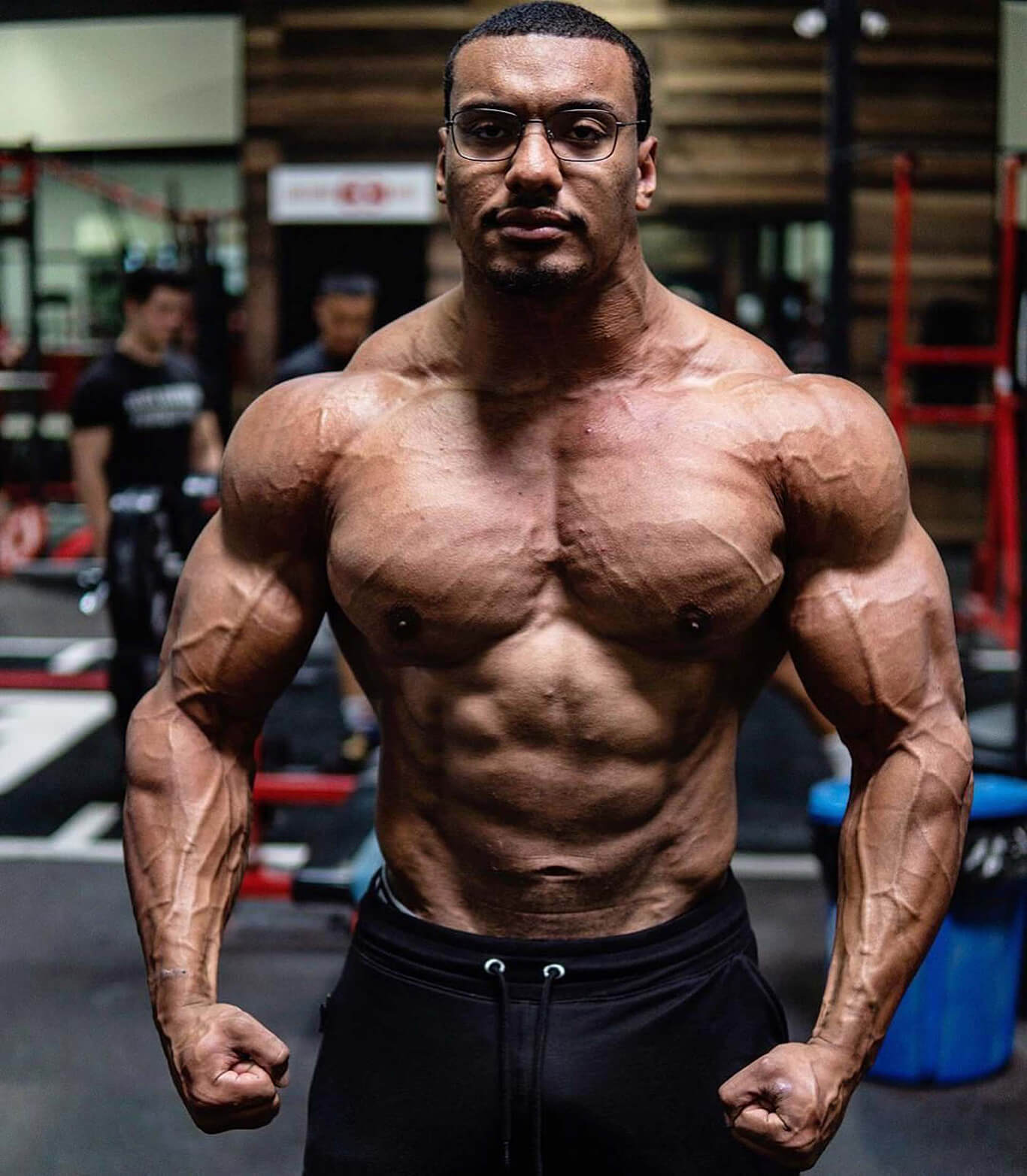 So he's earning the big bucks, living the good life and enjoying the limelight. But, there's more pathos to Larry's glittering Dubai dream. He originally hails from New York, where he spent a considerable amount of time as a young child in foster care. Larry had a tough time growing up in the city streets. He was bullied, picked on and even beaten up on occasions. Even when he moved to the island of St Martin, to reunite with his single mother, life gave him no free lunches. He was tall, skinny and on most days he had no money to eat properly, let alone get a gym membership. But things changed for the tough boy on tougher streets. His mother helped him forge weights by casting them in cement on an old iron rod. And that was the crucible in which Larry forged his true metal.
At first, he bulked up and found an instant liking for powerlifting. His rendezvous with the sport got him back to NY, where he waited tables and also took up a job as a gym instructor. But things turned when his big lifting deeds became popular on Instagram. It snowballed into stardom and eventually, Larry managed to break a couple of lifting world records while competing as a teenager. Next stop was the big, glamourous world of Los Angeles, where Larry found his true stardom and began his collaborations with the likes of Thor and Eddie Hall.
The ultimate destination for this nomad was Dubai of course. And for a young man who has experienced such adversity, perseverance and resilience, the abundant offerings of Dubai, seem like the perfect icing on the proverbial cake. Not just that, the city has also given Larry the love of his life Nicole Drinkwater and as most romantic stories of human success go, this one seems like it's tailor made for a happily ever after for the hulk who calls Dubai his home.