We all know that good things come in small packages, right? Well, Bruges, a quaint, enchanting city nestled in the heart of northern Belgium, in Flanders, certainly lives up to that sentiment. Picture yourself strolling through cobblestone streets, admiring centuries-old architecture and indulging in world-class chocolate. Welcome to Bruges, a fairytale city where history, gastronomy and charm intertwine to create a truly unforgettable experience.
When visiting a new place, deciding on the length of stay is always crucial. If you have a bad case of FOMO (Fear of Missing out) you will want to make sure you see and do everything the city has to offer. We get that! On the other hand, you don't want to spend too many days for fear of the charm and excitement wearing off. It would be ideal for you to spend about 3-4 days for a relaxed exploration of the old-world charm that Bruges has to offer. But if you're hard-pressed for time, two full days and three nights will do nicely.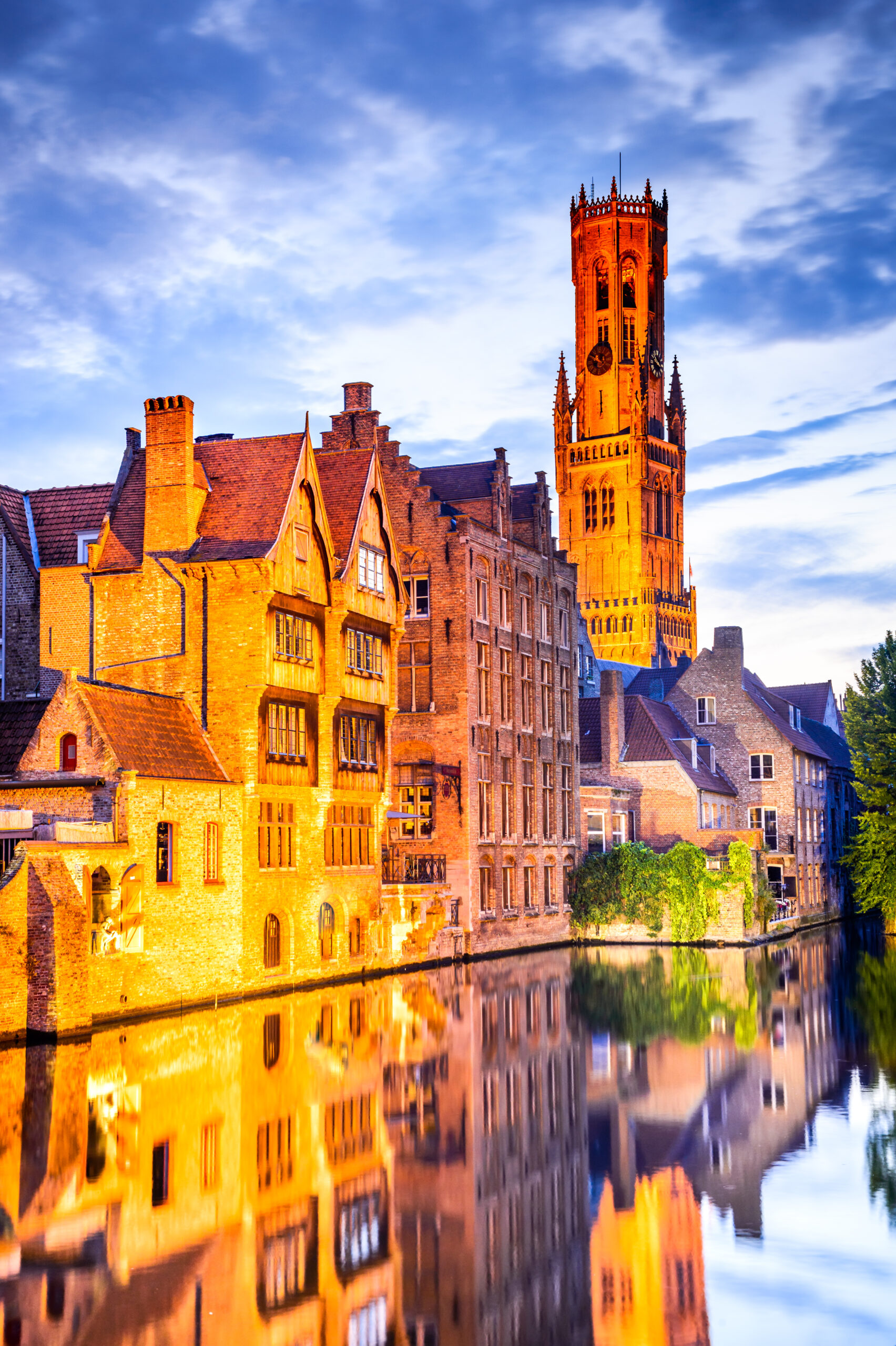 With plenty to see, taste and do, you'll be spoilt for choice in your exploration of Bruges. But here are a few interesting tips that will help you plan better.
Begin your Bruges escapade in the 'Markt', the city's bustling central square. It's surrounded by vibrantly-coloured buildings and the iconic Belfry of Bruges. This bell tower that was built in the 13th century still stands tall. Once a medieval lookout post, it now offers gorgeous, sweeping views of the city from its summit. Get in your cardio for the day as you climb the 366 steps for those Insta-worthy views!
After you're safely back on firm ground, venture into the labyrinth of narrow streets that make up Bruges' historic center, a UNESCO World Heritage Site. Take in the Gothic splendour of the Church of Our Lady, famous for its 122-meter (400-foot) brick tower – the tallest structure in the city and second tallest brick tower in the world! As you step inside, be prepared to be blown away by Michelangelo's exquisite marble sculpture – Madonna and Child, one of the few works of the artist to be displayed outside Italy.

Bruges has an extensive network of picturesque canals and bridges. For this reason, it's often referred to as the 'Venice of the North'. These waterways once played an important role in the city's economy. But today you can take a leisurely boat tour along these serene waterways. This trip offers a unique perspective on the city's medieval architecture and charming bridges. Swans gracefully glide alongside your boat, keeping you company. There's a reason for the presence of these birds – a very interesting one! So, make sure you find out more from the locals when you get there.
If serene canals and meandering boat rides aren't your scene, perhaps Bruges' thriving arts and culture scene will seal the deal. Bruges is home to Groeningemuseum, an art lover's haven that houses a collection of Flemish and Belgian masterpieces, spanning six centuries of artistic endeavour and excellence. It includes the works of Jan van Eyck, Hans Memling and Marcel Broodthaers. For a unique art experience, make sure you visit the Salvador Dalí exhibition. Known as the Dalí Xpo Gallery, it's housed in the medieval Belfort Huis and features a permanent collection of the surrealist master's works. Surrender to the whimsy of Dalí's imagination and lose yourself in a world where reality and fantasy blur in the most extraordinary way.
If you're lucky and plan well, you should be able to experience one of the city's many festivities. Bruges hosts numerous music, cultural, and artistic festivals throughout the year. Check the local events calendar for events during your visit. Whether you're dancing the night away at an outdoor concert or admiring vibrant processions during a traditional carnival, there's no better way to soak up the city's joie de vivre.

While Bruges' compact size makes it perfect for exploration on foot, why not mix things up with a bike ride through the picturesque countryside? Rent a bicycle and venture beyond the city's borders to discover the idyllic windmills, lush meadows, and charming villages that surround Bruges. It's an experience worth writing home about – or at least, posting on social media. Or circle all of Bruges, following its canals in a ring around the city, a grand total of 7 kms which will take you past the homes of locals, the canals and some beautiful wooded areas. 
As the sun sets over the Bruges, the city's already enchanting atmosphere takes on a magical quality. Meander through the illuminated cobblestone streets, perhaps stopping to enjoy a delectable dinner at one of the many fine dining establishments that call Bruges home. Or stop for a glass of wine at the many little bistros that dot the city. 

If you're a night owl with an interest in the supernatural, consider booking yourself on one of Bruges' many ghost tours. Wander through the city's atmospheric streets and alleyways, where your guide will spin chilling tales of the spirits that are said to haunt Bruges' historic buildings. Whether you're a true believer, or simply a lover of spine-tingling stories, this experience is sure to leave you with goosebumps. As you look over your shoulder on the way home that evening, you'll also have a new perspective on the city's past.
If all that's not enough and you want a really macabre experience, make your way to the Torture Museum Oude Steen. This small but impactful museum, located in one of Bruges' oldest prisons, offers a chilling glimpse into the history of torture and the devices used through the ages. Definitely not for the faint of heart, this museum provides a thought-provoking exploration of humanity's darker side.
If peace and tranquility are what your soul seeks, consider a visit to the Begijnhof. This serene haven with white house fronts and a tranquil garden was founded in 1245. It was once home to a community of lay religious women known as beguines and is today home to nuns and several Bruges women who've decided to live a single life. The garden, church and museum offer a tranquil escape from the bustling busy streets.

Eat, enjoy, savor, cherish
It's impossible to visit Bruges and not indulge in some of Belgium's finest culinary delights. With over 50 chocolate shops within the compact city centre, Bruges is a chocoholic's paradise. Friendly warning: Visiting the Choco-Story Museum to trace the history of this beloved treat and joining the tasting sessions will make you question why you ever settled for mediocre chocolate! Belgian beer is as famous as its chocolate and is another source of national pride, and Bruges delivers in spades! The city is home to several breweries, including the historic De Halve Maan Brewery, where you can enjoy a guided tour and sample some of the finest brews Belgium has to offer. Pro tip: Try the local favorite – Brugse Zot. When you've had enough, you'll probably question if you're tipsy or simply head-over-heels in love with Bruges.
But one can't live on chocolate and beer alone! So, feast on traditional Belgian dishes such as waterzooi – a creamy fish or chicken stew, or stoofvlees – a slow-cooked beef dish served with a generous helping of frites. Speaking of 'frites, it's time to address the elephant in the room, or rather the 'frites in the cone'. Did you know that Belgian frites, often mistakenly called 'French fries', are in fact a native invention? Served in a paper cone with a side of mayonnaise or a choice of other delectable sauces, Belgian frites are the perfect companion for your Bruges wanderings. It is a weekend staple in Belgian cuisine… unsurprisingly so. If you still have space after all of that, kudos to you! But it means that you must try Belgian waffles – a true delight for the senses! Whether you prefer the light and fluffy Belgian waffle or the rich, indulgent Liège variety, Belgian waffles are a scrumptious treat that effortlessly melt in your mouth!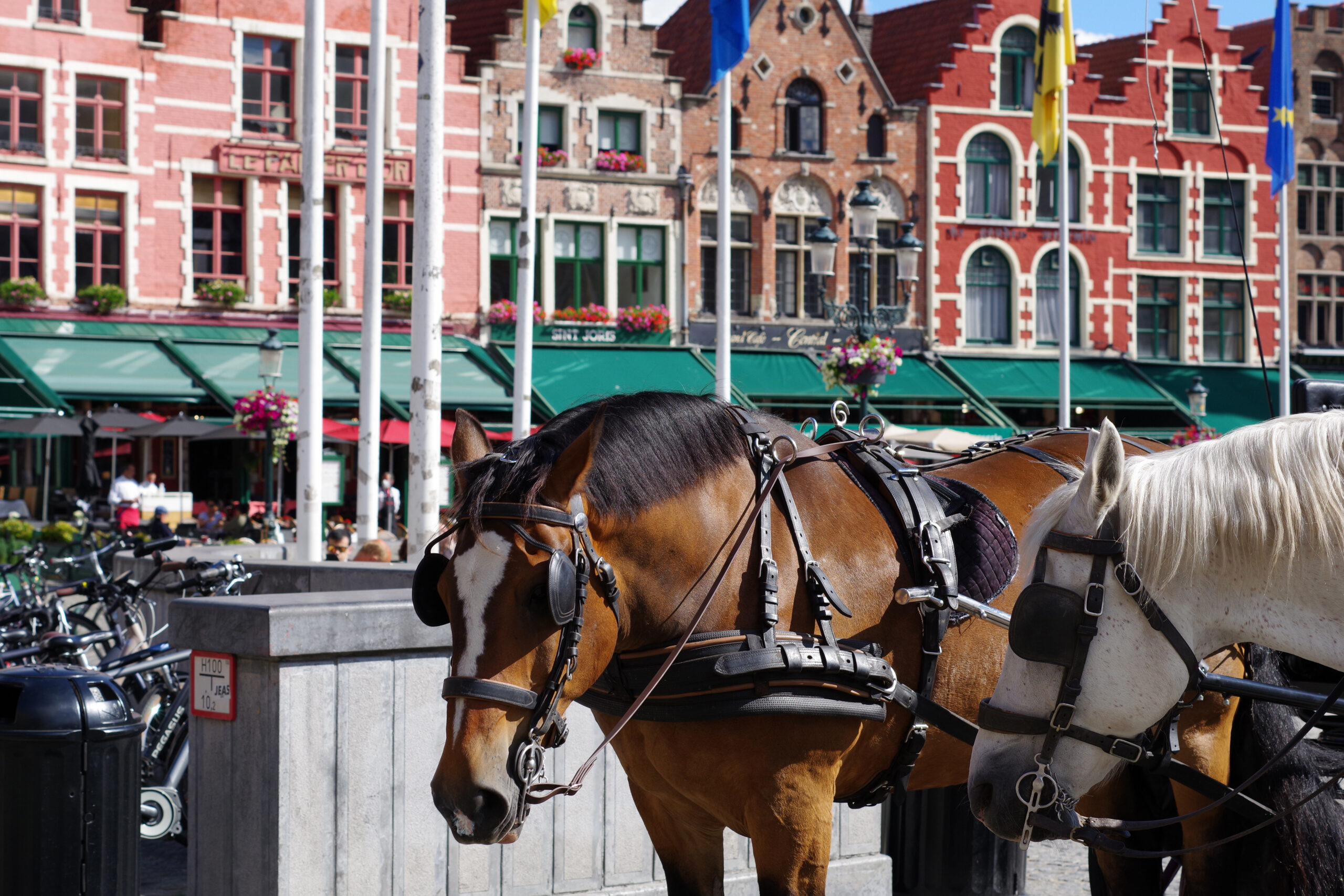 Little-known facts about Bruges to interest and delight you!
The city's name originates from the Old Norse word 'Bryggia' meaning 'bridge'. But another theory suggests that it comes from the word 'brug' which is Dutch for 'bear' because according to local lore, a bear once guarded the city's main bridge.
Bruges' Bourse, established in 1309, is considered the world's oldest functioning stock exchange. It serves as a model for other financial centers, including the London Stock Exchange and the Amsterdam Stock Exchange.
In addition to its picturesque canals, there's an entire network of underground canals that were once the city's main sewage system. Some sections can still be accessed and offer a unique subterranean experience for the curious traveler.

Sint-Janshospitaal is one of the oldest preserved hospital buildings in Europe dating back to the 12th century. It now serves as a museum for historical medical instruments, art and archives.

Bruges' lace-making tradition dates back to the 16th century and is still practiced by a handful of skilled artisans today. Make sure to purchase these masterpieces because nothing says "Bruges" quite like a delicate souvenir, painstakingly crafted by a master of the art.
Bruges is one of the cities in Europe with the highest percentage of English speakers in the region making it easy for travellers to navigate.

 
As your Bruges adventure draws to a close, be prepared to feel a tinge of sadness at the thought of leaving this enchanting city behind as you say 'tot ziens' to this delightful slice of life. From the echoes of history that reverberate through its cobblestone streets to the irresistible allure of its world-class cuisine, Bruges will give you memories for a lifetime, and will leave you wanting more.