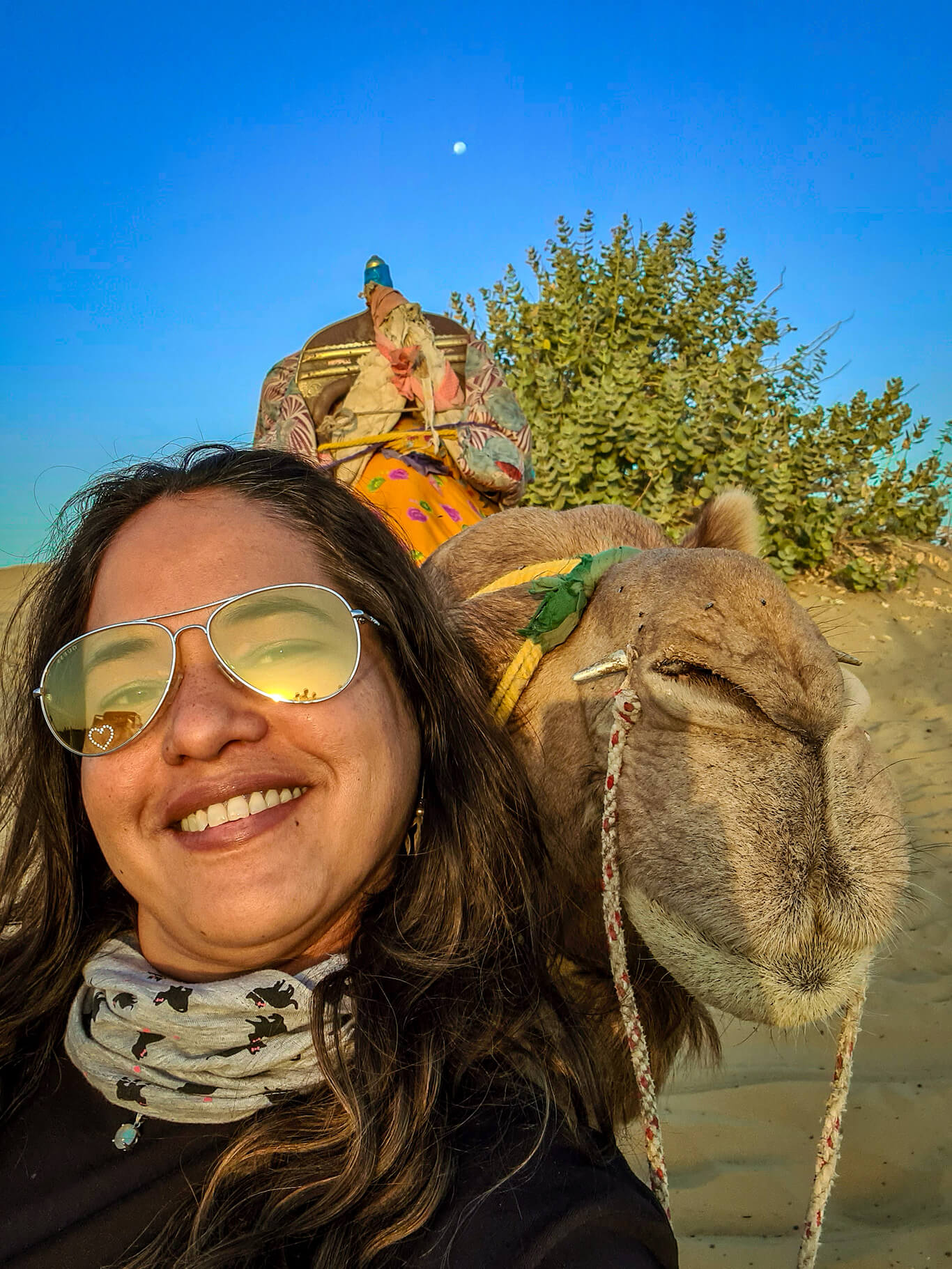 As I stood outside Harshini Kapoor's quaint ancestral home, away from the sounds of traffic and birds chirping overhead, my mind tried to envisage the personality of the woman I was to interview who biked across Rajasthan after a life-altering accident. I wondered if her new limitations made her regret the incident or wish that life had treated her more justly. I'm heartened to say that I could not have been more wrong.
Harshini's diverse ancestry is the crucible in which her spirit was forged – her father, a spirited Punjabi man who married a woman of Islamic faith, and her maternal grandparents being of Iranian and Pakistani ancestry. At a time when society feared that freedom to daughters heralded rebellion, her parents raised her fearless, seating her on a Suzuki bike at 11 and entering her in a drag racing meet at 14, which she won while being the youngest participant in the female class. Unfazed by society's disapproval, she was encouraged to pursue her interests, learning horse riding, swimming, and biking, ensuring she was enriched with skills that would open her to all of life's experiences. She recalls how she rode a bike to Ooty at only 16 with her father chaperoning her in a pursuing car on the open road. This episode is characteristic of her parent's support – gentle and guiding, not controlling but omnipresent.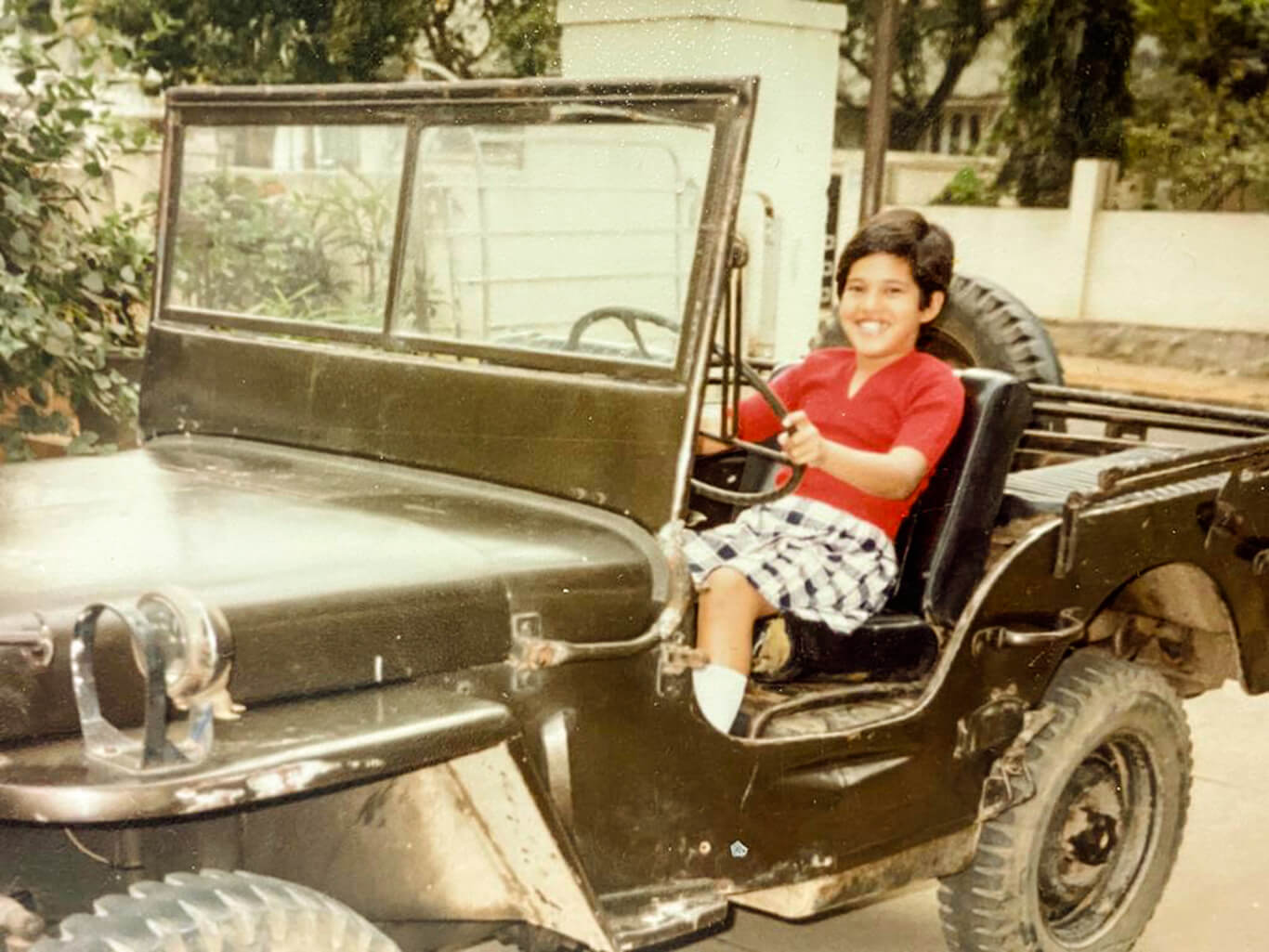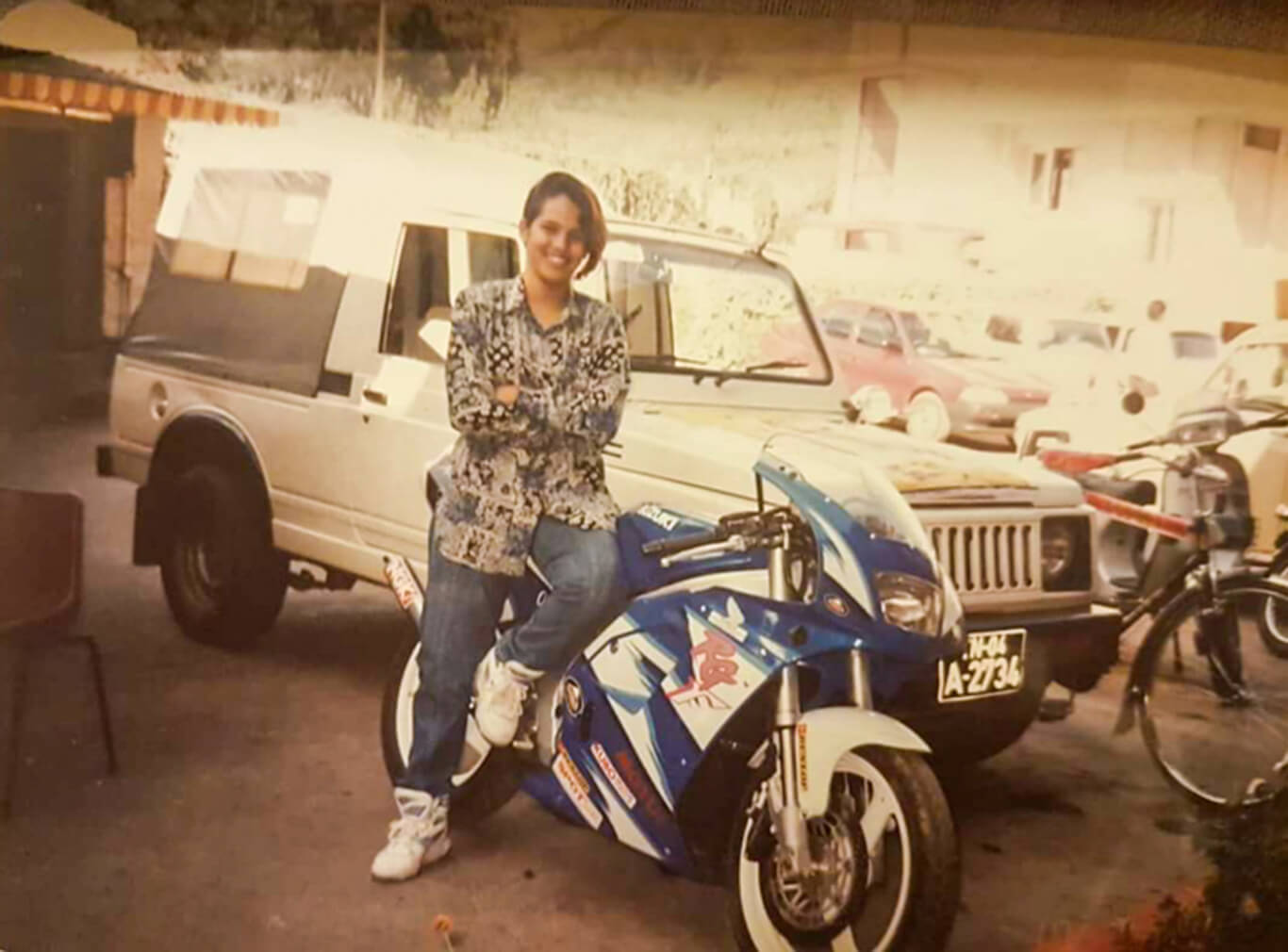 Every person is encoded with a signature DNA – Harshini renders herself as an insatiable wanderer. To be tethered to one place or routine bores her, and she has crafted her life to gain as many jaw-dropping experiences as possible. From learning hotel management to managing PR for corporations to a brief stint working behind the scenes in Bollywood, Harshini follows her heart as dutifully as a mariner follows a compass. Not many can boast of having sipped tea with Richard Branson, but Harshini can having met the magnanimous mogul at the launch of the first Virgin records store in the middle east. Her quest for the unknown has attuned her to new explorations, the defining mark of an intrinsic traveler.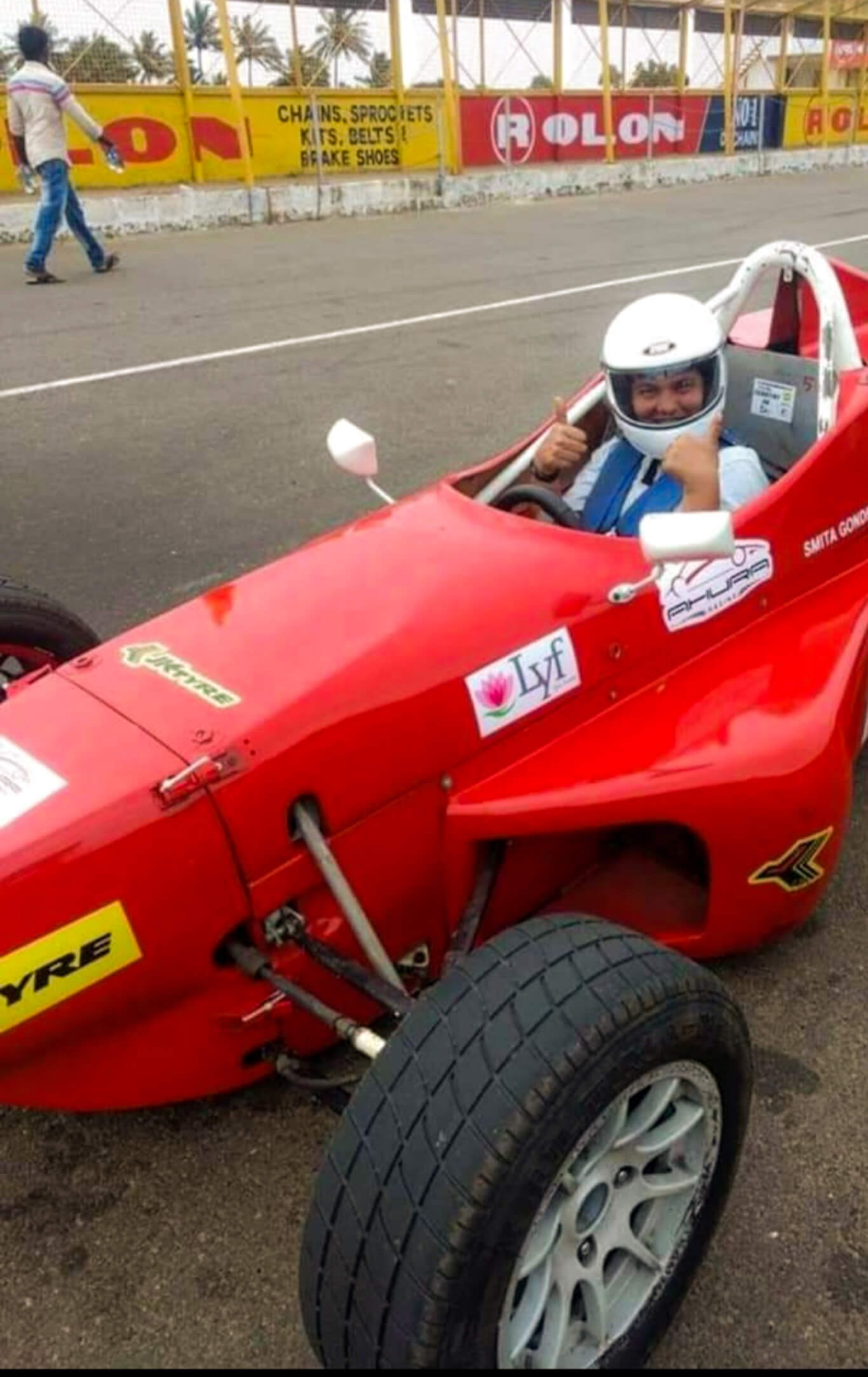 With her trusted compadre, a blue Alto car fondly named Bumblebee, Harshini blazed her trail on the map – whether it was driving solo from Bangalore to Manali in 2009, weaving through Bombay, Gujarat, and Rajasthan on the way, or dodging an angry Bison hurtling towards her car in Kodaikanal.
Her excursions have not been devoid of heart-stopping moments – once driving from Chandigarh to Manali, she misjudged a waterfall that cascaded on the road to be a petty stream, one she could easily cross in her small vehicle. Had she not been stopped by a jeep driver more familiar with the terrain, she shudders to think of what might have happened; her car would be swept away by the current into the ravine. Little did she know that her beloved automobile, anthropomorphized to the degree of a loyal friend and companion, would be her armor and sacrifice itself when her life was nearly crushed at the altar of fate, one disastrous afternoon in 2018
For most of us, the next question is a mere thought experiment – What if the next minute was your last? For Harshini, it went from idle wonderment to shattering reality in a matter of moments when she swerved her car to protect a pedestrian crossing the highway and crashed, a few kilometers outside of Bangalore city with plans to meet friends and dreams for the future blown to dust. For three minutes she was presumed dead, she says recalling her other-worldly experience. "There was a moment which felt like an out-of-body experience. It seemed like I was looking at the scene of the accident from an aerial view. It was all so surreal. Then in the next moment, I sat up with a jolt, breathing again."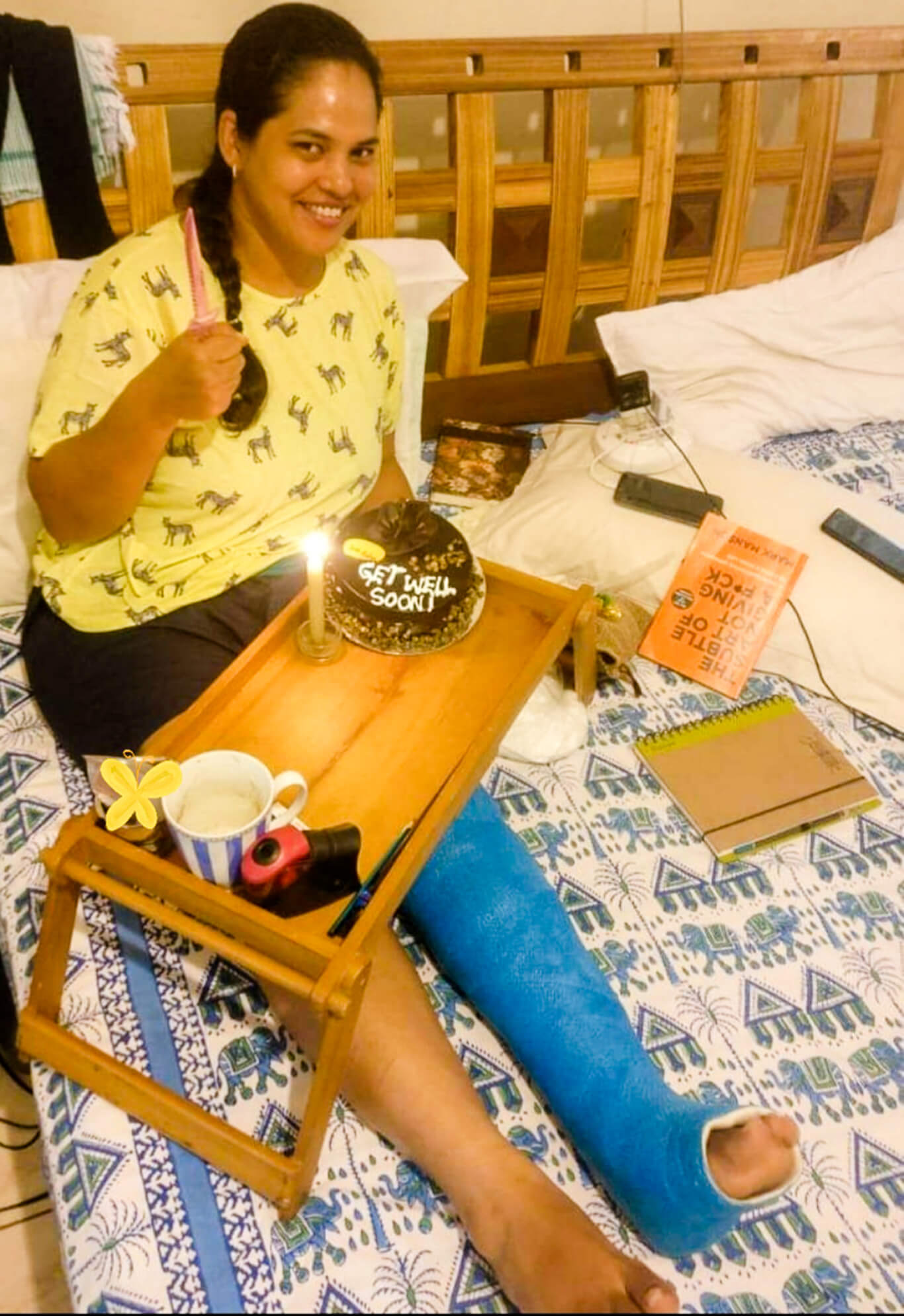 To be alive was a miracle, but in the hospital, she became aware of the extent of the damage, a sustained head injury, multiple torn ligaments in her left leg, and several scattered bruises on her body. People visited her somber and stony-faced, bemoaning her condition, but her mother was her rock during this tumultuous time, reminding her of her strength time and again whenever she broke down. It is humbling to think that if this accident hadn't occurred, she would have been a part of India's very first women's Formula 4 car racing team in Coimbatore, but now she faced a different, sobering reality wondering if she would walk again.
After the accident, Harshini was faced with fears and insecurities she had never known before – of not being independent, not being able to walk or dance, to the chronic, unwavering pain as a bitter reminder of what her body had been through. Two years into recovery, when she felt she was confident enough to roam the treacherous road again, she envisioned a singular goal in mind – to span the arid behemoth land of Rajasthan by road on the back of a Royal Enfield.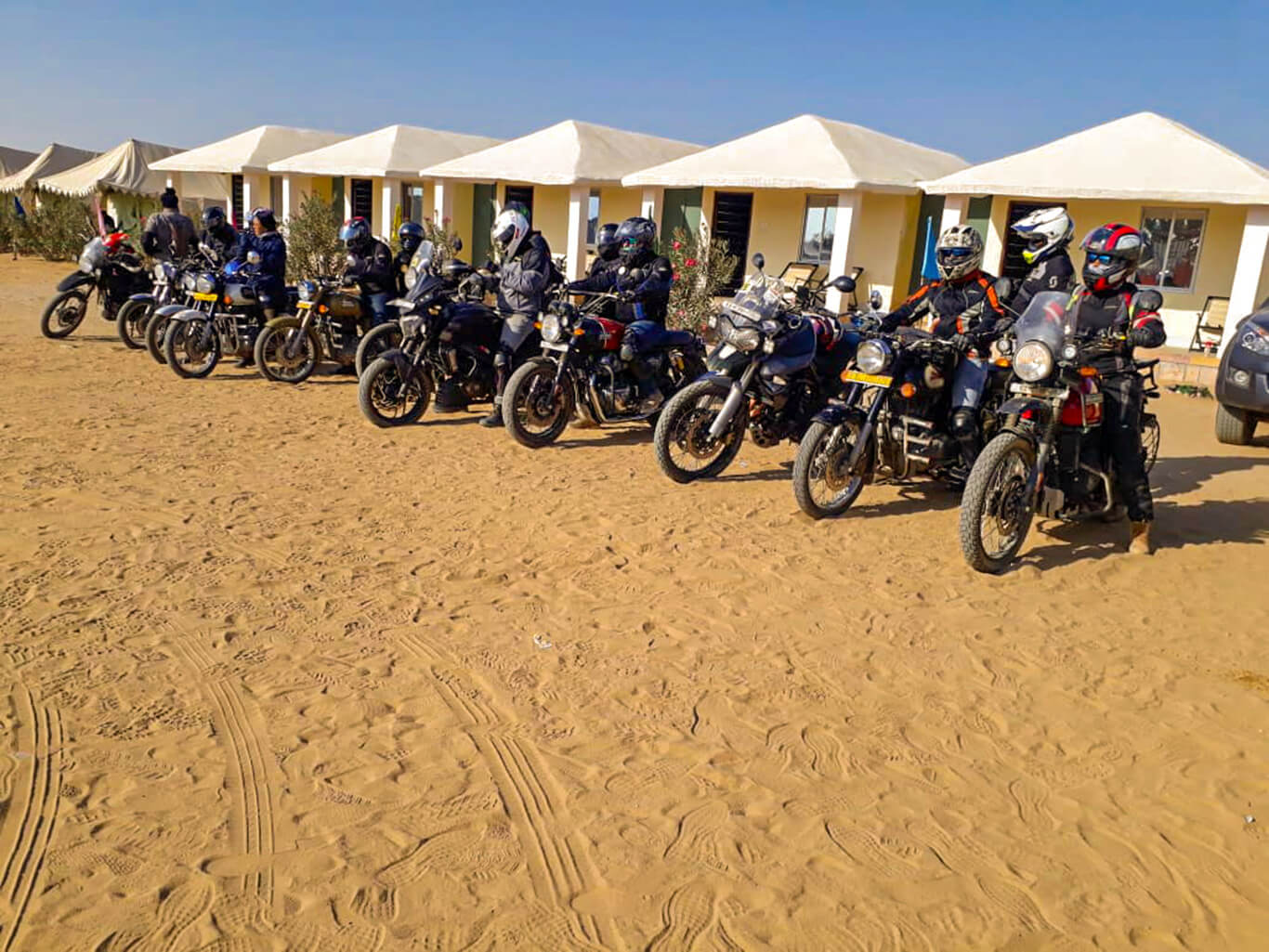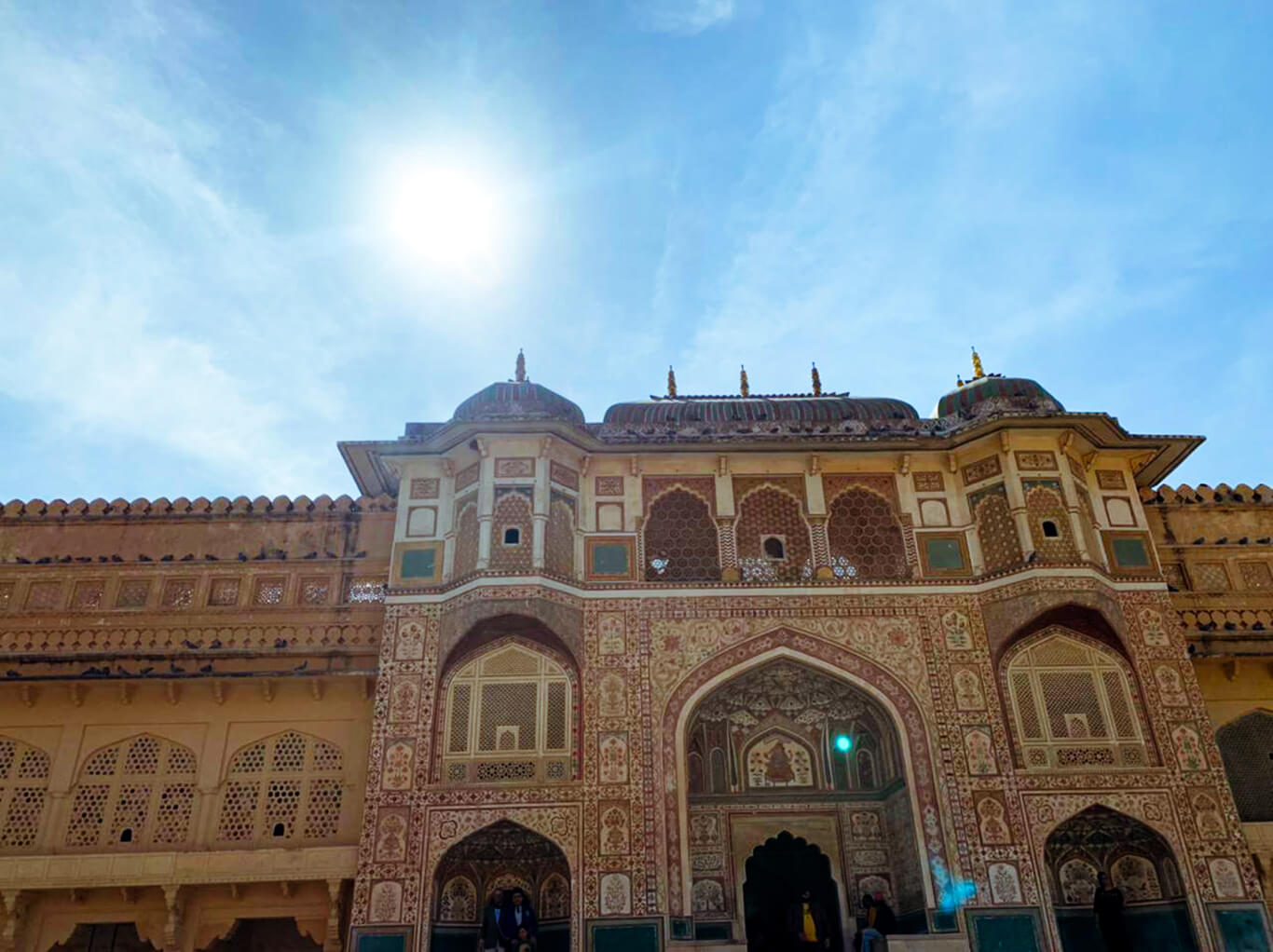 When she told her parents of her plan, her mother casually said, "I am proud you are planning this trip, but I thought you'd make this decision sooner!" The unquestioning faith they held in her was half the battle won.
In the span of ten days, Harshini and her group of fellow riders, a diverse bunch from Bangalore, snaked across the state touching Jaipur, Jodhpur, Jaisalmer, Sam, Osian, Pushkar, and back full circle. At daybreak, the riders would set off, sharing their locations with the group and aware of each other's whereabouts at all times. For Harshini, the trip proved doubly challenging, bike riding proving strenuous and requiring a consistent upright posture and angled legs. Every day at dusk, as she massaged and cared for her battered leg. She'd fear that she wasn't strong enough to finish the trail, that it was the end of the road for her. Every morning, she pushed herself, one herculean day after another, until she had done it.

Every feeling was memorable – from the butterflies fluttering in her stomach as soon as she got on the plane to Rajasthan, to the cold against her knuckles as she rode her bike like the wind. Steeped in beauty and windchill in frosty January, with temperatures dropping as low as 6 °C in Osian, Rajasthan, was a celebration and a revelation for Harshini. Despite her injury, she was treated without needless pity by her co-riders, which she is grateful for. The entire experience was akin to a phoenix rising from the ashes, renewed in life and grace from the very trauma it had endured.
Another unsurprising memorable aspect was Rajasthan's sumptuous cuisine – gorgeous vegetarian fare that dominates the culinary scene, dals and subzis (lentils and veggies) of every kind. Harshini, a self-confessed foodie, marveled that the street food alone was so luxurious that a vendor serving grilled paneer outside Jaisalmer Fort, made wildly popular by YouTube, was thronged by tourists daily. Rajasthani hospitality too is something to write home about, unmatched from all her travel experiences – the people are kind, sweet, ever-so-helpful to new and seasoned tourists alike, and even the humblest of places are maintained to high standards.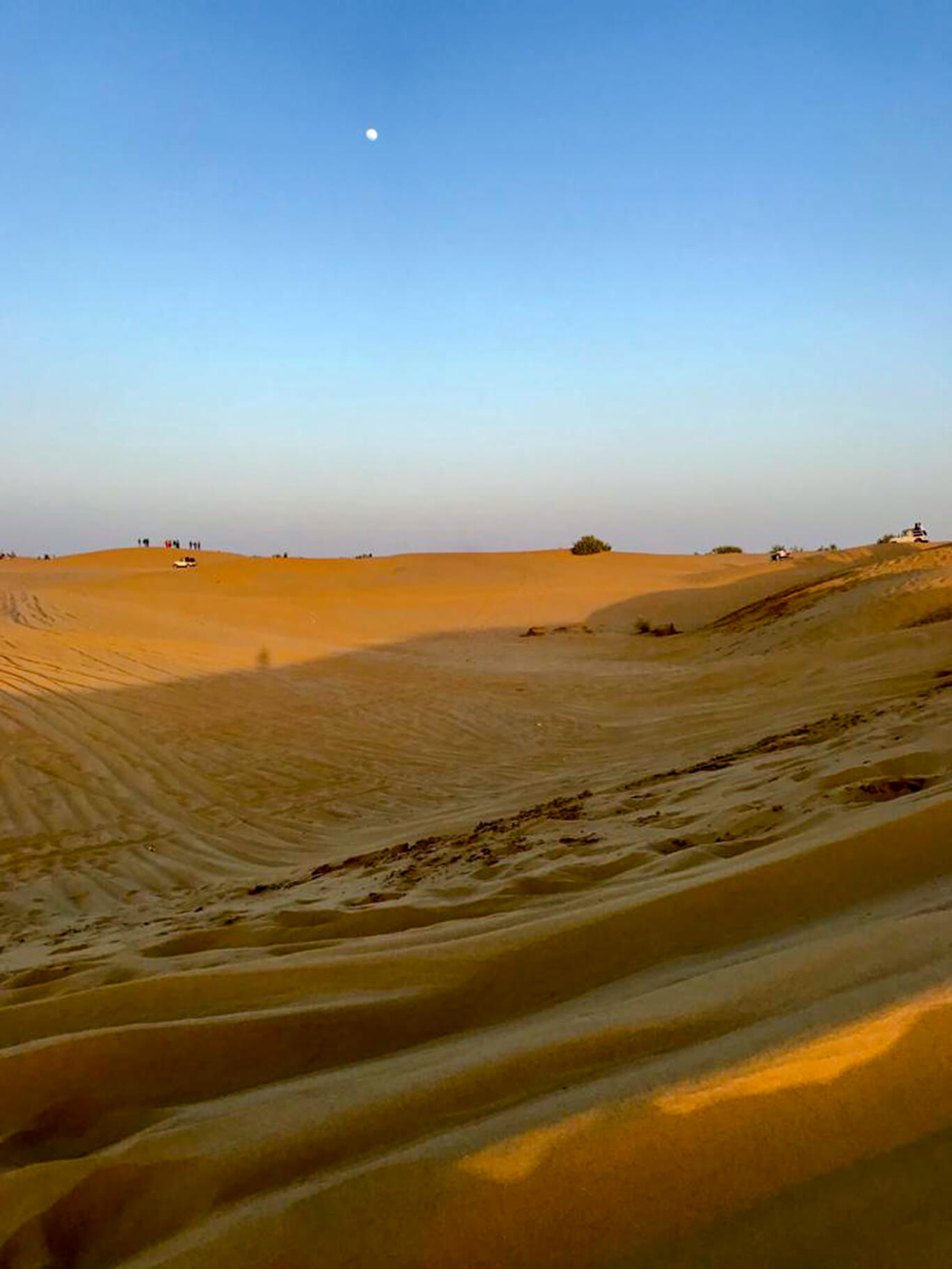 A well-traveled soul such as Harshini can be expected to be chock-full of advice about life, but she likes to keep it sweet and simple. "Don't take life so seriously," she says easily, with the conviction of one who has seen death up-close, unflinching, and managed to walk away from it.
"Three minutes before my accident, I didn't know I'm going to meet with an accident." Despite our best-laid plans, life can take a detour when you least expect it, so agonizing over every little detail is foolhardy. Instead, she surmises, why not live each moment to the fullest and let your inner quest for happiness lead the way rather than our rigid perception of life.
Somewhat philosophically, she marvels at the need of humans to control everything, whereas, through her travel, she has realized how acutely unimportant we are, negligible to the universe in the grand scheme of things. Some might say 'nothing matters' steeped in nihilism; for Harshini, it is a mantra of fierce optimism.
"Everything that happens is going to pass. Nothing that happens is the end of the world."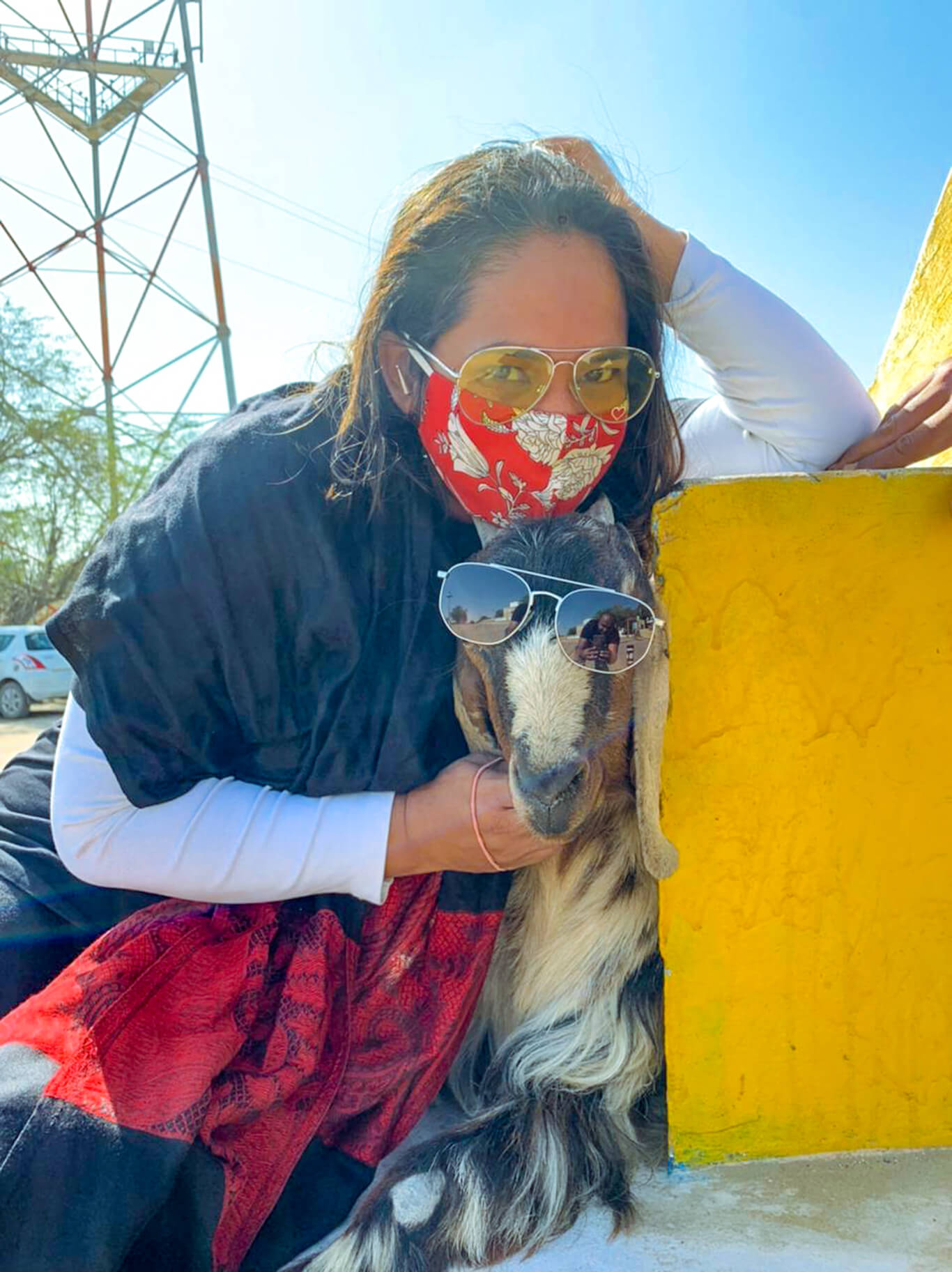 Harshini has her eyes set on a beautiful blue Royal Enfield supernova she is tremendously excited about, a steel-snouted companion for future endeavors. She is already preparing mentally to ride her new bike from Goa to Bangalore for 600 kms, which is almost a mini-circuit in itself.
She eyes the Spiti Valley trail in Ladakh as her next challenge, planning to tour it for ten days once cleared by the doctor to face the freezing cold weather. One thing is certain; there is no stopping this woman from achieving her travel dreams and living a fulfilled life no matter what adversity comes her way.
"The dream is to ride. Where we'll ride, we'll see!" she laughs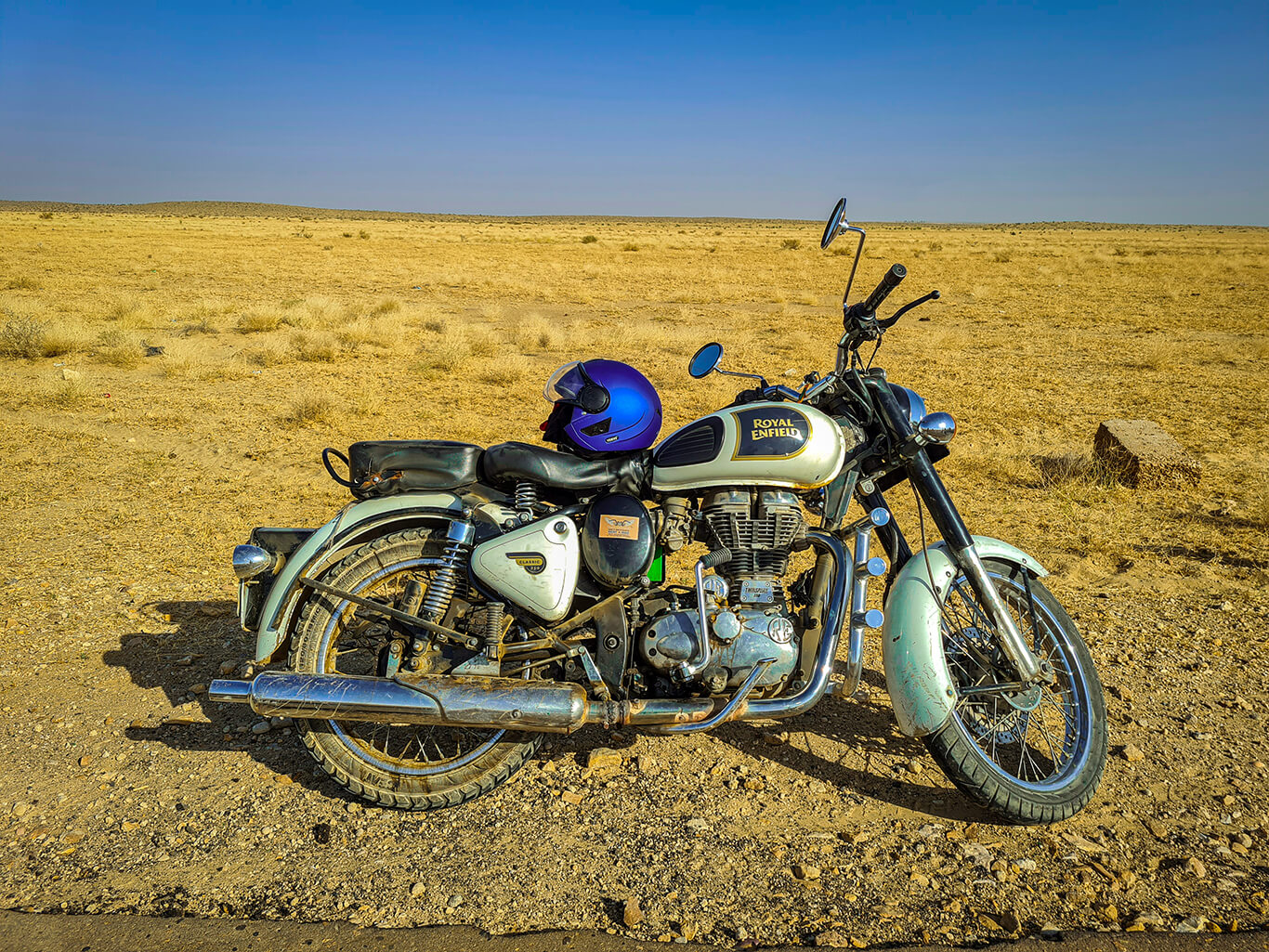 It is no surprise that a spirited soul such as Harshini would want to give back to nature in some way, having borne witness to the vibrancy of this planet along her travels. Her brand "Chaimaami" founded in 2018, sources and sells natural, unprocessed, organic honey with blueprints to branch out into teas and other products. With her hands-on approach and abhorrence of cruelty and destruction of the biome, her product is both niche yet widely applauded, with a loyal clientele. I departed from her home with an encompassing hug and a jar of honey that seemed to embody her unadulterated, authentic spirit.
As I replay our interaction in my mind, her words echo within me. "This isn't about Harshini. I'm a very small story. There are women who've done way more and endured way more than me," and I can only marvel at the ability of one's singular aspirations to fuel another's inspiration to live life to the fullest.