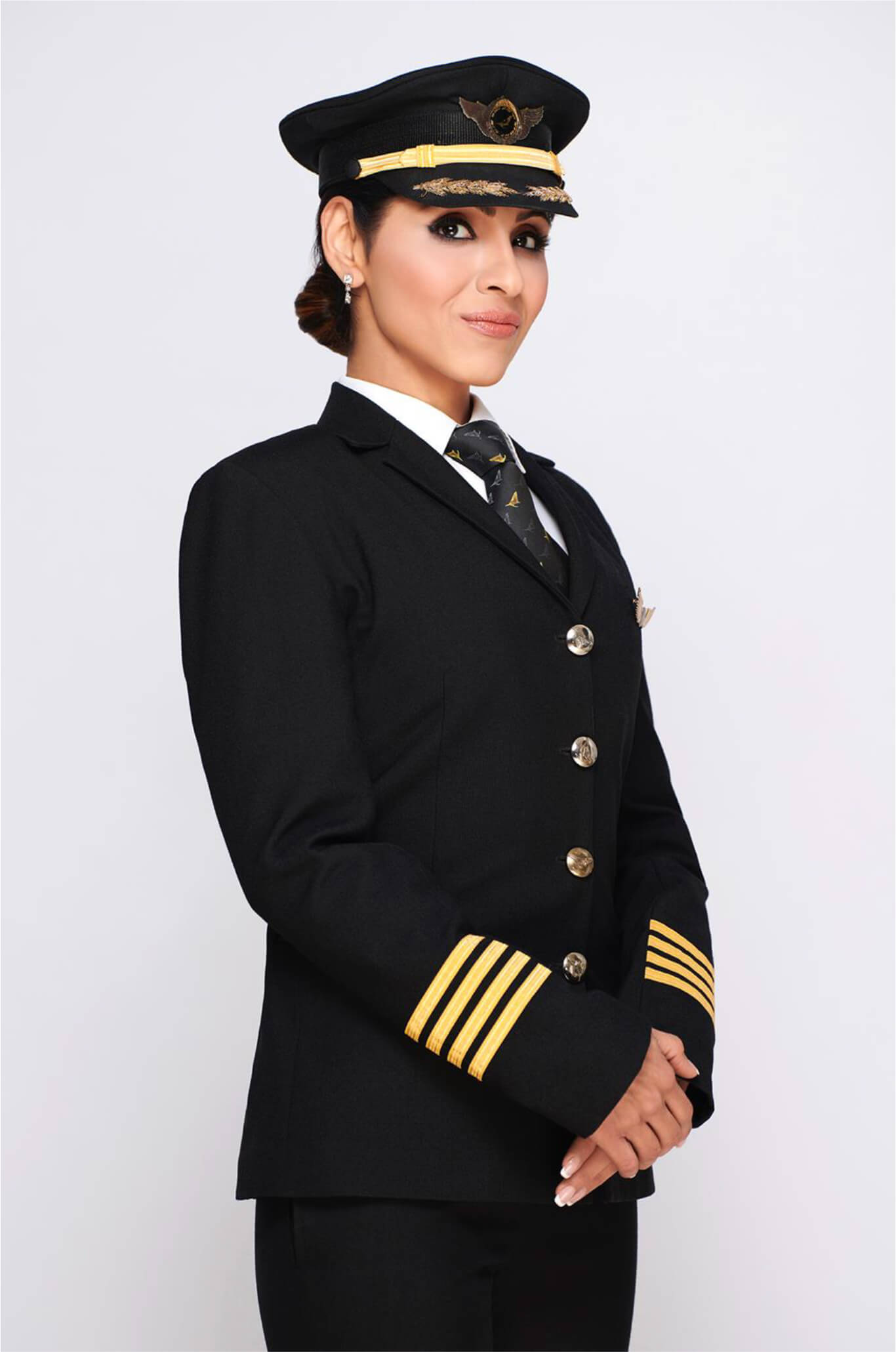 On January 11, 2021, women created history as Captain Zoya Aggarwal, Captain Thanmai Papagari, Captain Akansha Sonaware, and Captain Shivani Manhas flew a non-stop Air India flight from San Francisco (USA) to Bengaluru (India) over the North Pole. The 17-hour flight charted a record-breaking distance of 16,000 kilometers and as Capt Zoya likes to say, "turned a new leaf in the history of world aviation." Zoya Aggarwal headed the all-women pilot team on this historic flight, and she's really kicked about the fact that an all-women team has managed to leave a mark in an otherwise male-dominated industry. With great pride and almost welling up, she remarks, "This is not a feat for me, I'm just a tiny drop in the ocean doing this is for every single girl, if regular Bharat ki Betis (ordinary daughters of India) can do it so can every other girl out there."
Popularity With A Purpose
In all fairness, Zoya has become one of the most popular pilots in the world right now. She takes particular pride in the fact that her ground-breaking flight has put India and Air India on the global map. What it has also done is that it has made this otherwise run-of-the-mill pilot an absolute celebrity. While she's not blushing from all the accolades, she does reveal that being asked for so many selfies is amusing and exciting at the same time. Zoya adds, "The best part is, even if I manage to inspire just one life out there, the purpose of my life on this beautiful mother Earth would be accomplished. I am still the same 8-year-old Zoya who used to dream of flying a plane. However, people's perception has probably changed when it comes to me."
While she's in the limelight, she prefers to look at it from the perspective of women empowerment and gender balance. She says nonchalantly, "I hope this feat creates a positive change for all the 8-year-old Zoyas out there, who have lovely dreams and ambitions, but at times, these naïve little girls can end up feeling intimidated, challenged, and fearful of their own dreams, desires, and wishes. I hope what little I have achieved can help these little girls break out of the cloud and achieve whatever it is that they want, without doubting themselves, without kneeling down to societal pressures. I hope this message cuts across to women not just in India, but across the world."
As a kid, Zoya used to be a stargazer and an avid dreamer. "I used to sit on the terrace of my home in Delhi during school vacations and just stare into the night sky, sometimes till 5 am in the morning," she reveals. The sights of the stars and the constellations would always fascinate her. But, the most exciting part of that experience used to be spotting the little flying objects with blinking lights amidst these stars and constellations. "During those moments, I used to always wonder, 'Zoya! Could you possibly fly one of those planes?" she adds. She reveals that her nascent ambition though, was always hindered by the sound of one word, constantly ringing in her ears and that word was 'impossible!'. "It was because of my family background. I grew up in the nineties, being the only child of rather conservative parents. I was essentially the boy and the girl of the family. So, my extremely conservative mother pinned all her expectations on me. I was supposed to grow up, get married, settle down with a family and take care of them. That's how my life plan was literally laid out," says Zoya.

Eight-year-old Zoya, daughter of Rajeev Kumar Sapru and Rekha Sapru, had expansive dreams and flights of fantasy. But, like most girls, she was taught to walk in the shadows of the men in the family, respect the elders' wishes, and never think beyond. "Unfortunately, I wasn't normal, so I wouldn't abide by what was told to me. I always fancied the idea of challenging the unknown, and you could say that was like my second nature. I always had the knack to aspire for something more, to dream of something bigger," she says. When Zoya was nine, she told her parents that she didn't want them to buy a TV but rather a telescope. She reveals, "That seemed like the most obvious, excitable thing to do for a stargazer like me." Not just that, she was percipient enough to know that her parents had very little money to spare. So, she came up with a wise idea way beyond her adolescent years. "I suggested that they don't buy me birthday gifts for a few years, save up that money, and then use it to buy me the telescope. Having bought the telescope finally, I think my parents realized that their daughter was all but normal."
She still shirks at the idea of norms. She adds, "Somehow, I always equated norms with infinity. The norm for me was to be able to break through the glass ceiling, to break the barriers, and to reach someplace that was beyond the ordinary." Her first tryst with breaking the norm came with the need to learn English. In her quintessential Punjabi household, English wasn't just unspoken, it was unheard of. She adds, "I knew that English would be crucial to my ambition of being a pilot, so to learn the language I used to spend as much time as I could watching English language movies and music channels on the TV in my neighbor's house."
Even more dramatic was Zoya's mother Rekha's reaction to the time when the young girl finally revealed that she wanted to pursue a career in aviation. Zoya recalls, "My mother broke into tears. She became hysterical and started saying things like, 'What's wrong with my child?' and 'Who's going to marry her?'. She started thinking that we wouldn't be able to afford such an education for me, and then her dissent went to the next level, and she started asking me how could I dare to even think about something so ridiculous." Her father though was a bit restrained with his reactions. He was used to being the mediator between mother and daughter, and that's a role he excelled at. "I was good at academics, and my father took that as a sign and made me apply to every college in Delhi. Thankfully, I was good enough to get into St Stephen's College, widely considered to be the best academic institution in the country at the time. Perhaps, he was under the impression that once I get acquainted with college life, I might just grow out of my aviation dreams." But, Zoya is not one to waiver from her aim. She's always been a goal-oriented person, and when she wants something, she puts on the blinkers and just charges towards the goal. She admits, "If I set my mind to it, nothing can hold me back, nothing can distract me from my aim. So, I guess by the time I got to the third year of my graduation in science, my parents started feeling sympathetic towards me and they finally relented, took loans, and sent me to aviation school."

Understandably, women were not the first to become pilots in the aviation industry back in the nineties. There were hardly any female pilots on commercial airlines. As Zoya reveals, even global giants like Singapore Airlines, Etihad and Emirates, have only recently adopted the idea of having women captains on their flights. She adds, "Back then, airlines were not really keen on training women pilots. They used to think that the woman will eventually have a child, go off on maternity leave, and when she returns, she'll have to be trained again. It wasn't a very popular notion at the time." And that's why, even after she graduated from aviation school, Zoya was jobless for a few years. She used to take up odds jobs and train young kids in aviation, not to make money, but just to keep herself abreast with the industry and technology. "My father was extremely stressed out during this phase because he'd taken out so many loans, and there was hardly any income to repay all that," she says.
Even when her golden chance arrived with the Air India exams, it was a long shot. She reveals, "Air India was the only Indian airline at the time that had international flights. When the Air India exams would be announced, commanders from other domestic airlines would enroll and apply for the same jobs because everyone dreamt of flying international." When Zoya appeared for the exam, she competed with roughly 3000 to 4000 applicants for a mere seven job openings at Air India. She adds, "My dad got a heart attack just five days before my written exam with Air India, fearing that I might not make it. But God was kind and looked after me. I got through and have never looked back."
While other people dream of flying on top of the world, Zoya always had other plans. She'd been training for a polar flight for over a year, and when she finally made the flight on January 11, the experience was nothing short of stellar. She adds, "When we flew over the polar point, witnessing the sky full of stars and the Aurora Borealis was such a mesmerizing feeling. I still get gooseflesh thinking about that moment."
A true-blue achiever, jet-setter, and now a certified celebrity, Zoya still finds more meaning in spirituality. She says, "I am a deeply spiritual person. I believe people, names, persons, faces, celebrities, icons are irrelevant. At the end of the day, we're all part of the almighty. When you surrender yourself completely to his will and his being, he looks after you. He makes changes, chances, opportunities, and pathways in your life, for your progress and your growth. Everything that I've ever achieved in my life and especially this historic flight of ours, I owe it to the almighty." Whenever she visits a temple, Zoya expresses her gratitude towards God and her parents for having risen thus far. "The spiritual connection that I share with the almighty is irrevocable," she says, looking at the skies above, also a place where her dreams took flight to fame!