While a considerable chunk of the female population is brought up with ideals of liberty and individuality, a more sizeable segment has acquired years of conditioning of being obedient and adjusting. Maneuvering between these two distinct schools of thoughts held by the society and all their shades in between, every woman has found herself on the receiving end of a common concern – "This is not the age!"
"Thirty and unsettled? It's high time work took a backseat!" reprimand elders of the family. "This is the right time for you to get married. A pretty bride is a happy one", coerce Stepford wives. A regular afternoon is painted with a tinge of anxiety with a call from a distant aunt with the standard "When-I-was-your-age narrative." Fire in young eyes is often dowsed down by the condescending, "You're still a child," and the will in mature hearts is routinely silenced by the discouraging, "You're not growing any younger."
The notion of chalking the timeline of a woman's existence with set milestones that she needs to hit before her 'time is up', is not merely opinionated but has also proven to be toxic to the interpretation of what's doable and what's not.
In this segment, we go beyond the delusions, bringing to you stories of five phenomenal females, ranging from the ages of twelve to over sixty, who have paved a path for themselves, validating that age holds good only in matters of wine or cheese!
Freshly Baked Dreams With Spirit On The Side!
While worthy competitors stood before spectacular dishes and little Aysha struggled with the finishing touches, her mother murmured a silent prayer standing in the crowd. Having nailed a ten-ingredient smoothie and creating a signature dish from scratch, perfecting the replication of a stuffed chicken roulade, for Aysha AlObeidli, was no biggie. Her mother hooted with joy as her little reflection was announced the winner of the much-coveted title, 'Mini Chef 2018', organized by Kidzania.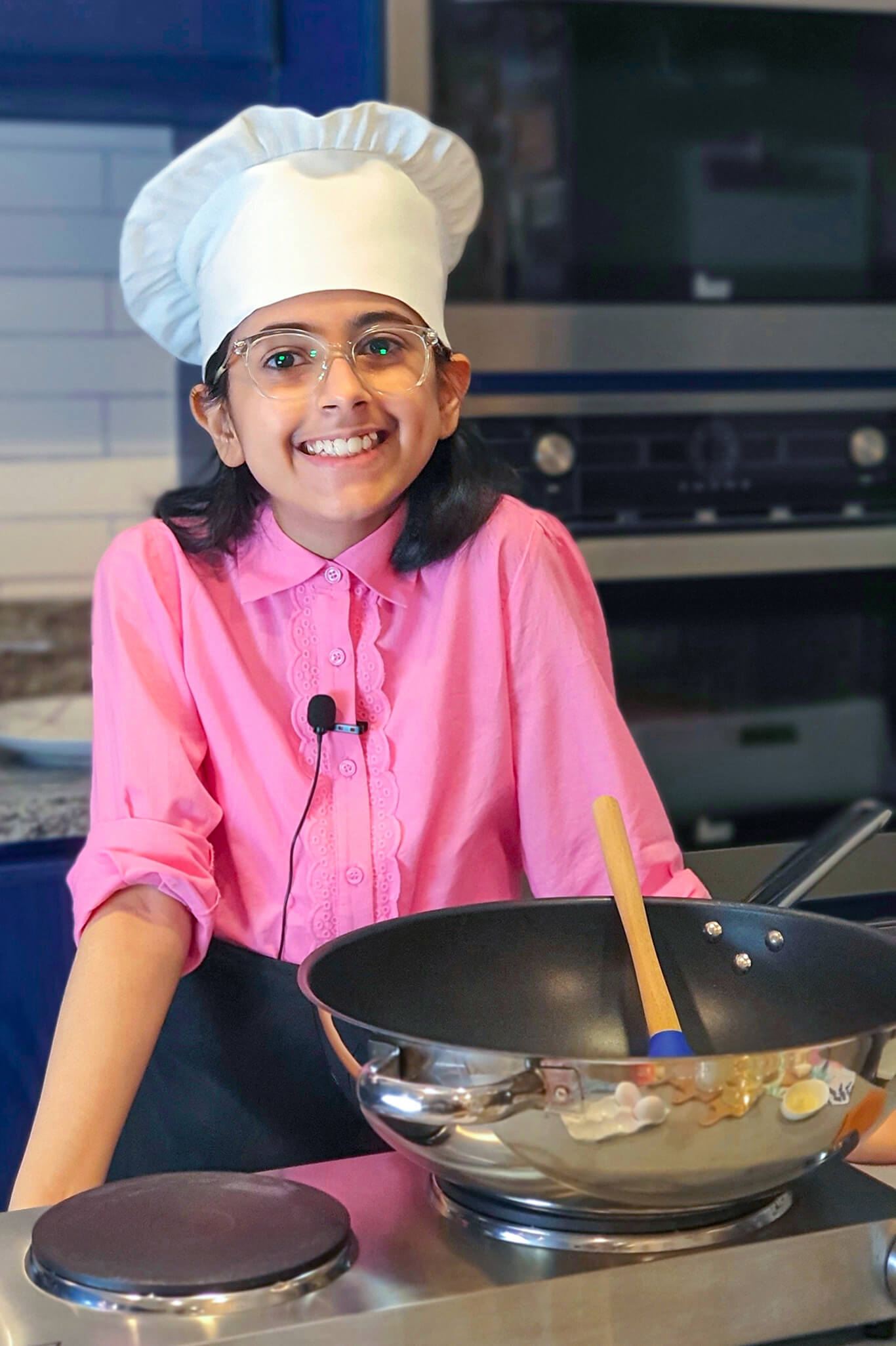 Balancing her precarious self on tiny toes with heels in the air, a four-year-old Aysha stood on a chair peering into the frying pan as her mother added an extra dollop of butter on her expert suggestion. As the holy month of Ramadan rolled around, the elders of the household would hold their fast, and Aysha would taste the dishes before it was served during iftar, leaving everyone amazed at the perfection of her taste palate. By the time she was six, she had mastered the art of making a perfect omelet.
In the AlObeidli household, interests were always ushered into being explored, and so, Aysha launched her YouTube channel that focused initially on travel vlogs. While editing a video after a long day's shoot, Aysha and her mother came across an advertisement for the much-awaited competition 'Mini Chef'. Mutually agreeing upon giving it a shot, the duo registered her in the grueling contest, which she eventually won. However, Aysha's biggest takeaway was a lesson much greater than the prize; the fact that age, indeed, is just a number.
Crispy fried bread topped with popcorn and spinach and rolled with tender chicken marinated in sour cream, the 'Star Wars' inspired dish not only blew the judges away, it also proved to be a turning point in Aysha's life. Wild and experimentative, she named it 'Flying Chickey Saucers', which embodies her personality to the tee. While the competition awarded her twelve classes with SCAFA, Dubai, it was her mother's dream that the young prodigy sharpens her skills at the renowned ICCA, Dubai.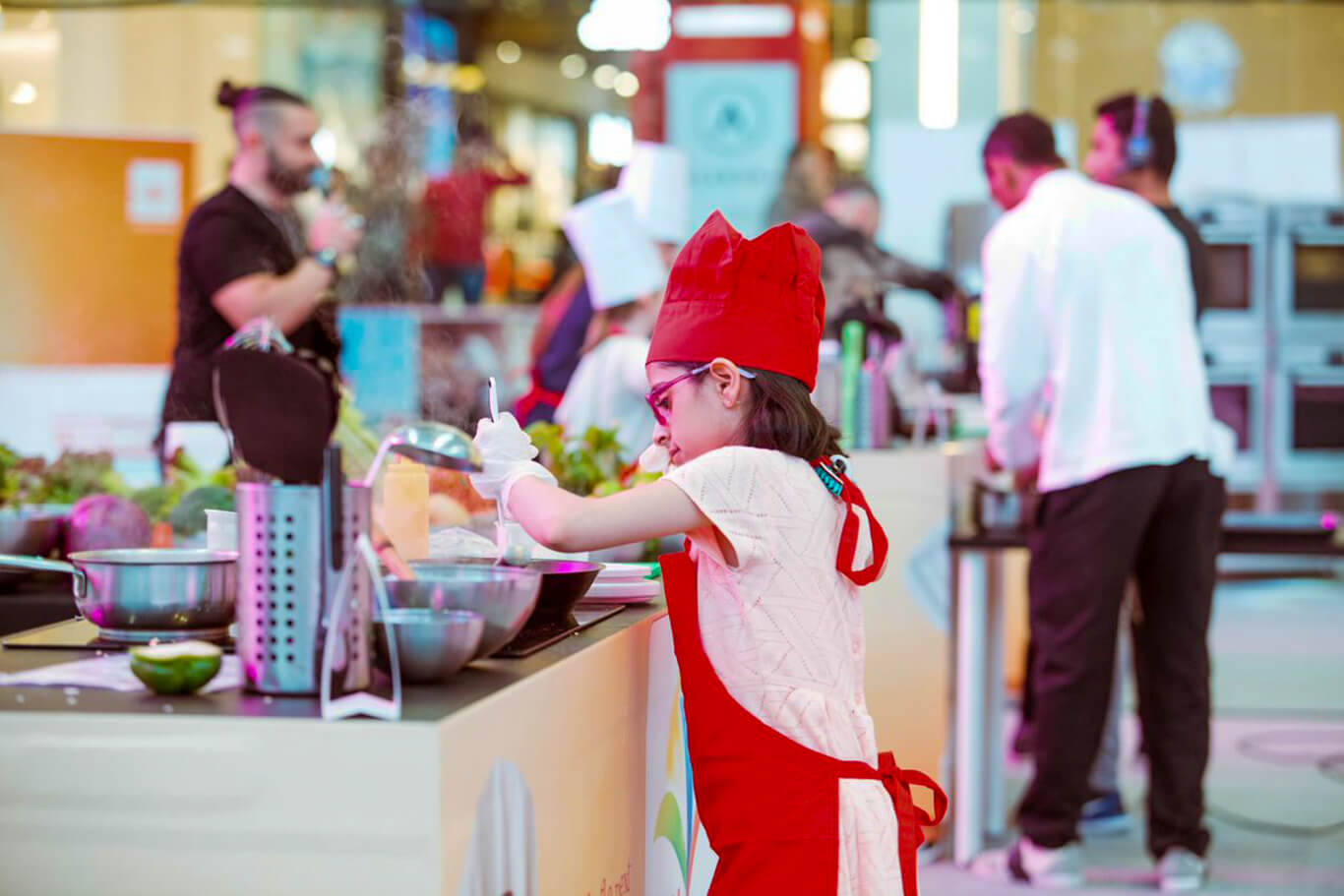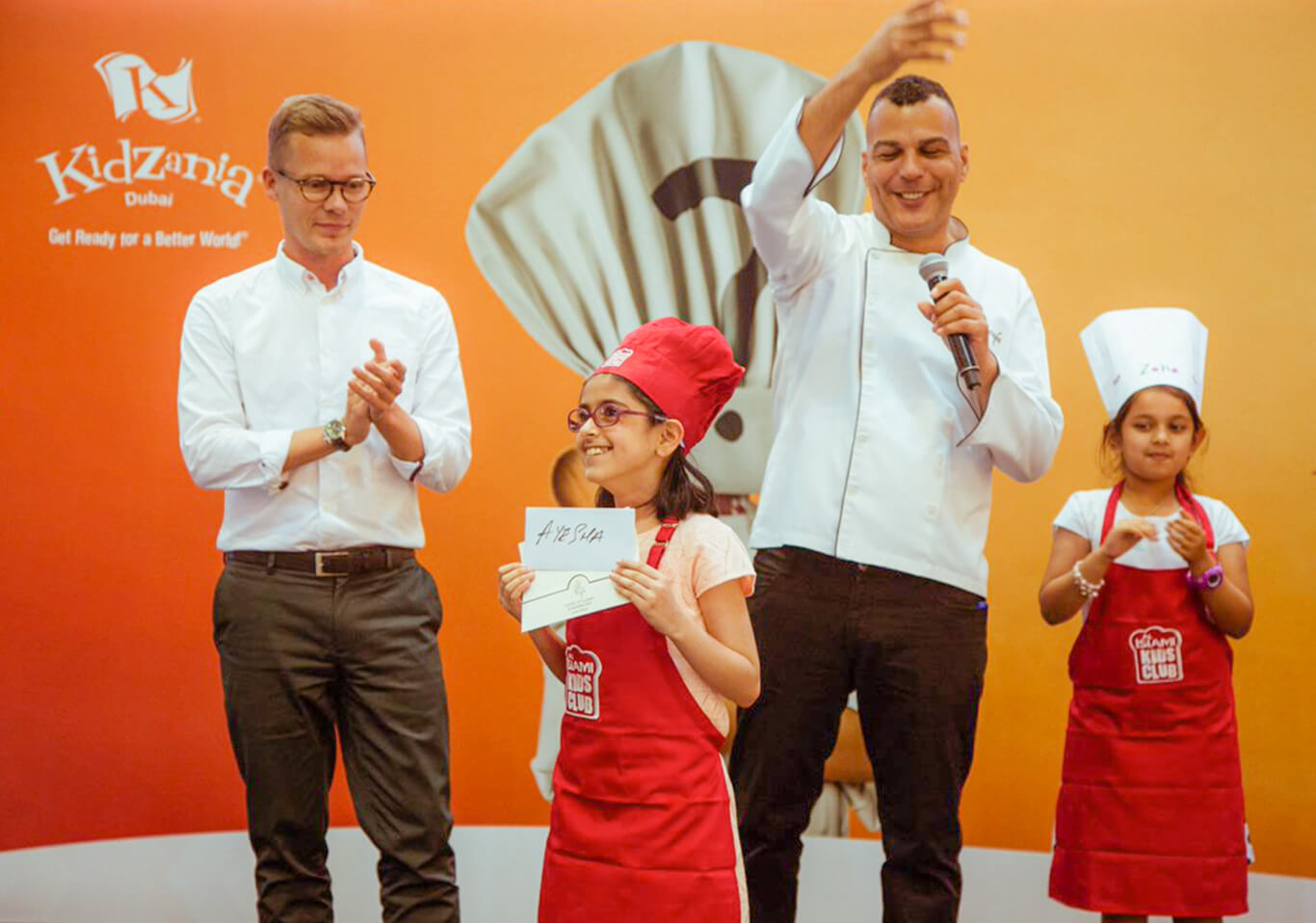 She was initially denied admission at ICCA for the sole reason that she was below eighteen, but after an impressive screening process, tweaking their own rules, she was invited to be a part of the institute with great aplomb.
With the same finesse she exhibits in the kitchen, Aysha AlObeidli balances academics and her curriculum at culinary school, submitting assignments and projects while taking time to collaborate with celebrity chefs for her YouTube channel.
Aysha's sweet journey glazed with a hint of adventure would be incomplete without her mother's constant encouragement. While both draw inspiration from one another, they also exhibit creative differences while working on a dish in the cook's house. Conversely, the duo also has a blast creating experimentative dishes for their social media family. With an older daughter specializing in the tastiest pastries, Aysha's mother envisions the day they have a restaurant of their own, representing the power of the Emirati palate worldwide. She wished to raise Aysha into a woman of her own, expanding her capabilities every day, taking her people along with her. As a mother of a twelve-year-old MasterChef, her words of advice to parents of gifted children is to keep them afloat, as the butterfly taking on the world in their own unique chickey saucers!
With her workstation propped on a glass table in the most exquisite café located along a never-ending coast overlooking the magnificent ocean, she sips on her latte, hustling away to glory! Here's what a typical workday in the life of Founder and CEO of Yoko Translate, Alba Cavallo Esclapez's life looks like!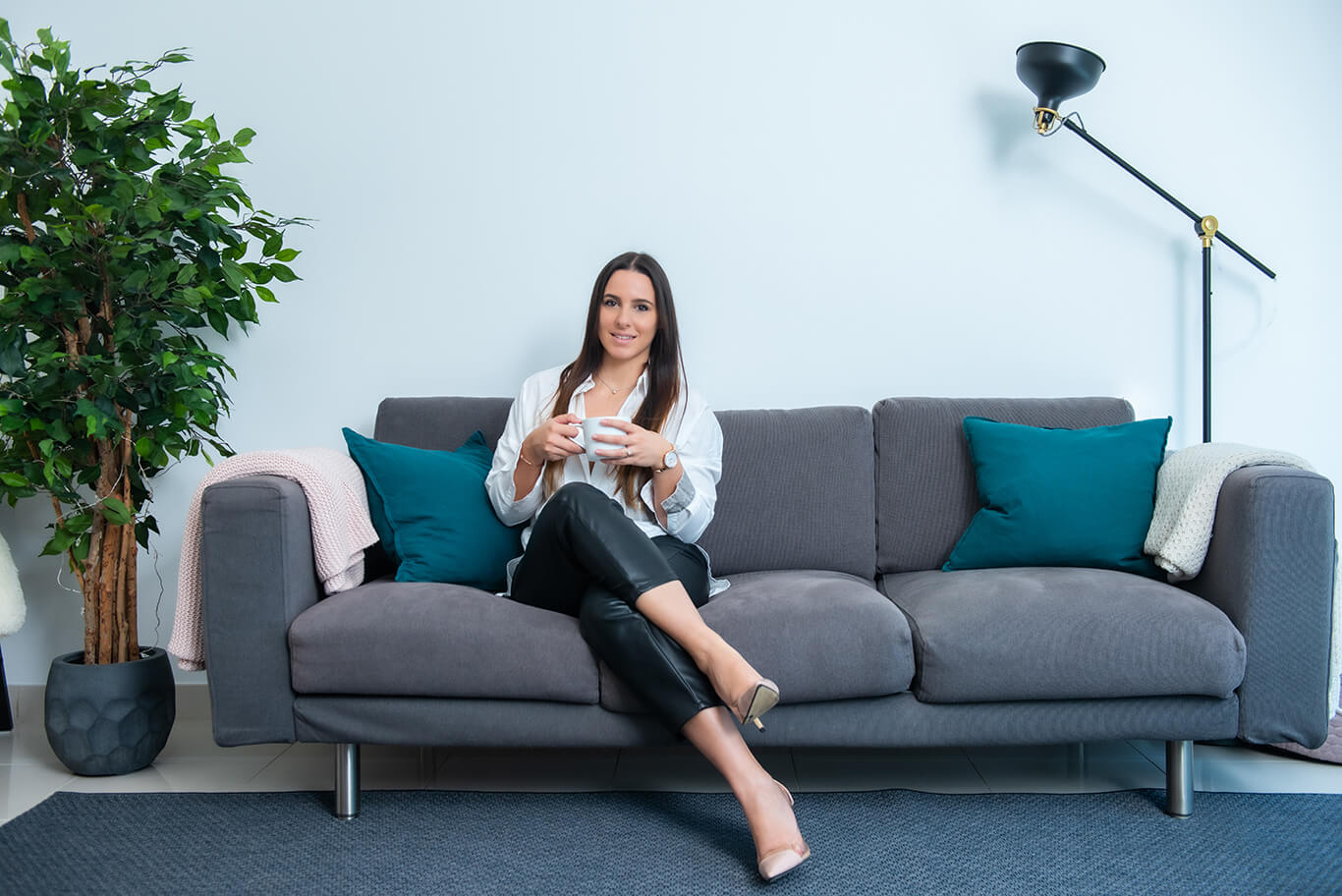 Born in Spain, her Italian dad and Spanish mum moved to Italy when she was three, where she grew up to be a teenager. Passionate about exploring new cultures and meeting new people, Alba is a translator by profession and a true-blue linguist by heart. Her earliest childhood memories trace back to her expeditions across unexplored cities, as her father frequently relocated for work. A four-year-old Alba felt most at home when doubling as a communication link between her mother and local vendors of the town. At seven, she started picking up French, and by eight, she had developed an affinity towards English, both of which she specialized in, at high school. With a brief teaching stint, her favorite part of picking up a new language was the accompanied experience while talking to the natives. For the people person she is, the portion she dreaded the most was mastering the grammar and syntax of a foreign tongue. Having trained in the basics of a plethora of languages, ranging from the ever-so-romantic Arabic to the overtly complex Chinese, Alba held an innate desire to work for the United Nations, broadening her horizons, gaining knowledge about subjects as diverse as finance and legal aid. It was only after she passed out of college that she was presented with an opportunity to work for the international airlines 'Emirates'. Brave and spirited, she took the job and within two months relocated to a completely different part of the world, which today is her safe heaven. Smack in the middle of her twenties and flying around the globe, Alba discovered that the beauty of a tradition's prayers and songs are all unique yet closely intertwined. As a free-spirited young woman living life on her terms, she did not let the occasional news of her peers settling down, or starting families, or even getting promoted, accelerating in their careers, cloud the better judgment she held of her timeline. And so, she continued exploring her life one massive adventure at a time.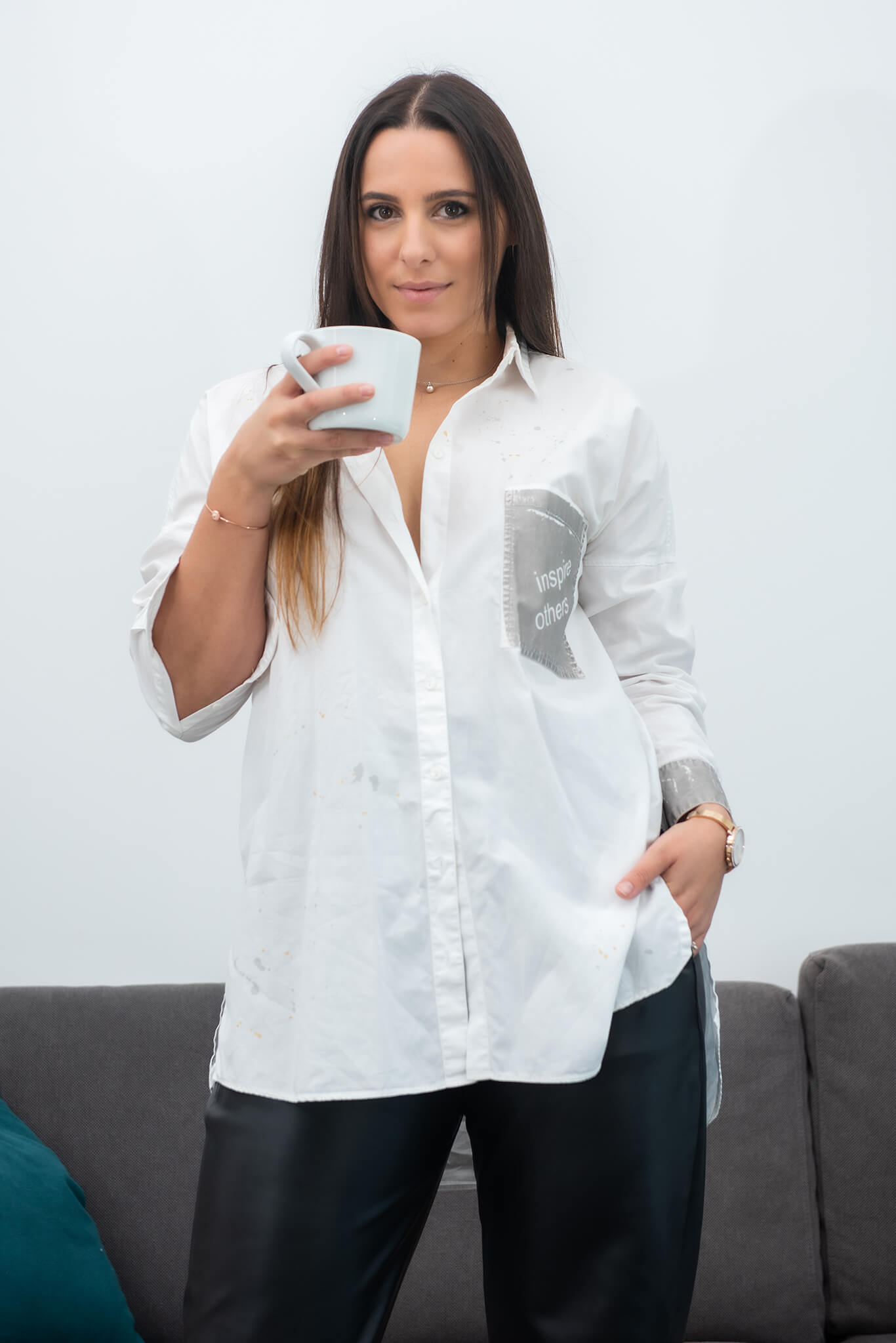 It was only in 2019 that she felt an urge to kickstart her venture that would provide her with the necessary financial freedom and the scope to quell her wanderlust. Having held an inexplicable fascination towards Japanese culture, the phrase 'Yoko Meshi', which translates into "the stress of speaking in a foreign language," refused to leave Alba's mind, along the lines of which she named her start-up, 'Yoko Translate'. Today, coordinating between three hundred freelance translators and strengthening her social media presence, she is working towards expanding the other departments of her company. With considerable industry experience, she is aware of the delayed payments for her deciphers and works towards bridging that gap, acting on her inherent leadership skills. Five years down the line, Alba envisions Yoko Translate to expand across Europe, Asia, and the UAE.
With fifty-eight countries down and at least a hundred to go, the explorer finds the contents of her bucket list multiplying by the day. The picture of a flourishing future with a family of her own someday and a thriving business to accompanying it, all of twenty-eight, Alba Cavallo Esclapez continues to vie for it all!
Clad in jackets to brave the winds, Jenna grew up in Glassgow under the strong influence of tough women like her mother and sister, and a businessman grandfather, who till date stays her role model. Fiery and ambitious, she bagged her first job in Mercedes Benz's sales department, where she worked on their ever-so-sleek smart cars. Impressed with her unmatched work ethic, she got an opportunity to move out of her hometown and migrate to work for Porsche, which was as daunting as it was phenomenal. Blinders on, Jenna worked round the clock prioritizing work above all else. Destiny, however, had other plans for the young woman. When a long-term relationship she harbored since the age of nineteen went up in flames, a young Jenna found herself left in the lurch all alone without a plan for the first time in a while. Rewiring the algorithm of her otherwise perfectly planned life, she packed her bags and shifted base to Dubai on an impulse, and on docking in the dazzling desert land, she was struck by ground reality.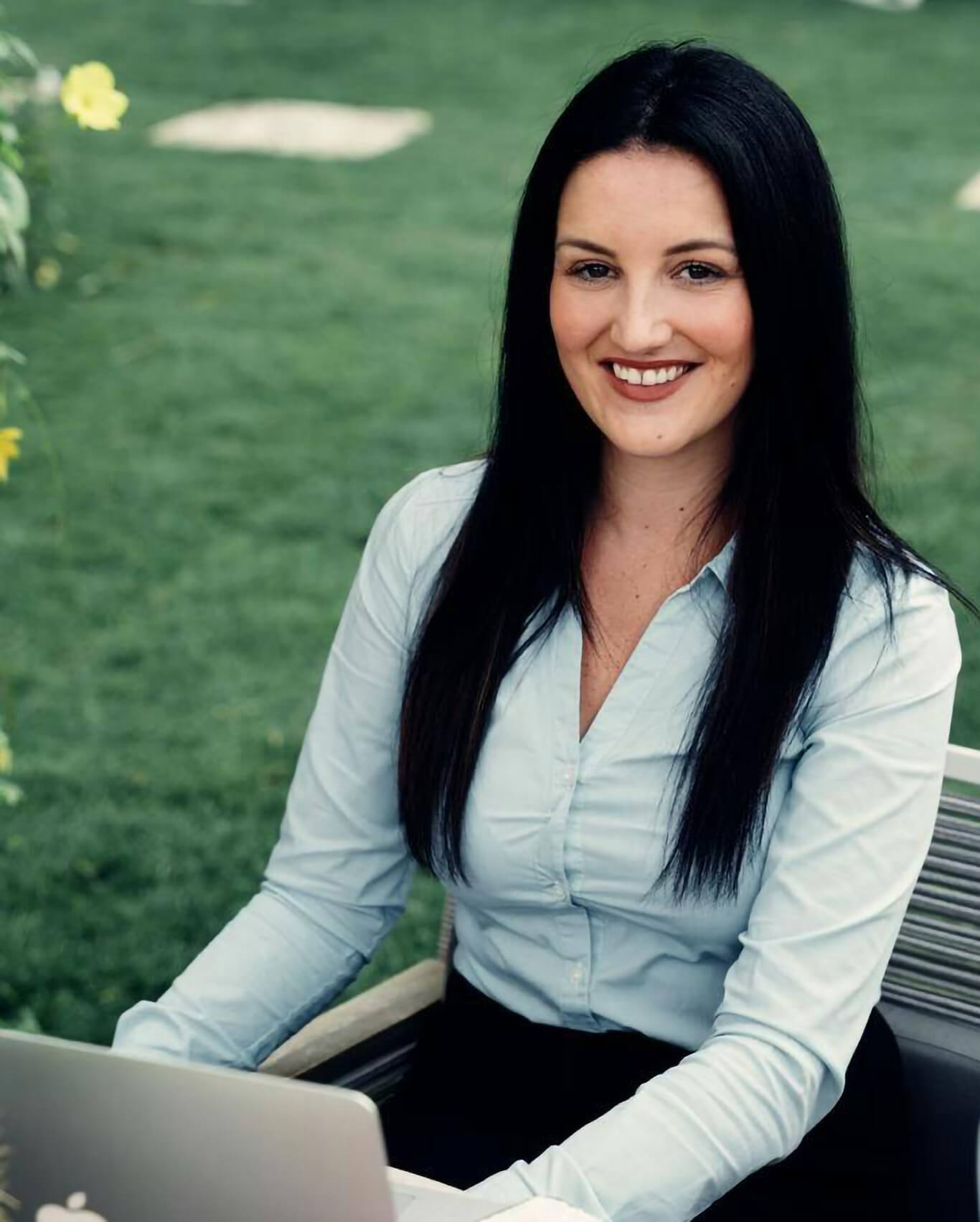 A self-proclaimed workaholic, Jenna worked for several years with commendable results. However, she was looking for a place of work that pushed her more while rewarding her efforts. She found herself jumping jobs looking for the right fit till she decided to take a break from going to work altogether after a discussion with her husband. Her phone kept buzzing with calls from past clients who trusted in her ability to get their work done. Unsure of where to take it from there, she redirected them toward a close colleague who had a business licensing company of his own. When he brought to Jenna's notice the unique skill she has with people, he invited her to join hands with him and see the problems of her clients till the end.
From preparing their paperwork to offering them tailored solutions, Jenna was soon every client's go-to person. With a new-found passion in the field of company setup, she decided to branch out of the collaboration and kickstarted her own business. A people-intensive job, her appetite for a stimulating work experience was finally satisfied. A notepad and pen kind of person, providing superior business advice to fellow hustlers as young as twenty-one and as old as sixty gave her life a new purpose.
Empathetic about people and their problems, Jenna authored a book three years ago titled 'I Want Everything You Have', which predominantly explores human beings and their temperaments through a part fiction story. She plans on working on two other books now that she has a better understanding of the human form. As a modern woman, personal and professional relationships, she says, are built on trust. Having had a low-key 'covid wedding' in November last year, her husband is her biggest cheerleader. Having had to tide over difficult times, the couple together has only grown stronger.
A thirty-one-year-old power woman, from having sold more retail cars for a giant like Mercedes Benz than anyone else in its history to protecting the aspirations of thousands of entrepreneurs worldwide, Jenna Jenkins is a giver. She holds a desire to expand her business across the globe, helping build one dream at a time!
The Aroma of Ambition, As Essential As The Oils
Melt a fragment of your fear and add a considerable amount of confidence. While continually stirring, keep your eye on the goal, and the sweet scent of success will follow. Voila! Here's the perfect recipe for a fulfilled home-based venture, as inferred from the trajectory of Kauser Shakeel.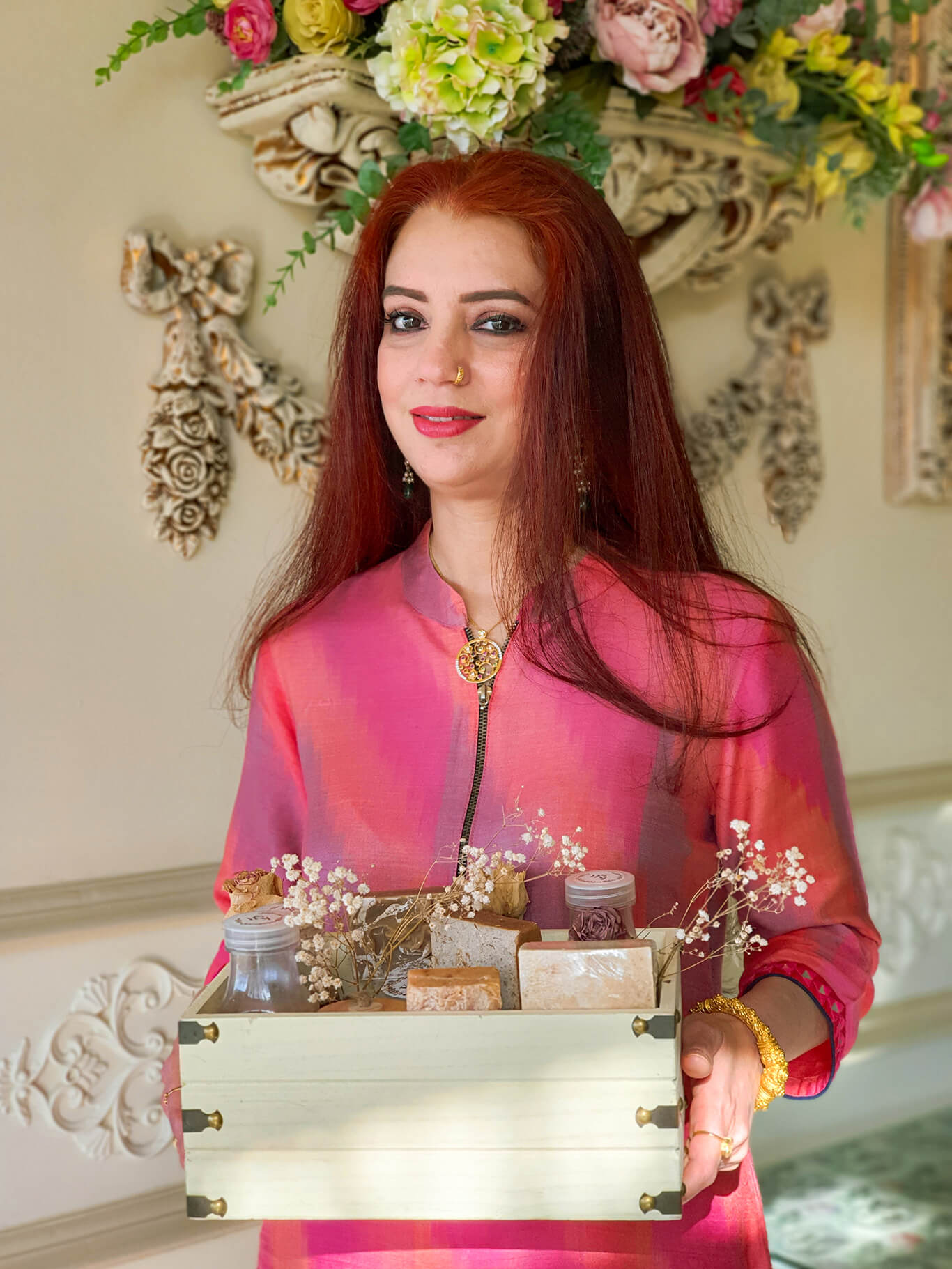 Rosy cheeks and luscious hair, dressed elegantly and appreciative of a pleasing fragrance. Ever since she was a child, Kauser was deeply fond of everything natural. Passed on to her by her grandmother, she possessed the penchant and the required prowess in putting together home-made products with natural ingredients. Brought up in the dreamy lands of India and the Middle east, her inherent proclivity was rich with earthy flavors. A devoted homemaker for several years, Kauser was determined she had more to offer to the world. When her youngest son, a strapping gym-goer, hit his late teens, she gathered her oldest memories of her craft and set out to the city of dreams, which she still fondly refers to as 'Bombay'. Under the able tutelage of Nagina, her trainer, she found herself back in a classroom at the age of forty-eight, where she shared the bench with girls half her age, not in the least bit daunted. With the knowledge of making fifty natural products from scratch, she returned to the UAE, determined to extend her new-found skillset into a professional venture. Unfortunately, the pandemic of 2020 caused a dent in her plans, confining her at home for three long months. Concerned but not perturbed, Kauser made it a point to keep practicing the recipes she trained in while carrying out her fair share of research, trying to identify where she could procure fresh ingredients from now that traveling to India wasn't a feasible option anymore.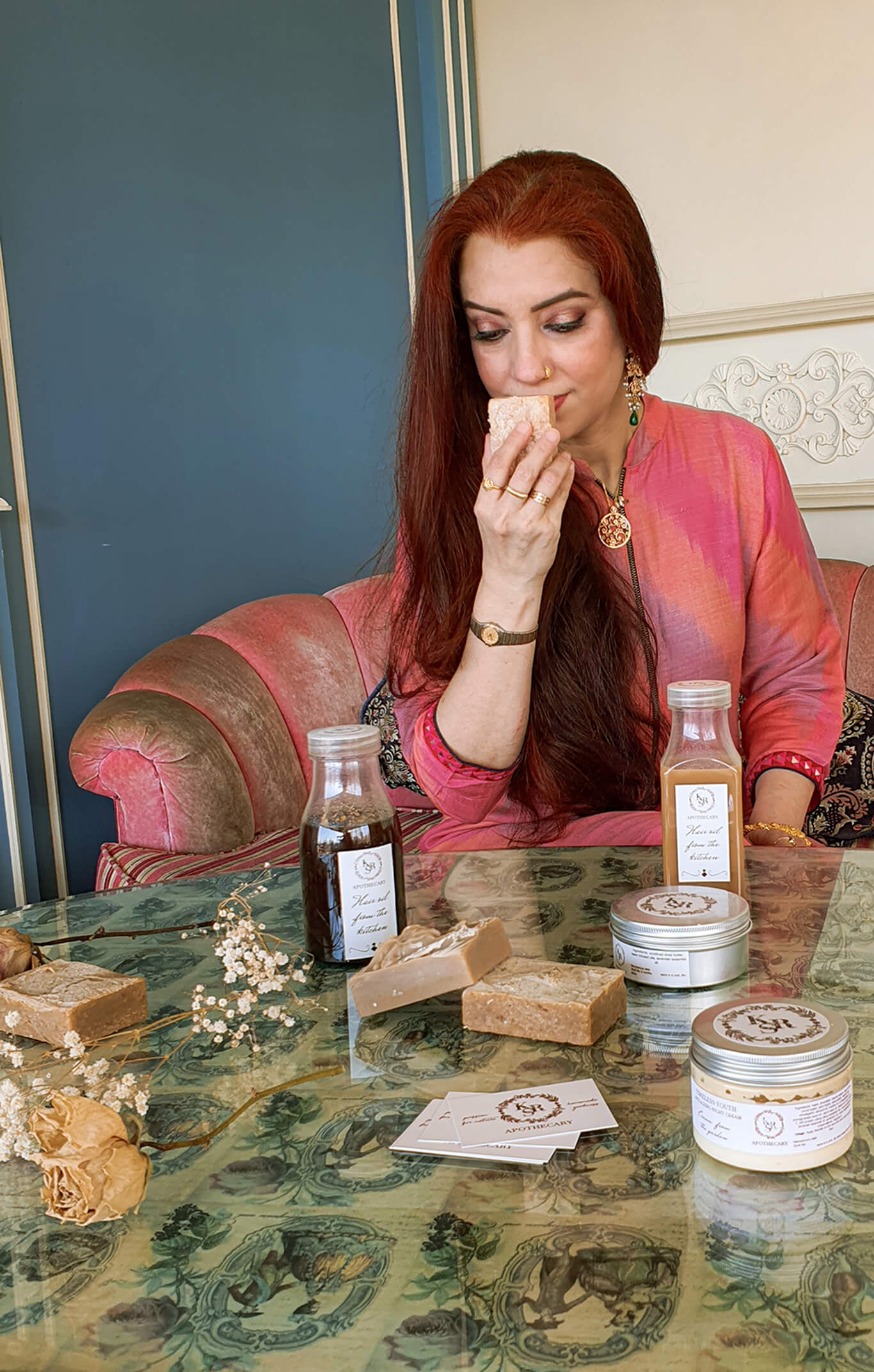 Past midnight, her kitchen doubles into a personal laboratory with experiments on several different products ranging from soaps, scrubs, and hair oils, among others. Fingers dug deep into her favored solvents and surrounded with the heavenly fragrance of her elements, Kauser says the process of making a product is nothing less than therapy in itself. Passionate about her pursuit, she started her journey with a signature hair oil that to date stands as her personal favorite. Versatile but classic, accessible but eclectic, she personifies several traits of her most preferred ingredient, Neem oil.
Although her enterprise, 'KSR Apothecary' has just started, she is swiftly developing a loyal audience base in those that have benefited beyond leaps and bounds from her products. An introvert by nature, she pushes herself out of her comfort zone, joining communities that give her greater visibility, standing tall as an example that one is never too old to learn the art of socializing. Her greatest challenge along the course of setting up her venture has been to juggle between work and family. She does, however, get adequate help from her children when it comes to keeping the house a certain way, which indirectly helps keep her business afloat and thriving. Envisioning the expansion of the same across India and the UAE shortly, the herbalist dreams of it turning into a family business someday.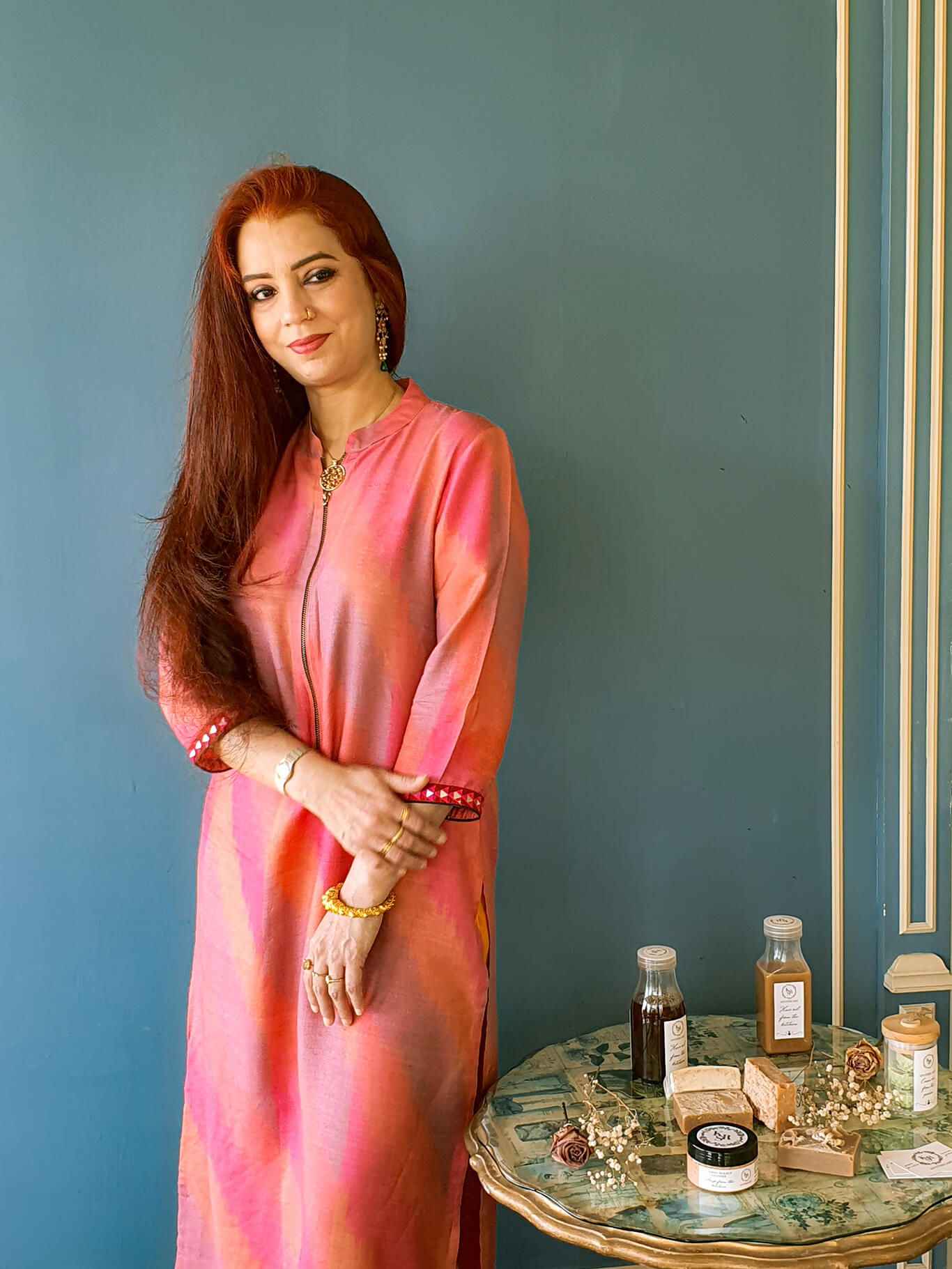 From soaps to dishwashing liquids, from scrubs to oils, everything in the Shakeel household is created by Kauser. Putting out into the market only the products she uses herself, her work ethic is solid and unparalleled. Close to fifty and harboring new dreams each day, she is a risk-taker that implores women with a purpose to stop at nothing. It's not after all just her rosy cheeks and luscious hair, but also her unfazed spirit that proves that life has only just begun!
The Spirituality And The Self
An intricate kaleidoscopic pattern emerges, as shades of emerald and mauve take calculated positions, in a piece that stands as an expression of music in art. While the writing on an Iranian carpet narrates the gut-wrenching story of the artist, in another Iranian artwork that lies, rich golden calligraphy entices a backdrop as dark as night, refusing to be put under one's feet. When it is ironically enough followed with a "for sale" note, the artist makes a point far greater than the beauty of the piece.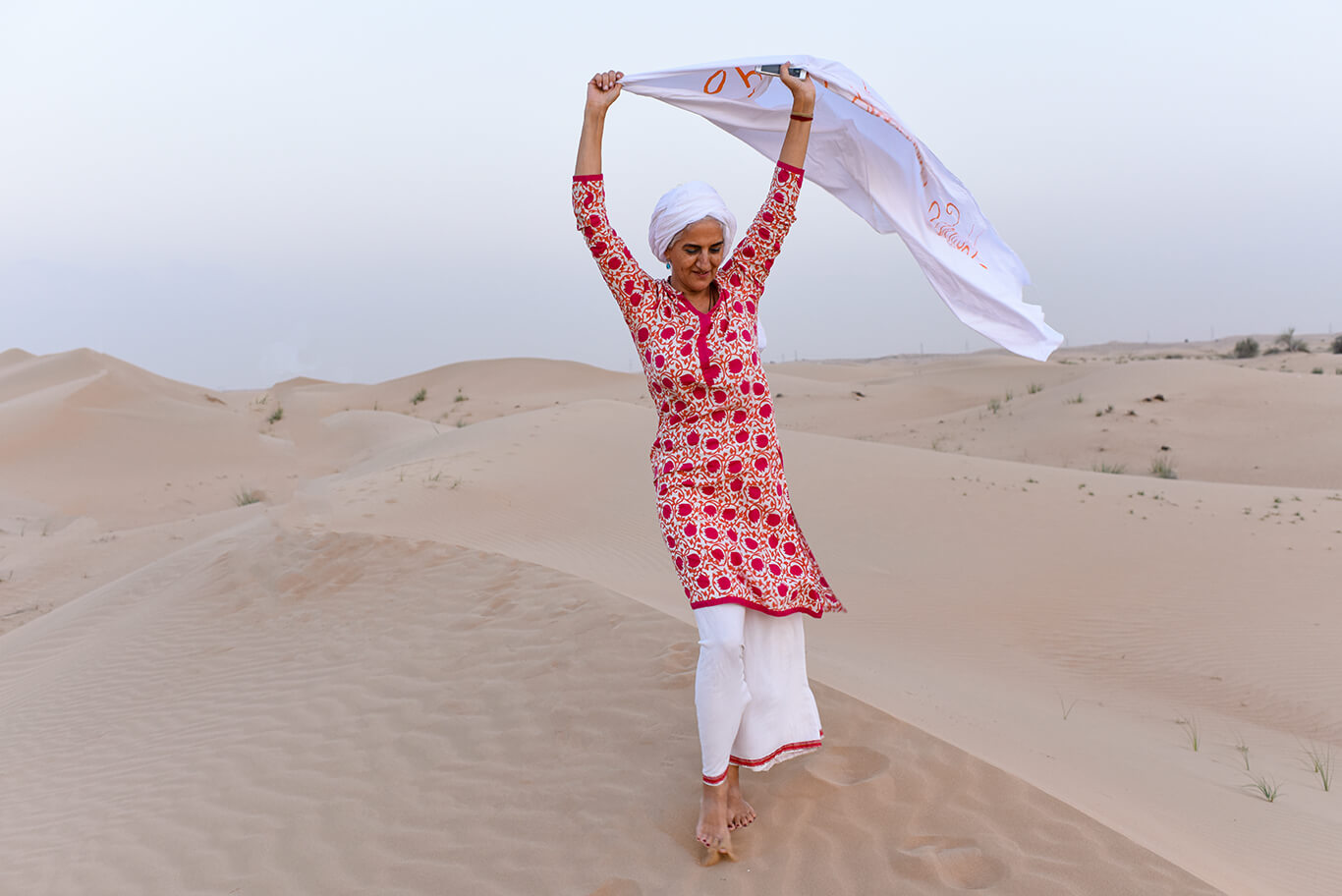 The calmness of the beige walls of Mojgan Endjavi Barbe's new home gallery is interrupted by edgy pieces that are no less than revolutionary. Born into an intellectual Iranian family often visited by poets and painters of the community, Mojgan's childhood was enriched with a heavy influence of verbal and visual art. While she is formally a student of political science, today, she is a curator of contemporary art and represents several independent artists on international platforms as a voice of their notable opinions. Hopping from the United States to Paris, and from Tokyo to London, it was a life-altering conversation with an Iranian artist that brought her to the realization that she must represent the raw talent of her homeland, that was cut off from the western world following the forty-year prolonged turmoil in the subcontinent. Furthermore, she purchased old historical homes in Shiraz, Iran, and renovated them into boutique hotels, so they could be accessible all over again. This, she says, is her "small gift to her homeland."
A philosopher in herself, Mojgan holds independent artists in regard as high as she holds the legendary Van Gough. For her, every piece is extraordinary in its own magnificent way. Artists, she says, are like the five fingers of the same hand, all unique and irreplaceable.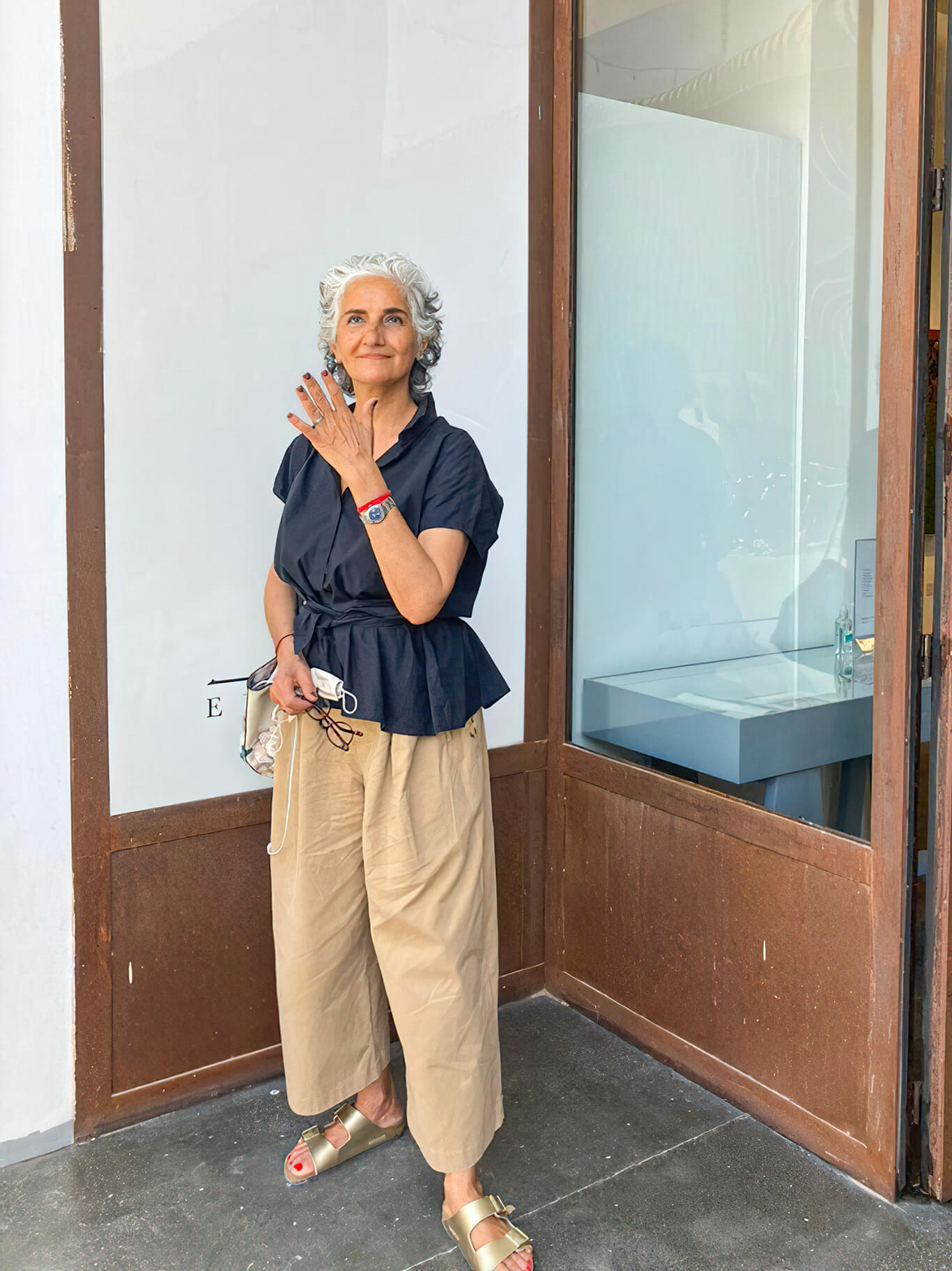 At an age where most believe they've plateaued, she had an interaction with the Indian yogi and author, Jaggi Vasudev, and was introduced to a new chapter of Spirituality in her life. Believing wholely in the founding principles of the Isha Foundation, "I'm not the body, I'm not the mind," Mojgan has practiced staying one hundred percent in the moment and does everything with the utmost intensity. Having recently fought and survived covid, she draws attention towards the fragility of life and agrees that the path of meditation played an instrumental role in overcoming it.
Her greatest learning has been that she is not just the mother of her children but one to the whole world. While most retreat to their hometowns when old, she states proudly that the idea of death doesn't fear her. She becomes one with wherever she goes and has risen above the shackles of identity. She calls herself a universal person who is the citizen of no state or country, but that of the world.
Her words of advice to women, no matter how young or old they are, that they must be financially independent. While relationships come and go, it is essential that a woman likes and respects herself before anyone else. "I was not born to be someone's wife, mother, or daughter. I am more than this," she reasserts. She is privileged to be connected to her family, but she has another role in this world, she says, reclaiming her identity.
All of sixty-one and enormously spirited, she concludes that her greatest goal is serving humanity. She smiles as she says, "It has been a life well-lived."