Music blows throughout the city of Salzburg, Austria, around the year like a breath of fresh air. You can sense this unique flair around you as the city gears up for their premier musical celebration at the world-leading Mozart festival, set to take classical music to a whole new level. World-renowned orchestras, conductors, and soloists flock to the world's music capital to re-live the music and splendor of Mozart, drawing the attention of artists and audiences from around the world like a moth to a flame in wintry Salzburg.
Salzburg has its embedded place in art and tourism immortalized as the home to the greatest musical genius, Wolfgang Amadeus Mozart. The city celebrates the maestro's birthday with an internationally acclaimed concert series every year, clinging to its old-world charm in changing times. This year, the Mozart Week winter festival will run from 27th January to 6th February. The marvelous music fiesta belies its own moniker, for "Mozart week" that lasts ten grand days. When you visit, you will witness around 60 events from opera concerts, chamber music, recitals, films, to puppet theatre at a total of ten venues, with the Great Hall of the Mozarteum Foundation taking the spotlight. In addition, world-renowned artists Sir Andras Schiff, Daniel Barenboim, and the Vienna Philharmonic Orchestra will be seen performing where you can hear the music of the violin or the piano that Mozart himself played being brought back to life during selected performances.  

Apart from the phonetic smorgasbord of concerts and events, the event also promises to be a worldly and intellectual affair as the world's best Mozart interpreters are invited as guests who portray the whole range of Mozart's work, presenting the most varied perspectives. With the motto "Mozart pur", which they leave no stone unturned in living up to, for it means 'Pure Mozart', the 2022 Mozart Week festival will be dedicated to Mozart's work with string instruments. For your convenience, events are categorized under banners such as but not limited to 'Chamber Music', with mesmerizing string quartet performance groups, 'Performance' with dance and mime offerings, and one simply entitled 'Others', with a Mexican bingo-like game called 'Loteria' based entirely on Mozart's life. 
With a new musical focus set each year, the Mozarteum Foundation has been diligent in organizing the Mozart Week since 1956 that has stood for the most diverse interpretations of Mozart's classics.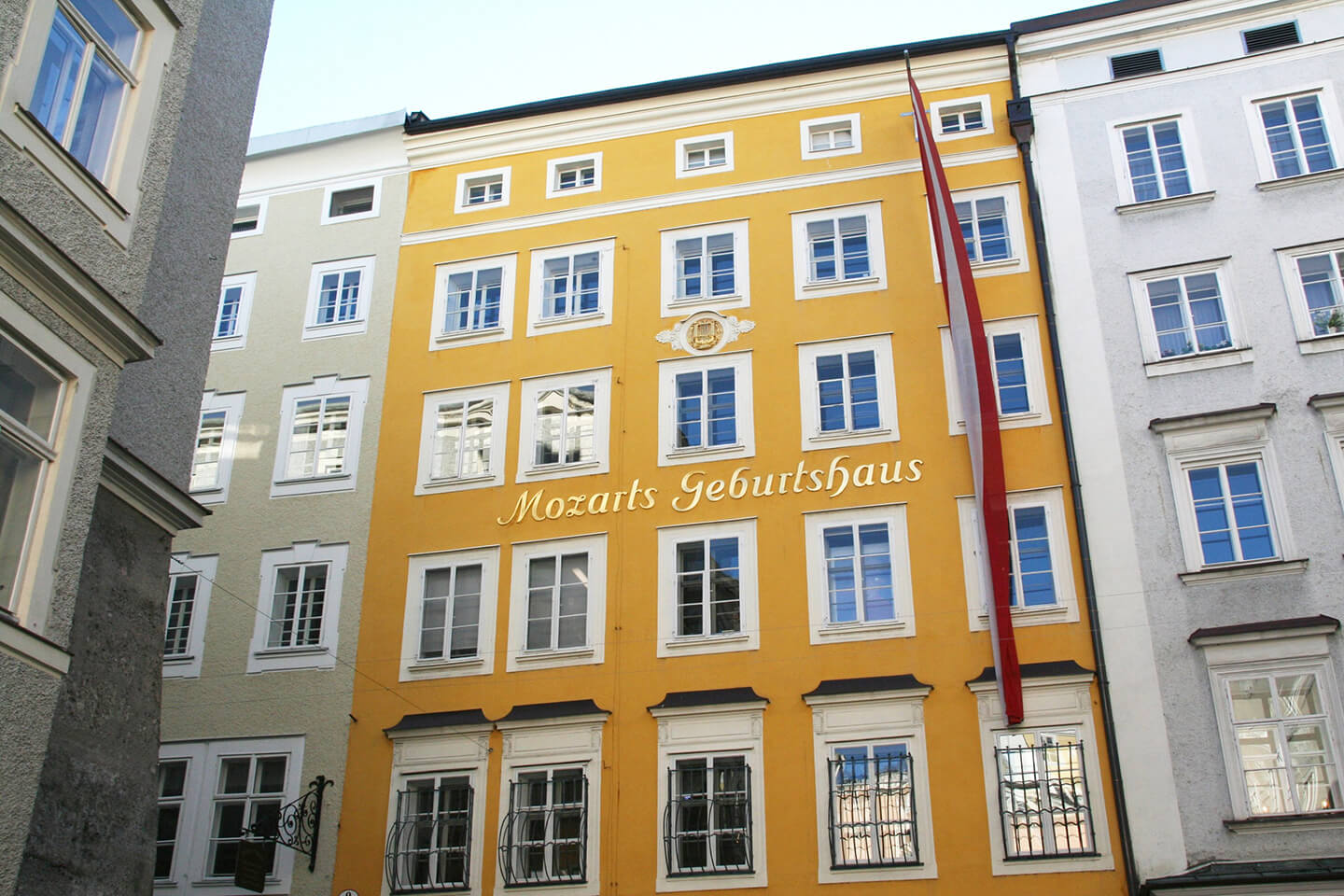 As you experience some of the best Mozart classics, don't miss retracing Mozart's footsteps. Walk through "Mozart Residence", his stately abode in Makartplatz Square, which is now a museum shedding light on the man and artist from many different perspectives. As you stroll through the middle-class apartment which was reconstructed to its best original resemblance after it was destroyed in World War II, you'll discover items of daily life from the 18th century, including Mozart's very own violin and clavichord that will personally take you back in time. 
Apart from Mozart's legacy, Salzburg is also one of Europe's most beautiful cities and is famously known for both its magnificent sights and architecture that draws tourists. This romantic city with a rich musical heritage had several of its sites serve as the backdrop for the historic Oscar-award-winning film The Sound of Music. These remain crowd-favorites no matter the time of year in Salzburg.  While you're in Salzburg, where the influence and fame of Mozart are apparent, this city at the foot of the Alps has so much more to offer in terms of fun attractions and historical sites, and a visit is totally worth it for those who have always shied away from classical music! 
So, what can you do in Austria's little musical town after Mozart's compositions have serenaded you? Well, where do we even begin? 
As the city is littered with Mozart and The Sound of Music locations around town, you can tour along the paved bike paths in and around town. This picturesque city is a compact neighborhood of narrow medieval streets, opening into sprawling town squares. That makes for a mode of transport that's both playful and eco-friendly, the humble bicycle. Within a short distance of the town, you can follow the path along Salzburg's River to relax, bike to Alpine peaks, and the beautiful village Berchtesgaden. Bikes are easily accessible and we're certain your hotel's concierge will help you obtain one.
Horse-Drawn Sleigh Ride And Go Hiking
Glide through the snow-covered fairytale winter landscape in a horse-drawn sleigh. The picturesque land is magical as you pass snow-powdered mountains, charming villages, and lakes so beautiful that you might just fall in love. After your ride through the crisp winter air, stop at a traditional bar for a warm drink and a cozy chat. Also, there is nothing more exhilarating than going for a walk in the winter wonderland as it is a great way to enjoy nature. The stress will leave dissipate in the chilly air as you take languid strolls through the enchanting winter paradise. You'll also come across many pubs and cafés along the hiking routes that provide warm spaces to rest your weary feet. Explore the city's own local mountains, including the Untersberg and Gaisberg, and also enjoy an array of fantastic icy sculptures. 

Shop In Salzburg'S Oldest Alleys - Getreidegasse
The city's colorful main attraction, Getreidegasse, is a shopping street that draws visitors with old wrought-iron signs that advertise the bevy of lovely designs sold inside. What once was a trade center since Roman times now bustles with tourist activity. The tall, narrow, and crowded buildings against the backdrop of a majestic wall of mountains date mainly from the 15th to 18th century, with the architecture still as alive and enchanting as it was in the days of Mozart's live performances. With a broad range of modern and traditional stores, a wide selection of international fashion chains, perfume shops, trendy accessories, antiquities, cafes, and restaurants, and much more to pick from, Getreidegasse is the go-to place for shopping lovers to splurge to their heart's content while at Salzburg.
Explore The Historical Treasures And Famous Artworks
Salzburg has been on UNESCO's World Heritage List since 1997 and has possibly the best-preserved old town center. These are sure to be on your itinerary.


Fortress Hohensalzburg: The city is dominated by the picturesque Hohensalzburg Fortress on the southeastern summit of the Mönchsberg – the biggest fully preserved castle in Central Europe. The original castle was built in 1077 which offers a 360-degree view of the city and its surroundings. Easily a 20-minute walk from the Old Town center, you'll pass through impressive arched defensive gateways that continue through the Horse Gate into the Haupthof. The famous Salzburg Bull (Salzburger Stier), a wheel-driven barrel musical organ from 1502, still continues to play every day and echoes the carillon in the Neugebäude.


St. Peter's Abbey: Considered one of the oldest monasteries with a continuous history since its foundation in 696, the Benedictine Abbey of St. Peter is one of the greatest places to visit. With one of the first of its kind in Europe – a tall onion-shaped tower, this impressive building remains a testament to the order's architectural skills. In addition, you'll be intrigued to find the early Christian catacombs and St. Maximus' Chapel hewn from solid rock.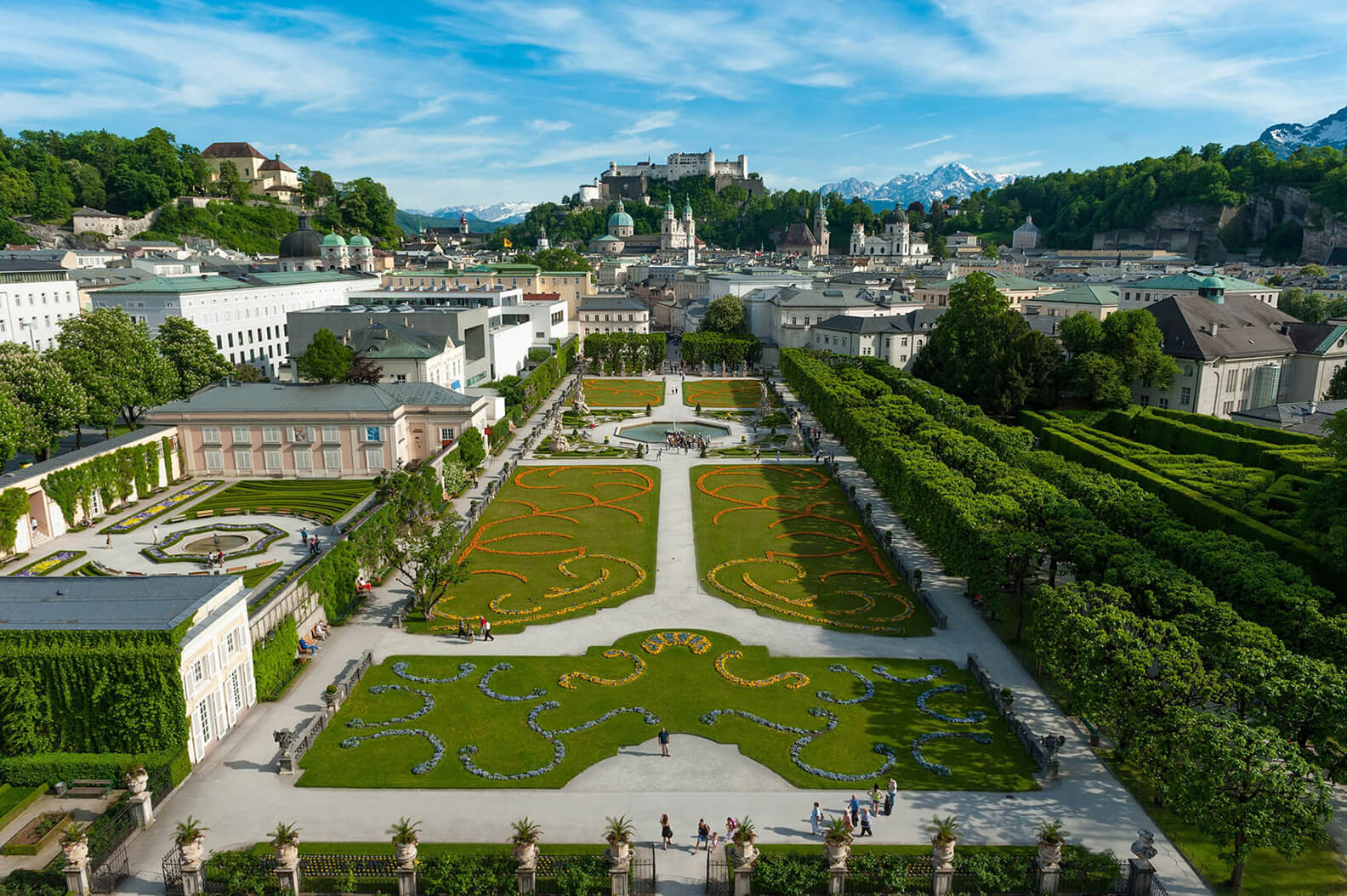 Hellbrunn Palace: Hellbrunn Palace, for more than 400 years, has enchanted and amazed its visitors with its trick water features and fountains. You'll be amazed at the visit to the gardens and parks of Hellbrunn Palace, partly landscaped, partly natural biotope. Most notably, the site of the gazebo and grand alley of trees were used in filming  The Sound of Music. If you are looking forward to a relaxing day, they are a marvelous place to unwind as you will immediately be drawn to the big adventure playground if you don't mind getting a little drenched. 

Museum of Modern Art: High above the rooftops of Salzburg's Old City, on the Mönchsberg, is located the Museum der Moderne where internationally acclaimed modern and contemporary art pieces are displayed that include works by a range of artists from the 20th and 21st centuries. The special architectural features include the glassed-in staircases with a view of the 19th-century water tower and an exterior clad in local marble from the Untersberg. This unique, rare exhibition space set in this culturally significant city will never fail to excite you.
Radiating its own unique charm, Salzburg has the best of both worlds! First, and most importantly, it can surely be your best vacation pick as the countless temptations of New Year approaches. The magic of Mozart and its inherently beautiful landscape make Salzburg a complete artwork in its own, that once immersed in, can never be escaped.