Symbolizing the epitome of luxury, Rolls Royce is known for its bespoke customization, creating unique offerings for their consumers, while continuing their legacy of 118 years serving the powerful and the elite. Only an estimated 0.00058% of the world's population owns a Rolls Royce. The brand has never sold more than 6000 vehicles a year, prior to 2022, cultivating a conscious image of exclusivity and rarity. Today owning a Rolls Royce guarantees an experience of exclusivity and the distinction of belonging to a very privileged global tribe. Ultimately, this is, and has always been, the brand of choice for those with deep pockets and those who wield unmistakable power.
With the demand for Rolls Royce at an all-time high, the 2023 Rolls Royce Ghost Black Badge brings yet another variation to the mix. Described as a 'smaller, more realistic and sleeker version of the very expensive Phantom', the Ghost series has been named in honor of the Silver Ghost model of 1906.
The Black Badge version of the Ghost series is higher performing, with better power and sportier settings. It comes equipped with a twin turbo 592-hp 6.75-liter V-12 engine and 664 lb-ft of torque. The car can accelerate from 0 to 100 kmph in 4.8 seconds and gains a top speed of 250km/h. A souped-up suspension and dampers, 50/50 weight distribution and a 360-degree camera to scan for potholes in real time provides for the smoothest of rides.
An all-wheel drive, this beast of a car shares its engine specs with the RR SUV Cullinan, powering up and gaining speed immediately and dramatically. New exhaust system amplifies the speeding experience.
The Ghost series comes with an extended wheelbase and flashier wheels – custom 21-inch composite wheels, made up of 22 layers of carbon fibre laid on three axes, then folded back on themselves at the outer edges of the rim, forming a total of 44 layers of carbon fibre for greater strength. The hubcap is floating, keeping the RR logo upright at all times.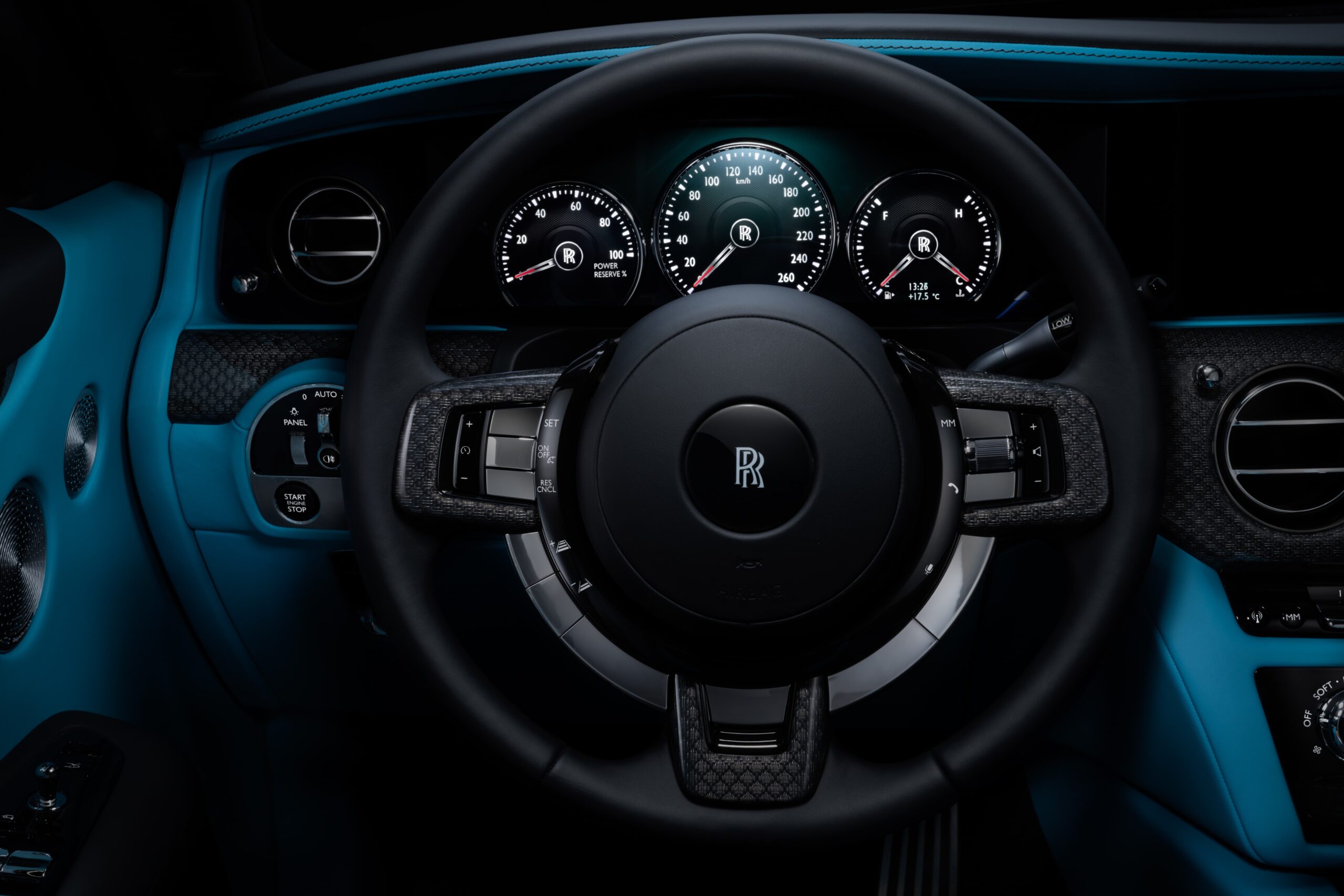 While the lines of Ghost Black Badge take their cues from the Phantom, it differs significantly in some remarkable ways. The iconic 'Spirit of Ecstasy' hood ornament is all black along with the exhaust system. The 'blackest of the black' colour is inspired from the glossy finish of a piano and has been custom mixed and electrostatically applied. After drying, two clear coats are painted and each Ghost Black Badge is then painstakingly hand-polished by four craftsmen. The RR symbol has been kept silver against the black background. The large sedan-style car has coach rear doors and can seat five passengers.

The interiors boast all the bells and whistles of a deeply luxurious and comfortable RR – thick carpet, starlight headliner of 1600 led lights recreating the night sky, fine grain leather upholstery, real wood and metal accents including a mathematical infinity symbol. Back seat passengers can get a seat massage, stretch their legs for miles or indulge in state-of-the-art entertainment units with Wi-Fi hotspot and dual screen rear-seat touchscreen infotainment as standard features. Navigation is integrated into the dashboard, that lights up as the car is started that adds to the night sky effect. A bespoke 18-speakers stereo system with 1300 watts of power from ceramic and magnesium cones provide quality sound while 225 pounds of noise insulation keeps the interior cabins pleasantly calm.


Standard to all Ghosts, Black Badge is an all-wheel drive that has cruise control, lane-keeping assist and automatic brakes on pedestrian detection to keep the driver and passengers safe. RR provides a standard four-year warranty on all its vehicles with no limit on mileage.


Ghost Black Badge aims to attract a younger demographic. Considered an entry level Rolls Royce model, Ghost Black Badge still starts from 400,000 USD (1.2 million AED) to 475,000 USD (1.7 million AED) depending on customization. Compared to the famous Phantom that starts at a base price of 1.1 million USD (3.6 million AED), the Ghost Black Badge is is certainly more 'affordable'. Directly competing with the Bentley Flying Spur, Porche Panemera, Mercedes-Benz Maybach S Class, the Ghost Black Badge can hold its own despite a larger price tag. 



Dizzying price and brand value aside, Ghost Black Badge guzzles fuel at 12mpg in cities and 19 mpg in highways like other large cars. Another drawback is the weight. The Ghost Black Badge weighs more than 2500 kgs and though it handles lightly and has a very agile steering, the behemoth is tricky to maneuver during tighter turns.
The Rolls Royce 2023 Ghost Black Badge is all-out luxury backed by an illustrious, century old brand name with a sly nod to an edgy style and sporty handling. Designed for a younger consumer base, Ghost fits a new niche for RR as an 'entry level' sedan, offering an alternative to the faster models of Bentley and Mercedes that have similar features. It is most certainly a car that many would be happy to pay half a million dollars for the sheer pleasure of owning the embodiment of luxury on wheels..