Interview by: Shagufta Patel
Compiled & edited by: Karthik Subramanian
Having seen Priya Jethani so many times on TV, it feels a little unreal to meet her in the flesh. Now known as a fixture in Dubai's entertainment scene, we explore how she actually got started. "I always had this desire to be in the glamour world. Right after school, I even had my portfolio made!" she laughs. "High-resolution pictures taken by professional photographers… And then I was like, do I really want to do this?"
Glamour, she decided, would have to wait. "I was born in India and brought up in Dubai, where I did my schooling and got my bachelor's degree from Wollongong University. I then moved into a market research job, and then seven years just flew by in a blink," she says.
But then another voice spoke up in her mind. "I was doing my job and a part-time MBA programme simultaneously," she recalls. "This left me with absolutely no time to even think of an alternative career. Finally, one day, it hit me, 'If not now, then when?'. And tomorrow, I don't want to be regretting that."
This gave her the necessary impetus, and soon after, when she became the runner-up in a beauty pageant, she got another, immediate confidence boost. "Alongside my corporate job, I started getting some modelling offers," she notes. "I also did photoshoots and auditioned for TV commercials and drama series. I got a few small roles, so I did some acting too."
That's how it all began—even though she didn't actively plan for it.
The Accidental TV Presenter
"All I had in my mind was that this can be something on the side that I can pursue," she says. "I never really thought I'd be on TV." So how did she end up becoming one of Dubai's most popular TV hosts?
"This is something that happened totally by accident. I call myself the accidental TV presenter!" she laughs. "Zee TV Middle East had announced their auditions for a presenter on a TV show. Never in my dreams had I actually thought of being a TV presenter—I don't know what I was thinking, but I just walked into those auditions. And it clicked. That's how I started my journey with Zee TV sometime in 2016."
The show—which she ended up hosting—was the popular Zee Connect, which, as of today, has been running for more than a decade. Priya is still its host, and has been helming it from Season 6 through 10. Priya has also hosted Music Garage, a music reality show, and in 2019, she hosted season 2 of The Cookbook.
Her passion for Zee Connect is palpable, especially when she explains how it paved the way for her to interact with Bollywood's who's who. "Now I'm doing season 10 of the show, which makes me very happy that I've been one of their longest-running anchors. The nature of the show is such that I've had the chance to meet all these amazing, amazing celebrities," she gushes. "The whole of Bollywood was coming down to Dubai for shoots, press conferences and movie releases. There were also singers, musicians, sportsmen… And thanks to Zee Connect being a lifestyle show, I easily got to meet them."
She confesses that she was extremely nervous when she first learned she would be interviewing some of India's most recognised celebrities. "I had absolutely no training," she reveals. "I never knew I'd be doing this one day. My heart would pound every single time I met a celebrity. The first few that I was thrown into interviewing were the likes of Madhuri Dikshit and Shahrukh Khan!"
The latter interview remains deeply etched in her memory. "I remember when I was going to interview Shahrukh Khan, I was sweating and had butterflies in my stomach. People were telling me 'He's an amazing person, so don't worry', but nothing would calm me down! Imagine meeting Shahrukh Khan when you've never been on TV and never met a big celebrity and sat across them—ever," she shakes her head fondly at the memory.
Since then, she has interviewed dozens more, including world-famous actors Salman Khan, Katrina Kaif, Hrithik Roshan and Aishwarya Rai; music legends Asha Bhosle, Neeraj Sridhar, Shankar Mahadevan of the composer trio Shankar-Ehsaan-Loy, singer Guru Randhawa; and composer and tabla maestro Zakir Hussain. "My god, when I think of it now, it gives me goosebumps!" she says.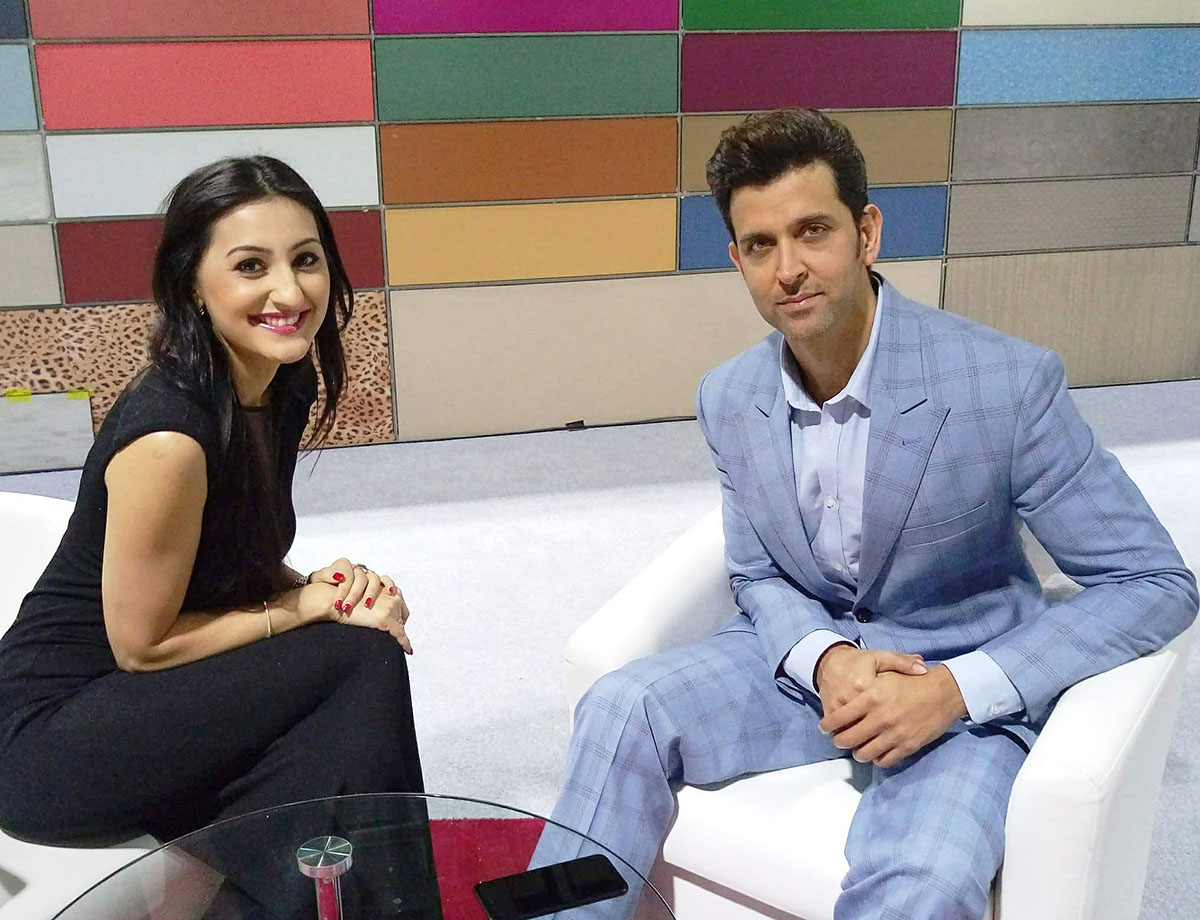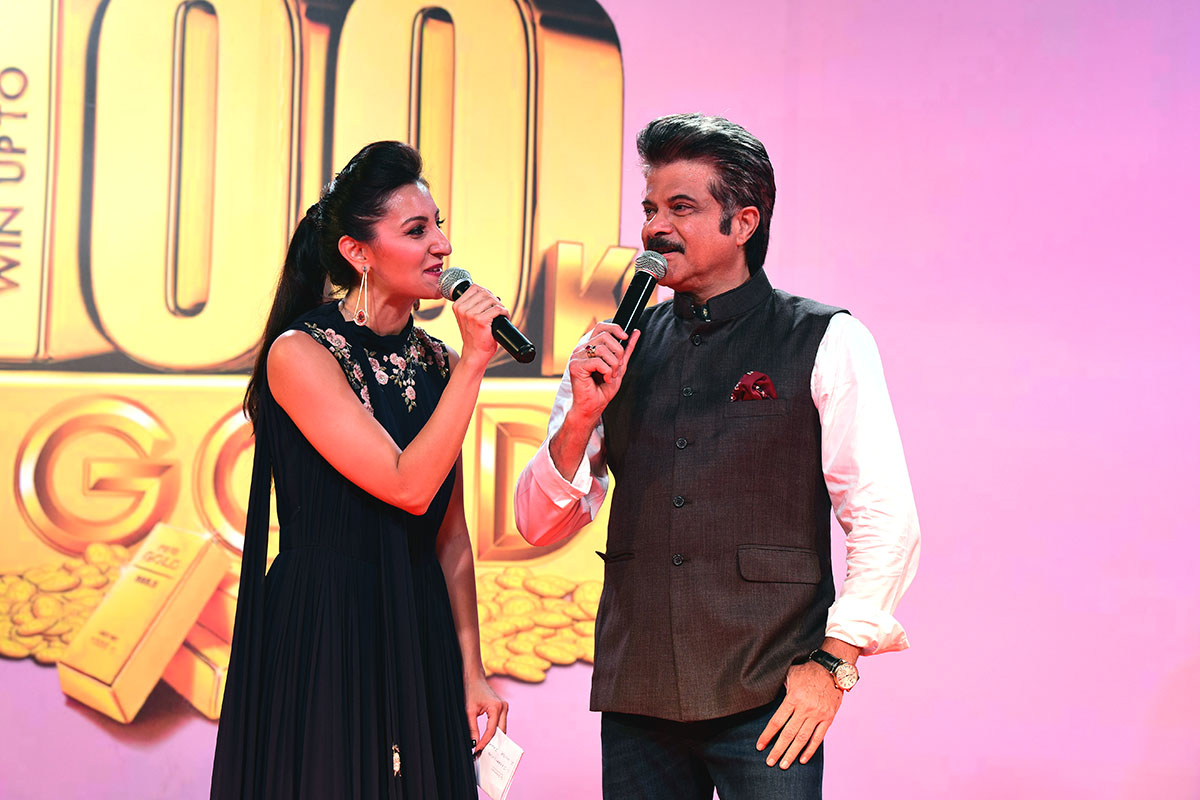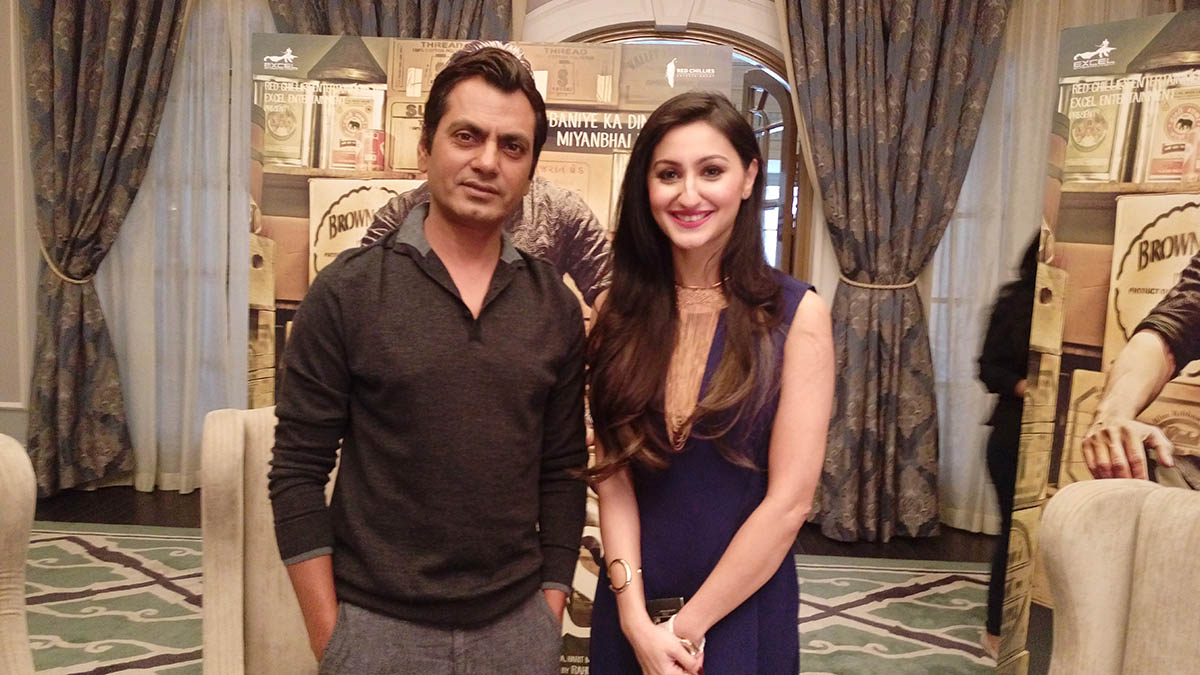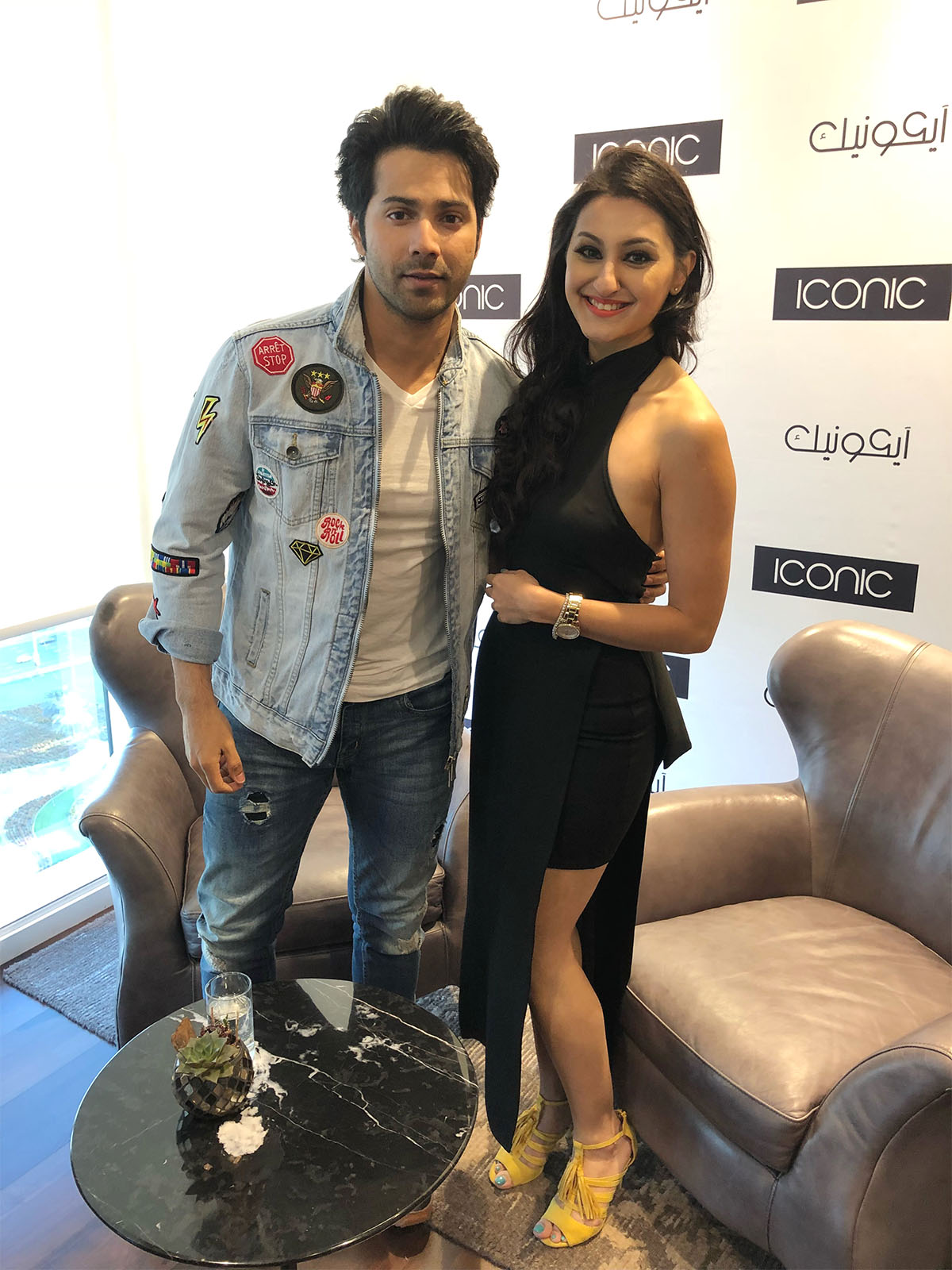 'There has to be Something More!'
She was the host of a successful TV show and had a glittering modelling career. Everything was going well, but was it enough? "I'd just started carving my own way in the industry, but my next thought was: 'I've become a TV presenter. What next?'" she says. "I felt I could be a live show host as well—I could be up there, getting the whole crowd charged up, entertaining them and giving them all they wanted: a good time. So I started to host some private functions. That moved on to large-scale, big, fat Indian weddings, and then corporate events. I've done roadshows for brands like Malabar Gold & Diamonds, Asian Paints, Indigo Airlines, etc."
Along the way, she also developed a strong fan base, which she leveraged into another facet of her career. "I became an influencer when so many people started following my social media accounts to see what I'm wearing, what I'm doing, the places I'm visiting, the restaurants I eat at, the clothes and the jewellery I wear," says Priya.
The Truth Behind the Scenes
In our conversation, it is inevitable that the hidden side of being so long in the spotlight comes up, and Priya tackles the topic head-on. "A lot of times, we think TV or acting just happens to people, and things look so glamorous and lovely in front of the camera. But there is a lot of hard work, a lot of effort behind it," she candidly admits. "A lot of things can go wrong which may not appear so on the outside. With the glamour industry, given the number of people out there every single day trying to make their mark, it's not easy at all."
For her, what works is always giving her best. "Presenters and actors…" she tries to find the right words. "What we are in front of the camera, we really may not be in real life. Even though we've had a bad day, even though there may be something going on that we might not be very happy with—in our family, in our personal lives or even professionally—once the camera is on, you put on a smile, and you're a different person."
Doing this continuously can take its toll, notes Priya, shedding light on the mental health issues that have plagued many celebrities the world over. "When you're off camera, you go back into your personal life. It's something you cannot avoid, even if you want to. So many times, we try to surround ourselves with people, be as social as we can so we don't feel lonely or upset and don't think about our issues. But at some point, it does bother us," she explains. "Sometimes, what appears on the surface is not so. And it's okay, because each one of us has baggage. What is important is that we address it, and try to resolve it so we can move ahead in our lives."
"We need to encourage every person in our lives to come out and talk. If you're friends with that person, or their caretaker, or in any way related to them, you need to push them to talk about it." She adds that many people have a different 'public' persona from their internal reality, explaining that being on social media, for someone like her, is part of her job. "But inside, I may be going through something that I probably want people to ask me about, and then I can tell them… Maybe it's difficult for me to reach out to people. We kind of ignore this a lot of times, and that's what we should avoid."

Not all aspects of Priya's journey have been smooth. "2018 was a hard time for me in many ways," she says. "I made a shift in career shortly after I got married. In 2018, due to personal differences, I was inclining towards divorce and, around the same time, my mother passed away. I had work commitments, and keeping busy kept my mind off the grief and stress during that time." She goes on to reveal that this year, her father was diagnosed with cancer. "It left me shattered," she says.
During such times, she explains that it is her dedication that keeps her going. But even that can be challenging. "We don't have a nine-to-six, we don't have fixed timings or a schedule—sometimes, we don't even have weekends," she says. "So it becomes really, really difficult to manage our personal life. One thing I try to do is to have fun at work, which is easy because I love my work."
At the end of the day, her work is what she wants to be remembered for. "Your work speaks for you," she asserts. "Put all your dedication into your work and give it your all. Be your truest self. The other thing that sets me apart is my commitment. When I commit to something, I will get it done, no matter what comes my way."
With that same grit and determination, Priya is already thinking about what comes next. She is especially aware that everything in the media sphere has a shelf life. "Initially I'd sometimes feel I'd have a very short shelf life. How long will I be in front of the camera? It bothers me sometimes, because you're not going to be your glamorous self always. Newer people will come in, fresh faces will take over… We've got to be prepared for that."

And she is prepared. "I'm looking for my plan B; something to fall back on tomorrow," she says. "There are opportunities and opportunities galore. If you put your mind to it and if you really want to continue doing something, you will find your way. Maybe I'll do production work, because I learned so much about it. Or I could look into events, because I've been a large part of so many of them and many people come to me to plan their events…"
Another dream she has made a reality is starting a label of her own. Priya recently celebrated the launch of her first line of fragrances under her eponymous label. "The fragrance is called Joie de Nuit, which means 'Joy of Night'," she reveals. "It's made in France, the land of fragrances. It will be available on Amazon.ae and other online channels for the moment."
Priya acknowledges the support she has received from family in her personal and professional life. "The biggest credit goes to my parents and my brother for the support and the encouragement they gave me at every step," she says. "My mother always knew I loved modelling and glamour and never stopped encouraging me. My father always accompanied me to every single audition, casting, or portfolio shoot I attended right after graduating from school. And all along, my brother has always stood by me like a pillar, never letting anything weaken me and always pushing me to fulfil my work commitments in the best possible way. He has been with me throughout our difficult times—when my mother was sick, when I went through a divorce, and now when my father is battling cancer. Sometimes issues like these break you, but I owe it entirely to my brother for giving me the much-needed strength and support to keep myself sane and go on with my work."
'Don't Give up on Your Dreams'
At the end of it all, Priya believes in pushing through your pain and never giving up. "Your dreams don't have an expiry date, so don't give up on them. You don't want to regret that you never gave it a shot," she says sagely. "There is a saying in Hindi: 'Duniya mein bahut gham hain, aur mera gham sabse kam hai' (There are a lot of sorrows in the world, but mine are the smallest of them all) We may have problems, pain and suffering—sometimes too much for us to deal with—but we need to look outside of our lives. Then we may discover that our problems may seem very tiny compared to that of the world's." Wise words indeed.
A few days before this article went to print, the entire ASPIRE team was saddened to learn that Priya's father had succumbed to his battle with cancer. We offer her and her family our heartfelt condolences and prayers.