William Stenhouse is the former Vice President of Agility Africa, CEO of Stenhouse & Associates, Founder, and CEO of the UAE Africa Networking Group, and Advisor of African Markets for both Synergate and Joud Investments. A Supply Chain and logistics expert with 35 years of deep experience in infrastructure development, industry standardization, people development, and investments across six Sub-Sahara Africa countries, he is also the co-author of the book 'Titans of Africa'.

William founded The UAE Africa Networking group in 2016. Since its inception, the group has established itself as a business platform, building relationships and promoting collaboration between the UAE and various African markets to encourage B2B and B2C direct sales and business support for all its members.
Declaring 2022 as the year of the SME for the group, William says, "SMEs are the backbone of the world's major economies. According to the Organization for Economic Co-operation and Development (OECD), SMEs account for 60% of total employment and generate 50 -60% value add to developed economies. In Africa, SMEs account for over 80% of all businesses. According to the UAE Ministry of Economy, the SME sector represents more than 94 percent of the total number of companies operating in the country and provides jobs for more than 86 percent of the private sector's workforce. We believe that we can add value to the SME sector by connecting resources, knowledge, and opportunities."
With a global footprint of more than 4,600 members comprising of Small and Medium Enterprises (SMEs), investors, professional service organizations, multinational companies, local companies, government bodies, and young Entrepreneurs, the group connects its members by leveraging its extensive global reach, market intelligence, and business opportunities.

Kai Charles is an entrepreneur, mentor, speaker and motivational author of self help workbook, 'I Am What I Say I Am'. Through her own personal journey of self discovery, evolution and experience in business and music as a black female, Kai uses her voice to serve the world and empower people to show up as their true selves as a proclaimed self love advocate. As part of the UN's decade initiative to recognise people from the African diaspora from 2015 – 2024, Kai was nominated for the Top 100 Most Influential People of African Descent in 2020.
Born and raised in London, now based in Dubai, the creative businesswoman has been carving her path in business, passion, and serving her purpose to help women discover the best version of themselves, as the creator of 'Reclaim Your Power', a self confidence course created to overcome self doubt and live to your true potential.
Her contagious aura and business acumen can be seen both on and off the stage in her business and creative endeavors such as hosting over 700 events in the UAE, or empowering the black and African community and businesses through the platform, Black Girl in Dubai, listing over 100 businesses, and hosting events to connect the community.
Connecting, entertaining, hosting and speaking to audiences of all sizes, Kai has built on her international experience with clients and unique venues. Connect with Kai and you will learn how to uncover your strengths, use them to serve the world and build your confidence to go after the life you want.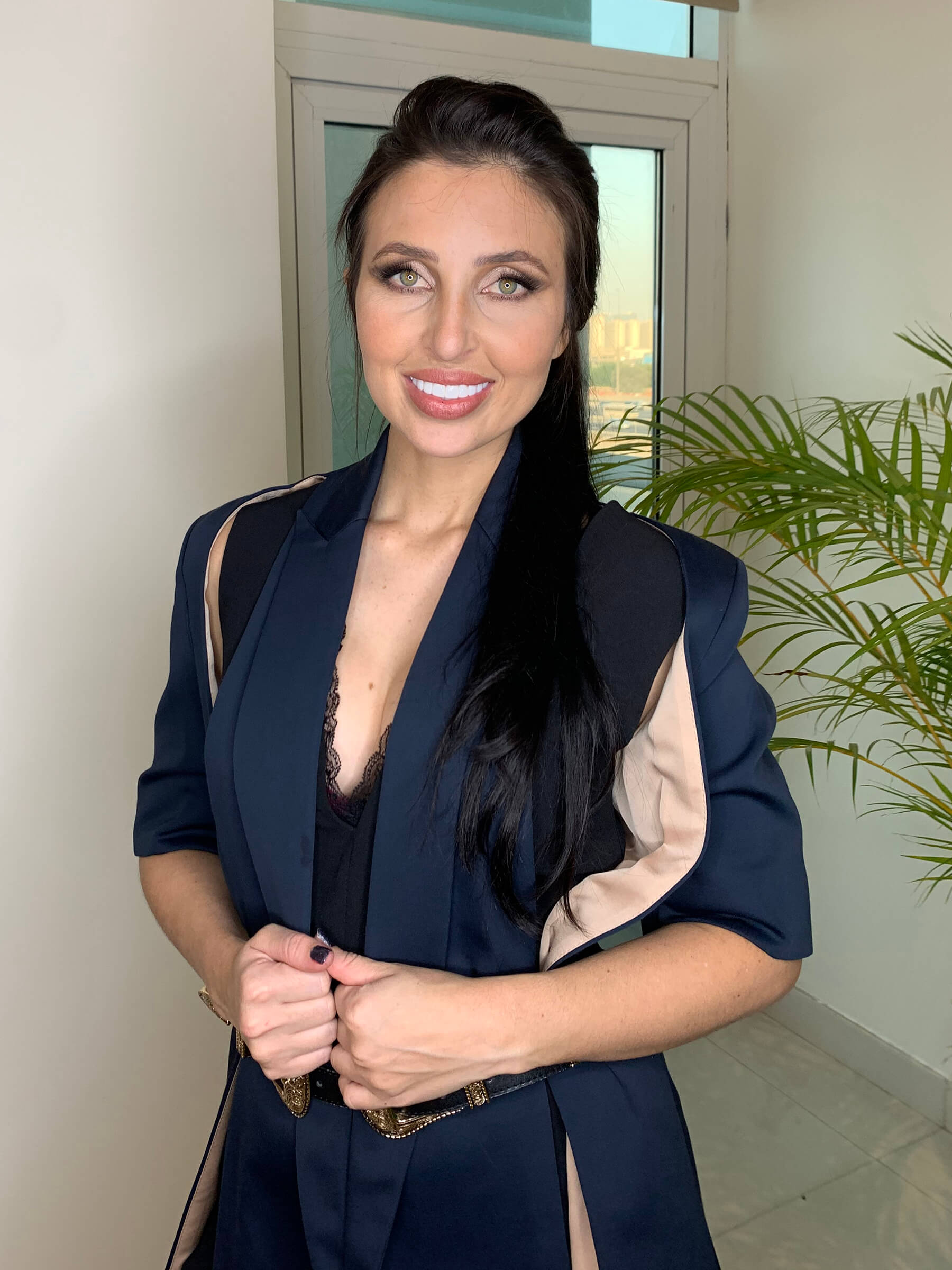 Responding to the pressing need for a platform where lawyers can join and serve their clients without taking the stress of running a sole business, an accomplished and skilled lawyer, Henzie Healley, has partnered with Raj Sumul and Mel Kang to bring Mezzle to the Middle East. Henzie is a common law qualified lawyer living in Dubai but servicing clients from all around the world.
She studied Business Management in Canada before going on to study law in New Zealand, qualifying with an LLB with Honors in New Zealand, and was admitted as a Barrister and Solicitor of the High Court of New Zealand in 2014. She then moved to Dubai in 2014 after being offered a permanent role at an international law firm she interned for during her school vacations.
In 2019 Henzie founded her own legal consultancy and simultaneously started an organic paint company, both of which have been hugely successful and have grown very quickly. In 2021 she merged the Abu Dhabi legal consultancy with a UK firm, rebranded it, and is now a partner and Managing Director of Mezzle Middle East.
Mezzle Middle East is a legal consultancy that is seeking to disrupt the provision of legal services and the way that lawyers conduct their business. Providing a platform through which lawyers can join and continue to service their clients without having to worry about the endless non-billable hours taken up by admin and running a business solo.
Being a technology-focused law firm, Mezzle also provides clients with the best possible service through a team of legal experts who strive hard to ensure each project gets done right, fast, and efficiently. Mezzle has a lawyer for everyone, with legal experts specializing in corporate-commercial work, company set-ups, real estate, hotels, aviation, crypto, funds, regulated entities, media and film, start-ups, arbitration, and more.
Henzie always attests to God's role in the success of her business, which she says was blessed from the beginning and is most excited about the possibilities that Mezzle provides and how it can change people's lives. It gives lawyers the freedom to work for themselves, earn a good living, and make more time for the important things in life while offering clients an elevated level of service. Mezzle is the way of the future. Life is short and time is precious. "Time spent is time that one will never get back… it should be rationed and used wisely always," she says. Mezzle is for lawyers and clients that are tired of the old ways and want to be a part of a revolutionary way of doing things.