For someone passionate about journalism right from a very young age, it is no surprise that Mahmood Rahma, CEO of Our Media Group of companies, has emerged as one of the most successful and creative Media and Broadcasting entrepreneur in the whole of the United Arab Emirates.
Author to the only book published on Newsgathering in Arabic; nominated for the 'Broadcast Arabia Awards' in 2019; a high-profile media official in one of the highest government offices of UAE, Rahma is the man who established the first-ever International Video and Broadcast Service Agency in the UAE. 
Through his vision and authority over editorial and technical aspects of the Media Industry, his company is now the most known business house across the globe for its special set of media services. The group also has a Public Relations Company and a grand Training Institute for people seeking to learn media skills.

"It is vital to ask yourself, what your dream is?" says Mahmood Rahma. He has learnt this with time and distinguished himself in a way that sets him apart and ahead of others in his field. More than a decade ago, he was into core journalism and was witnessing the most high-profile activities, events, and happenings around the globe. Over the years he got opportunities to travel to various destinations and share the most prolific newsrooms.
He muses as he says, "The journey has never been my destination. Time has been a good friend and mentor. The journey continues and now it is a different phase."
He recollects how he started building these businesses one by one. He was aware that the core requirement was to allocate the precise resources that would meet all the advanced needs. In a smart move, he gathered the best international media industry brains to form a strong team. 
Once the operations were underway, the company started to build repute for its specialization in the international broadcast industry and corporate production. Since then Our Media has become the most famous name in its field globally. 
In discussion with Aspire, Mr. Rahma said, "I look for solutions that feel futuristic, social, and authentic and are about more than just business development. Once I feel I have a good concept in front of me, I aim to bring it into operation at the earliest. Working on my business projects makes me happy and if a person is happy about his work and loves what he does, he is more productive."
His Journey to Journalism
Born in an Emirati family of eight brothers and sisters, Mahmood Rahma is the seventh of the siblings. He studied in a public school in Dubai until high secondary, and though journalism was what his young heart held, fate had him join the National Program for the preparation of Emirati Engineers at Dubai Aluminium Company (Dubal) in Jebel Ali.
He joined DUBAL Aluminium as an engineering trainee and completed his studies in Mechanical Engineering at the DUBAL Training Centre, earning his engineering diploma from The City & Guilds College, London. But engineering was never his dream and he was in quest of something that he truly missed, and so he quit from DUBAL and joined Etisalat as a customer service officer.

Whilst working at Etisalat, he stumbled upon his childhood dream of working in the media, and by now his ambition was greater than just working at a traditional media establishment. He joined Al-Jazeera Satellite Network in Qatar in 2000, which he says was the true start of his career as a media professional. 
This is what he had always been aiming for since he was a kid and went on to complete media studies while working at Al Jazeera, finally getting a master's degree in journalism. He left Al Jazeera in 2010 in the position of a team leader. Returning to the UAE, he joined the Bayonne Group as a Director of Current Affairs and later moved to Abu Dhabi TV as Editor-in-Chief
An Entrepreneur or a Businessman
There is a difference between an Entrepreneur and a Businessman, he tells us. He further goes on to explain that to recognize the difference between the two, it is crucial to understand the contrasting personality traits underlying these two individuals. The argument, he says, revolves around the variation in the conduct of the two psyches when it comes to handling the day-to-day situations that a typical company or organization may face. 
"I consider myself to be an entrepreneur", he states with a hint of pleasure and pride.
A businessman, according to him, hires a dedicated team of professionals to execute the plans for business expansion. He focuses more on increasing the profit margin and increasing market recognition for an increase in the number of customers. A professional environment is essentially maintained by the business organizers and managers so that the accuracy of work is optimum.


Comparatively, an entrepreneur he believes maintains a friendly atmosphere for his team so that the flow of creativity and communication of ideas in the out do not get hampered. Moreover, he adds that an entrepreneur is sensitive when it comes to the subject of his innovations and hence focuses on building a faithful group of individuals who can carry his legacy even after he departs from the enterprise. Entrepreneurs learn to see hidden opportunities where others stick with what is out there in the open.
"Learning how to think in an entrepreneurial way allows you to stay one step ahead of your competition, whether it is with your own business or with other aspects of your life. Everyone has a different perspective on what he or she would find useful. Learning to think like an entrepreneur means learning to use that unique perspective to improve or create products and services for others", he says as he shares his wisdom with us.
The Many Versions of His Life
"My life has many versions and the love of my professional career is the media industry", he says with a gleam in his eyes. This is the reason why he went on to share all the information about 'Newsgathering' and authored a book specifically on the subject to help the newcomers and others to understand all about media, broadcasting, and newsgathering. 
Rahma aims to take Our Media towards the top three international Video and Broadcast agencies in the world. He tells us that the leading international agency Associated Press coordinates with his company for all their operations in UAE. He further goes on to add that the company has been actively providing solutions and services to all the top international news broadcasters. Be it the British broadcaster, Russians, Japanese, European, United States, Latin America, Australia/New Zealand, Asians, or the Arab broadcasters, Our Media has worked with any channel that you can think and name.
"I take pride in saying that we have made our name internationally, for this sort of business as an Emirati organization. The aim behind my business is to glorify Emirati citizen to be the world best in every field of life", he states with delight.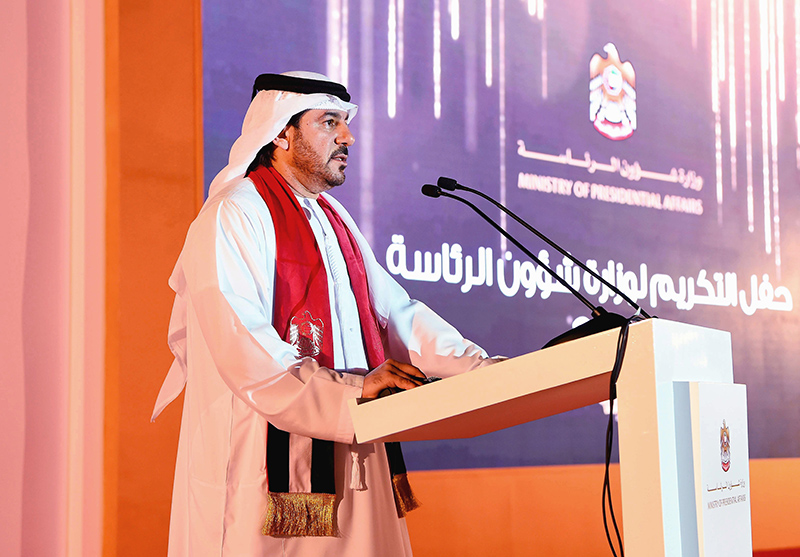 This was the very thought behind establishing a Training Organization. The business focuses on bringing practical knowledge and training for students who look to step into a career in media and production. It helps that he himself is a trainer endorsed by the International Board of Certified Trainers. Though the training organization is not limited to the youth, at the same time its focus mainly is the next generation which requires a foundation that can help them reach the highest possible goals, which the organization is doing so fabulously well. 
His other business of Public Relations and media companies offer internships and job opportunities, preferably to Emirati citizens. The purpose, he quickly adds, is not to differentiate between the residents and citizen, but to aid the vision of having Emirati talent skilled with every section of modern technologies and solutions. 

Closer to home his love is his two children and a grandchild he adores. A short-lived marriage, led to him taking care of his son Majid till he got a bachelor's degree in Law from France, and a Master's degree in Diplomatic and International Law from the Sorbonne University; and his daughter Reem finished her bachelor's degree in psychology from Zayed University in Dubai. His small family has now grown after his son got married and he loves spending some quality time with them when he isn't immersed in his business expansion plans.
Keeping up with the latest and adding new tools to his repertoire of business solutions is what Mahmood Rahma does exceedingly well. He is constantly seeking something new and has a couple of projects expected to start in due course. The first one in the pipeline he tells us is a News Broadcast Centre exclusively run by the Emirati youth. The young aspirants will be educated and trained by Our Media Group on all the technical, editorial, production, and presentation aspects of the job. Everything, from A to Z will be done by this young Emirati force. This is a unique concept and sets the foundation for future broadcasting leadership for UAE. 
With his eyes set at the future, he said, "In my vision, the time is near where UAE will have an International News Broadcast Centre that will be one of the most powerful sources of information in the region and globally. Things are leading to this destination and I have my plans ready for this step as well. In the end, we all want to make this country the most prosperous and become the leading nation in the world to set trends in Media and Broadcasting as well."


To make sure that he is on track to achieving his goals he first works on having a firm grasp of what is missing from his knowledge base. He then seeks out experts in various fields and educates himself on solutions to fill in the gaps. He admits that since he only has a cursory understanding of the technical aspects needed to build his vision, he compensates by getting a deep comprehension of the process and its requirements to make sure that his technical team is doing the right thing and all that is necessary to get him the output he seeks. He will sometimes go on a manhunt to find the specialist who could help him strengthen his intellectual capacity of any additional knowledge or skill that may be essential to see the project through successful completion. 
Never give up on your dreams and goals is his message to the readers. "You may have to take a detour and you may be engaged in something you may not have wished for, but if you keep that ambition alive, life will always provide you an opportunity to fulfil all your dreams and aspirations. Understand your strengths and work on your weaknesses. Never get carried away nor give it up so quickly", with conviction he thus concludes.