The pandemic changed how consumers explore the world and engage with brands. Social media audiences were spending more time than ever getting to know their favorite influencers and discovering new ones to love. A survey shows that an unprecedented 92% of consumers trust the opinion of a digital influencer more than an advertisement or traditional celebrity endorsement. Of these, a category of influencers gaining precedence and amassing a following with their persona, charisma but, most importantly, by being self-made and having burgeoning businesses is that of the entrepreneur-influencer.
Sushil Shamlal Wadhwa is one such savvy entrepreneur, Founder and CMD of Platinum World Grroup with a clutch of successful endeavors under his belt. He also leverages his social media presence to boost his business, sharing his experience traveling and experiencing the most luxurious hotels and stays around the world. Let's look at this unique Entrepreneur – Influencer enjoying his moment of success as he celebrates his accomplishments and gives us a peek behind his opulent facade.
Sushil's interest in business has been bred into him through his roots. He explains, "I come from an entrepreneurial background. My father had been a restaurateur all his life, so that was my first industry as a child. I even pursued Hotel Management intending to grow his restaurant business. While working on restaurants, other opportunities came my way which helped me develop my own entrepreneurial skills. Thus, my first independent venture was a food products business."
Driven by the urge to create unforgettable experiences, Wadhwa started Platinum World Grroup in 2002. Cut to the present day; the enterprise has expanded, offering everything from solutions for Luxury Lifestyle, Business Events, MICE, Luxury Events, Destination Weddings & Celebrations, Luxury Holidays, Private Jets & Yachts purchase and charters, as well as Digital & Experiential Marketing, Content Creation, and Health and Wellness. PWG's associate network spread over 500+ Destinations in 100+ Countries collectively handles a combined business of over USD 5 Billion.
Sushil recalls founding Platinum World Grroup (with its trademark extra 'r') at a time when there was no other company offering travel as an incentive to reward their top performers and stakeholders, and destination weddings as a concept were non-existent. Moreover, mobile communication and internet services were still nascent, making it incredibly challenging to communicate internationally.
International calls were super expensive, faxes were the default mode of sending documents, and the internet worked on lagging dial-up connections. Despite these odds, Sushil ascended the company with hard work and determination, organizing international company events for L'Oreal, E&Y, Citibank, HSBC, SCB, and Reliance Industries Ltd, among others.
PWG leaves no stone unturned when creating picturesque and dreamy destination weddings and other events that perfectly commemorate the romance and grandeur of these moments. No experience is out of reach, no escapade too grand for this team. "Our quest for experiences beyond extraordinary has taken us far and wide. Want to have an event at the ramparts of Mehrangarh Fort while staying at Umaid Bhawan Palace, Jodhpur, or experience Miami in three different ways in a day – with chartered helicopters from the air, classic cars on the road, and yachts on the sea? Everything is possible. Extraordinary events need truly unique settings. The sweep of venues we have covered has been as varied as Mount Titlis, Eiffel Tower, Great Wall of China, Palace of Parliament, Bucharest (the second-largest administrative building after Pentagon), Presidential Palace in Ho Chi Minh City, and more."

Having delighted over half a million people globally since inception, it was the first company worldwide in its industry to get the prestigious ISO 9001: 2008 Certification for its processes in MICE, Events, Weddings, and Luxury Travel. It has also become the first Events & Travel company to accept cryptocurrency as payment for its services.
Sushil states proudly, "Over the 25 years I have been in the event industry, we ended up doing thousands of events in 80 countries." As an entrepreneur, he has been taking on the opportunities that come his way, stepping up and creating something unforgettable. Each of the verticals under him bears Wadhwa's stamp of quality. So, when it comes to travel, he can make you experience a destination like never before; in events, whether professional or celebratory, his planning is immaculate and the execution perfect.
The same can be said for his wellness initiative, which caught steam when the pandemic hit the world, wreaking havoc in no small part due to people's weak immunity. Motivated to help find a remedy to people's ailments, Wadhwa took up the challenge and came up with an innovation suited to the time, launching his Health & Wellness solution, Vitalyse LifeSciences. 
Shedding light on Vitalyse and particularly their premier product Vitalyse Wellness Strips, made with Natural Active Ingredients and Proprietary Nanotechnology, he says, "The format of our wellness strips offers the fastest absorption and highest bioavailability of nutrients, as compared to other modes. This results in optimum nutrition and enhances the body's abilities to improve Immunity, General Wellness, Anti-Ageing, Ingestible Beauty, Gut Health, Weight Loss, Energy, Sleep, and more, with no side effects. We hope to make the world a healthier place using nature's remedies which are free of chemicals and thus, make it easy for kids & adults alike to consume their daily dose of nutrition in a fun way."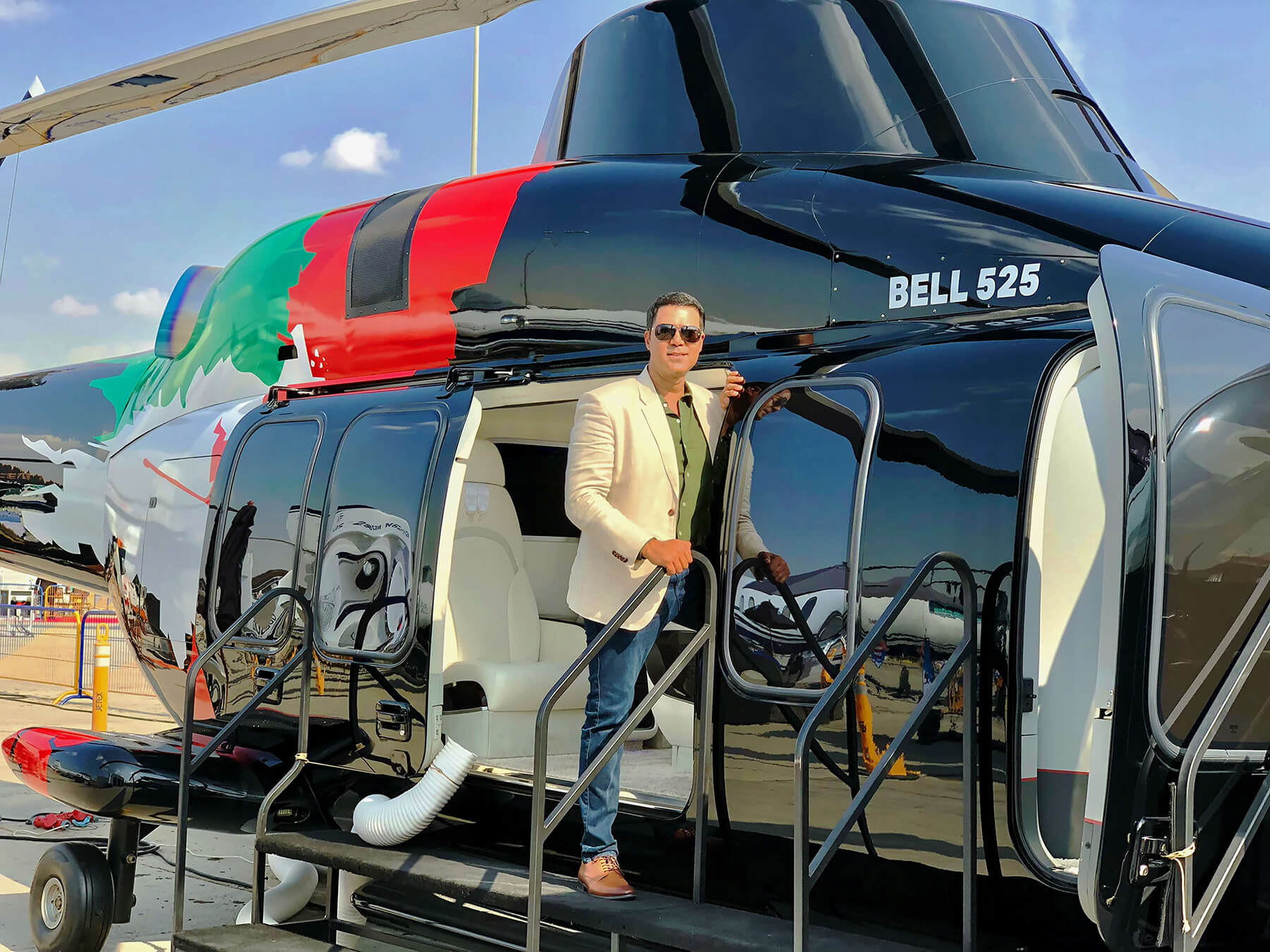 Having explored more than 590 Destinations in 78 Countries and stayed at over 1,200 Luxury Hotels, Sushil, without a doubt, can discern the inside-out of a luxury experience in the celebrations, events, and travel space. The Entrepreneur – Influencer, straddling both words and worlds with ease, can curate an exceptional and unforgettable, customized experience and also give you pointers on how to create one by following his social media.
Talking about how being an influencer became a part of his life, he reveals, "Since my business of events made me travel so much and stay at over 1200 Luxury Hotels worldwide, I became an authority in that space. My followers comprise HNI & Corporate clients, industry colleagues, artists, and associates globally who have done business with us over the last 20 years and regularly follow updates on new destinations, hotels, restaurants, and luxury brands that I use."
Many of them inevitably end up going to the destination or hotel or buying the luxury brand that he posts about. He regularly posts motivational messages as well, since these quotes kept him going through the challenging times, and he feels it would help his followers too. "My DMs are usually from clients inquiring about the hotels, destinations, and brands, from industry colleagues asking for my experience with a particular hotel, and often also from people seeking jobs. I like to keep my social media focused on the luxury lifestyle, travel, events & celebrations, health and wellness, and motivational messages."
He brings this taste and panache to other brands under the PWG portfolio: Platinum World Events – Solutions for Business Events, MICE, Luxury Events, Experiential & Influencer Marketing; Platinum World Celebrations – for Destination Weddings & Celebrations for HNIs; his UAE venture Platinum Signature Experiences – offered for luxury villas & hotel bookings, private jet, helicopter & yacht charters, supercar driving experiences, gastronomic fine dining experiences amongst others, as well as Billionaire Lifestyle, which offers turnkey & advisory solutions for purchase or charter of immensely luxurious items such as private jets, luxury yachts, luxury mansions, penthouses, luxury automobiles, luxury watches, jewelry, art, cryptocurrency, and second citizenships.
His exposure as an entrepreneur firmly ensconces him as an influencer since he has an innate and natural understanding of his business space, far more than any celebrity Instagrammer or YouTuber. As an influencer, he strategizes to create high-quality content to promote brands. HNI customers who follow him on social media often emulate his choices and decisions in what he does, wears, drives, or where he travels, stays, and dines, which is a commemoration of his choices and persuasion.
The pursuit of passion is obviously a driving force for him, "I have made my passion my business, and all our businesses are subjects I deeply care about. I love to travel, meet and inspire people, network, and all that is an integral part of our business. Other than that, I'm fond of singing, yoga, scuba diving, ice-driving, and other adventure activities. Thankfully, because of my business, I get to travel and experience my passions."
Wadhwa's success is like a living education for those who dream of creating an empire of successful ventures. The confluence of his two identities – the entrepreneur and influencer, places him in a unique position that is tough to replicate. By understanding his clientele for the aspirational and jet-setting individuals that they are, he has created his services that never falter in providing the perfect customer experience.
Follow him on #SushilMedia to know about his latest adventures. He is easy to find on Instagram, LinkedIn, Facebook, Twitter & Youtube with 'Sushil Shamlal Wadhwa'! Despite his growth, Sushil is only just getting started, and with the start of 2022, we cannot wait to see what other aces this luxury entrepreneur-influencer has up his sleeve.