The world of business is often an out-and-out jungle, where only the fittest and finest survive and thrive. Companies live in mortal fear of being out-innovated or phased out by other firms. Larger companies with strong market share and decades of experience are often daunted by newer, smaller firms that make up for their lack of capital and expertise with nifty little trends, branding, marketing, and cutting-edge innovation, and the 'underdog' factor.
Big leaguers choose to eliminate the competition with a handshake rather than a fistfight by acquiring a competitor with an offer they cannot refuse and turning them into a subsidiary or partner, coining the business phenomenon of a roll-up merger. Forming a larger entity helps companies retain a robust competitive edge and integrate their resources more efficiently, reduce operational costs, increase revenues, earn a substantial reputation, and enjoy economic scale.
Rolling up to guaranteed success?
A roll-up is a consolidation process where multiple small companies in the same market are acquired and merged, forming an enterprise that offers a broader range of products and services. Often, these products serve different economic strata or demographics, thus helping them capture multiple market segments and create a monopoly. The larger companies, known as private equity firms, generally boast of higher value by the multiples than the smaller businesses they acquire, alongside the advantage of operating at reduced costs through economies of scale. The newly formed entity supersedes a standalone business through diversified management, reduced production costs, wider reach, and catering to customers across the board (lesser competition, no conflicting images). On a win-win note, the higher-earning potential of the endeavor helps these companies improve collectively, bump up profits, trickling down in significant proportions among the acquired companies.
Since the origins of modern commerce, rollups have been a way for companies to grow and gain ground, acquire customers and diversify their products. Kraft Foods, now rechristened Mondelez International, is one of the earliest examples of a roll-up. Its effort in this regard was an astounding success, as the Chicago-based multinational confectionery, food, beverage, and snack company scaled up meteorically, garnering $26 billion in revenue every year, with an operational presence in 160 countries.
More recent examples include Fiat Chrysler Automobiles (or FCA), formed by merging automobile giants Fiat and Chrysler. Global FMCG leader Unilever is one of the greatest and most identifiable of all roll-up examples, where some of its consumer products have been acquired while preserving brand identity (Knorr, Brooke Bond, Lipton, among others).
What does it bring to the Table?
Roll-ups can be niche, but the significance is game-changing. One of the more apparent ones is Economics of Scale. It is common knowledge that the larger a company is, the more efficiently it can operate. It can spread fixed costs over larger volumes of production, lower the variable and marginal costs per unit. The reduced cost of production provides a perfect opportunity for companies to use their profits to stay ahead of the curve in terms of product development or slash prices significantly to outcompete their rivals.
Quest Diagnostics, an American clinical laboratory and a Fortune 500 ranker, maintain collaborative agreements with many accredited hospitals and clinics spread across the globe, practicing economics of scale with finesse. The company boasts of an annual revenue of $7.7 billion as of 2019. Other successful companies such as the aforementioned Kraft Foods also demonstrate the influence a roll-up can have when it comes to ease of scaling.
Roll-up facilitates cross-selling, a company's ability to sell its products or services to additional customers, or the way it can sell an increasing variety of products to the existing customer base. Collaboration with multiple firms of the same industry can facilitate this due to the added business units and product portfolios.
Sysco (Systems and Services Company) Corporation, established in 1984, has been continuously pursuing roll-ups since 1988 when it acquired a Chicago-based food distributor, CFS Continental. It is now the world's largest broadline food distributor, with more than 600,000 clients across various fields. The company operates in about 330 distribution facilities worldwide and extends its services to more than 90 countries.
A merger that takes place due to legitimate synergies between the participating companies can make for healthy financial results in the short and longer-term. Additionally, having donned the gloves of a dominant market player, its influence increases multifold. The greater market power it wields provides increasing confidence to shareholders, impactful influence over the suppliers and buyers, and makes procurement of funds easier and swifter. Mergers with multiple small companies would significantly improve the value of both the parent and consolidated companies.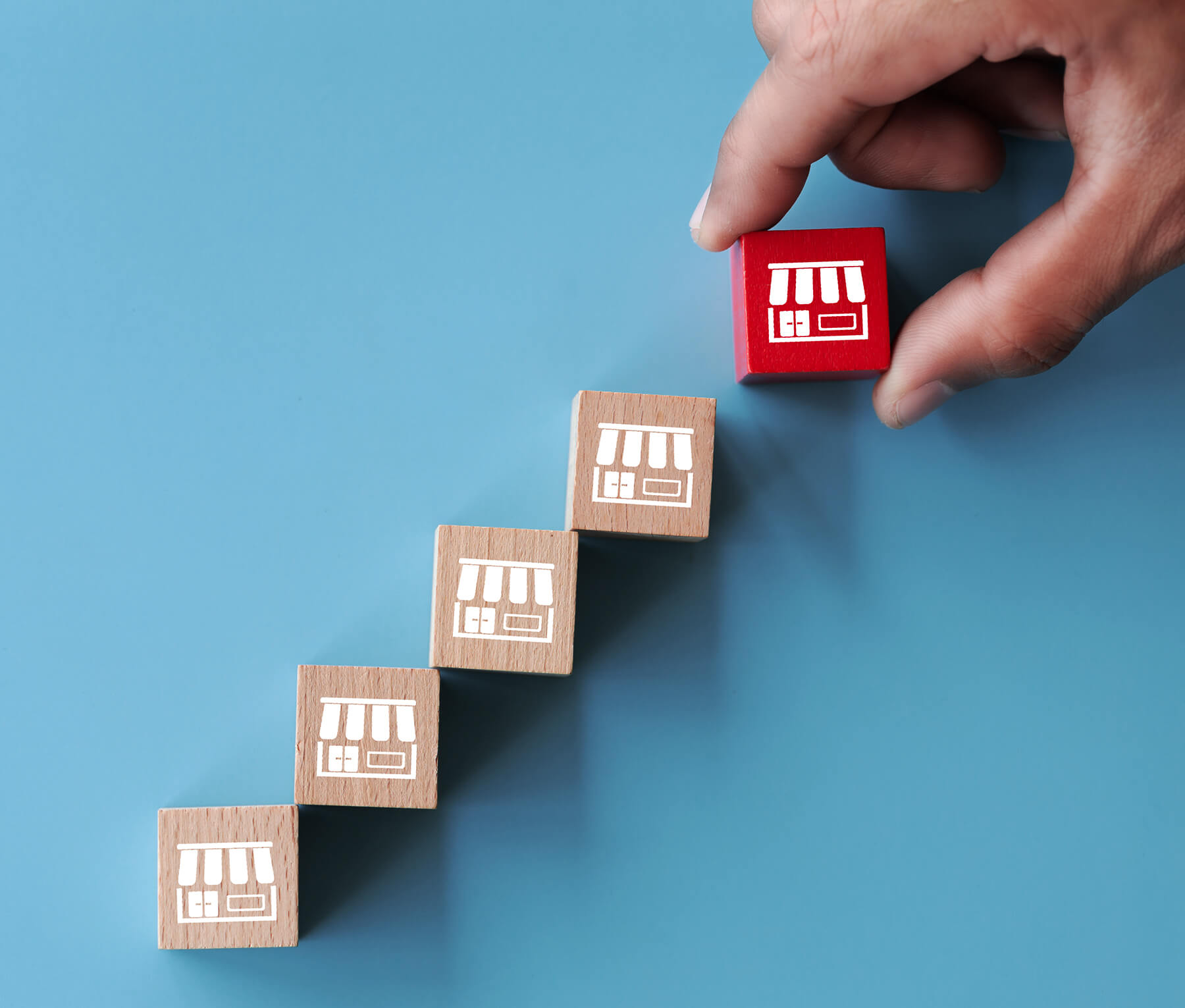 E-commerce knocking at the door
Roll-ups have been on the rise in e-commerce marketplaces because of the immense potential of decentralized online shopping spaces. The most noteworthy in this segment is Thrasio, a company that has made more than 125 acquisitions, with a capital of $1.7 billion raised since its launch in 2018. These acquisitions are being gradually promoted through small measures such as building social accounts, email lists, and Shopify sites with the object of later turning them into household names. On an equally interesting note, famed investor and operator Keith Rabois recently announced his interest to work on a roll-up concept called OpenStore with Atomic co-founder Jack Abraham.
On local shores, Dubai and Riyadh-based startup Opuntia, a Gulf-based e-commerce company, have raised $20 million to roll up e-commerce brands in Africa and the Middle East. The company was founded by co-CEOs Philip Johnston and Manfred Meyer in March 2021. Its professional teams comprise talent from Amazon, Zomato, Namshi, McKinsey, and Uber Eats. The operating presence will soon be expanded to Cairo, Istanbul, and Lagos.
The proliferation and growth of the e-commerce sector, customer's increasing hunger for on-demand and convenient delivery, and the preference for homegrown brands had led to the entry of fledgling startups, all aiming to secure their market position. However, as competition heats up, despite the good performance, some brands begin to waver due to not having enough capital, thus causing inventory issues and possible failure. However, when a larger business takes them under their wing, their financial and sourcing capabilities become stronger. This works as a preferred symbiosis as the immediate and widespread needs of customers are satisfied, and firms operate in tandem, with their individual identities intact.
Consumers are keen to support small brands due to a growing sense of community and a global call to #supportsmallbusiness. This makes it the opportune time for smaller brands to carve a niche of their own. But, in hindsight, not all brands that enter the foray may be able to keep up a steady profit flow or stem competition or irrelevance, forcing them to hit the exit door or to sell out to a bigger company. For instance, Brainlabs, a digital marketing agency, merged with the American Digital Marketing company Hanapin to provide a significant overseas presence for the company due to the analytics setup and international reach held by the acquiring company, Hanapin. 
"On a 30-year view, we want to build the biggest and best advertising agency in the world," said Brainlabs CEO Daniel Gilbert.
However, a counter-trend is emerging; sometimes businesses buckle under the weight of their own expanse. Some major corporations are contemplating fragmenting, and a few have already announced it. But, on closer inspection, this could demonstrate strategy rather than inefficiency. General Electric, a 199-year old electrical powerhouse, will split into three companies for three salient purposes: simplify its business, reduce debts, and revive its fortune. Toshiba has similar plans to appease activist shareholders seeking a complete overhaul of its operations. But, again, what we are witnessing here is not something that deglamorizes a partnership. Companies have been merging and de-merging for quite a long time now for their own strategic reasons and sometimes, differences.
Opportunity, Challenges, & the Way Forward
Marketplaces undergo a constant evolution, and whenever the arena crowds up with one too many competitors, shrewd investors consolidate smaller businesses that would thrive with a fighting chance through a roll-up merger. However, the purported benefits of the concept do not waylay its inevitable challenges.
In the end, placing all our bets on a single solution would be impossible, as one strategy may not work across different companies and regions. But every market offers a way that can further an educated thought process. On a common note, though, it is pivotal to plan for the targeted audience, evaluate how products and customers can be integrated, and assess case studies that throw light on how a similar initiative succeeded in the past.
As we conclude, ASPIRE recognizes a business's inherent drive to grow in accordance with its own innate strengths. A roll-up can be a success, especially if a smaller company needs some help to reach its full potential. At the same time, convoluted operations and capital impede its survival or growth, or it feels as if its aspirations are pursued better on a broader market. Undoubtedly, companies that dream to make it big on their own should never deter from their pursuit, as we have plenty of examples of companies that stood alone and reached prosperous heights. The momentous journey that these and a handful of companies registered, as either individual entities or roll-ups, paints a very hopeful picture of abounding possibilities for a seed of an idea to mature into valuable, prosperous proportions.