Interview: Shagufta Patel
Compilation: Ayaat Attar
334 BC, Alexander III of Macedon led a fleet of Greek ships across the Dardanelles Straits and into Asia Minor. On reaching the shore, Alexander ordered his men to burn the ships to the ground and told them, "We will either return home in Persian ships or die here." I bet my bottom dollar if Alexander the Great was born a couple of centuries later, our interlocutor for the day, and he would've been great friends, for they mirror each other in their tenacity!
CEO to India's largest tech-enabled Real Estate Brokerage and Mortgage Marketplace, Square Yards, Tanuj Shori grew up in a one-bedroom space that accommodated six people. For little Tanuj, having a meal outside was a once-a-year luxury, and he first got a chance to visit a theatre only when he was twenty-two. Indomitable aspirations and a work ethic to match kept him going, and he passed out of the prestigious Indian Institute of Management, Lucknow, with flying colors.
Life took a three-sixty degree turn for the struggler when he landed his first job as an investment banker with Lehman Brothers in the bustling city of New York. For a young Tanuj, the sudden influx of the green was dazzling. He now had a lifestyle and owned things that were once a fantasy. But somewhere amidst the comfort, his hunger for life quelled. And one fine morning, he asked himself if the trade-off was worth it. 
Having shared an interesting relationship with money as a concept, he believes that humble backgrounds like his have the power to push one to either end of the spectrum on how one views money. "Either money becomes very important, or irrelevant. If you're lucky, the latter happens to you, and that's what happened to me," he recalls.
All of thirty, and navigating restlessly through his days, Shori was ready for entrepreneurship. He had ideas and capital, but unfortunately, he hadn't struck upon the third and the most essential element of the holy trifecta – passion. And so, he turned to angel investing, bankrolling the ideas of other entrepreneurs who had found their calling.
"Individuals must never aspire to become business owners, so they don't have to work for somebody else, neither should they do it for monetary returns. Such individuals set themselves up for failure on day one. Business is like firefighting. Things go wrong every day," he cautions. He believes establishments should be set up only if one is unendingly passionate about an idea and has no 'plan B'. "Every day brings with itself a new challenge. If you are in it for any other reason, you are going to quit at the first sign of adversity," he asserts. 

Fascinated by the world of business, he kept a sharp eye for trends that worked. Every time Tanuj visited China, he couldn't help but notice the parallels it draws with India in terms of culture, emerging economies, socio-economic growth, and industry characteristics. He further noticed the Chinese based real estate giant Lianjia, which today stands at a staggering $ 80 billion, with their offices having proliferated every 1.2 kilometers. The sheer absence of a similar real estate venture back home got his mind churning. "Why doesn't anyone replicate the same model in India?" he thought to himself.
When in 2013, a group of young starters came to him with a real estate investment opportunity, the ex-banking professional found himself intensely intrigued. By a weird twist of fate, the cheque did not come through, and the boys, unable to wait any further for capital, retracted to their corporate jobs. But the idea of exploring the real estate space in India had embossed a special place in Shori's heart and mind. To bring this idea to fruition, Tanuj brought his wife Kanika into the fold.
Kanika Gupta Shori, Tanuj's other half, and a Wharton University Business Management graduate, has had quite a journey herself. Having made spontaneous career choices, her trajectory has seen it all, from emoting before the lens to the management of commercial events. Having held a strong belief that her life has a greater purpose, Kanika found herself back on the corporate ladder when her little one was less than a year old. 
Today, she holds the post of the Chief Operating Officer of Square Yards, a name she coined herself. Kanika resonates with the likes of Indra Nooyi, CEO of Pepsi Co. India, and aspires to leave behind a legacy of her own someday. Art encoded in her DNA, hues and patterns have her heart! Given her primeval desire for interior decor, she worked on a home furnishing idea back in 2013. However, when Tanuj planted the seed of setting up a real estate venture, she realized that the world of end-to-end housing presented unlocked doors of immense opportunity that were calling out to be explored. And so, in 2014, the duo kickstarted Square Yards, a firm that continues redefining real estate in the Indian Subcontinent.
Six months into the venture, Tanuj quit his lucrative job in Hong Kong to focus on his few found love of realty and housing. Although the risk-taker did not care about his savings, he faced a lot of flak for his decision from relatives back in India that did not consider real estate brokerage a white-collar profession. 
The primary team of Square Yards was carefully handpicked and included close friends of the Shoris from school and college, all of whom were well educated, consistent performers at their corporate jobs, and a bunch they wholeheartedly trusted. Some were convinced in a day, while others took as long as three to six months. With getting them to quit their cushy jobs and joining hands with the newest housing intermediary on the block, they had a winning team, which barring one, stands strong to this day. Together, they operate like fifteen founders that wake up each morning with a collective goal – building a $ 100 billion real estate intercessor for all of a person's housing needs.
"Square Yards started as a traditional brokerage firm, with a singular dream – If a person wants a house, they should come to us," simplifies Tanuj. They soon figured that seventy percent of Indian homes needed loans, following which mortgage services became an integral part of the value chain. They decided to facilitate contact between the customer and the bank, and before they knew it, they held the helm of India's largest mortgage integrator. Once the house is purchased, the space needed inviting interiors, where Kanika's home furnishing idea was revisited. Given the current trend in the real estate market, setting up a rental management service was their next target. They soon learned that seventy percent of property owners resided in cities away from their purchased asset, and launched a professional management company committed to securing rentals and its management for the homes of absent owners. Treating each vertical like a standalone firm unparallel in their game, Square Yards enables the selling of over two thousand homes and the mortgaging of around one thousand five hundred of them, as we speak. With over five hundred rental transactions to their name, Square Yards has successfully established a one-stop-solution culture, dominating India's real estate market.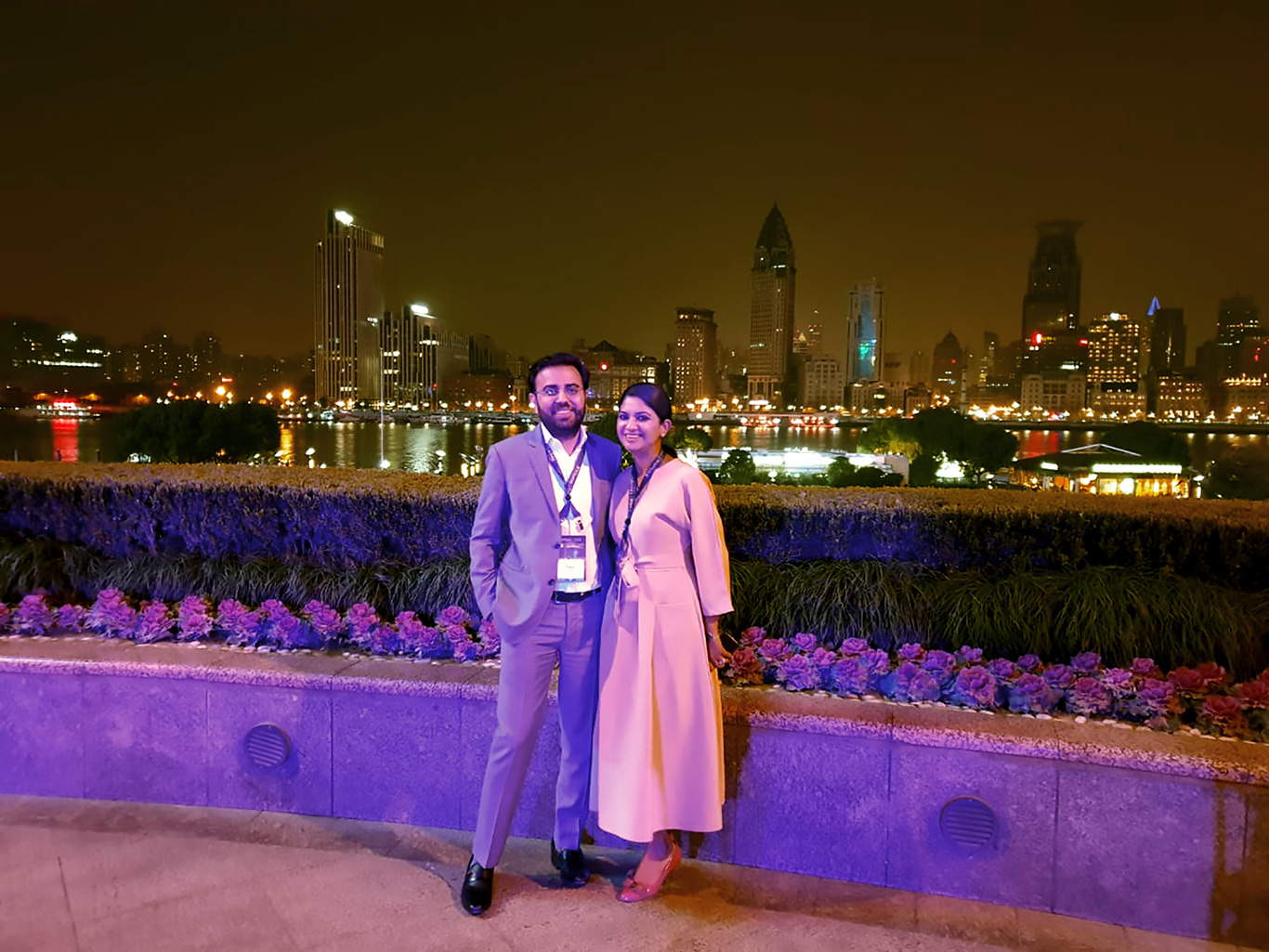 When The Going Gets Tough…
However, not everything is as smooth sailing as it seems. A few bumps into the ride, Tanuj realized good CVs and slick talkers don't always deliver. He learned that retaining a detrimental hiring costs more than recruiting one. "Sometimes bad hiring is inevitable. You can't judge hunger, passion, and motives in one interview. What one contributes on the floor in the first thirty days makes all the difference. And that has been my biggest learning," he shares.
The first three years in business brought with themselves a struggle with developers who sometimes never built the homes they promised, or worse, abandoned them midway. Once burnt, forever shy, they created a ten-step process to assess the developer's track records, running background checks, not going ahead with the deal unless each developer checked right all the boxes. "If developers posed twenty percent of the problem four years back, today it has successfully been reduced to less than two percent," beams a relived Tanuj.
Having raked an empire from scratch, the IIM alumni is full of good ideas for those starting out. "It took millions of variables to fall into place for life to evolve on Earth. Anything could have gone wrong, and life would never exist. Similarly, you could be the smartest, most hardworking person in the room, with the best degrees or the best ideas, but you may still not be able to scale a start-up because you might not be able to deal with chaos every day. This is why how a founder battles chaos on an everyday basis is of paramount importance," he emphasizes. Ernest and upstanding, strong ethics and integrity of a business's founders are non-negotiable for the real estate mogul.
The tough nut that Tanuj Shori is, nothing seems to faze his spirit. While the pandemic of 2020 single-handedly destroyed several small and large-scale businesses, Square Yard's dynamic leadership saw April 2020 turn out to be the best performing month for the firm. Intuitive and quick to act, 'the 40 under 40' awardee was traveling across borders when lockdowns were being imposed on nations, and he knew immediately that the same was coming for India.
His first plan of action was to mentally prepare the team for the next few months that would prove to be challenging in terms of salary cuts and working hours. He treated the virus attack like yet another speed breaker in the path to achieving goals and motivated his crew to go the extra mile. When the global epidemic was at its worst, the management worked harder than they ever had, burning the candle at both ends, keeping their morale high. Astonished by the company's agility, several establishments reached out to Square Yards for sound advice, for they had changed the way the industry worked. 
A workforce comprising of three thousand and eight hundred employees internationally, the organization operates globally, including UAE, Qatar, Oman, Singapore, UK, Hongkong, Canada, and Australia. Their unique business strategy utilizes unchartered Indian markets as frugal trial grounds and scaling to a more competitive space outside the country once the model works. 
For now, the CEO plans on staying clear of raiding Chinese and American markets, given their ruthless competition. He reaffirms that there is indeed no shame in taking low risks that promise high rewards. The first of its kind, Square Yards is preceded by no other real estate intermediary that has dared to go global before. At present, the company is working on their home furnishing vertical, soon to be launched. This year, Square Yards plans on expanding to South East Asia, with Latin America on the cards, treading steadily on the path of establishing a hundred-billion-dollar enterprise headquartered at Gurgaon, India.

With a business ascending at the speed of a commet, it is inevitable for the balance between work and personal life to take a back seat. Fresh recruits at Square Yards are prepared for the most demanding years of their careers. The management leads from the front, working twelve hours a day, for six days a week. Tanuj, however, preaches that taking a breather is a significantly important part of the grind. When not working, he enjoys playing cricket, which is one of his other lesser-known passions, and soccer. An ardent traveler, he has visited over seventy countries and is nowhere near done!
Beneath his steely exterior, Tanuj is a devoted family man, even though, owing to Tanuj and Kanika's hectic travel schedules, the family gets only three to four days in a month together. However, the fairly liberal and open-minded couple more than make up for the lost time by imparting their kids with strong values and wholesome conversations. The duo has recently started homeschooling their kids Aarav and Arsh, aged ten and eight, respectively. As intuitive as he is as a business person, the corporate taskmaster is an equally aware father. He believes that they hold the luxury of not having to force their children into the regular nine-to-five-job grind and would like them to study literature and music, travel and get exposure, and eventually be the masters of their own destiny.
Two equal halves of a balanced equation, inevitably enough, Tanuj and Kanika have their professional differences. The partners, however, diffuse the stickiest situations with able decision making and understanding. "Since Tanuj is the CEO, he holds a certain veto. Although, I do have my 'I told you so' moments!" laughs Kanika.
Tanuj Shori implores young entrepreneurs diving into the daunting world of business, to do so only for the passion that keeps them going, and to develop a responsible attitude. He urges the youth to work on themselves continually and says the same applies to him. Intune with his ideals and full of words of wisdom herself, Kanika shares that the realty space is undeniably male-dominated. Battling patriarchy, she rose above the petty game of gender roles, focusing her energies solely towards bettering the organization each day. 
Introspective and reflective, Tanuj, on the other hand, can read entrepreneurs in a glance. He believes only twenty percent of humanity has the capacity to ask themselves the hard questions. For the rest eighty percent of them, he says, "the motivational talks will amp them up for two days, and on day three, it's back to square one. No one knows you, your strengths and weakness better than yourself." And so, he encourages inculcating the art of self-searching. 
Doers in themselves, the couple lives and breathes the entrepreneurial principal – jump in the waters, and you'll know how to swim. They reiterate that strategizing is overrated and that execution is key, as they continue taking the world of real estate by storm, one brick, one slab at a time.