This August 2021, UAE will celebrate its 6th Emirati Women's Day as a marker of how far women in the Emirate have journeyed to gaining an equal footing to men in society. This achievement is, in no way, neither insignificant nor singular, for the nation's forces have aligned to make deliberate efforts to craft laws, propel economic prosperity, and provide the system where women feel empowered and encouraged to seize every opportunity and do not let antiquated gender norms stand in the way of their progress.
Women have seen their rights, status, and prosperity grow in sync with the UAE. With the discovery of oil, UAE began a swift march towards economic stability, which gave women the opportunity to seek education and aspire for the great skies of opportunity.
One person instrumental in bringing this transformational change, as well as initiating the custom of Emirati Women's Day, is a woman without whom this conversation would be several milestones behind – Her Highness Sheikha Fatima bint Mubarak Al Ketbi. Born to a religious Bedouin family and married to Sheikh Zayed bin Sultan Al Nahyan, the founder and inaugural president of United Arab Emirates, she ably recognized the limited, curtailed lives being led by women in the UAE.
Armed with wisdom and unafraid to make broad sweeping changes, she set to the task with determination. She founded the first women's assembly ever in 1973, followed by her establishing the General Woman's Union (GWU) in 1975, which has steadfastly persevered to empower the national mechanism for the empowerment and entrepreneurship of women in the United Arab Emirates. Over four decades, she launched initiatives and put in resolute effort to create spaces for women to engage in public and private spheres, bringing the nation together for a common goal, which was recognized by the Global Agenda Council of the World Economic Forum in 2014 – UAE was now at the forefront of championing women's rights, maintaining their dignity and cementing their social standing.
The efforts yielded stupendous results, causing the UAE to jump up into the top 30 positions amongst 177 countries that have made strides in women's rights by the United Nations Development Program (UNDP). Commemorating UAE's strides in this area and commitment to its women, the first Emirati Women's Day was celebrated on August 28th, 2015. The choice of date is a deliberate coincidence with the foundation of the UAE's General Women's Union launched on the same date in 1975.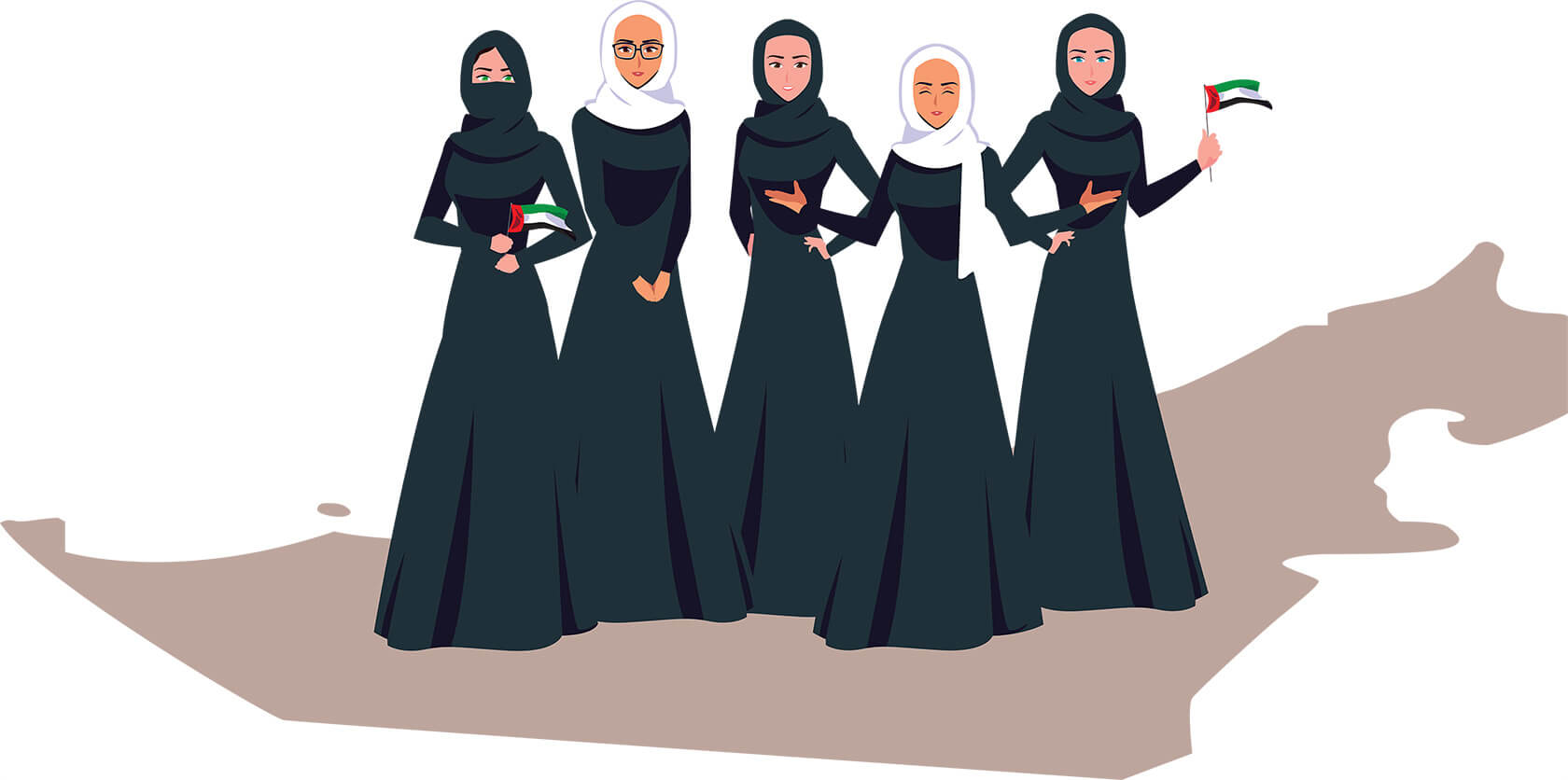 An Equal Letter of The Law
Over the years, as voices of women grow more robust, and as the nation wakes up to the potential and power that educated, empowered, self-possessed women bring to the culture and economy of a nation, the matter of gender equality has risen to occupy center stage. On the legislation front, the Constitution guarantees legal equality to men and women, with women holding the same legal status, claim to titles, access to education, right to vote, right to equal pay, the right to practice professions, and the right to inherit property as men.
Laws have been updated too, to better suit the present climate and requirements of citizens. Earlier, the UAE Labour Law granted women 45 days of maternity leave, with no provisions for paternity leave. The new Dubai International Financial Centre Employment Law, which came into effect in June, changes the maternity leave to 65 working days, with the first half at full pay and second at half pay, and paternity leave of five days. On the personal front, a new domestic violence law came into effect in March 2020 that included provisions enabling women to obtain restraining orders against abusers.
The Edifice of Empowerment
Legal principles serve as the bedrock, but the true transformation of a society is affected through everyday practices, change in mindsets, and the courage of people to go against the tide, to reject the way things have always been done. Going past a time when few women would seek higher education, today in literacy, the numbers speak for themselves – 70% of university graduates in UAE are women, and their literacy rate stands at 95.8%.
In the professional sphere, women are coming to slowly occupy spaces and positions typically reserved for men. 35% of the women in the UAE are employed in the national workforce, and 20% of administrative posts are held by women. The Federal National Council, too, announced that women would represent half of its 40-member council.
Such strides were not made overnight. Instead, it was the thorough building of a safe and inclusive atmosphere in the country where women felt encouraged and welcomed into the workplace. Furthermore, women from other diverse communities also find excellent career and business opportunities. Apart from the countless career options, the UAE is also internationally recognized as a safe haven for women to work.
All this points to a commitment – An ode to progress made, a benchmark set in the present, and a fervent hope to scale it immeasurably in the future.
That is not to say that all dreams of equality have been realized. Even today, only Emirati men can pass on citizenship to offspring, and birth certificates are not issued to Emirati mothers and international fathers, which leaves their children stateless. These children become adults with no access to basic rights and services throughout their lives. 
In the past, a lack of progressive outlook from largely patriarchal influences of ministers and religious leaders created a perception that women were unfit for public spaces and leadership positions. Contemporary public discourse and critical feminist theory researcher Dabya al-Rafaei said, "Religious figures operated as powerful orators capable of shaping and maintaining public opinion in favor of conservative norms and policies that largely contributed to keeping Khaleeji [those from the Gulf region] women submissive and hidden from sight." The emergence of the internet and the proliferation of social media began to challenge long-held beliefs, as the voices of women across the world mingled with those of Emirati women, making them louder and more undeniable. "With more women challenging discriminatory policies, highlighting their inferior status in society, or simply sharing snippets from their daily lives, it was no longer possible to monopolize the discourse around the place of women in the Gulf," al-Rafaei explained. As women become more visible, so do the injustices against them. 
As we stand the cusp of this year's Emirati Women's Day, the theme stands out – Women: Ambitions & Inspiration for the Next 50 years. As has been in the past, when the Emirate and its women emerged together in the modern world, the next 50 years will delightfully reveal just how high the nation and its women with their fates linked to each other can fly. 
The present-day world presents challenges that were unforeseen before – a hyper-connected world with fractured relations, inter-region conflict, ever-changing ideas of gender identity and hence liberation, all under the looming threat of environmental catastrophe. Inspiration for women will come from diverse ideas, as those that have been oppressed find the courage to speak out to a world finally listening to them. Women's ambitions cannot be for women alone; they must aspire to take the world ahead with them.