Having taken note of the all the five pillars of Ecommerce, when it comes to achieving success in it,  Merchandising is the key. One can find mention of 'right merchandising' even in the ancient Ebla tablets (dated ca. 2500 BC to ca. 2250 BC) which are predominately about the trade and commerce of the time.
A variety of factors come into play while establishing a right merchandising strategy which depends on various factors such as, sector, product quality, available space, and whether the retailer is displaying the product in a physical or digital store.
Elements of Ecommerce Merchandising
Instead of physical floor plans, online businesses organize sites into categories, sub-categories and product pages. Banners and pop-up windows replace danglers and cut-outs, highlighting special offers and seasonal items. Ecommerce store-owners have a lot of freedom when they design their sites. Since customers expect to encounter reasonably predictable ecommerce layouts, intuitive sites tend to create the greatest number of conversions.
A mixture of ecommerce merchandising tactics like an easy to navigate attractive website, constructed using best UI/UX principles with well-executed homepage, product page, and category merchandising techniques play a very important role to increase AOV (Average Order Value) and enhanced consumer loyalty.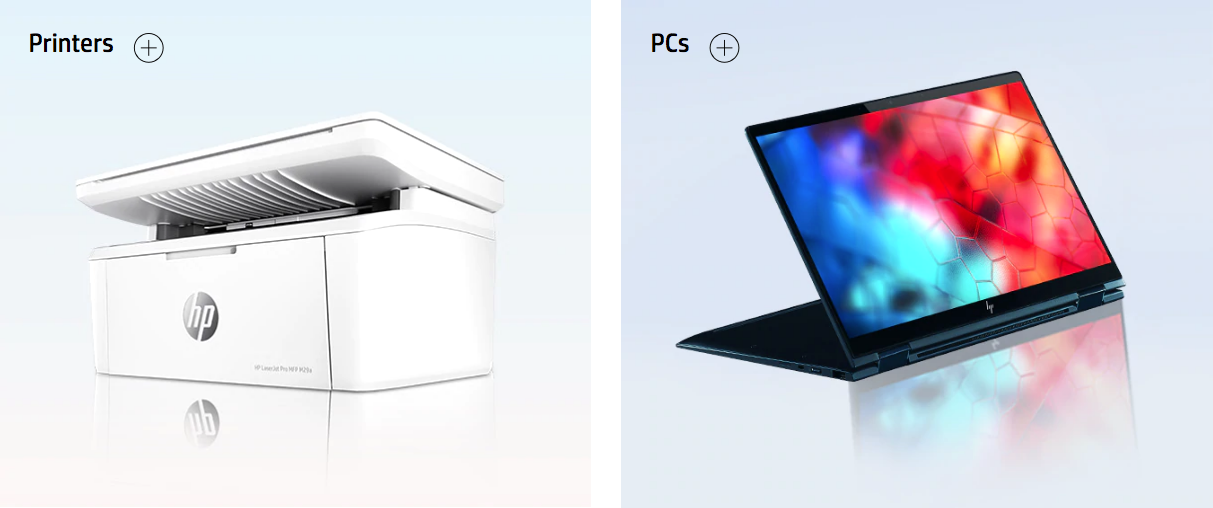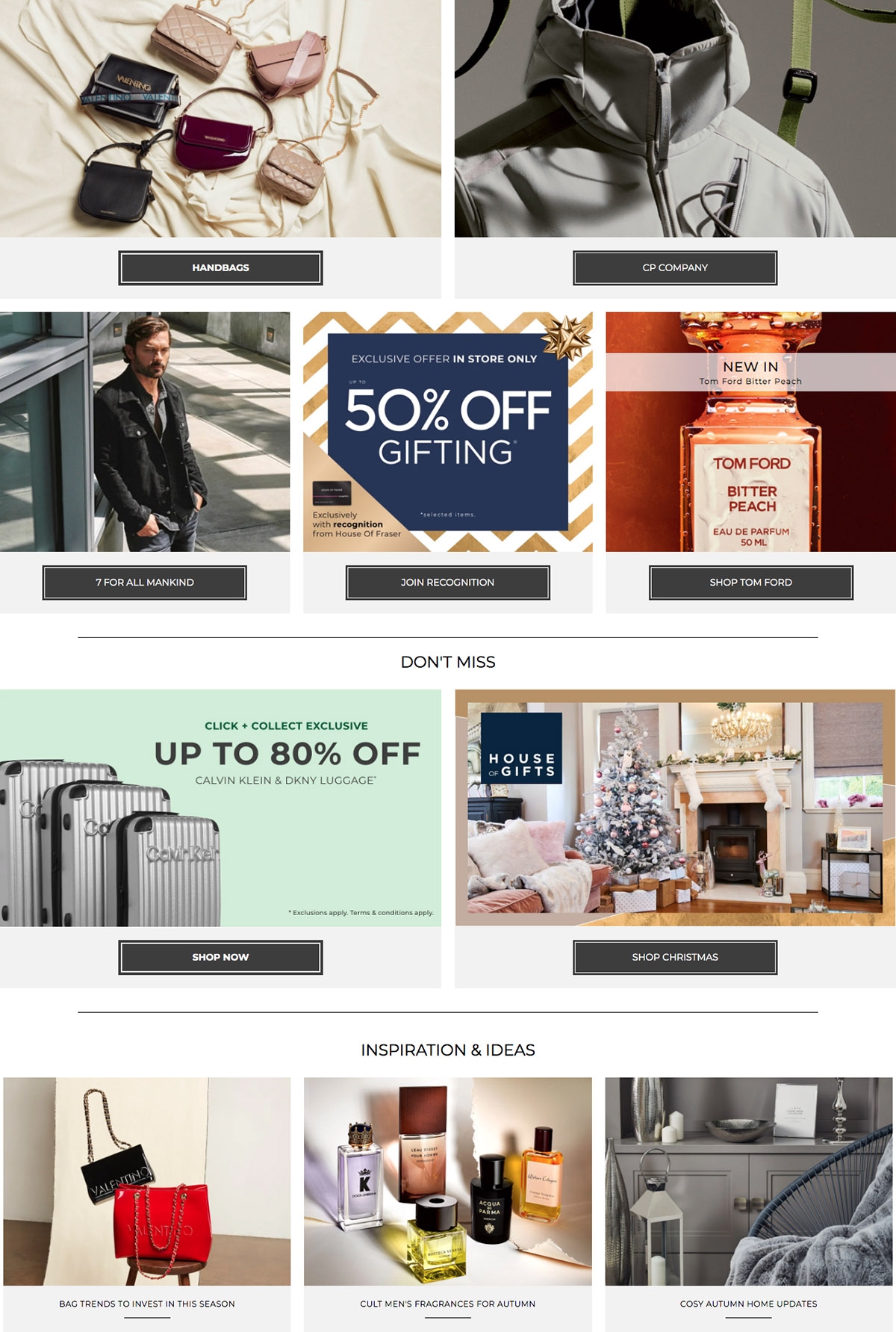 Merchandising can be Further Categorised Into:
1. Product merchandising comprises of all promotional activities used to sell a product such as a well-designed web site, along with the use of apt images, categorization and right keywords in description and other customer touch points.
Emblematic logos, rich corporate colors, standardized web fonts, compelling imagery, sleek banners, and smooth transitions work together to create a branding sensation.
When customers open the logo-stamped boxes, they are led to see the carefully packaged products nestling inside and their positive experience completes the branding narrative.
For example: HP offers many category pages that provide users with a positive experience.
An example of a very simple category page from HP:
A sub-category page with simple visual and image based product selection:
Why does this category page design work?
The design is simple and visually appealing. Users can easily find their options in one place in a visually appealing format. Having the option to choose each category and see the available products in the particular category also makes for an A+ shopping experience. This feature streamlines the buying process and guides users to their next click.
Overall, HP provides a great user experience for people who are yet new to the online shopping experience.
2. Retail merchandising refers to all promotional and marketing activities that in some way contribute to selling products to customers in a physical retail store or a website setting.
Customers don't consciously think about the sensory experience when they walk into a store. Rather, the colors, sounds, smells, temperature, and the way the merchandise feels combine to deliver an experience to the customers' psyche that they may not even realize.
Retail merchandising is an art and science. Decades of customer research, driven by the overwhelming economic importance and growth of the retail industry, has armed retailers with actionable data for effective merchandise strategies and best practices. The goal of retail merchandising activity is to support a retail strategy that generates revenue for the retailer and also value for the customer.
3. Visual merchandising in an offline setting refers to all of the display techniques used to highlight the appearance and benefits of the products and services being sold including aspects such as floor plan layout, color palette selection, three-dimensional displays, and product and banner alignment; while in an online environment the following touch-points is of vast importance.
a) Homepage
b) Product pages
c) Category page
d) Mobile responsive and optimized
e) Product discovery is easy
f) Getting personal with recommendations
g) Great product descriptions
h) Keeping it simple
i) Focus on story telling
j) Highlighting user-generated content
A good example is House of Fraser where they demonstrate product knowledge and a variety of different merchandising techniques on their homepage.
With visual merchandising, retailers can influence customer choices based on what they see in physical stores and on their computer screens.
In the book "Retail Marketing Strategy: Delivering Shopper Delight", author Constant Berkhout mentions a study conducted by researchers who affixed smiley face stickers to merchandise price tags. These emojis gave shoppers the perception that the prices of the items displayed on the stickers were lower than the prices of the items without the stickers, giving an insight to the psyche of the shoppers.
A well-known and simple visual image, in the relatable and popular form of communication (emojis)  preferred by highly sought-after millennials and Gen-Zers, had a powerful effect on customer valuation of the product.
4. Digital merchandising involves all promotional activities used to sell a product online and can include everything from site performance and digital product displays, to digital marketing and email marketing initiatives undertaken.
5. Omnichannel merchandising is all about creating a unified customer experience across all possible touch points of the customer's journey even when the customer moves from one channel or medium to the other.
If SEO best practices drive consumers to online stores, ecommerce merchandising strategies take over when people arrive. Making a strong first impression in merchandising is a critical aspect whether it is to entice window shoppers at a physical store or those who have recently landed on the home page of the website.
In the third article of this series we shall take a dive in to the "Technology" aspect of ecommerce. Until then have a relook at the approach you may have applied and used so far, to perk it up in ways that can boost up sales of your Merchandise.
This article is the second in continuation of a six series feature. The first one can be read here: Is Your Ecommerce Trade Standing On The Right Pillars.
Sunil Nair can be reached at [email protected]