All over the world, people look forward to December as the holiday season that starts from the last week of November, surges towards Christmas, crests at the midnight of New Year's Eve, and finally comes to a stop on January first. No longer strictly religious, the holiday season buildup is about shopping sprees, vacations, seeing family and friends, and consuming delicious food against a backdrop of stunning decorations including Christmas trees, and Victorian village spreads. Brands and media carefully curate products to impart this holiday vibe to all our senses – international cafe chains offering holiday-specific beverages, themed storefront displays, family-centered entertainments like winter markets, holiday-themed movies, specific music, festive menus, promises of epic parties to hail the New Year in.
While a time of festivities and gaiety, this season is also profoundly symbolic. Christmas traditionally celebrates the miracle of birth. While this day has historic and religious roots, the birth of new life in every culture is sacred and a cause for joy and gratitude. There are unique ways in which communities around the world celebrate the birth of a baby.
Traditions and customs across Asia, Africa, and Latin America encourage a rest period, keeping the new mother and baby indoors, bestowing lucky charms, blessings, and good fortune in many ways. For example, in India, newborns are kept indoors for 40 days, adorned with kohl in their eyes and black dots on their forehead to ward off evil influences. Bracelets with beads of gold, blue and black are placed around wrists and ankles, and amulets as per religious scriptures are placed on the baby's neck. The first bath is a significant ritual, and the first head shave is sacred and done as per tradition. A great deal of importance is placed on astrology and the infant is named accordingly.
Similarly, in Latin American countries like Colombia and Peru, a healing period 'la quarentena' is observed where the female relatives of the new mother pitch in to take care of the household chores while the mother heals and learns to care for the infant.
In UAE and other Arab countries like Lebanon, the father of the newborn whispers the 'Adhaan' or the call to prayer into the baby's right ear believing that the first words he hears should be of God. Softened date is rubbed on the infant's gums symbolizing the first taste passing his lips to be sweet. On the seventh day 'Aqeeqah' is observed – family and relatives get together, and two goats or lambs are slaughtered and distributed. The baby is traditionally named as well.
In Mexico, the entire family prays and chants blessings during the actual birth period. On the child's first birthday, a pinata is placed on top of the baby and broken, showering him with sweets and gifts symbolizing abundance and prosperity.
In China, mothers are traditionally required to give birth squatting and must not cry out of pain. This is believed to make the baby stronger. On the child's first birthday, longevity noodles are eaten by the family – a single long noodle placed in the bowl for good luck and long life.
Zhuazhou is another interesting ceremony held on the child's first birthday. Several objects like a book, pen, calculator, seal, money, shallot, knife, ruler, garlic, grass, and stethoscope are placed in front of the baby and the object that the baby picks symbolizes his future interests. Like a calculator implies business and accounting interest. Similarly, shallot indicates extraordinary intelligence. The pen would mean a literary bent, grass would point to a green thumb and a possible career in agriculture… Similar ceremonies are held in Japan, called Erabitori, in Korea called Doljabi, Vietnam, Armenia, Kazakhstan, and even Malta.
In Inuit culture native to northern Canada and Alaska, women prefer to give birth in a communal setting with elderly ladies. Babies are delivered by midwives. This practice has been modernized to ensure midwives are medically trained and the communal birthplace is equipped with a modern medical setup to perform safe delivery.
In Africa, the land of spirits and shamans, in many countries the newborn's first bath is given by his grandmother. In Ghana, postpartum mothers wear white to invite healing and good spirits. In Nigeria, on the seventh day, the newborn receives water, palm oil, kola nut, salt, and pepper as symbols of blessing, protection, longevity, and fun.
In Finland, the government provides a free baby care package for new moms. It contains clothes, bibs, swaddles, bedding, first aid, and feeding essentials in a cardboard box that can be used as a crib. Mothers have the option of taking a cash grant instead, but the care package is much more expensive and preferred by Finnish moms and supposed to bring luck too.
In Germany, creative naming of their baby might get parents fined. The newborn is expected to have an acceptable first name identifying their gender and an established last name already present in the list of Standesmant or office of vital statistics. For exceptions, a strong case has to be made. For each failed attempt, the parents are fined. 
While Christmas celebrates a literal birth, and the world all over celebrates the arrival of a new child as per their own beliefs and customs, the world is united in the celebrations of the New Year. A celebration of a metaphorical birth – the birth of a new time and new opportunities. This is a time to celebrate the good events of the passing year, reflect upon mistakes, realign priorities, and resolve for a better coming year. Everyone is hopeful that the new time will bring opportunities to gain prosperity, strength, clarity, purpose, and better ambition. With that in mind, New year parties are the most raucous, happening parties all around the world. The Pandemic has brought the message home – time, health and love should not be taken for granted. Welcoming 2023 takes on a special meaning as the world celebrates in hopes of no more COVID threats on the horizon. Currently, public gatherings are back to normal, and mask requirements have been removed from most countries. New Year parties are expected to be bigger and better all around the world, but especially in Dubai.
Welcome 2023, Dubai style
Dubai offers a citywide celebration, where visitors and residents are spoiled for choice. There are fancy brunches, glamorous dinners, and ritzy parties to attend. New Year fireworks are a spectacle to behold with Dubai holding the world record for the largest fireworks with 479,651 shells fired in six minutes, lighting up the palm in 2014. This year, Ras Al Khaimah is gearing up for an attempt to create another world record with a 12-minute pyro-musical show that will feature fireworks and drone formations. But the major highlight remains the Burj Khalifa fireworks. An event that attracts worldwide tourism, this year Burj fireworks and laser show will be record-breaking, largest laser display, traveling the longest distance ever recorded to illuminate the already fabulous 800-plus meters structure. Atlantis, Burj Al Arab, Ain Dubai, and The Pointe will be lit up with firework displays as well.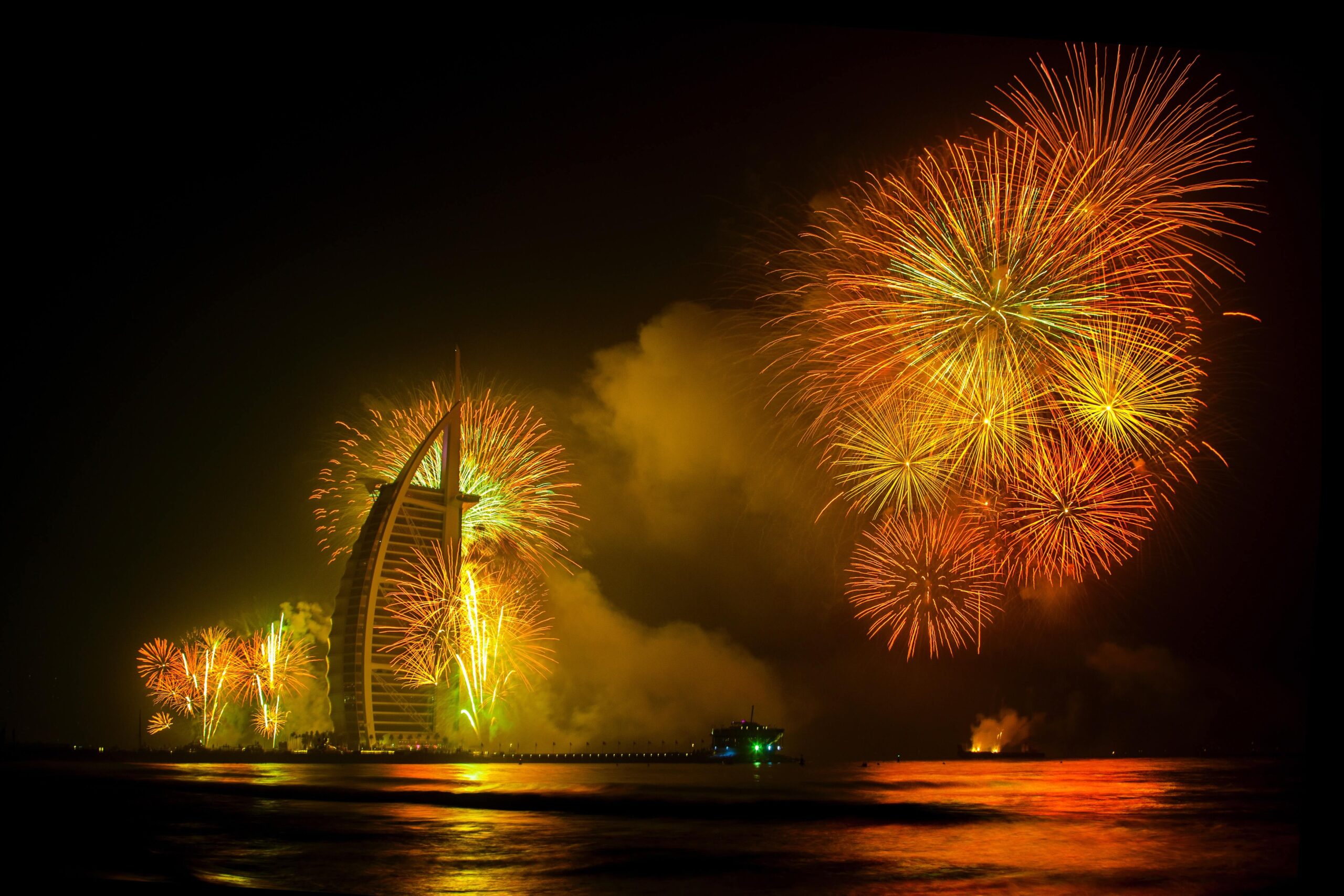 As if celebrations on land were not enough, Dubai will see a lot of luxury yacht parties with dance, music, food, and of course, spectacular fireworks viewing. For a more quintessential desert experience, there are soirees in desert camps on the outskirts to spend the night and welcome the first 2023 sunrise. As an upcoming trend, hotels like Burj Al Arab offer after-parties to witness the first sunrise of the year. Helicopter rides across iconic palm island and other monuments of Dubai are another way to welcome the new year.
Venues to celebrate New Year in Dubai are endless. Jumeirah Beach Residence, La Mer, Blue Waters, DIFC, Naseem Beach, Dubai Marina, Global Village, and Dubai Creek Side offer tonnes of party options.
Once the party is over and January begins, it's time for a new start. January is named after the roman god Janus, the two-faced god, one looking backward and the other forward. Symbolic!  Statistics show that most new year's resolutions are health related. Nearly 40% of resolutions are to exercise more, 30% are for losing weight and 32% are for a healthier diet.  Resolutions have changed in nature since their inception in ancient Babylonia where the start of the Babylonian new year was used to pressure people to pay off debts and return farming tools.
The coming year 2023 has a lot going for it already. The pandemic threat is over, vaccines are effective, and available. Sustainability initiatives are on the rise. Industries like tourism and aviation are picking up. Superb innovations that took place in 2022 – like the refinement of mRNA vaccination, the successful initial testing of the planetary defence system by NASA, and the launch of the James Webb telescope will propel even more innovation in 2023. More and more people will have access to clean water and fewer people than before will starve.  What a lot of reasons to celebrate the birth of a new beginning for all of us.