Brain Poe Llamanzares wears many hats: a loving and loyal son, a serial entrepreneur with a knack for building brands, an author who is a passionate sustainability advocate, a dedicated campaign manager for his mother, and much more.
He wears the hats humbly and, with unparalleled enthusiasm, continues to strengthen his legacy. For there is much remaining on his list to accomplish – from public service to authoring another book.
From the US to the Philippines — Brian's Early Years
Born to prolific Filipino parents in the US, Brian did not have to steer far from home to find inspiration. His maternal grandfather, Fernando Poe Junior, was a highly-acclaimed action star in the Philippines.
"Picture him as the Filipino Clint Eastwood," Brian explained. His maternal grandmother, Susan Roces, was titled the 'Queen of Filipino Cinema' by her fans and audiences. His mother, Grace Poe, holds the coveted position of Senator in the Philippines. On the other end of the spectrum, Brian's father comes from a family of working professionals – from doctors to lawyers. His father, Teodoro Misael Llmanzares, worked as an IT specialist at a prominent tech company and is currently a real estate mogul.
While Brian spent his early childhood in the state of Virginia, he shifted to the Philippines with his family in 2005, shortly after his grandfather passed away in 2004. When asked about which country he prefers, Brian chuckled and confessed,
"Philippines! Although I grew up in the US, and it is a great country, I always feel more of a connection with my home country."
Having returned to his roots at a young age, Brian was unaware that he would be playing a pivotal role in both the politics and policies of the Philippines.
Apart from politics, Brian's work portfolio holds other diverse roles.
After his mother's victory in 2013, Brian worked as a news correspondent for CNN Philippines for over a year. Wanting to branch out and explore new avenues, he founded Time Master Watches at the age of 23, an ode to the love for watches amongst the men in the Llamanzares family.
Finding immense success during Time Master Watches' initial launch, Brian confessed that he became overconfident and deployed a fair amount of money in the brand's marketing department. Unfortunately, the hefty investments did not result in equal returns – it was Brian's first experience with losses in a business.
"I learned a lot from this experience," he shared. "When I asked my father for some capital as my company almost went under, I felt bad about the situation. But my father considered the money as 'tuition fees', which were put towards some valuable lessons I would gain."
Obtaining that valuable lesson, Brian diversified his investment portfolio gradually, with a sharpened mind and a dedicated team supporting him. Today, he is the Founder and President of Pantheon Holdings, a company that manages approximately 32 different investment portfolios for brands across the F&B, retail, mental health services, education and health industries.

One of the many stepping stones in Brian's career is kickstarting the Oracle Media Group (OMG) in 2020 – a digital news company that provides reliable content to its readers. This venture was a result of the pandemic – a tremendously difficult period for the world. As the pandemic forced the world to a halt, it impacted businesses all over – including Brian's.
"I lost almost a third of my investment portfolio during the pandemic, mostly F&B and lifestyle brands," he recounted.
Despite the difficulties, Brian gathered some capital and founded OMG. As the pandemic waned and the world returned to normalcy, Brian witnessed not only steady growth at OMG but within his investments as well. It was a much-needed ray of light in the darkness.
But witnessing growth all around was not enough – it was time for a new venture. With a close friend, Brian co-founded A-team360 – a reputation management organization that provides an array of services to its clients, including image consulting, branding and crisis management.
"Investing in this organization was one of the best decisions I made," Brian expressed. He highlighted how the ethos behind A-team360 is to showcase the talents, skillsets and capabilities of both companies and individuals. He also emphasized crisis management and how companies and individuals are at a higher risk of getting cancelled in the era of social media.
"I did not like seeing good people suffering losses because of a single mistake," he elucidated. "Some people deserve a second chance, and that is what we are here for."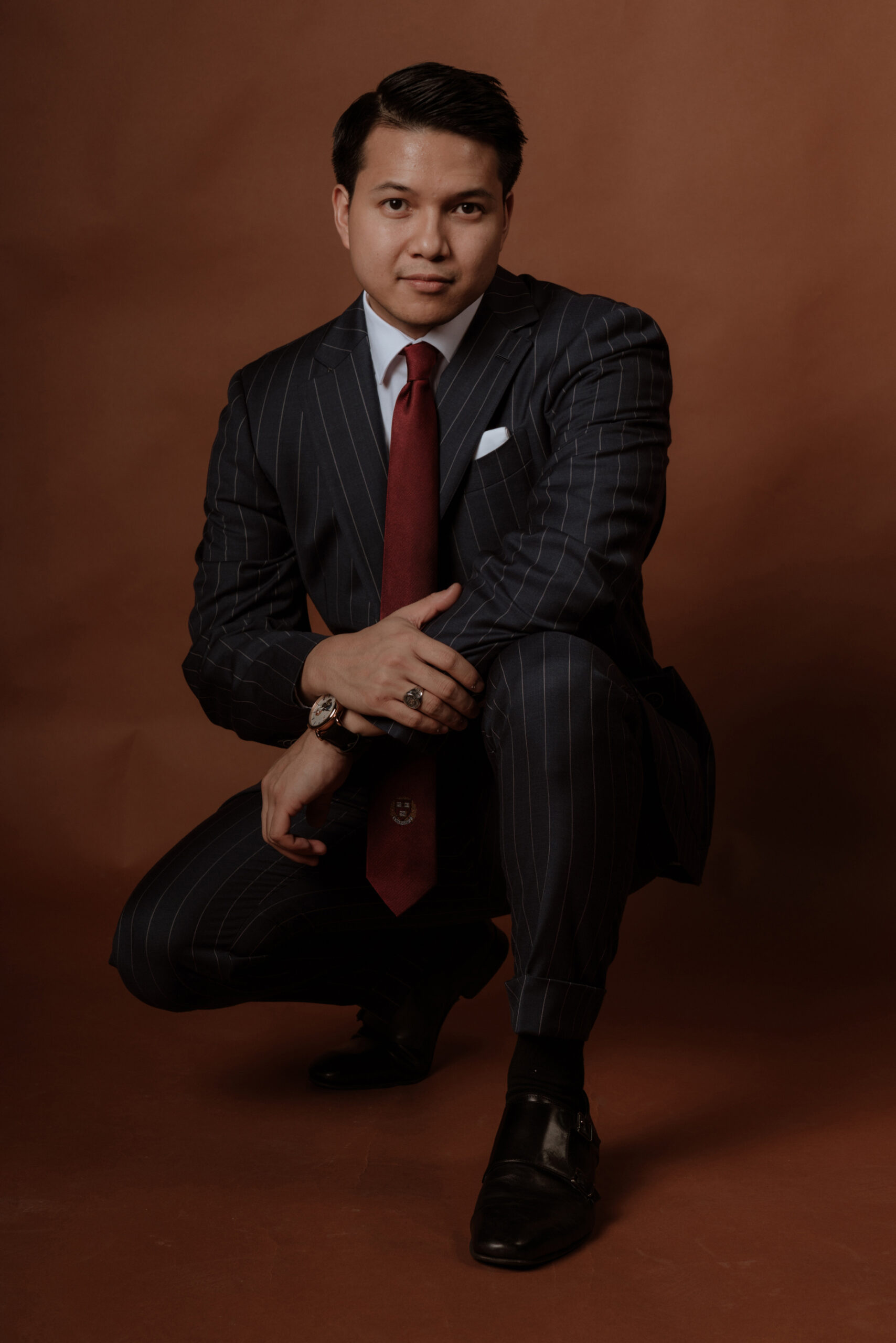 Sustainability is not just the talk of the day. It has been part of the global discourse for years. For Brian, sustainability was not just dinner table conversation but a subject he wished to explore in-depth.
He received the opportunity to pursue a Master's degree in Climate and Society From Columbia University in 2018. It was a dream come true for Brian, as Columbia University was not only an ivy league school but was also based in New York – a city that Brian fell in love with.
Upon completing an expedited one-year course in 2018, Brian was required to pursue an internship which would facilitate his learning journey outside the classroom. Securing an internship at NASA, Brian worked in the disaster application team and studied flash flood patterns, risks and responses around the world. The learnings would facilitate his journey as a sustainability advocate and author.
He further went on to receive a PhD in Public Administration from the University of Perpetual Help System DALTA, an additional feather on his cap.
Brian firmly believes that the battle for sustainability measures is not solely against giant corporations but society as well.
"Many people go for big-ticket initiatives such as solar power. But society is as responsible for sustainability as corporations," he clarified. "If you can convince society that this is a part of their daily lives, a massive change can occur."
To reach out and connect with audiences, Brian had to educate them regarding subjects such as sustainability, climate change, etc.

Amassing his learnings and other notable resources, Brian began penning his first book, 'A Sustainable Future'. This book provides keen insights into sustainability practices, issues and solutions from a Filipino-centric perspective. Along with proposals for positive change amongst the government and society, the book also discusses the potential to transform the Philippines into a socio-economic model for sustainability.
Four years into penning down the first page, Brian finally published his book. Little did he know that his book would pioneer a movement in the Philippines. He kickstarted his book tour from Columbia University and continued with Harvard, Fordham University, etc. It was during his tour in the Philippines when Brian was approached by students, professionals and teachers to facilitate a proper sustainability program in universities.
Motivated by the sheer support and warm reception, Brian partnered up with an organization to collate, create and share resources, templates and learning materials that are integrated into a certificate program for sustainability professionals. He is excited about the pilot programme's results and hopes to implement this program across universities and schools in the Philippines.
Gearing up to write the second edition of 'A Sustainable Future', Brian will be addressing sustainability as a security issue.
"The Philippines is the second-most climate-vulnerable country in the world," he stated. "With issues such as food security, floods and rising water levels, there are crippling costs to the economy as well."
It is these thoughts, along with inputs from professionals in the field, that Brian wishes to add to his second edition. He plans to pursue another Master's degree in national defence, but largely from a sustainability and security perspective.
When questioned about what he does in his spare time, Brian chuckled and said, "I am a workaholic, so it affects my relationships. In the Philippines, when people ask me about my relationship status, I joke and say that I am in a committed relationship with the motherland."
He shared how he enjoys racing and is learning competitive shooting in his spare time. He also devotes his time to FPJ Panday Bayanihan– an NGO founded by the Poe family that supports the Filipino community, especially during typhoons and floods.
Brian envisions a future filled with public service, a book or two more, an even more diverse investment portfolio and an abundance of lessons that he will cherish throughout his life.
"Through my investments and other ventures, I have always gained important lessons. I hope to continue learning more about different industries through my work," he shared. "It also makes for a decent conversation with others!"