Last year, Raj Bhatt ran into a tidy bid—an international business group rolled out one million dollars to buy over his portal Hozpitality.com. Bhatt didn't so much as blink at the lure back then. However, now, as COVID-19 wields the sledge hammer with sadistic gusto through the hospitality industry—flights grounded, cruise liners docked, restaurants staring at scanty orders, travel agents shutting shop—it's time for wistful nostalgia to morph such sweet old offers into sly taunts.
Not for Bhatt, though. Here is a man who loves to zag when he is expected to zig. In May 2020, two months after the world curled up in viral misery, Bhatt launched his revamped portal as a huge enhanced network for hospitality companies, professionals, institutes, students and suppliers. The makeover cost him $500K. "I am absolutely confident that when COVID clears up eventually, there will be an avalanche of opportunities in the hospitality industry, and we will get far too busy to look back at this phase," he tells me over a Zoom call. Bhatt's optimism appears to be a dense, shiny marvel that lends itself to charming metaphors. One can diagram it into a coin that he tosses in the air from time to time, testing his luck—mostly pushing it.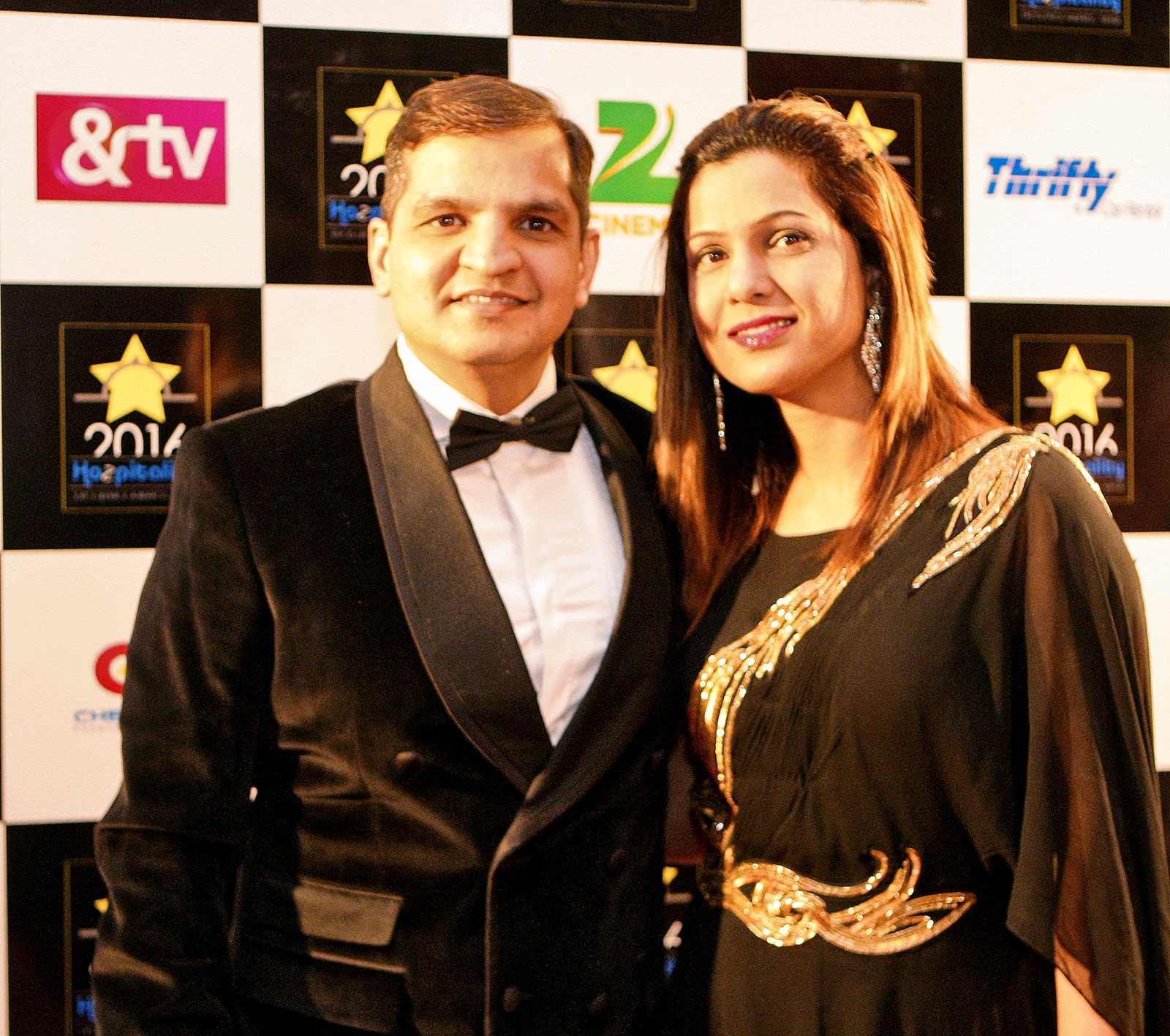 His swag, though, is real and doughty, with a long back story to boot. Twenty-eight years ago, when he was a young boy from Haldwani struggling to assert his feeble authority over his dreams, defiance didn't come easily to his rescue. "My father wanted me to be an engineer, even though I was a less-than-average student. I enrolled at a private engineering college in Dehradun just to meet my parents' expectations. But a few months down the line, a professor pointed out that I was not meant for engineering. I was so glad that I had finally met someone who could see I was in the wrong place. He advised me to pursue Hotel Management."
Before Bhatt could finish his first year of engineering, he told his parents about his rearranged goal post. Though his army officer dad and teacher mum didn't oppose his plans, they also made it clear that they wouldn't cushion his fall if he landed face first. "They were staunch disciplinarians, who taught me that life can only be lived and learnt through the experiences you choose for yourself." Bhatt appeared for the written exam in Delhi, and still vividly remembers the anxiety he had experienced at the panel interview that followed. "The panellists asked me to introduce myself, and I went on and on till they had to stop me. Then they asked me about my hobbies, and I mentioned I enjoyed singing. They asked me to sing a number, and I promptly did—with what I imagined was great flair. Of course, they couldn't wait for me to finish!"
It becomes obvious that one of Bhatt's redeeming features is his cussed tenacity. Even when he is nervous, he never steps back from a challenge. "The day I landed in Goa to join the Institute of Hotel Management, I checked my luggage at the cloak room, and went around looking for paying-guest accommodation. I didn't find any, and ended up spending my first night in Goa sleeping on the railway platform." The 48-year-old looks back at his youthful recklessness with a smile—including the ragging he faced in college and the spats that he got into. When an argument with a college senior escalated into a brawl, in an act of self-defence, he lashed at the guy's hand with the chef's knife. He was immediately transferred to the IHM in Lucknow where he graduated from in 1995 without much ado. Though Bhatt didn't have extraordinary grades to parade, he had amassed steely purpose in spades. "I already knew I would be running my own successful business someday, even though I was rejected in all the campus selection drills."

Despite many interviews, his first job continued to evade him. Finally, he landed one as a waiter in a five-star hotel in Delhi. "I kept applying for international opportunities. When I received an offer from a hotel in Dubai, I was so thrilled that I nearly flung my resignation letter at the manager's desk." He hadn't imagined then that he'd soon be struggling to keep himself afloat in Dubai with the pittance of $200 paid to him. "I became desperate to return to India, so much so that I finally ended up paying $1000 when I reneged on the contract I had signed on."
The next five years went past in a blur of anodyne work stints: as a fax operator in Juhu Centaur in Mumbai; as a front office supervisor in another hotel for a few months; as a salesman running the spiel for pre-fabricated structures and flooring tiles for a company in Delhi; and a couple of blink-and-you-miss-it roles at hotels in Jaipur and Shirdi—from where he was sacked following a disagreement with the manager. "We didn't get along, and he terminated my contract while I was on vacation."
Bhatt refuses to gloss over his flaws or his falls, and faces them head on—like he prefers to almost everything in life. "I went looking for a job in Mumbai, and had nothing in hand for a couple of months. Those days, I lived in a slum settlement, sharing a one-room tenement with eight guys. It was the kind of neighbourhood where one had to queue up at the common toilet. I couldn't have hoped for more with what I had in my pocket back then." But, every evening, he would sit on the sands of Juhu beach, staring at the golden sunset by the Arabian Sea, and—despite all the odds—dream of a life where he'd be calling the shots.

Life finally fell into a sedate pace for two years when he was appointed as an assistant front office manager at a hotel in Baroda in Gujarat. But it was in his next role as front office manager for Ramada Plaza Palm Grove in Mumbai when the turning point that he had been waiting for caught him unawares. "It was in 2002, when an in-house guest took a liking for me and offered me the role of group front office manager for the Neptune Group of Hotels in Kenya. I joined immediately, and four years later I was sent to Zanzibar to open a new property as resident manager. Overnight, I was living the fantasy. I moved into a villa by the beach, appointed a house maid to look after it, had a chauffeur-driven car, and had my lovely wife Vandana and our baby boy to come home to. But there was also a growing sense of restlessness that wouldn't leave me alone. I knew I was meant to do a lot more with my life."
Bhatt had spent too many years living outside his comfort zone to settle into its warm embrace. In 2007, when a friend in Dubai propositioned him to team up for a recruitment consultancy, he didn't think twice before quitting his cushy job the next day. "I instinctively knew I had to take that leap of faith. My father was so annoyed at my impulsive move that he refused to speak to me for a couple of months. Vandana, though, supported my choice heartily, even though I had to ask her to move back to India with our son, because I was starting afresh and had to hold onto our savings. Again, all I could afford was a bed-sharing space in Dubai."
Bhatt's remarkable people skills fit his new role like a glove, and his unsullied faith in life fetched him huge returns. He travelled to many countries to recruit manpower for a diverse spectrum of top-league hotels. A year later, he and Vandana decided to strike out on their own. Together, they started assisting top hotels in the Middle East and Africa with their human resource requirements. In 2008, they launched Hozpitality.com, an online job board exclusively dedicated to the hospitality industry. In the past 12 years, the Bhatts have helped brands such as Sofitel Dubai, Conrad Dubai, St. Regis Abu Dhabi, Hyatt Hotels, Armani Dubai, The Westin Dubai, The Address Hotels, Hilton Doha, Ramada Hotels, IHG Group, City Seasons, Hamra Hotels, and numerous other famed properties with their executive level and pre-opening/bulk HR requirements.
Bhatt credits much of his heady rise to the unwavering support of his wife. "The Group wouldn't have reached this far without her." His adoration is open, and his pride in her palpable. "She has seen me through many months of sleepless nights when the going was not so good, and even today celebrates our smallest achievement with great enthusiasm. She is my backbone." Vandana handles the marketing, public relations and social media initiatives of the company, and also tackles executive search and consulting efforts. "I really couldn't have asked for a better partner in life or work."
The rock-solid duo thrives on hard work and ambition. Today, the Hozpitality Group reaches out to one million hospitality professionals from over 186 countries and boasts of multiple assets: Hozpitalityplus.com for industry news; Hozpitality Events that organises top-brass gatherings for the fraternity; the Middle East Hozpitality Excellence Awards for top industry organisations; and Hozpitality Buzz – The Inside Scoop, a TV show aired in two seasons on Zee TV and Colors, which sussed out the most exciting news from the vibrant hospitality industry in Dubai.
Bhatt works 24/7. "I cannot imagine disconnecting from something that I love so passionately. Even on vacations, I am readily available on call." He confesses that he has no hobbies to distract him, except for long drives. "My wife and two sons enjoy travelling just as much. Sometime ago, we drove across Germany, France and Switzerland, and checked into small motels along the way. It was fun." His family is now settled in Canada, and he spends significant hours in jet lag travelling between two continents. "I am quite the hands-on dad with my sons," he says, and then adds with a chuckle, "maybe a little too hands-on. I am sure they want me to ease up." For now, there is no stopping the proud father who loves sharing videos of his musically inclined teenage son Aarav. "I want him to follow his heart and his dreams just like I did."
Bhatt is not done with his bucket list, though. Someday, he hopes to snag a role in a movie: "I love the limelight. Who knows, I might just go ahead and perform on the big screen." It's not hard to imagine that when he puts it that way—especially when he tells you that 25 years ago, he was rejected by the Taj Group of Hotels during campus interviews, but recently his company Hozpitality Events organised an industry pow wow for general managers, human resources, training and finance heads at the Taj Palace Hotel in Dubai. That may be a case of destiny and life coming full circle for some. But for Raj Bhatt, it's only his story of pure chutzpah that got him this far.