Interview by Shagufta Patel | Written by Bindu Gopal Rao
His Instagram bio reads, "Assistant Vice President Worldchefs 2016, President Emirates Culinary Guild, Culinary Director Radisson Blu Dubai Deira Creek, International Judge level A." But Chef Uwe Micheel is so much more than these words; his enigma hard to capture in a sentence. The love, respect, and the influence he commands and yields in the hospitality industry around the world are evidence of the person he truly is. We met the culinary legend and leader to get an insight into his fascinating journey as a Chef nonpareil.
Born in Celle, a city in North Germany, Chef Uwe grew up on a farm in the village of Bargfeld with only 150 inhabitants, and a large family with five siblings. "I learned to work hard from when I was very young, and at that time, while I never enjoyed it, it has helped me greatly in my career as there are no holidays in the field of hospitality." His formative years spent on the animal farm lay the foundation for his career. At that time, there were no gadgets, "not even a telephone," as he puts it, and a young Uwe itched to live his life differently, with dreams of traveling the world.
His interest in the culinary arts revealed itself early on. "Rather than ride a tractor, I liked watching my grandmother work in the kitchen. I wasn't too fond of the smell of the oil from the vehicle but loved the aroma of cooking oil and the smells in the kitchen. So, I decided to be a Chef." He is the first in his family to be a Chef and credits his mother's cooking genes for his inclinations.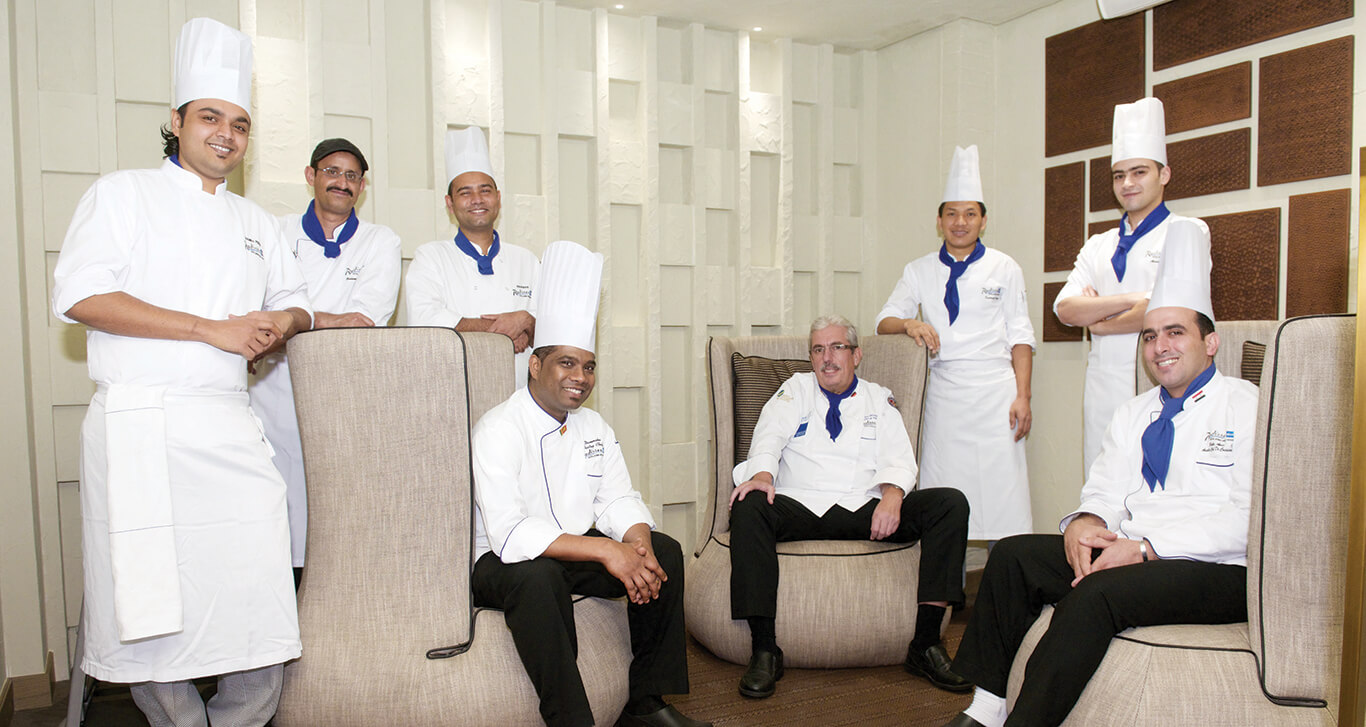 For someone who has visited over 60 countries as part of his job, life seems like a polaroid snapshot of his boyhood dreams. He set off with a three-year apprenticeship as a restaurant chef in Celler Hof near Hanover, where he juggled five days of the week at the restaurant, followed by one day at school. He then worked for a year at the hotel Schwarzer Bock, followed by serving in the army for two years. In 1981 he joined the InterContinental Hotels Group in Berlin, then quickly moved to Hyde Park in London, working at Michelin Star Restaurant Le Souffle as Chef de Partie Saucier, commonly known as station chef. What came next was a three-year stint in Bahrain and then a relocation to Korea to open the Grand InterContinental Seoul. He later joined as the Executive Sous Chef at the Yokohama Grand InterContinental when it was inaugurated.
No Sweeter 'Desert' Than Dubai
Chef Uwe moved to Dubai in January 1993, where he is currently Director of Kitchens at Radisson Blu Hotel Dubai Deira Creek, having enjoyed a loyal partnership with the InterContinental Group all along. "One of the reasons I was brought here was to open a Japanese and a French fine dining restaurant, as I had enough experience in both the cuisines."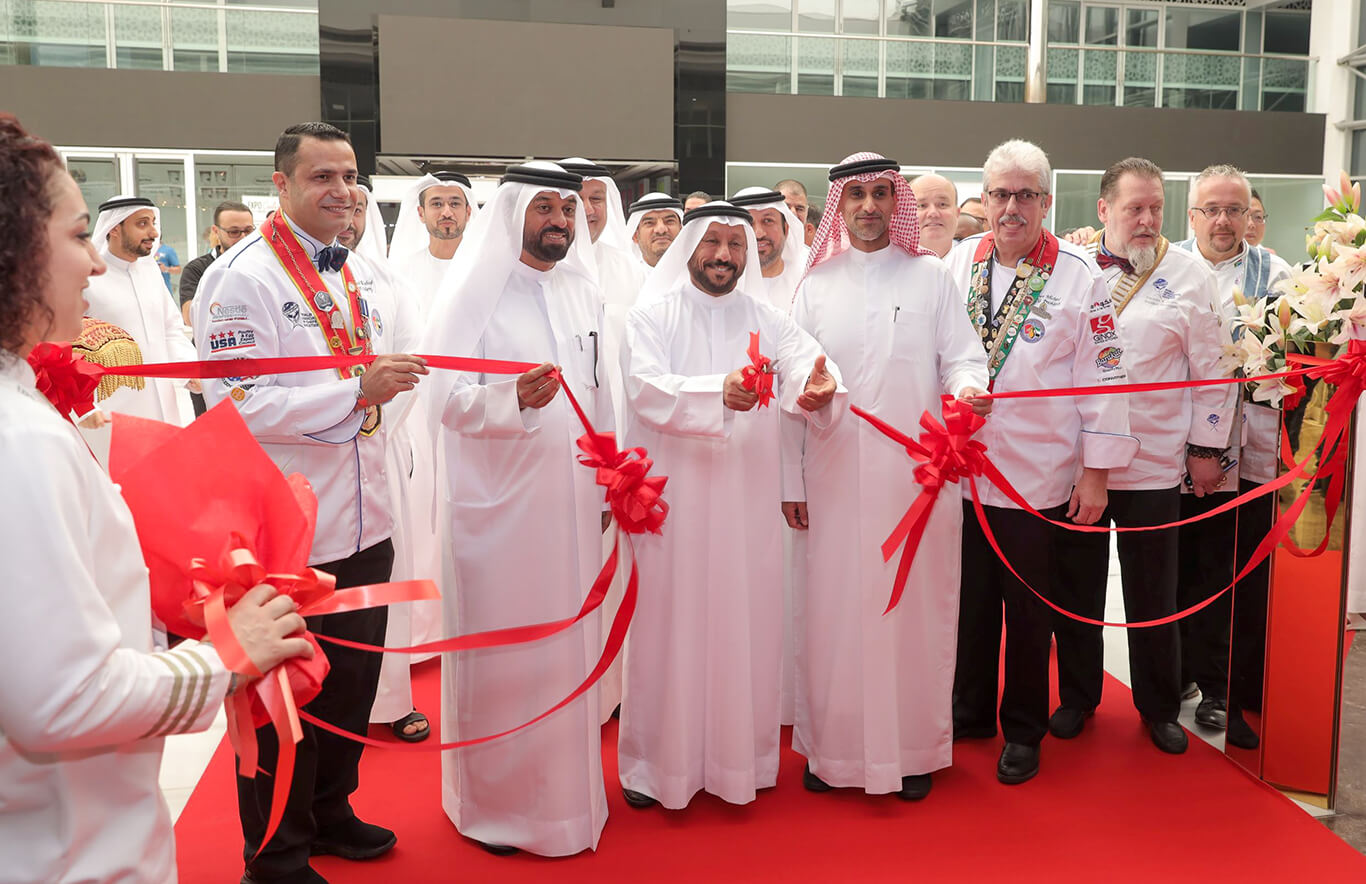 Quizzing him on what has kept him in Dubai for almost thirty years now, he says, "When I was moving countries and places initially, it was because I thought I knew everything about that place and had to move on. Of course, that is not true, and I learned it over the years. But when I came to Dubai, everything was moving very fast, and only Shanghai came close to this pace. When you are on a path of building something and you see it growing, it gives you so much energy. When I came to Dubai, things were very different on the culinary front. Earlier, we travelled to Singapore and Hong Kong to learn about restaurant design and menus. Today I see people come to Dubai to take notes on the same. There is no cuisine that isn't available in Dubai; it has everything."
His stint with the Radisson Blu has been nothing but commendable. He kept the culinary team of his branch after the hotel rebranded from Intercontinental to Radisson Blu Hotel, Dubai Deira Creek. Alongside, he has been actively involved in renovating and re-launching 'Shabestan', its Iranian gastronomic offering. Along with being the first and oldest five-star hotel in Dubai, the Radisson Blu Hotel Dubai Deira Creek also boasts of being among the first hotels which achieved the HACCP certification under his guidance.
As someone who is largely credited with putting the UAE on the culinary map of the world, Chef Uwe lavishly praises his team. "I was fortunate that I had good people around me who allowed me to do what I wanted to do. The culinary world is all about sharing and what we can learn from others. We brought many food concepts to Dubai that were doing well in other countries. In our industry, it is most important to understand what the guest wants." He firmly believes that businesses thrive not only by understanding the customer's desires but also of the team. "Hire the right people, build the team and motivate that team is the three-fold path to success in any business. For me, it is very important that there is a personal touch in a restaurant or any business for that matter."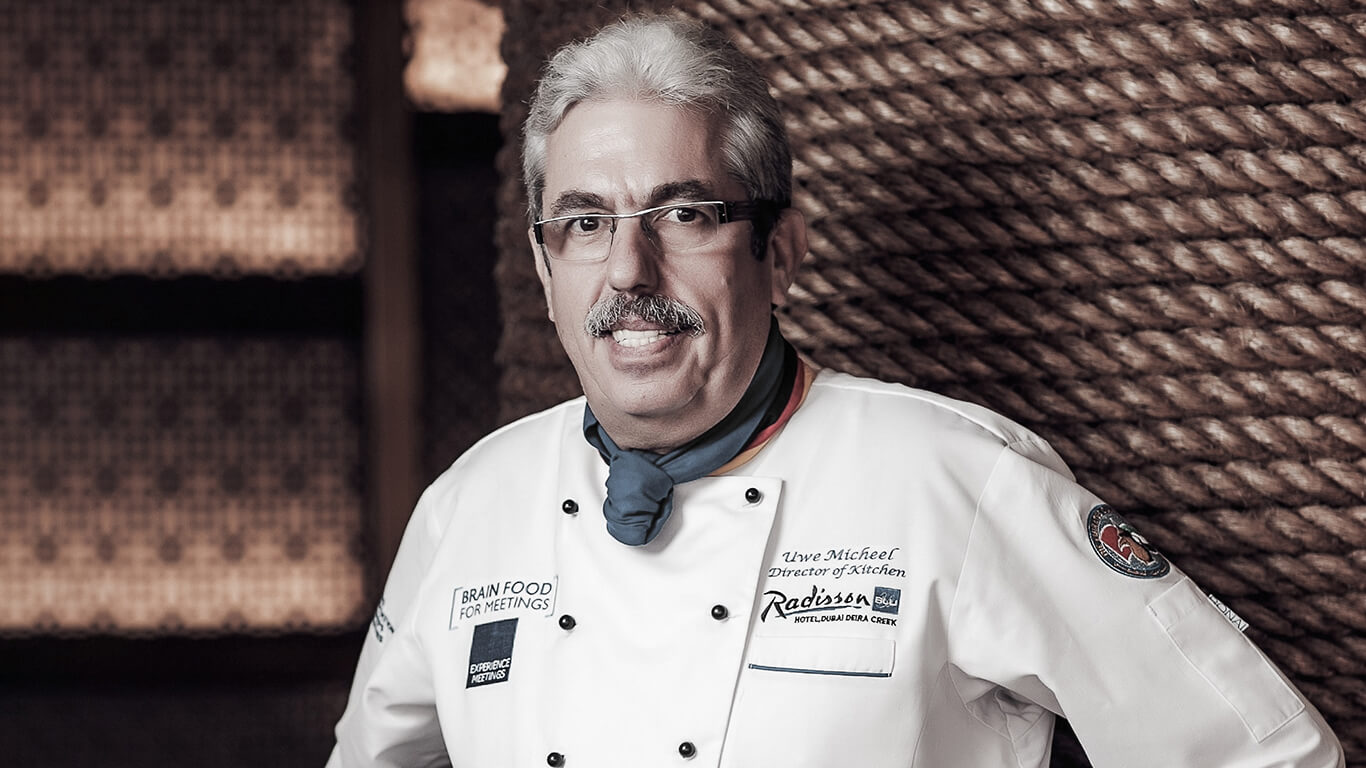 Commenting on the shifted perception of 'cheffing' as a profession, he concurs that there has been a significant shift in people's outlook. "Ingredients and equipments have changed, and guests have new demands now, and we need to work around this, which comes only with acquiring the right knowledge and technical skills." And while pay scales in the industry continue to stagnate, he points the reason to the restaurant business operating on thin margins. "The cost of managing a restaurant is quite high, and it is only when they run to full capacity, it works as a profitable business. Currently, a cap on occupancy at 50 percent hits the business hard." Naturally then, his advice to people who want to enter the food business comes from decades of experience – "Be ready, make sure you do enough research and have the correct knowledge. The location of the restaurant is important, as is the city of choice. Also, no restaurant makes money from day one, so you need to have buffer cash to pay your suppliers." With changing times, he says that his style of managing a kitchen has changed too. "I look at the team as a family, and instead of saying there is a problem, I say it's a challenge and the solution will come from someone in the team."
Magnanimously called the 'Father of Chefs', he admits he is proud of the title as it speaks of recognition and respect of the team around him. "For many of our young chefs who stay away from their families, we become their family. And for any problems that my boys have, they come and talk to me as they trust me, and this is an important part of our work life." Mentoring chefs across his fraternity has led to lasting friendships across the world, and he credits his success to having an understanding partner at home. "My wife Annette has been very supportive all throughout," he says, acknowledging the patience and backing she has shown with all his plans.
In his sparkling career, Chef Uwe has won several awards, notably leading the UAE Team in IKA Culinary Olympics 2020 in Erfurt, Germany, as Team Manager, with 27 Chefs from all over UAE. The team won 21 Gold Medals, 16 Silver, and 8 Bronze medals. In April 2019, he was awarded 'Lifetime Achievement in Leaders in Hospitality Awards, 2019, by Hotel & Catering News Middle East and was awarded 'Inspiring Chef Leader of the Year' Middle East Chef Excellence Awards the same year. "Awards mean a lot as I see it as a way of recognizing that what I have done is correct. Every award is an acknowledgment of my efforts." However, winning 'Best chef' in hotel operations under a corporate brand in Paris in 2002, when he was just an anonymous boy in Dubai and was pitted against many eminent names, remains his fondest commemoration.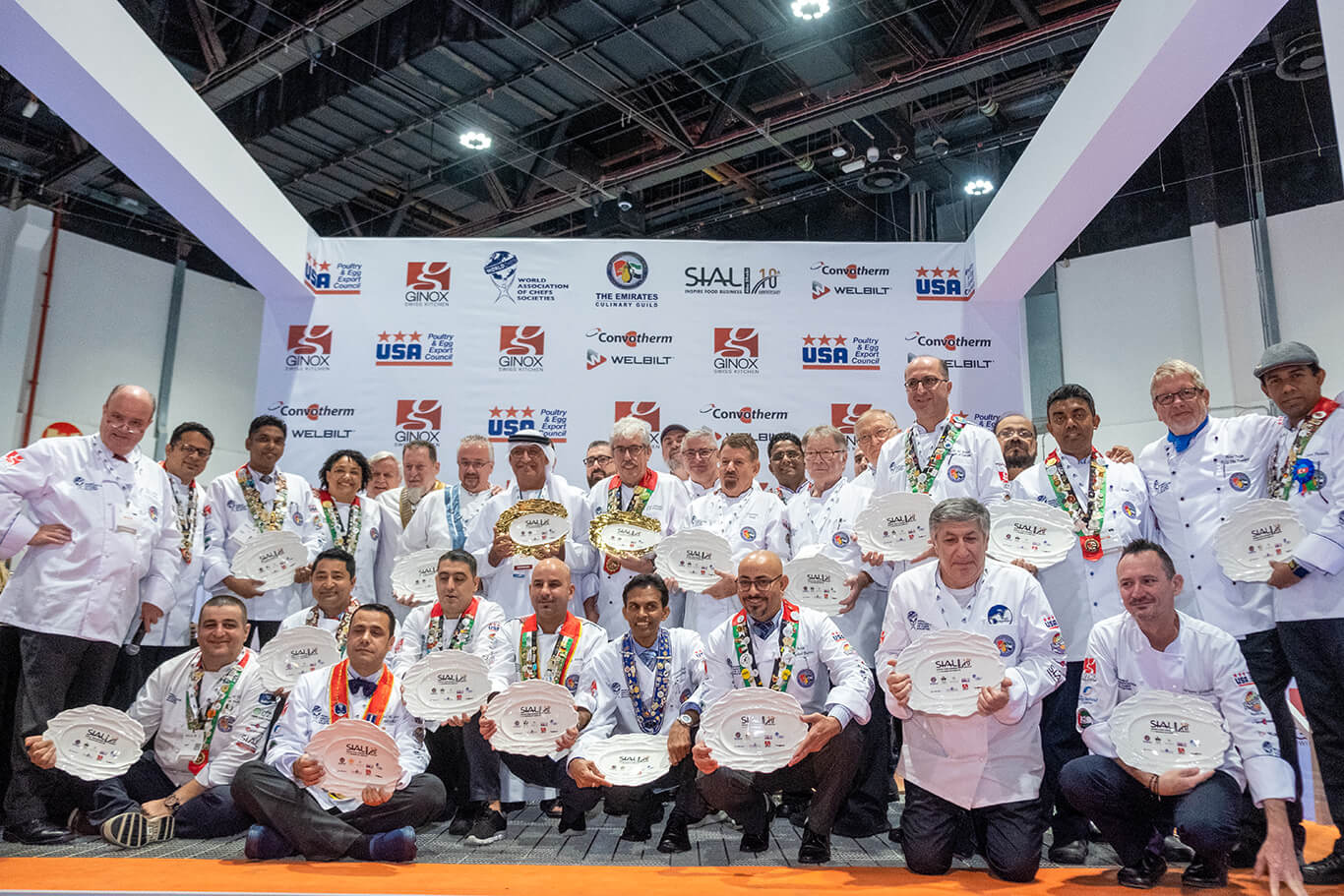 He also holds several Guinness World Records under his belt – Largest cake in the world, World's biggest pasta bowl, World's biggest biryani bowl, World's highest number of rice dumplings, World's most different desserts on display, World's biggest cup of 'Karak Chai'… to name a few.
Chef Uwe was also instrumental in starting The Emirates Culinary Guild (ECG), an association of professional chefs of the UAE dedicated solely to advancing culinary art in the UAE and enhancing the culinary prestige of the UAE internationally. Chartered and endorsed by Worldchefs in 1994, the guild with a strong membership base of over 2000 chefs has an international culinary focus and multi-national support for staging various competitions, seminars, and events. It also aims to encourage nationals to consider a career within the hospitality industry.
Of his many glorious achievements, the most important milestones of his life, he admits, was when his sons were born. Both his boys are currently in Germany, one a successful Chartered Accountant and the other gaining foot in Food and Beverage in a hotel. A family man, he insists that it is essential that the young generation respect their family and where they come from.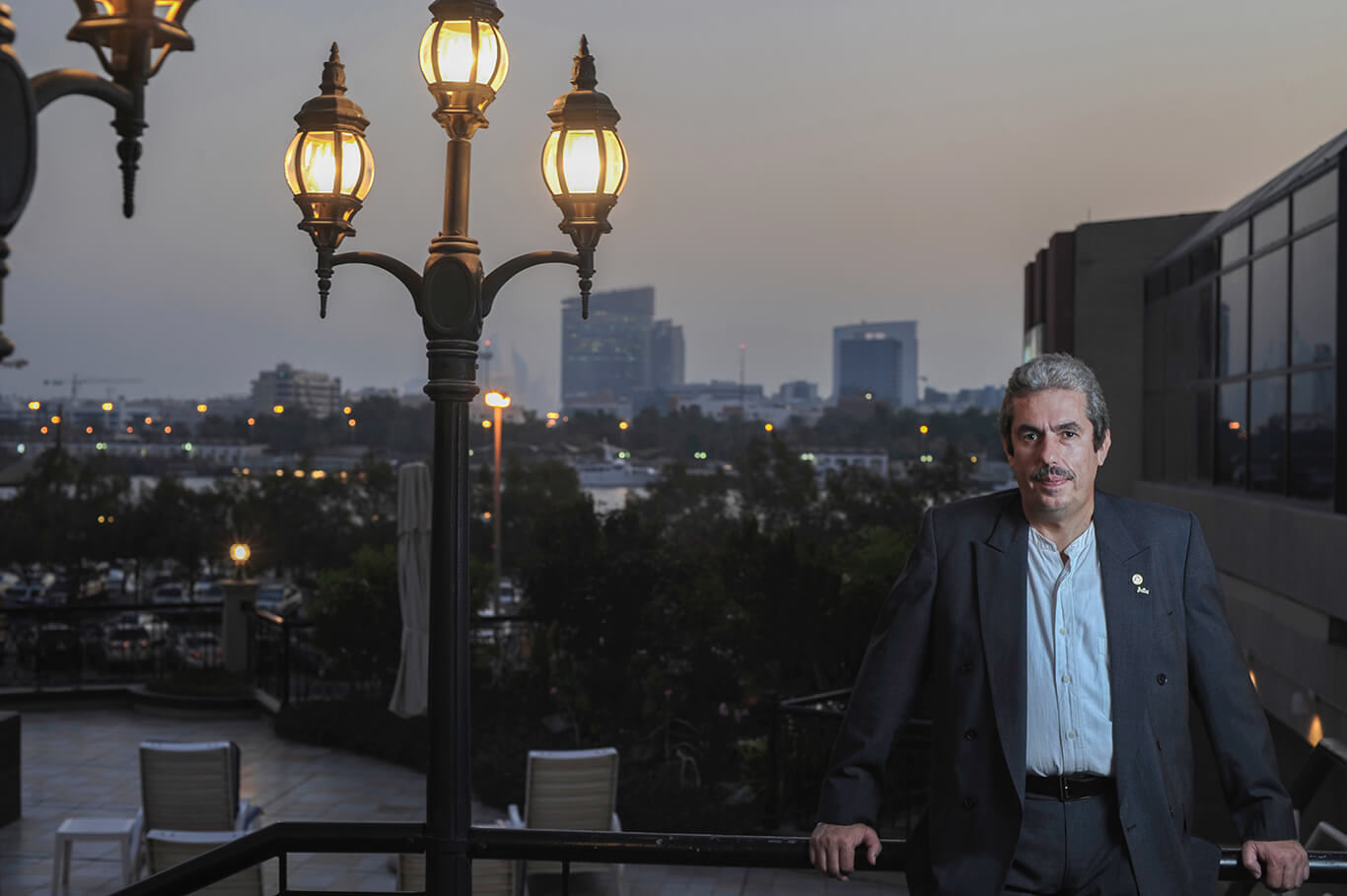 As President of the Emirates Culinary Guild, he oversees numerous culinary competitions too. "I see competitions as a way of learning rather than to win a gold medal. It is important that the person who has competed has enjoyed, learned something new, and made new friends. The awards will come eventually."
It would only be right to say that mentoring is in his blood, and that is what motivated him to envision and support the UAE's first-ever culinary scholarship program – the annual 'One Million Dirham Continuing Education Award' for the young industry chefs in the UAE, a first-of-its-kind innovative industry education initiative undertaken by the International Centre for Culinary Arts – ICCA Dubai.
Not the kind to be confined to the hearth alone, Chef Uwe started the Gulf Gourmet magazine that produces ten issues each year to be used as a communication tool and to document the commendable work of the chef fraternity in UAE. It is the official magazine of the Emirates Culinary Guild, recognized by Worldchefs.org, and is the leading magazine for professional chefs in the Middle East.
"The magazine focuses on chefs and the events and competitions we are doing in the region. For me it was a tool for my corporate partners as a source of marketing. However, now things have changed as social media has taken over." He is clearly not impressed with followers and their count as for him what matters more are 'real people' on the table.
He has also penned two cookbooks, his first being the 'Chef At Home. The second book he wrote – 'Flavours of Dubai' was awarded 2nd prize in the 'Best Chef Author' category at the 22nd Gourmand World Cookbook Awards, 2017. The cookbook brings together traditional Emirati and other modern recipes using locally sourced ingredients, and a historical insight into Dubai's culinary metamorphosis.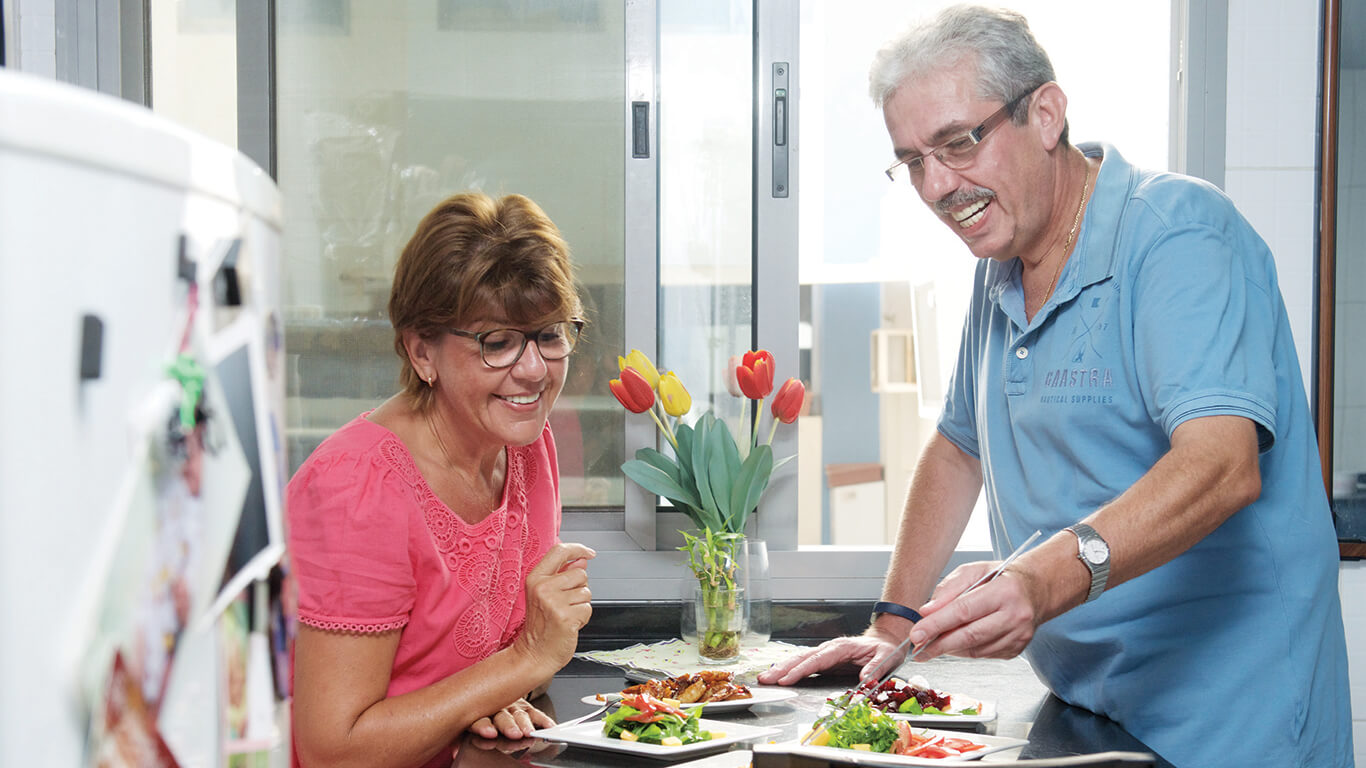 Cooking Through The Storm
The COVID-19 crisis has not caused a personal setback for Chef Uwe, as he has made progress on other endeavors during this time, which took a backseat otherwise. "Teams have been cut down, and the way people work at restaurants has naturally changed. The biggest change for me was that I could not travel and had to cancel all the events I had previously committed to." Mostly confined to his home, he trooped to the restaurant every three weeks to motivate the team to keep going.
Since mere motivation would not cut it, as the situation was bleak, he took to ECG's YouTube channel, which only had 143 subscribers at that time. "We did virtual cooking competitions and started with one where anyone could send us a video and we gave out simple prizes for the winners. Soon, we had sponsors and did over eight competitions, and now we have over 6000 subscribers after a year, which has been an organic growth, and we hope for it to keep growing," he says, beaming. 
Televised cooking shows are a rage, and his take on them is blunt and straightforward. "Half of the television cooks cannot cook, but they are good entertainers. Many of them are good in front of the camera only, and I can tell you they cannot cook. The ones who are good at both have a great marketing team behind them. However, it has helped our industry get more acceptance, especially during the recent times."
Chef Uwe has an indelible optimism about him, an antidote as the hospitality industry trundles through trying times. "If there is something positive that came out of COVID-19, it is that families are now cooking together as a single entity. Food has a great binding quality," he says.
For someone whose culinary journey started in 1975, the last 46 years have been full of positive and not so positive experiences, his words are tinged with this wisdom – "You have to seek knowledge as no one will come to you. It's an advice I give to all young chefs. The more you seek, the more you get. Just be open-minded and you can gain from everything as you are never too old to learn."
He has a philosophical bent of mind and believes that doing good will give you good. "Not all days are the same, but I think you must wake up feeling positive, and you will have a good day. I believe that we are responsible for what happens to us. If we can handle situations positively, life is much easier. I learn from other's mistakes and make sure that I don't make them. I am a realist by nature, and I have always done well when I listened to my inner voice." 
He feels that cooking is about being who you are. "In the kitchen, you can be yourself and be creative. When I cook at home, I never make the same recipe twice as I just cook with what I have. And when you do not follow the rules, it makes an amazing dish."
For Chef Uwe, food is akin to music, and it changes with his moods. He is fond of cooking with fruits. "A good German sausage is something I love though. Even a good bread with a nice sauce is fine with me and I do not need meat. It's a myth that chefs need elaborate meals; in reality, it is the opposite." For a man of his stature, his needs are pretty simple. 
All set to retire soon, he shows no signs of slowing down anytime soon, which is to the benefit of food enthusiasts. A YouTube channel is in the works, continuing his penchant for food and connection. "During the lockdown, my wife filmed me making many dishes, and I hope to use the channel to do my own thing and keep in touch with people." He likes to watch football and play board games with his wife in his free time, a luxury he is now afforded due to a less busy schedule.
Is there anyone he is inspired by? "There have been many chefs – from some I learned how to cook, from few others I learned how to manage and connect." Chef Uwe's life mantra has held him in good stead, as it would do us all, if we drink it up – "Never give up, and never let anyone decide what you have to do with your life. If someone pushes you, get up and work harder."