Today's environmentally-conscious consumer is very aware of the drawbacks of owning leather or fur and as a result we have the ever-growing popularity of cruelty-free, vegan alternatives. The industry that once thrived on fur and animal products is undergoing a drastic revolution that has transformed the fashion landscape globally. The vegan trend has not only been dominating the fashion landscape but is fast making its mark in other walks of life as well.
Leather goods are a part of our everyday life. Consciously or unconsciously, we are surrounded by leather products. However, the traditional leather industry is notorious for having a less-than-positive impact on the environment. From billions of cows slaughtered annually to hectares of arable land given over to livestock farming and deforestation to destroying entire ecosystems, the industrial production of leather have been fairly devastating for the planet. Followed by the three-step process involved in producing the final product – preparation, tanning, and crusting — which are known environmental pollutants, this industry is ripe for change and this particular load on the planet bears addressing.
Veganuary – which stems from the growing veganism trend, is an entire month dedicated to the use of cruelty-free, environmentally-friendly trends. Retail data company, Edited, published a report on the rising popularity of vegan fashion titled 'Veganuary: strategies for success,' which sheds light on the rise in vegan behaviour patterns. For example, the global vegan industry is expected to grow at a CAGR of 7.5%, valued at USD 97 million, by the year 2027. The growing concern for animal welfare and environmental hazards posed by the traditional leather industry have given rise to a range of environmentally sustainable options in cruelty-free, vegan leather in response to an increased demand from the market.
Just like the proliferation of social media and digitalization in all walks of life, veganism is a trend that is fast trickling down into our lives and making its impact felt. Innovative vegan alternatives have fast gained momentum, and designers, artisans, fashion brands, and automotive companies have jumped on the bandwagon, influencing people to stay ahead of the vegan curve. The concept of vegan leather is not alien anymore. The rate at which big fashion connoisseurs are adopting this trend and promoting its use has been a blessing to the planet's groaning eco-systems.
The fashion industry has made the bold and conscious decision to finally put an end to this vicious cycle and own the environment. With high-end brands like Nike, McCartney, and Tesla opting for cruelty-free alternatives, there could be no better way to propagate the trend for cruelty-free leather and show the planet some love. Partnerships and collaborations with sustainable companies using plant-based raw materials to make leather have led to a paradigm shift in the leather industry.
Fashion brands championing the cause of veganism have been a turning point for the leather industry. The best part about this entire veganism trend is the willingness of the consumers to whole-heartedly be a part of this environmentally-friendly and sustainable alternative industry, as reported in a survey by 'The Vegan Society'. The study reported that 73.5% of the target population was ready to pay a premium for plant-based leather goods as compared to animal leather.
The world of alternatives in the vegan leather industry
The vegan leather industry has redefined creativity and innovation from cork, cacti, pineapple fibre, palm leaves, and apple scraps to Mycelium. Let's delve deeper into what each of these alternatives presents us with:
Cacti: Who would have thought this prickly plant could be a raw material for vegan leather? Marte Cázarez and Adrian López Velarde were the first to develop a unique kind of leather named Desserto: made from the leaves of the Nopal cactus, popularly known as Prickly Pear. This alternative to animal-based leather was soon adopted by the top retailers in the leather-good industry with the likes of Fossil, Karl Lagerfeld, and Everlane joining its fan club. The almighty Mercedes-Benz has taken to incorporating faux-leather, Deserttex, into their electric concept car.


Pineapple: Who loves Pineapple? We do! Pinatex – a cruelty-free leather made from the fiber of pineapple leaves is a fabulous example of sustainable design thinking. Ananas Anam has the onus of spearheading an innovative natural textile from the by-product of pineapple leaves. High-end labels like H&M and Hugo Boss have embraced Pinatex as a vegan leather option and utilized it across the fashion industry along with a thousand other brands are a part of this pineapple revolution.


Palm Leaves: What better way than to utilize the by-product of something to create an entirely new, stellar and environmentally-friendly product? The brittle and dry leaves of Areca Betel Nut are dipped into a biological softening solution, making the material malleable enough to be turned into palm leather and, ultimately, different products. Palm leather offers a genuine replacement for plastic, rubber, and animal leather. The upgradation of this natural fiber helps add value, increasing the functionality and versatility of the final product.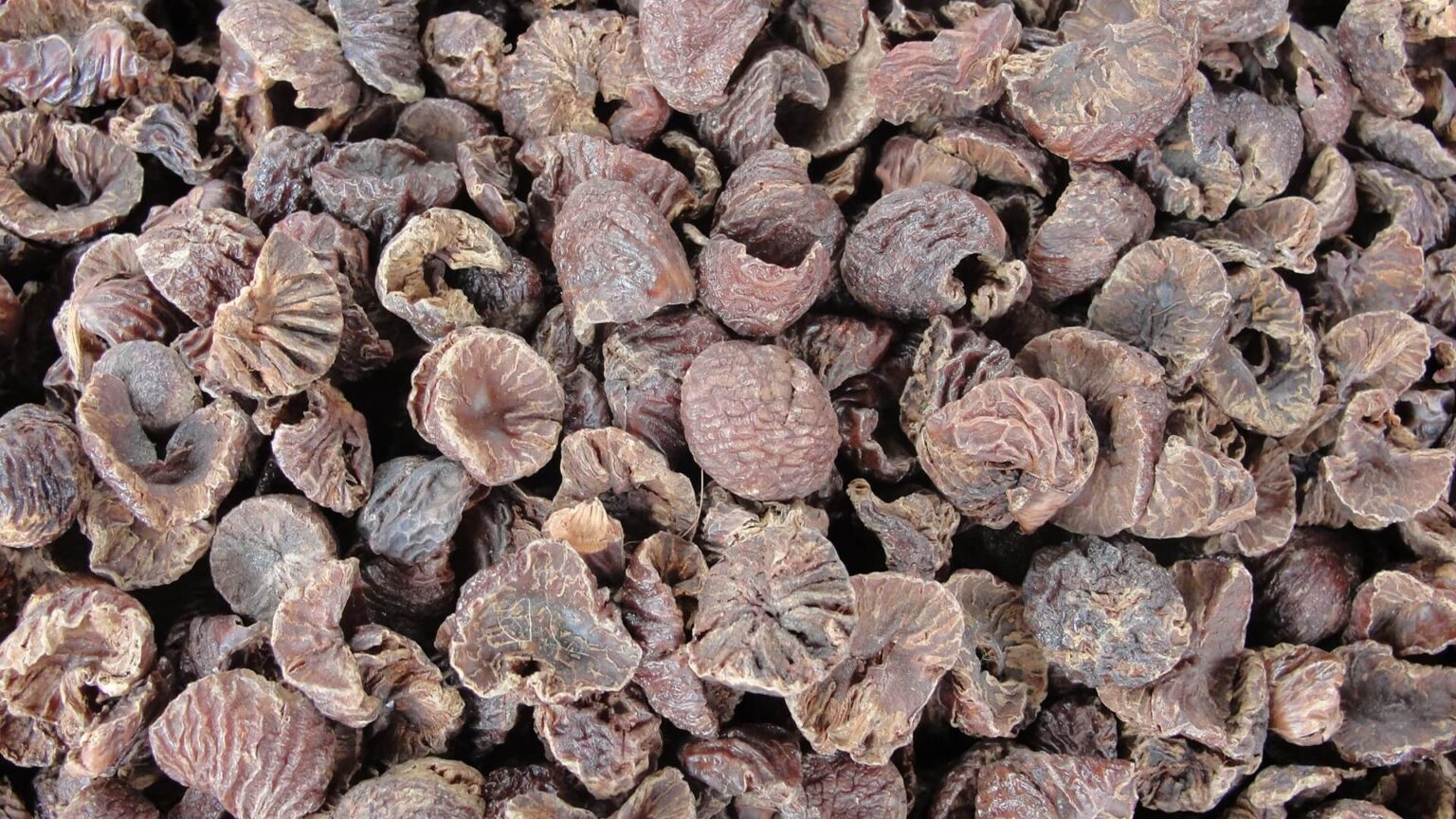 Mycelium: Fine Mycelium promises to 'unleash a new era in materials' says MycoWorks. This company has patented this technology to biologically engineer mycelium cells to form 3D structures that are innately strong, intertwined, and densely packed. This process happens under controlled, specialized conditions with a unique code that lays the foundation of strong material, from initial inoculation process until harvesting. The entire dynamic process of utilizing mycelium cells has introduced a one-of-a-kind natural material with unparalleled durability, being environmentally safe, with the versatility of customization ease.

Apple Skin: A three-layered, rugged, and durable leather alternative called Leap has taken the vegan leather industry by storm. Beyond Leather – a company based in Copenhagen, has been producing a plant-based leather alternative from apple waste and natural rubber. This apple-based version of leather is also doing the environment a big favor by utilizing only 1 percent of the entire water that goes into the traditional leather-making process.


Some notable big labels that are riding the vegan leather wave are worth mentioning as they lend their impactful brand presence to the validity of faux leather as better alternative for the fashion and environmentally aware.
Tommy Hilfiger: Who has not heard of this American fashion giant that now uses premium quality leather processed from recycled apple peel fibers? Frumat was the one who pioneered this Appleskin fabric which aimed to reinvent apple waste. Their sustainable sneaker collection was a portrayal of this green alternative.
Chloe: The Parisian label, Chloe, followed suit and launched an inspiring collection of vegan leather mini bags and pouches, targeting the millennial generation and Gen-Z of today. Testament to their knowledge of changing customer trends and a nod towards raising standards in the world of haute couture.
Hermes: Known for its exotic leather bags, Hermes ventured into the vegan territory with a resolve to set a precedent in the vegan realm. Its Victoria travel bag was launched in a mushroom-derived leather alternative, Sylviana. Previously made from calfskin, this shift has undoubtedly been monumental in positioning Hermes as an environmentally-conscious brand. Sylviana has done a pretty decent job of emulating the look and feel of original leather and reducing the company's carbon footprint. Pierre-Alexis Dumas, artistic director at Hermes, is proud to be at the forefront of this initiative as she states, "With Sylvania, Hermes is at the heart of what it has always been: innovation in the making."
Chanel: The French couture house and one of the biggest luxury brands proactively took up the challenge of crafting leather products from Pinatex – a vegan leather alternative made from pineapple plant fibers. They totally banned the use of exotic skins and fur to establish itself as a sustainable brand.
This is certainly an impressive list of brands that have embraced the cruelty-free, vegan leather trend. Hugo Boss, Gucci, Balenciaga, Saint Laurent, and many others have consciously adopted this trend.
Vegan leather can justifiably be called the future of the forward-thinking fashion industry. The modern wardrobe is incomplete without vegan leather alternatives – be it jackets, purses, accessories, or other leather products. The vegan leather industry presents a plethora of alternatives for conscientious consumers and creators alike to making the transition to vegan, environmentally-conscious leather a smooth one. Leather is changing its face globally and faux leather is here to stay it seems, and about time we say!