Valentine's Day has been immortalized for couples to flaunt their love and pamper their partner with gifts. Since its first observance in the 6th century BC, it has evolved from a simple tradition into one of the most profitable shopping seasons with significant economic impact. Tens of billions of dollars are spent each year leading up to and on the purported 'day of love', making it a significant date for economies worldwide as it generates tremendous revenue in several essential sectors.
Marketers have turned Valentine's Day into a wider celebration by connecting with the consumers through experiential experiences not only for partners but for self, single friends, family, kids, even pets. This has resulted in the conceptualization of vastly interesting campaigns around the theme of love and has chalked out ingenious marketing strategies.
Cadbury – Say it with Silk
It's impossible to go wrong with a box of chocolates to enchant the person who has caught your fancy. This sweet treat's association with courtship and romance dates back to the Mayans around 500 BC. They were the first to brew cacao beans, which eventually came to ritualistic use in marriage ceremonies as the supposed "gift of the gods". Cut to 1861, Richard Cadbury, a candy-maker, was inspired to sell chocolates for Valentine's Day. And so, in heart-shaped boxes adorned with rosebuds and cupids, arose a new Valentine's Day tradition.

Today, Cadbury Dairy Milk Silk has had a long-standing and fruitful association with Valentine's Day for almost a decade with its "Say it with Silk" proposition. As words fall short to express our feelings, people turn to this sumptuous sweet instead. Mondelez International Inc., the maker of Cadbury chocolates, designed these based on the pure uninhibited gesture of love.
With the brand's strategy also come consciously designed product bundles, perfectly packed to satisfy one's sweet tooth cravings. This year, collect one of their V-Day hampers, which contain Dairy Milk Silk, Oreo bars, a customized greeting card, and a photo frame, quite a fitting Valentine's Day gift that is delightful, fulfilling, and well within a budget.
Bloom it with 1-800-Flowers.com
Flowers are a timeless motif of love. Every flower conveys a different sentiment, so flowers bound together in a bouquet form a unique, encrypted love language.
Red roses are an anticipated romantic gesture today, but it wasn't until the late 17th century that giving flowers became a tradition. King Charles II of Sweden subsequently introduced the tradition to Europe when he learned the aforementioned 'language of flowers' on a trip to Persia. During the Victorian Era, the act of giving flowers spread amongst the populace, chiefly the red rose, symbolizing deep love. Today, around 60% of men and 15% of women purchase flowers on Valentine's Day, numbers that signify a massive, and dare we say, evergreen business.

1-800-Flowers.com, an international flower and gift retail and distribution company in the United States that delivers to over 195 countries, gets 1 million new customers every Valentine's Day, needing to hire up to 6,000 extra workers to help with the onslaught of orders. CEO Jim McCann told CNN his company does about 10% of its annual sales in the run-up to Valentine's Day.
Augmenting their service with dozens of Valentine's Day flowers arrangement and gift ideas, 1-800-Flowers offers something for every taste, not to mention delivering it right to your beloved's doorstep. With their business tie-ups with complementary establishments like 'Simply Chocolate' and 'Wolferman's Bakery' amongst others, all your Valentine's needs will be met right here!
Shower your love with Ferns N petals
Another flower chain/ retailer, Ferns N Petals, has established a significant footprint worldwide in the flower domain. After solidifying itself as a market leader in India with a network of 320+ outlets across 120 cities, Ferns N Petals forged ahead to build a robust online presence in the South East Asian and Middle East market in addition to a physical presence with three stores in UAE and one in Singapore.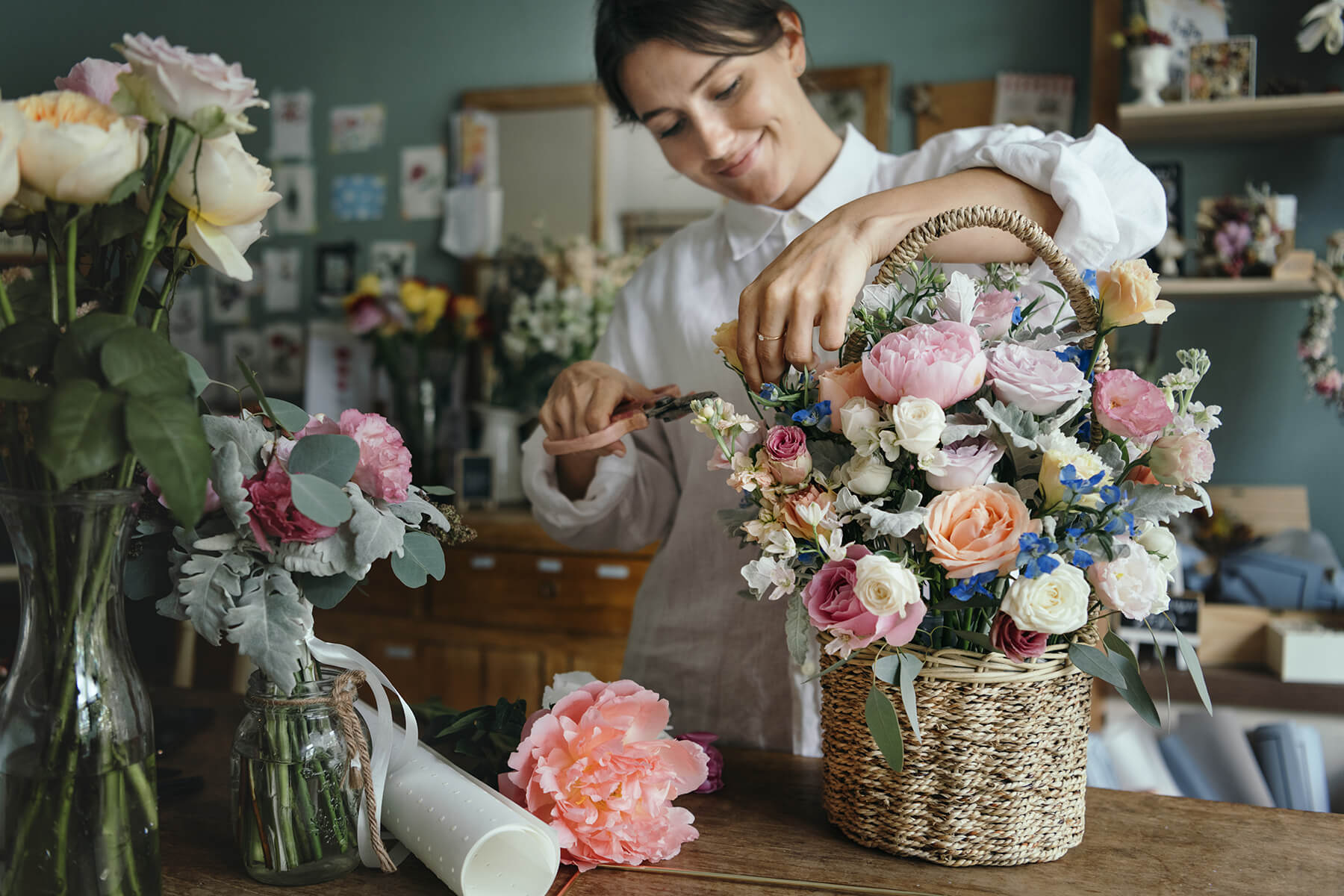 Ferns N Petals anticipates a 25 percent growth in revenue in the first 14 days of February, steeply increasing compared to other months. According to Pawan Gadia, CEO, Online and Retail, Ferns N Petals, Valentine's Day contributes 4 percent to the company's top line. "We have come up with experiential gifting to celebrate the day of love in the most romantic manner. The highlight of this season is a rose category called Forever Rose – this beautiful rose is a classic example of 'Timeless & Eternal Love'," said Gadia quoting to Financial Express.
Upping the ante on customer service, the brand has dropped its delivery time from four to two hours and now offers the option to customers to pick quotes and wishes for a personalized gifting experience.
Tiffany & Co. for your lady
We can't remember a time when jewelry wasn't the 'go-to' option for male shoppers as an expression of romance towards their lady love! According to Statista, jewelry ranked as the No. 3 option for Valentine's Day gifting last year – with candy and flowers occupying the top two.


Whether you're pampering yourself with a big shiny rock or the one who fancies you 'wants to put a ring on it', Tiffany & Co. guarantees to have you sparkling with their unique V-Day jewelry collection. Tiffany & Co. partnered with Curtis Kulig, a New Yorker artist renowned for his signature 'Love Me' manta, for its 2022 Valentine's Day campaign, titled 'Blue is the Colour of Love', in a conspicuous shoutout to Tiffany itself, whose logo is a gorgeous, almost sun-dappled azure. Bringing an expulsion of passion with the catchphrase – 'Love Me. Dare Me. Gift Me. Hold Me. Kiss Me. Say it this Valentine's Day', Tiffany & Co.'s has fine tuned a romance founded on passion for its Valentine's Day campaign this year.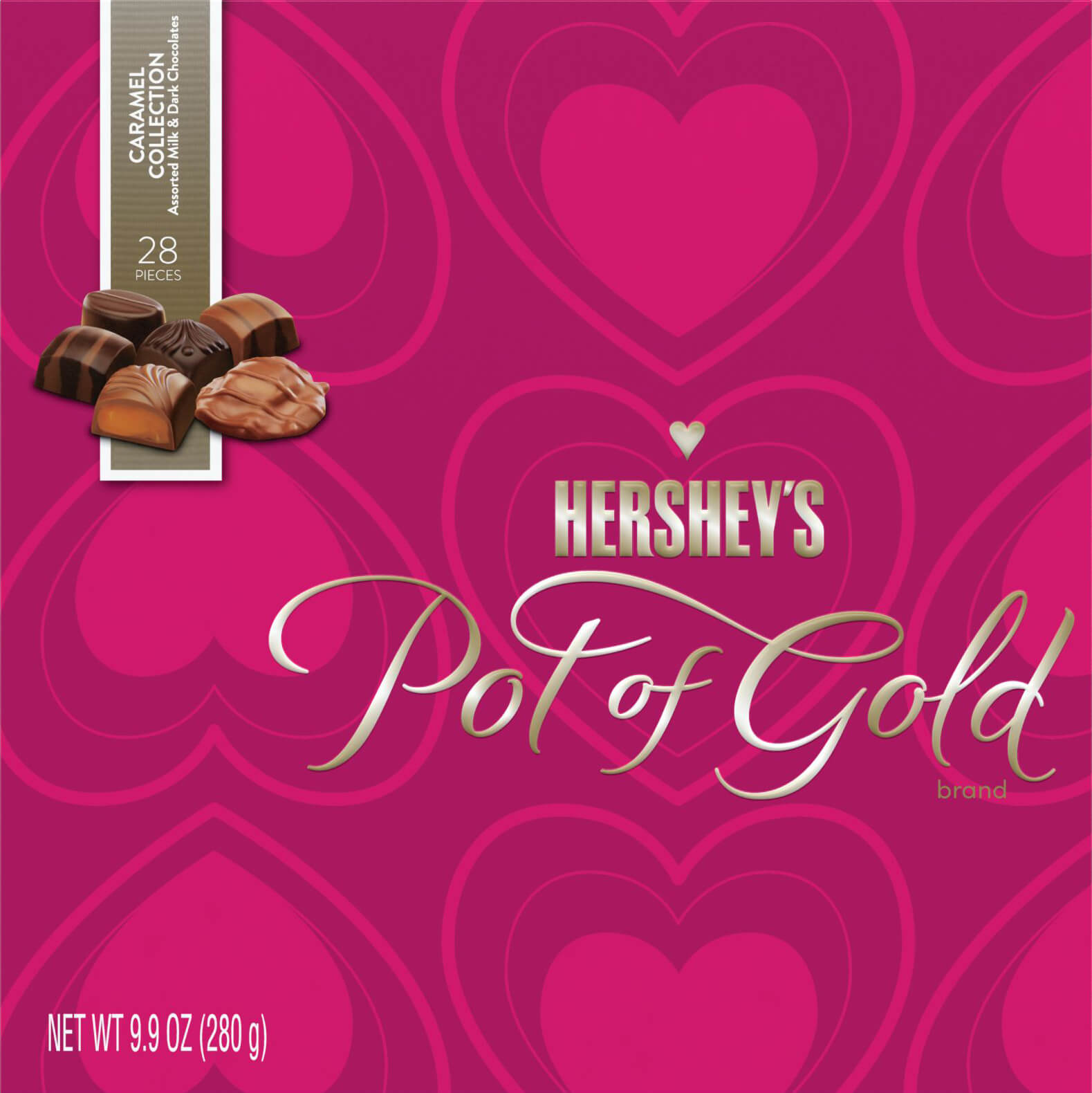 From its small heart-shaped boxes to iconic brand offerings like Hershey's Hugs and Kisses and Reese's Peanut Butter Cups to larger Valentine-themed boxes of Hershey's premium 'Pot of Gold', Hershey's knows the way to your heart with a variety of offerings. According to a company spokesman, Valentine's Day is ranked as the company's fourth-biggest holiday behind Halloween, Easter, and Christmas.
This year, the brand has introduced some new sweet delights while bringing back some good old favorites, such as Reese's and Hershey's delectable combinations, including Reese's Blossom-top Miniature Cups. Hershey hails its new offering as 'the perfect shareable treat all season long'.

Write your love with Hallmark
Valentine's cards started off as handmade designs in the 18th century, before mass manufacturing revolutionized the process. Lovers would embellish the paper with delicate motifs such as flowers and love knots, often playing with puzzles and lines of poetry. Factories began assembling paper Valentines in the early nineteenth century, and greeting card companies started cropping up by the 1850s to meet the demand for the special day and other holiday cards. Today, these cards have expanded to include family members and friends in their proclamations of not just romantic love, but affection and gratitude too.
According to Statistic Brain, a staggering 144 million people sent Hallmark cards last Valentine's Day. For more than 100 years, family-owned Hallmark Cards, Inc. has been dedicated to creating a more emotionally connected world. Typically, Hallmark designs around 900 Valentine's Day greeting cards every year.
Hallmark sends out their message – Celebrate the ones who make you feel loved. These include 'for him, for her, for kids, for us', with every possible option to convey how you feel. The brand also got innovative with a level of personalization never seen before, allowing buyers to add a personalized video message using QR codes inside one's card or have their handwriting printed inside the card.

Victoria's Secret – the V-day shop
Love comes in shades unseen – beautiful and dark, vulnerable and secretive. Love is incomplete unless you can trust someone with your deepest confessions.
"What will you confess this Valentine's Day?" became the theme of the world's most renowned lingerie brand, Victoria's Secret. The brand leverages its status as a pioneer in the fashion space, dominating the game with millions of online searches around the holiday.
Their V-Day campaign features a diverse clutch of models sporting sizzling looks from the new collection, including Bella Hadid, Adut Akech, Iman Hammam, Paloma Elsesser, and Yumi Nu. "It's a love thing. Our favorite time of year is finally here—a celebration of romance, indulgence, and you," proclaims Victoria's Secret. The lingerie brand also shared a steamy ad with the models confessing their feelings about love, including first kisses and how they perceive 'love' itself.
Completing the plethora of offerings with their ever-popular line of fragrances, makeup, and skincare, Victoria's Secret has undoubtedly stolen the coup as the Valentine's Day gift that's tough to beat!
Playing the Mind and the Heart
This day of love has emotions soaring with the desire to wear your heart on your sleeve and supersede expectations in the declaration of love. Meanwhile, those who are independent and fancy-free veer towards retail therapy, asserting self-love with purchases like solo trips or indulging in fashion. Ultimately, brands try to demonstrate how 'love' is perfectly embodied by their products.
As the pandemic redefined shopping for consumers entirely, brands have been forced to rethink their online channel approaches and are learning the trigger points for a holiday as crucial as this. The day isn't just an opportunity to woo someone; it plays into nuanced human feelings of worth, desire, acts of service, attentiveness, and emotional investment in a relationship.
According to MasterCard, a new study of card transactions from over 53 countries worldwide has revealed that the 'love economy' is growing five times as fast as the global economy, with Valentine's Day spending up 17 percent since 2017. Candidly spoken, strategic marketing and Valentine's Day are the true 'perfect match' because they both play on an imagined and desired reality.
Valentine's Day, ultimately, is just an excuse to celebrate a bond that you deeply care about. From gifts, impromptu trips, or confessions of love, there is no limit to things that one can do to celebrate this day. But no matter how one chooses to celebrate Valentine's Day, the value of expression doesn't lie in its price tag but certainly does in its symbolism.