You all must have been familiar with 'I have nothing to wear', despite having an almirah full of clothes. Research has shown that 80% of the time, you end up wearing only 20% of the wardrobe. So why do you think that this dilemma or crisis of clothes arises?
Most of you have plenty of beautiful outfits to choose from, but they often end up being hidden in a jumbled mess. Shelves overflow, hangers are twisted, and clothes, shoes, and belts are stacked on the floor. You're not alone if this sounds like your closet. To be honest, closet turmoil occurs from time to time because we are all preoccupied with other necessary chores. However, if you start each day peering into an overflowing, cluttered closet, the rest of your day may feel disorganized and hectic as well. Worst of all, it isn't easy to feel and look your very best when your wardrobe is in such a mess.
Well, one should make cleaning and organizing one's closet a priority. Cleaning out and checking your closet regularly is very beneficial for several reasons. Apart from preventing you from repurchasing items you already own, keeping your closet clean and organized allows you to put together more deliberate, intentional, and stunning outfits in less time. Furthermore, an organized closet will always help you style your outfits better. A good and presentable styling does not depend on the number of clothes you have; it depends on how you can create a look with whatever you have at hand and still look your best, feel confident too.
Let's take you through some tips and tricks on how you can effectively organize your wardrobe.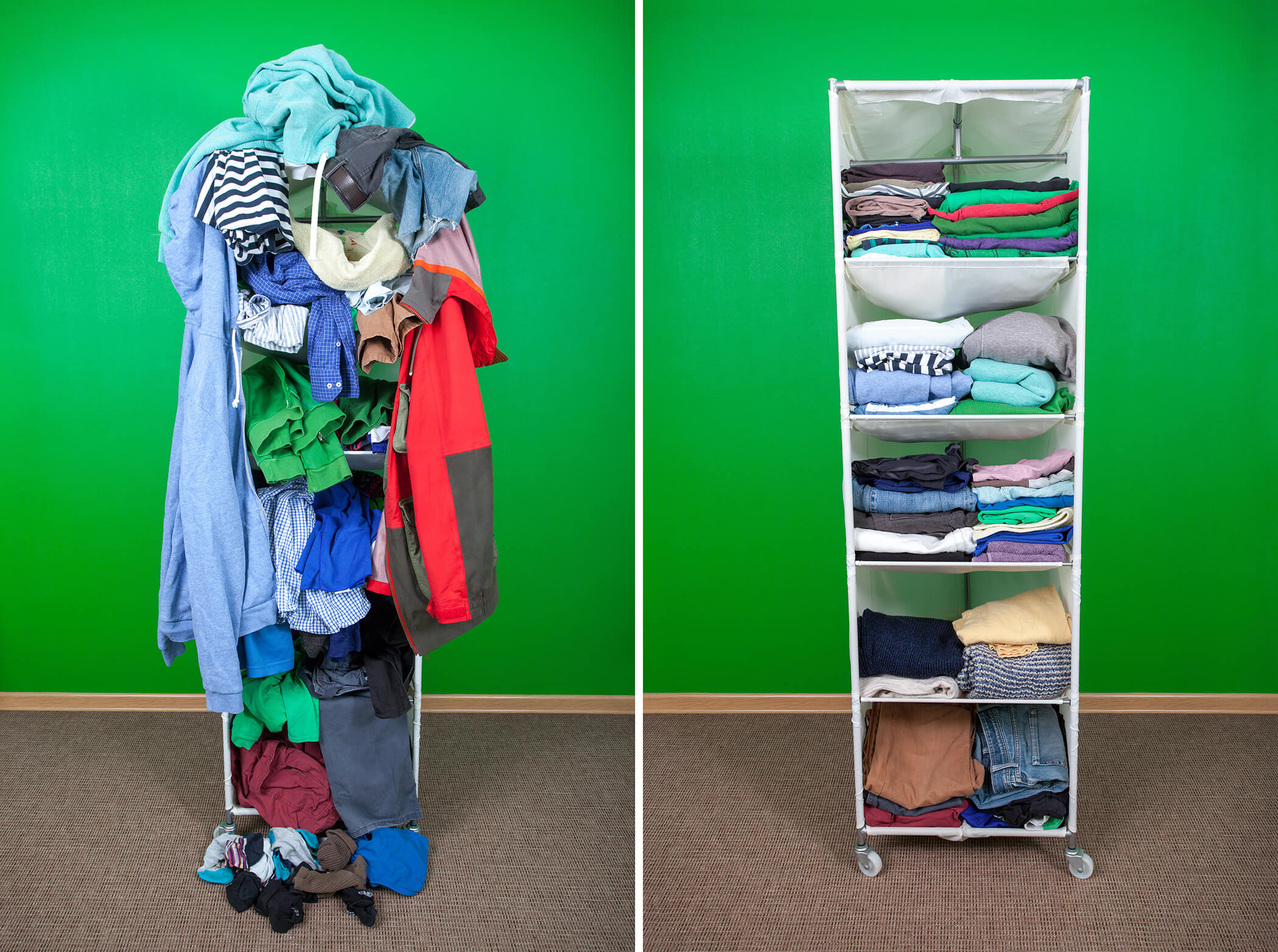 Sorting your garments by type is a quick and easy approach to decluttering them. Sort your items into several categories, such as pants, dresses, tops, outerwear, accessories, underwear, etc. Then, before moving on to the next category, sort through each item in that category.

What makes this strategy superior is that comparing similar clothes is much easier when they're all grouped together in front of you, making it easier to get rid of the stuff you know you have too much of or don't want at all. Decide to only keep the clothing you know you love and frequently wear as you sift through your belongings.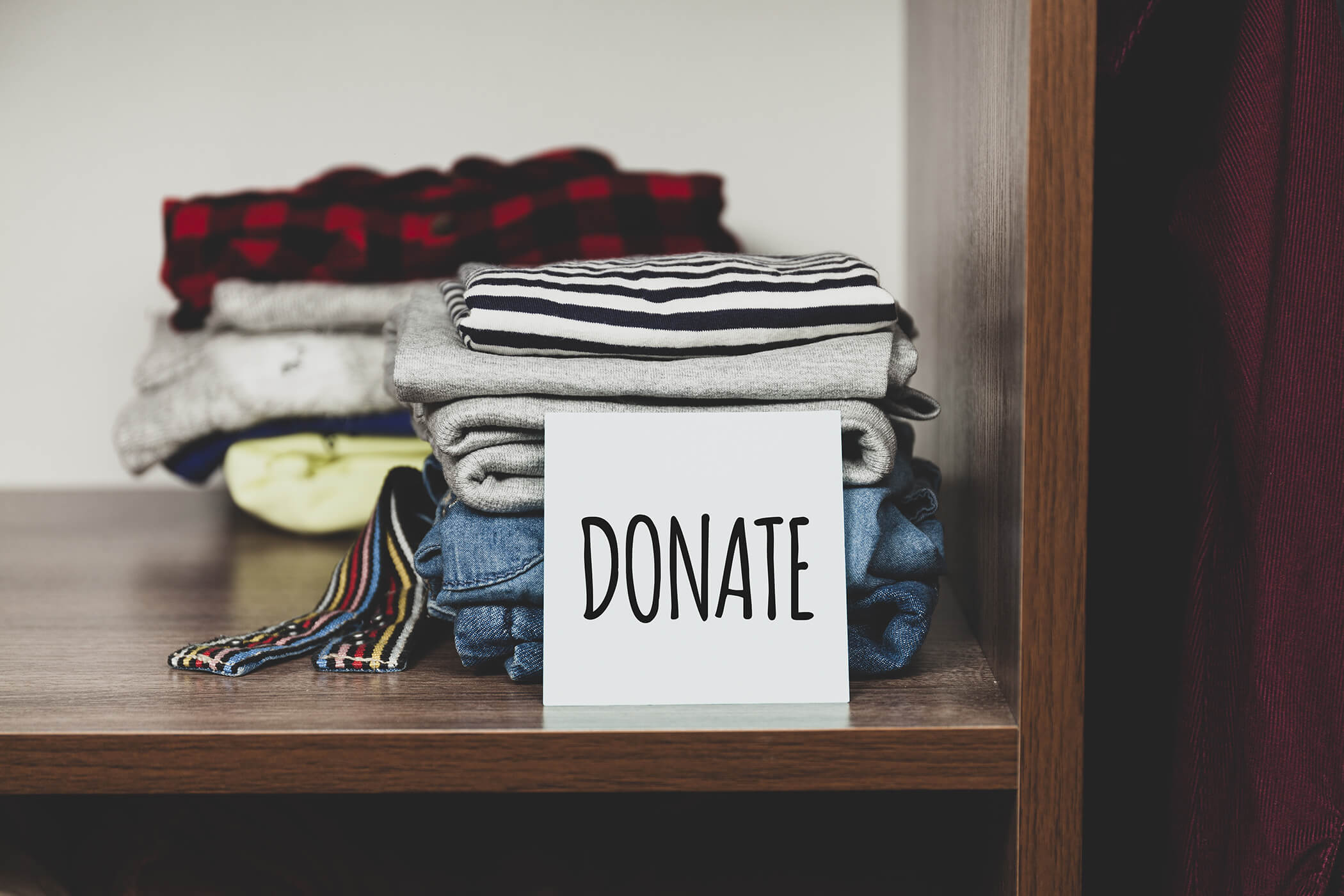 Empty and Clean Your Closet
Give your closet a good once-over and pluck out anything else still lurking inside it once you've formed distinct 'donate' and 'keep' piles for your clothes, shoes, and accessories.
Vacuuming the carpet, wiping down the shelves, and scrubbing the scuff marks and dirt off the walls, should be done frequently.
Sort your clothes into categories: Keep similar objects together. Keep all of your belts together, hang your sundresses next to each other, and keep your exercise clothing and pajamas separate.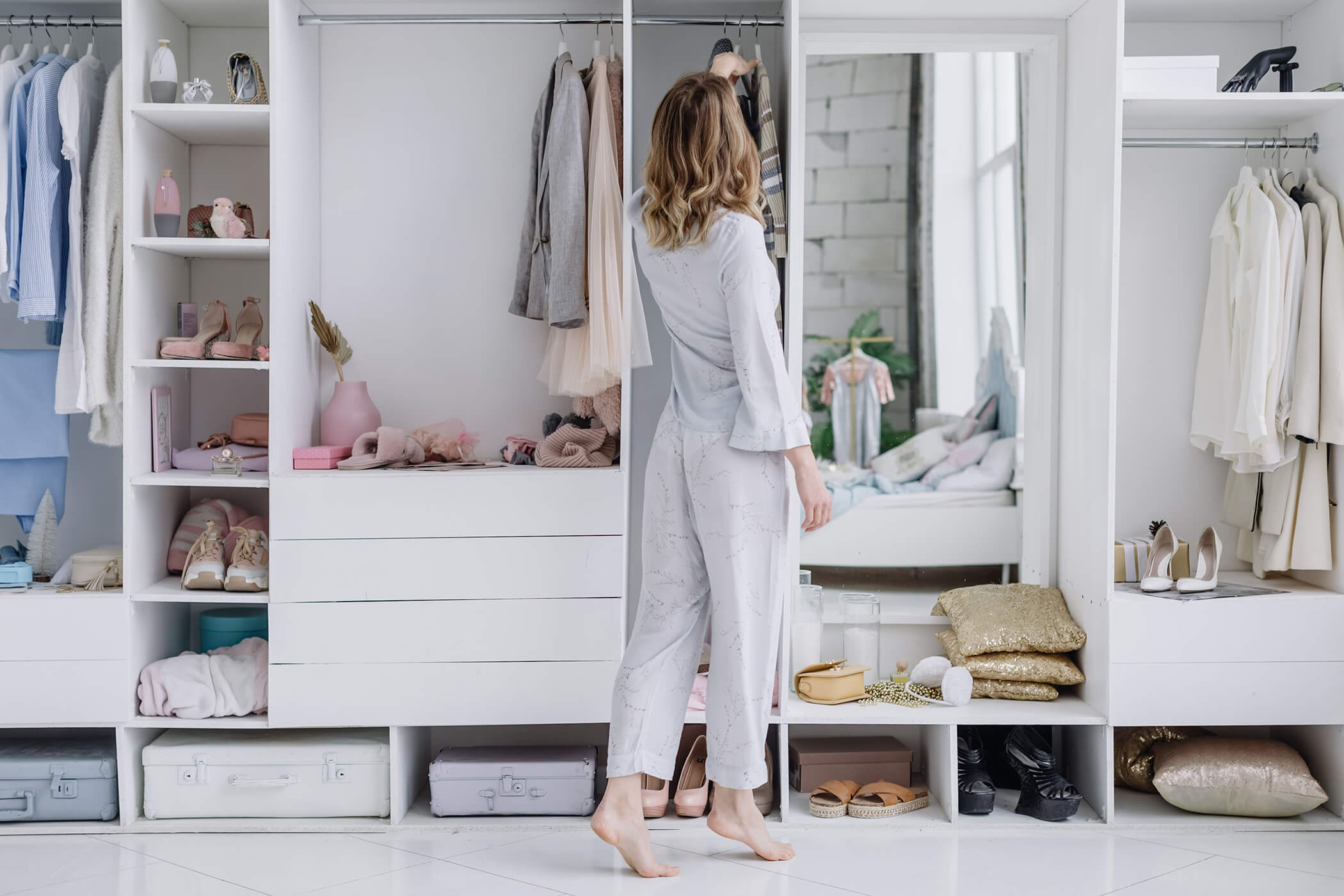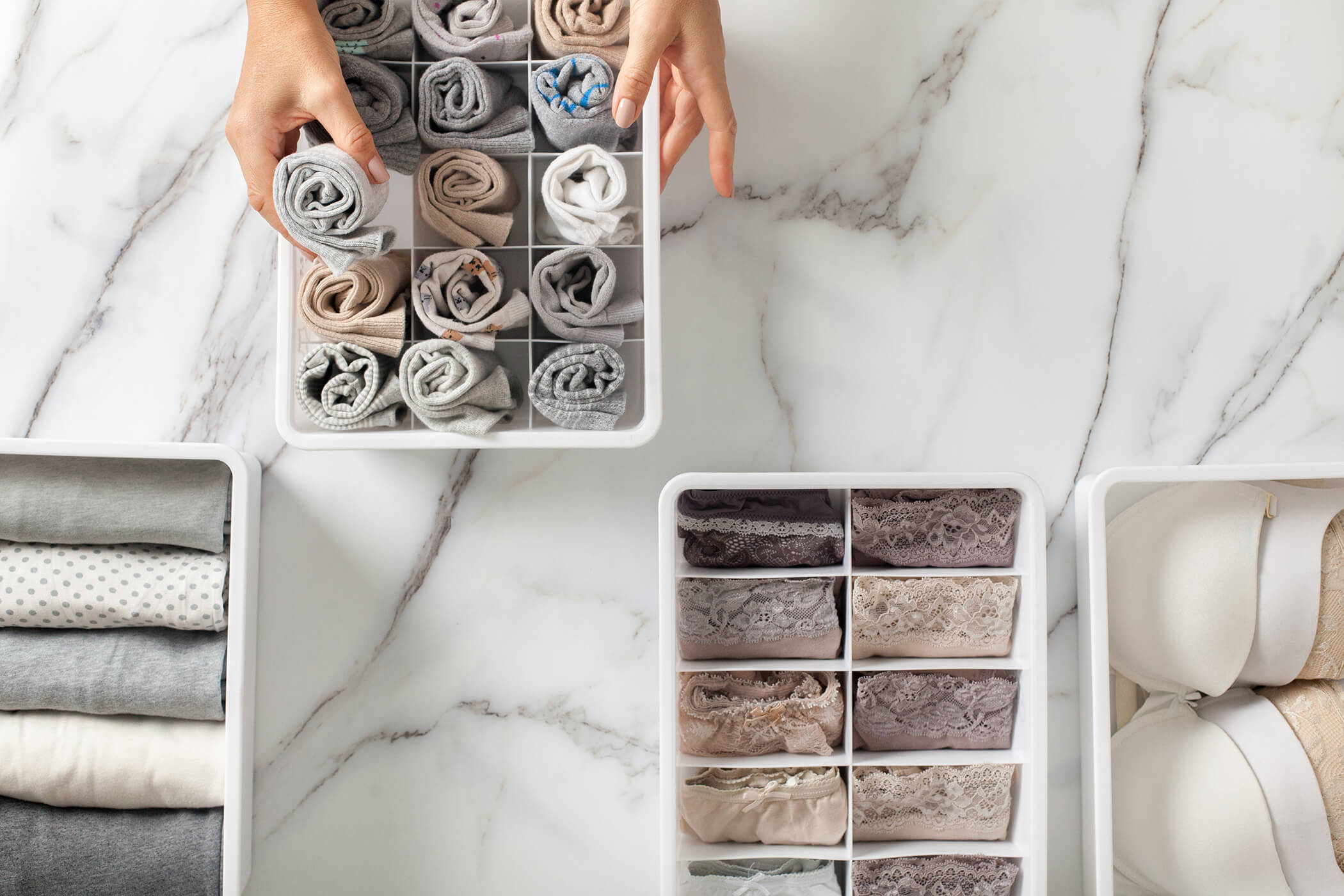 Anything Delicate, Fancy, or Well-Made Can Be Hung
You might have enough space to hang every single T-shirt you own, but if you don't, keep to the obvious items. Dresses, skirts and  undergarments are examples fancy and delicate things. Suits and solid, structured pieces like jackets and blazers essentially need to go on a hanger.
Keep Your Most Often Worn Garments at Eye Level
Keep everything you wear on a daily basis in the middle of your closet at eye level so it's easy to find whenever needed. Place less-used goods directly above or below your most-worn items, and keep your most-worn items on the top shelf.

Segregate Your Clothes According to Color Codes
Sorting your clothes by color can be time-consuming, but the result will make choosing an outfit a lot easier.

Design Your Ideal Closet Space: Take Note of The Best Elements of Your Closet
You might have a lot of vertical storage, built-in shelving, or many hanging rods. Make the most of these opportunities.
Determine what you can do to improve the portions of your closet that aren't so fantastic – for example, your hard-to-reach top shelves or a complete lack of shelving. Plastic movable dressers or a small armoire concealed inside your open-plan closet might be beneficial. If you have too many shelves but not enough hanging space, consider removing a few and replacing them with hooks on the walls.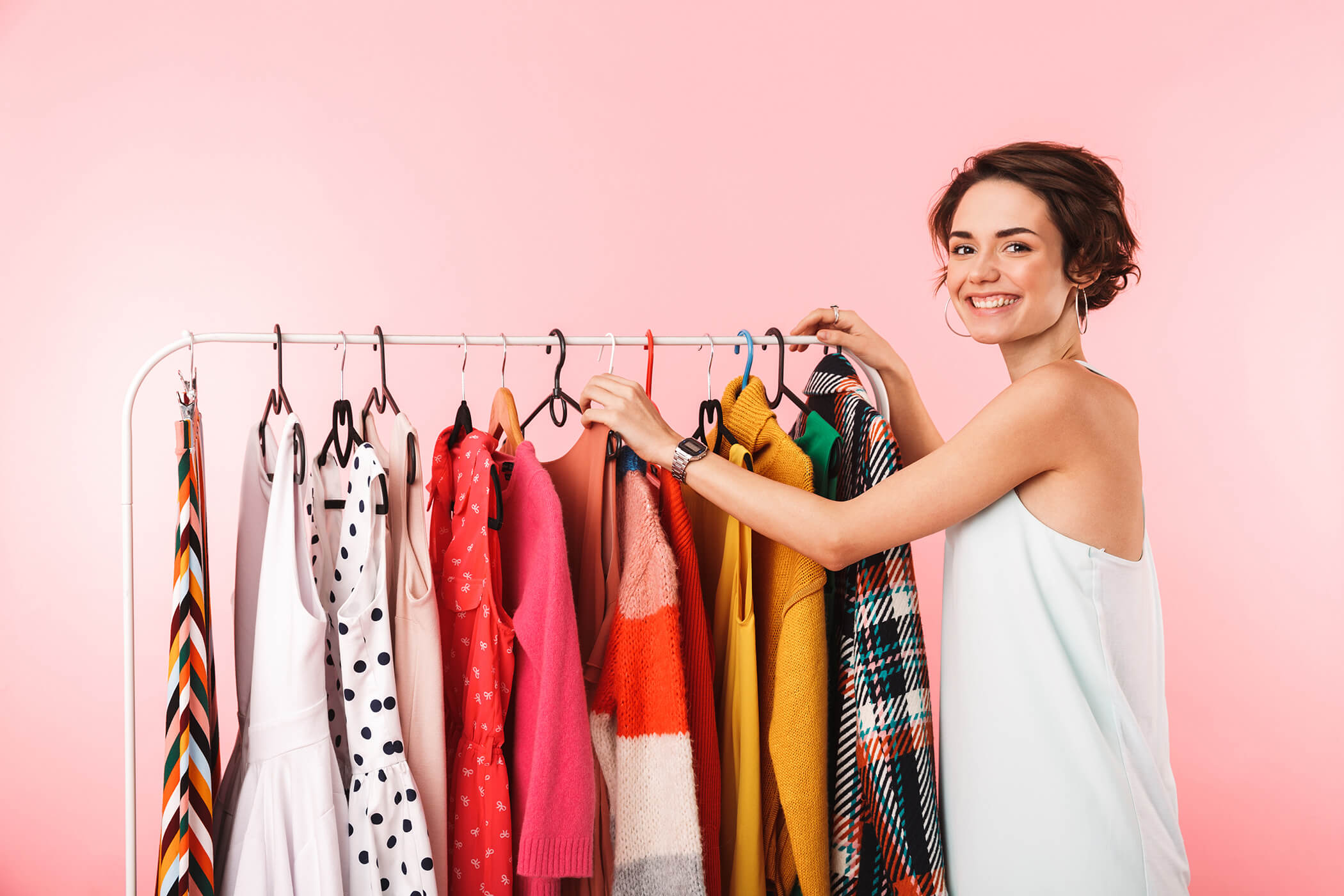 Stylists are professionals who can help you best with this. They will evaluate your lifestyle and work with you to create a wardrobe that meets all of your requirements. Their expertise in wardrobe transformations are everything that one needs. They possibly work with everything that one requires on a platter so that finally, you will look and feel better. You will appreciate how simple it is to actually style outfits for any occasion at any time of the day.
These pointers will assist you in cleaning out, organizing, and maintaining your closet in the future as well. Having an organized wardrobe can result in big changes in style and personality. So try these, and thank us later!