One of UAE's most popular sporting events, Horse-riding attracts people of all ages, and the magnificence of the equine splendor in motion is enthralling! Horses are wonderful, majestic creatures, and being able to own and ride one is not something to be taken lightly. The rider takes responsibility for the animal, making sure that they're in accordance with it, and though the charge is big, it is as enjoyable as it can get.
If you can't own one, horse-riding with an academy is the easiest way to taste test this responsibility as well as experience the happiness that comes from bonding with this stately animal. Horses have unique personalities with their own unique needs. Tuning yourself to them and building trust is a vital part of horse-riding – so it is natural to assume that you would be taking care of your mount at least a little bit.
There are different riding methods or disciplines that you could go for – most notably the Western-style or the English style. What distinguishes the two is that the Western-style is more comfortable and easier to learn – as it came from western cowboys, who developed this style for functionality. On the other hand, the English style is more distinguished as it was a style that English nobility typically used, which explains why it is more elegant and refined – and also slightly more difficult. While both are equally fun when you get the hang of it, but when you are just starting, the western style might be better to get used to the feel of a horse.
The thing to be always vigilant about while horse-riding is safety – both for you and your horse. Ensuring that your trainer is experienced, and the institute treats the animals ethically is paramount to properly enjoy this hobby or sport. Otherwise, you may be left with more than a couple of bruises. Thankfully, the UAE has well-reputed horse-riding academies, so all you need to be careful about is yourself. Make sure to always wear the helmet and that the saddle fits well, and constantly communicate with your trainer about the comfortability of the ride.
Before you enroll in any institute, make sure that you are prepared for a proper equestrian class. Horses are incredibly sharp and can sense your unease – trust your horse, and it will trust you. Building up your relationship with the steed is important too. To begin with, try out the horseman's handshake. Keep your hand stretched forward and wait for the horse to come to you. Pat it (not excessively) and observe its reactions. Since each steed is unique, you will have to learn the horse while you also learn riding.
It would help if you also were mindful of the clothes you wear. Make sure the pants you wear aren't baggy and don't chafe, or riding will be painful for your thighs. Boots are the most appropriate shoes, so make sure to have a heel that can help keep your feet on the stirrups and that the boot is thick and firm just in case the horse steps on you.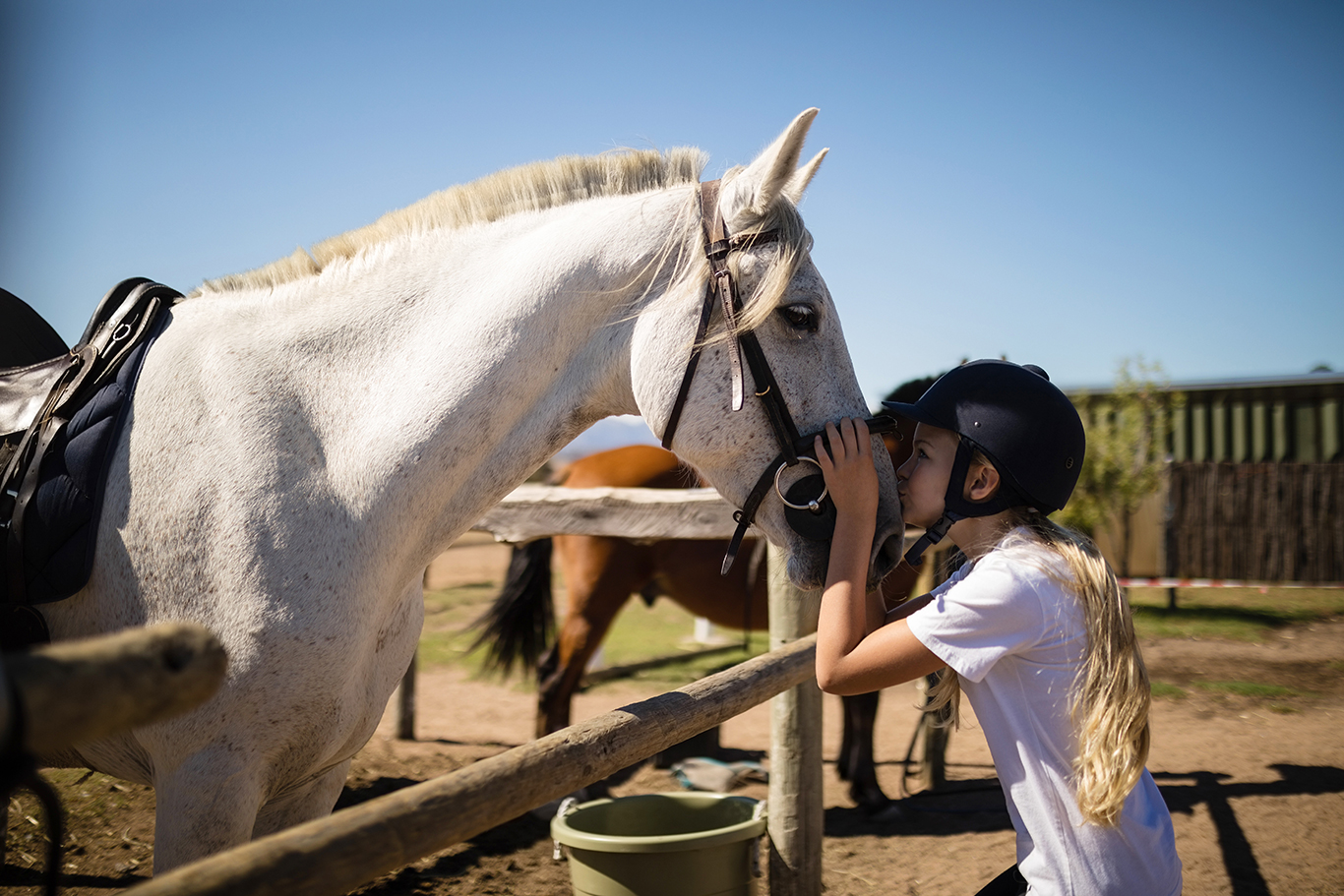 And most importantly – make sure to treat your horse well. It is an intelligent creature you're working with, so the best way to ensure your safety is to guarantee that the horse is happy.
Horse-riding is fantastic for improving mental health and focus, and since it is an outdoor activity, the physical benefits are also numerous. Weekly classes allow a breath of fresh air and your needed dose of Vitamin D. It enhances your reflexes, improves posture, and most importantly, it enriches your balance and coordination – the two most important motor skills. Even the most experienced rider will admit that there is always something new to learn! Riding can also help change the way you handle responsibilities, making you more accountable as an individual. It can even help sharpen memory.
Lastly, horse-riding also augments your emotional strength. People often find companionship and solace while working with their mounts. During stressful times they are great companions; all you need to do is pick up your saddle, and they are ready to trot away with you happily. Imagine the wind in your hair as you, the free-spirited noble, are flying and galloping on your steed!