Imagine this! A digital model of an asset or a project allowing you to visualize in real-time what the end result will be, what issues you could face along the way and how various factors affect your project or your asset. Imagine the money you could save by anticipating the challenges and preparing for them. Imagine being able to manage your assets better, and with more business intelligence!
This is not a dream or a wish any longer. This is the reality of Building Information Modelling (BIM) and is, in fact, fast becoming the go-to tool for creating the best structures.
What is Building Information Modelling?
At the very base of it, BIM is artificial intelligence. This software modelling process allows the various players in a project to work together at the same time and contribute to the project – including the design, construction, operation, and management. While 3D modeling is a part of BIM, it also has the ability to incorporate additional data and predict how a structure will react to environmental conditions like salinity, moisture, temperature changes and such other important conditions.
Let's consider a commercial construction project. Such a project is vast, not only in scope but also in relation to the number of people involved. There are so many teams that work on the project and these people also change based on the stage of the project. Imagine architects, engineers, contractors, lighting experts, landscape consultants, tradespeople, construction workers, business managers and so many more – all working independently on different aspects of the project. Without information sharing, it is very highly likely to discover a mismatch of ideas and plans when they come together.
Worse still, some challenges and issues are only discovered after construction is well underway and dealing with these means changing orders and timelines leading to increased expenditure.
BIM eliminates this pain! By allowing all key players to collaborate in real-time, BIM allows projects to be finely tuned and accurately planned. It results in well-planned and well-built structures that are safe and cost-efficient. Is it any wonder then, that BIM is one of the most compelling and inspirational construction trends today?!
As with most revolutionary ideas, BIM has existed in the minds of visionaries for decades. Since the early 1960s, in fact, ideas were being bandied on how IT hardware and software could be used to replicate designs and accurately capture building models in a way that they could be improved with the necessary adjustments and modifications.
But at the time, there was no technology to match the ideas that were being imagined. Only in the mid-1970s was a system built, by Charles Eastman – an architectural expert, which could be considered the base model of the BIM that exists today.
Although it has gone through several iterations, the basic principles of BIM remain much the same. It's strange to note how the ideas and thoughts of the visionaries of the 60s are not too farfetched from how the industry functions today.
Since the mid-70s, the appeal of BIM has continued to grow. Although some companies shy away from using BIM because of the associated costs, those who've used it successfully believe the investment is more than offset by savings on project costs. Since problems can be highlighted before they occur, processes are more streamlined meaning that extra costs to fix problems after they occur are negligible or completely eliminated.
The popularity of BIM can be gauged from how many companies are using it as part of their processes. The percentage of companies that adopted BIM was only 28% in 2007. It jumped to 49% in 2009 and further increased to 71% in 2012. If you consider key players, almost 70% of architects, engineers, and even contractors now rely on BIM.
Just about a couple of years ago, the global value of the BIM software market was just over USD 5 billion. In another 5 years, this value is predicted to triple and touch USD 15 billion! That's how integral BIM has become to architecture and construction.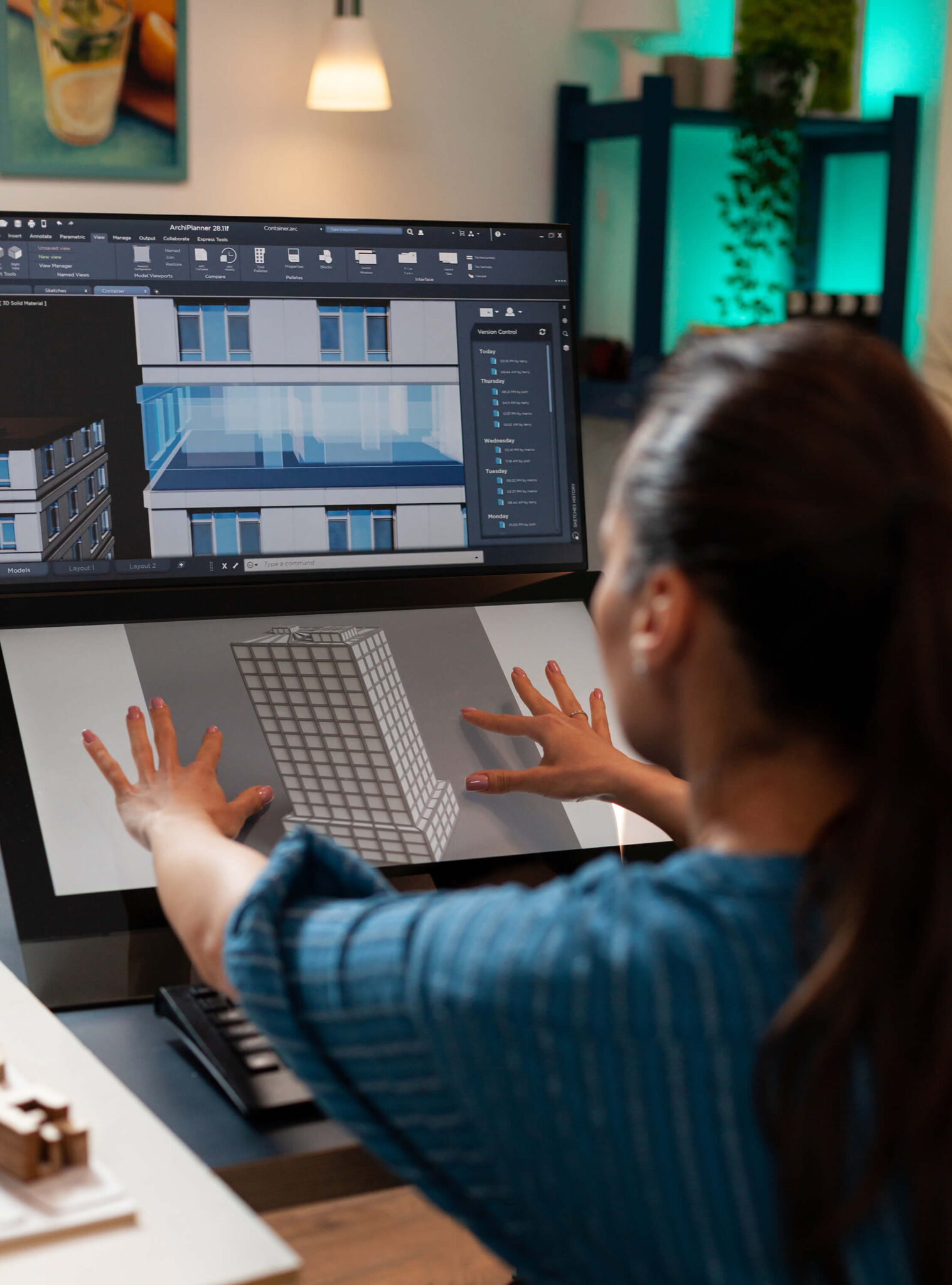 BIM undoubtedly has the biggest application in construction projects and can be used right from conceptualizing the project to operating and managing it. Key players at various stages benefit from the use of BIM in the project.
At the design stage, planners, architects, and engineers plan and actualize a 3D model of the project which can adapt to any real-time changes made. For example, if the dimensions of a wall are altered, the impact on other building components touching that wall can be seen in real-time.
In the next stage of planning the workflow, all key players can participate in fine-tuning the process and creating timelines and cost estimates. After this stage is finalized, actual construction begins and those involved at this stage viz. vendors, contractors, building consultants and construction workers can refer to the proposed model and still make tweaks and changes based on ground reality.
Once construction is complete, the 3D model is handed over to the client or those in-charge of operations and maintenance. They are able to observe all the attributes and systems of the finished product, making it easier for them to plan future repairs, renovations and other maintenance works.
While it's easy to imagine how BIM can be applied to both large and small-scale construction projects, it has other interesting applications. The National Grid, for example, used it within a live construction project – the 'River Humber gas pipeline replacement project'. Here, 3D models were issued to suppliers to facilitate the visualization of design elements like lengths of tunnels and profiles. The models were also used to justify design decisions, where required. It was estimated that using BIM software helped them avoid construction delays, helping them save about £ 1 million.
By using BIM extensively and applying it to various scenarios and activities, they were able to create virtual training environments, create prototypes and save millions of pounds. BIM was found to be invaluable to projects of every scale on the National Grid project.
BIM has also helped in the maintenance and restoration of heritage buildings and monuments. By allowing data on climate and environmental changes to be included in the modelling framework, for example, restoration work can be modified to protect these historical structures.
The future seems full of exciting opportunities for artificial intelligence and construction is no exception!
While the construction sector has always had the notorious reputation of being late to catch up to the innovation party, the Covid-19 pandemic seems to have repaired that to some extent. Like most other industries, swift changes had to be made to survive in our changed circumstances – from communication to ordering raw materials and exploring local construction options to managing repairs and renovations.
Luckily for our planet, there is also a big movement towards sustainability, reducing waste, improving resource utilization and being more aware and more conscious of our environment.
BIM does an excellent job of managing both these needs. With architectural projects of all scales depending on BIM, it's now an indelible part of the construction landscape. It has most definitely led to better-designed, planned, and constructed structures. By encouraging collaboration and information sharing, it helps with better preparation, more solid groundwork, efficient logistics and waste reduction.
As technology advances, BIM will also evolve – becoming easier to use across all levels. This has naturally led to the need for education and training in the tools and their utilization. Courses are being offered across various programmes and companies are keen on training their employees. "It is the future of construction," says Karel Dobbels, Managing Director of 3Maten, a survey company based in Belgium.
The debate that BIM raises on technology versus experience is worth a mention. BIM has seemingly levelled the playing field – sometimes allowing novice designers adept in the software to contribute more to a project than an architect with decades of building experience but very little knowledge of how the programme works. On the one hand, this generational disparity may grow wider as technology advances and becomes more accessible. On the other, with software programmes constantly being developed and revised, they are becoming easier to use and implement, encouraging even the most stubborn minds to try them out.
As we stride into a technologically savvy future, there is no doubt that BIM will continue to evolve and foster more collaboration in the construction of buildings and other assets. Smart cities can be planned and developed with collaboration from agencies around the world. The consumption and conservation of water, gas and energy can be more efficiently planned. The possibilities are endless and there's never been a better time to watch how technology is impacting and changing construction and allied fields – paving the way for a better future!