When dinner table conversations at the Syed household revolved around the newest properties on the block and their prices per square foot, a young Farooq could not wait to jump on the bandwagon. Subconsciously, he started fine-tuning his skills, so someday, he could be a part of the big talk. Seven years down the line, the University of Michigan graduate heads the family business, which is one of Dubai's leading property sales, brokerage, and investment consultancy firm, taking it to unchartered heights.
We had the wonderful opportunity of catching his enthusiastic self, smack in the middle of a well-planned morning, dressed to the nines, hair in a perfect coif, and an earnest smile that glints in his eyes.
Firming Up The Foundations
With a superior tech-based analysis of the market, Springfield Properties stands tall as a real estate advisory in the market. However, the empire was not erected overnight. A people-centric business like theirs holds the firm belief that their agents are their biggest assets. What sets the brand apart from the rest is the amount of time and effort they spend making sure their sales advisors are on top of their knowledge game and know all the different projects in the market, so they deliver apt advice to anyone who approaches them for real-estate investment options. Standing out amidst a sea of over five thousand real estate professionals, Springfield Properties advisors are now a brand in themselves.
Appointing the right workforce for the right roles was their greatest challenge. Farooq beams, as he shares, that today they have an excellent team in place with six directors in the company that manages sales force activities like day-to-day activations, plans, and roadshows which have contributed majorly in helping them scale the organization.
Fifteen Minutes of Fame, And Counting…
Yet another tool that magically entered his life, giving more flight to his already soaring real estate career, was the holy intervention of social media. Having explored YouTube back in 2008 when he was still in university, he made his first video only in 2019, 11 years later. For ten years, he regrets sitting on the power of social media. Today he is very active on social media, and it is also one of his undeniable passions.
From Burj Khalifa to Emaar Properties and all the way to the heart of The World Islands, his ever-engaging vlogs have a niche fan base that wants a peek into Dubai's swankiest real estate spaces, and an astute Farooq never disappoints. He owes his glorious social media presence to his competent team, which has given it their all to put out phenomenal content in the past year. When their first few videos opened to a raving response, the creative team decided to make it more interactive by having him breakdown the appeal of the properties before the camera. The idea worked wonders, and today, with over forty-three videos and a strong subscriber base of over seventy-nine thousand people, his channel 'Farooq Syed – Dubai Real Estate Vlogs' is UAE's largest real estate presence in the domain, swiftly making its journey towards a million subscribers.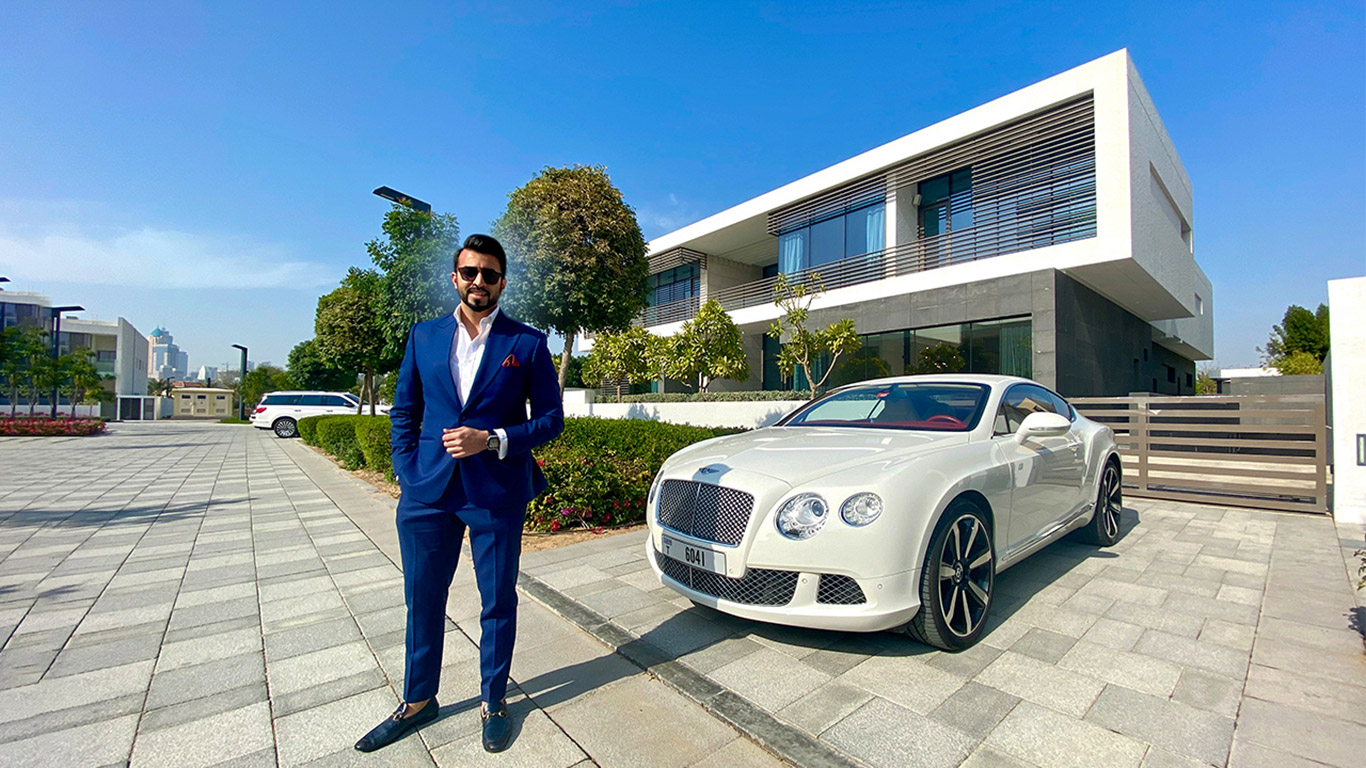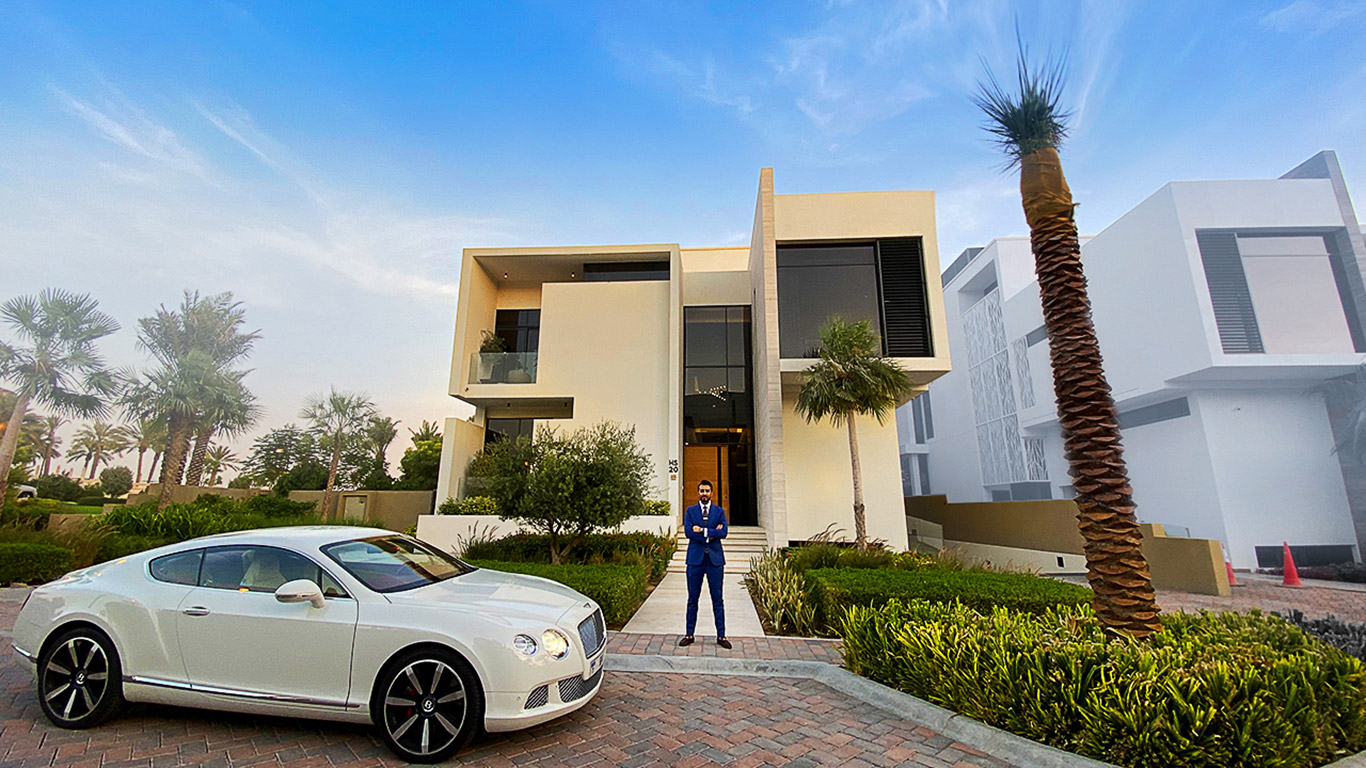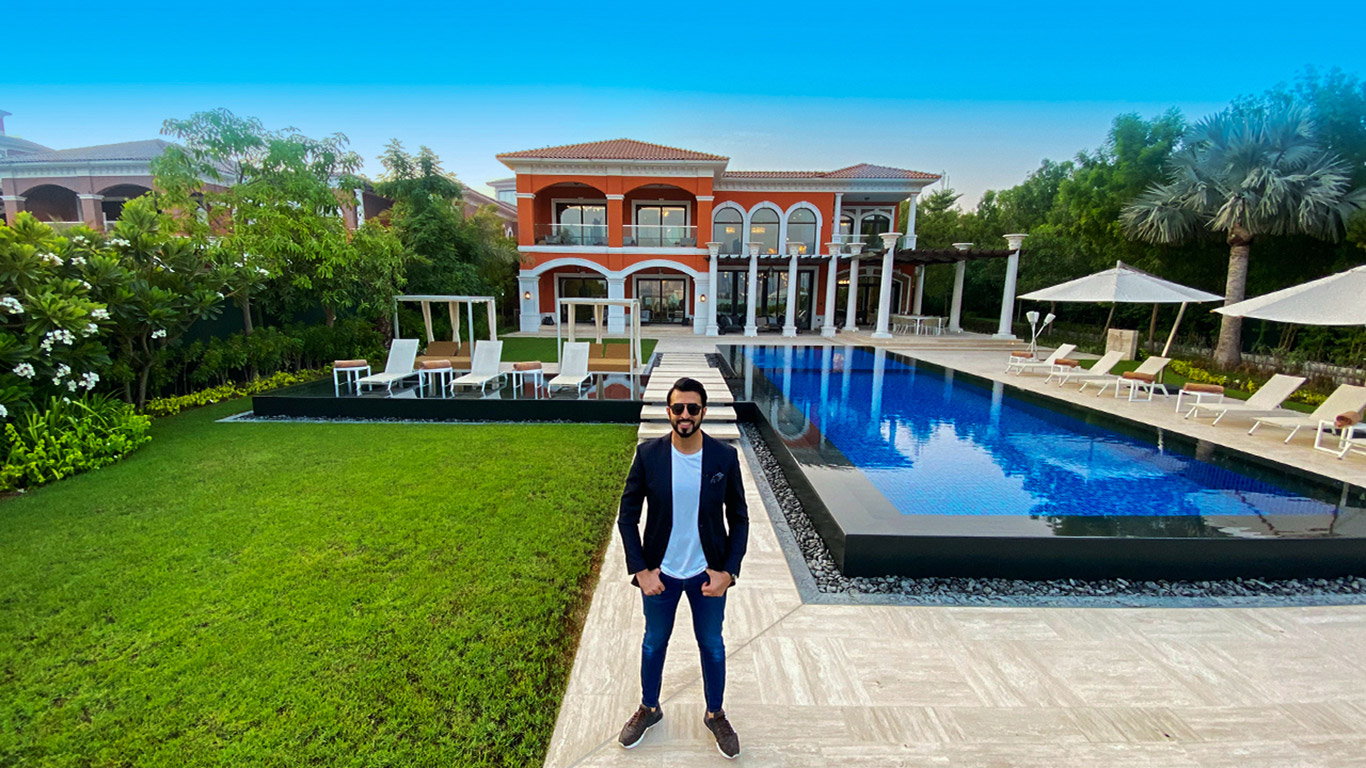 Drawing from his personal experience with digital media, the influencer believes that in the current day and age, when convenience is at our fingertips, every broker must put themselves out there in order to broaden their horizons. "Putting out a video is so much easier when compared to making thirty thousand phone calls, isn't it?" he questions rhetorically.
Farooq admits to entering the most jaw-dropping spaces and wanting to never come out of the doors as he covers them. His most favorite memory so far has been from the time he had just begun dabbling into the world of video blogging, back in Downtown. As he arrived dressed in a crisp suit at the poolside, everyone's eyes were fixed on him and the camera set-up around. Before he knew it, he had tourists coming up to him with requests for selfies, for they thought he was a superstar! Today, Farooq throws his head back, laughing hysterically about the riotous experience.
However, one cannot deny that he is indeed a superstar of the real estate space. With a niche skillset, Farooq's words can put established speakers to shame. One could attribute a considerable portion of his corporate success to his interpersonal interactions. But he holds the firm belief that indomitable speaking skills are just yet another part of the commercial housing game. He speaks fondly about some of his friends in the real estate business who may not be flamboyant in their words but have closed some significant deals. He had once watched an interview that featured one of America's highest-selling salesperson, where the man was asked what separated him from the crowd. Quoting him, Farooq says, "All you have to be, is likable." He reiterates that likeability is at the core of everything, even if one is a slick talker, but if the client senses some malice within you, or cannot wholeheartedly trust you, no amount of impeccable speaking skills can come to your rescue. He encourages young realtors trying to make it to the top of the real estate business to keep working on their skills but at the same time study the market before they head out to sell. Personally, he stays clear of the business of hard-selling and directs all his energies in really truly understanding where his client is coming from. Many times it has so happened that he has actively had to stop his clients from making a purchase that would have made him a lot of money but proven detrimental to the buyer in the long run. This has rightfully earned him a loyal clientele, for his advice was always for the betterment of the receiver.

Battling everyday challenges that the daunting world of housing surprised them with, Springfield Properties continued treading on its way to the top. But when the pandemic of 2020 hit, just like every other business in the running, the management found itself staggering too. "It has been a hard year personally and professionally," admits Farooq. When the lockdown was announced in March, most entrepreneurs resorted to playing it safe and strategized scaling down. Springfield properties, on the other hand, took a huge risk and decided to doubly expand their office in terms of size and workforce in the middle of a rough year. Their primary motivation came from the fact that in its truest element, real estate is all about good people. There were scores of honest workers out in an open market who had been laid off, courtesy of the epidemic, with as much as seven to eight years of industry experience who were waiting to be hired. "We saw this as a golden opportunity and leaped at the idea of expansion," sounding pleased with the decision taken.
Farooq doesn't miss a chance to laud the commendable work done by leaders across the UAE in empowering business owners and says that his brokers have never been this busy since the hay days of 2014. All set to take 2021 by storm, he believes we have lived through the worst, optimistic that the new year will bring with itself opportunities like never before. "Business is all about taking risks. Without risks, there are no returns," he implores. He urges entrepreneurs to shed pessimism and look at the new year with a fresh lens, and be committed to taking risks that will shake their market up! Looking out for younger organizations, he advises businesses to change their product offerings, evolving with the times. He prods every hustler in the arena to embrace the new normal and keep going.
Having conquered the real estate market, the man with the plan is, however, nowhere near done! In the next five years, he hopes for Springfield properties to hold the position of Dubai's no. 1 real estate advisory. Ten years down the line, he aims at establishing the company as a household name, having diversified vertically and laterally into other business avenues, including development, having spectacular properties of their own.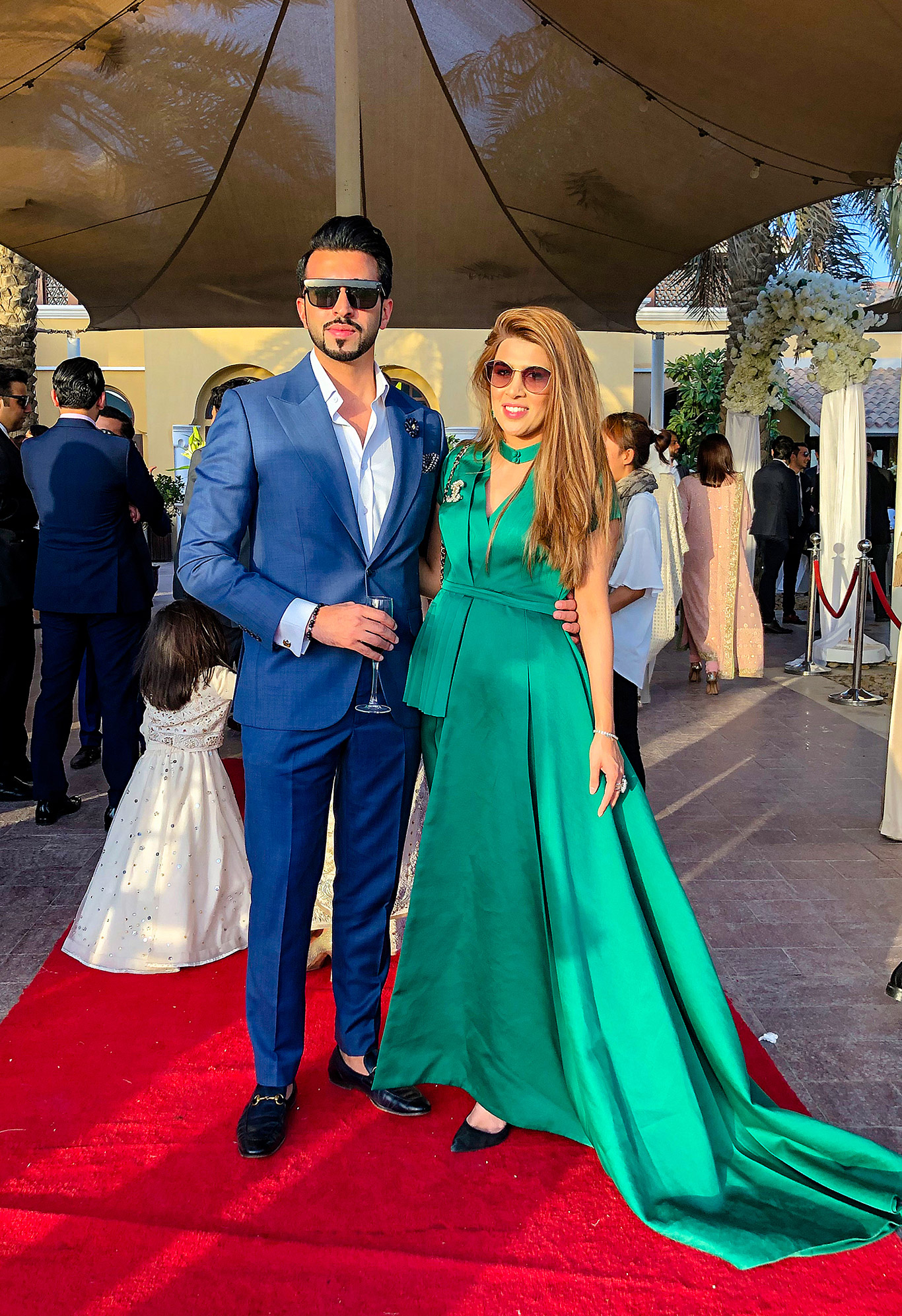 A self-proclaimed workaholic, Farooq cannot imagine a day not jam-packed, lined up with tasks to accomplish. A lax day and he feels like he's missing out on life! Having a work-life balance is no challenge for him, considering that he works along side his father and brothers, with his mother who loves dropping by now and again, lighting up their day. Full of life, he loves spending an evening out with his beloved wife, discovering a new restaurant, or catching the latest movies at the cinema halls. The majority of his clients are from overseas, and he enjoys taking them out, which further strengthens the bond he shares with his patrons.
Ending a challenging day at work, Farooq likes to unwind with a bike ride, an interest he developed only a year and a half back, but has really grown to enjoy. Besides biking, the young entrepreneur is an ardent sports lover and indulges himself in a game of cricket with his best pals.
His active and hectic schedule is bound to change some in the days ahead, as he and his dear wife just welcomed a baby boy (as this piece is being written), who they have very fondly named Hamdan, after the crown prince of Dubai.
Every day, Farooq finds himself exploring Dubai's most extravagant spaces, selling houses that cost a fortune. When he returns home tired and exhausted, he retreats to his personal space where the young man feels most at home. His comfort zone is a cozy corner of his bedroom with a snug sofa facing his luxurious Apple TV, where he loves sitting down, propping his laptop open to watch the most riveting documentaries or YouTube videos. He occasionally enjoys reading his emails on his giant TV screen, finishing off a long day's work. "That's my favorite spot in my house. It's like my own little study," he says, contented.
Farooq Syed may have come a long way from where he started with, but he believes he has miles to go before he sleeps. Settling new standards of success each day, the business tycoon still identifies himself as a little boy with big dreams.