As one of our primary senses, the human voice is omnipresent, and the audio space is unarguably a medium full of potential today. Whether it's a radio advertisement, a train and airport public service announcement, a radio jockey giving traffic updates or playing your favorite number, there's truly nowhere the human voice isn't present. Add to this the fact that audio has transformed from its mainstream delivery platforms such as radio and television and now emerged as an independent media in itself through podcasts, voiceovers, and audiobooks; Mohammed Ali, UAE's radio pioneer, says, "this opens up an array of opportunities in the audio production market globally."
Ali was an avid radio listener as a teen and started his trail of work early on as his teachers pushed him to participate in school plays that later continued into college, playing a vital role in the choice of a career. An audition gave him that launch – a voice-test poster for 'Yuv Vani,' an Indian radio slot looking for hosts, caught his attention. Of 200 candidates, he was among the shortlisted four finalists and was finally hired as a 'casual announcer' by All India Radio. During this time, his application to join BBC met with rejection due to being under age.
While studying, he auditioned for positions at various local radio stations and did regular part-time radio show slots from breakfast shows to late hours at midnight. While at it, he discovered alternative arrays of sharing his passion for audio, including dubbing for Bollywood films, voiceovers, and leading soap operas (he was the Hindi voice of Thorne in the then immensely popular series The Bold and The Beautiful). He says, "I truly enjoyed the process of scripting and producing audio content that can go up with visuals on televisions or film screens. My dreams with audio and sound were way beyond just the radio set."
Starting from an era of casual announcements and then as one of the first batch of presenters on FM radio that brought in a new contemporary texture to radio content, Ali says that the control over content has gone and is quite conventional in these times. Previously, artists weren't at liberty to use their own content, and all that went on air was entirely scripted. Ali goes on to inform that Radio Ceylon in Sri Lanka prompted the sponsored program concept in Asian radio, and the legendary Ameen Sayani inspired him to pursue radio as a career.
Ali rose to the position of a GM and an in-house morning RJ at Radio Star, Mumbai, and later joined as Creative Head of the UAE's first Hindi, Urdu, Malayalam FM radio station 106.2 HUM FM (The name HUM was born out of the first letter of these three languages).
Today he sees a need for niche channels airing one segment alone – western country music, Indian classical, timeless classics, fusion, folk or ghazals. "There are so many genres that can be presented as a distinct channel, but today all channels sound the same with their Bollywood songs, and no content," sounding a bit disheartened with the current scenario. Even the radio ads lack creativity. In his opinion, radio as a traditional medium can never die, so anyone with resources can look at starting a niche channel he suggests.
Speaking of presenters, Ali says that the lives of RJs are a lot easier than ever before. "Technology is serving us beautifully whereby all the songs, ads, product mentions, channel promos, and prerecorded audio material for a live show are already uploaded and scheduled into the on-air computer system before the RJ or the radio presenter steps into the studio."
He misses the finer nuance of script and language on radio today. Having said that, Ali also points out that creators do have to ensure they package content for the audience they cater to, which sometimes involves using slang and accents. Among UAE's present Hindi radio presenters, he appreciates Vikrant, Sayema, Lokesh, Fahad, and Karishma.
Being the creative person he is, Ali was pained the way radio was being treated. Every ad and show had a sameness that made it quite dull. The urge to do something different brought about the birth of The Kreative Company, which he taglines as 'Audio…Anything!' Making concept-based and story-driven impact radio shows, programs, and ads in any language is what The Kreative Company specializes in. From a telephonic message & documentary voiceover to producing a content rich, well-mixed radio show or segment capsule is and will remain the company's prime love, always!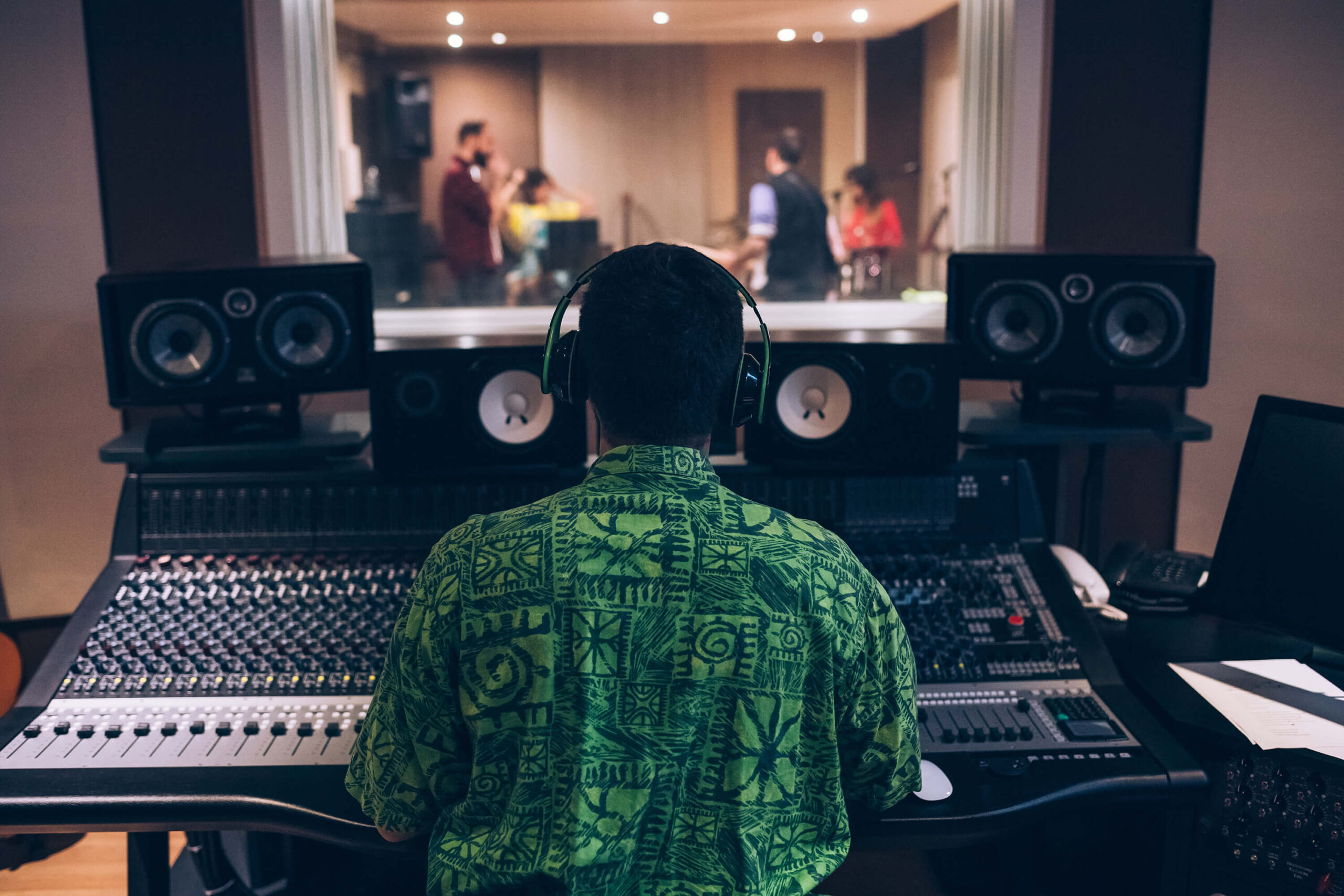 "Home studios have revolutionized the audio production industry," says a concerned Ali. Buying a recording kit these days is no big deal and can be easily purchased at 250-500 Dhs max. The trick, he says, is getting the pure, pristine sound. Only and only if one has a three-layered soundproof environment at home and can learn the art of mixing and enhancing the audio, it gives one all the freedom without the dependence on any studio or engineer.
He adds, "The challenge is that unless the raw audio is great, it affects the output. One can enhance the quality, not change it completely. Prerecorded material at home studios have been lowering the efficacy of audio content creators." In addition, he believes that due to a lack of voice quality, diction, word choice, research, and purity of language, the audio production quality has become rather casual.
For content creators mindful of quality, a studio is always the preferred choice, and his team makes sure that all goes smoothly. However, being the audio-enthusiast and specialist that he is, Ali steps in if he sees something going terribly amiss. "Sometimes I see that the script is all haywire, the pauses are in the wrong places, and the stresses are incorrect. It pains me to see that being recorded in my studio, and I step in with suggestions. At other times, I will also chip in at places where I see a strength being underplayed." That's the value addition you get The Kreative Company.
Mohammed Ali's quick tips for people that want to produce audio by themselves:
1. Raw record your audio in a prime & pristine voice environment.
2. Be yourself, have your own style- at the heart of audio is content, have a style that sets you apart from other creators- storytelling, delivery, and timing are very important for an artist
3. Editing is the king after the minimum required quality- equalization, cleaning and processing your voice- remove breathing, eliminate audio elements that are distractions to make the audio sharp and clean
'Audio Anything!' since 2008
Serving clients worldwide in the only paperless studio in the region, his team of audio-video editors, administrators, graphic experts, talent management, and accounts personnel are all set to spin the decks to create high-quality audio for any occasion. They voice, edit, script, translate, trans-create, record, act, model, shoot, mix and finalize media to advertise your brand and offer effectively.
He's a man that truly believes in the art of sound editing and its endless possibilities for media makers today. His quotes on 'radio-audio gyaan' and his 30-year journey through short video snippets 'RadioRomeoRemembers' are worth checking on Facebook, Instagram and TikTok. Creating impact audio books, and making unique podcasts right from conceptualization to the final audio is the new chapter for him these days. Another plan in the pipeline are audio interviews with some dynamic people in the region. Given his penchant for quality at all levels, one can expect this to be different from what's already out there.
Mohammed Ali's continued vision to transform the audio sector with an added texture to his work leaves an imprint on the senses that is hard for anyone to tune down.