There isn't an individual in this world who does not harbor a dream. A brave ambition is the lifeblood of the one who harbors it. Nurtured over time, it's the stuff inspiration is made of. We would betray ourselves if we do not work towards making our dreams a reality. Personal efforts, on one hand, it is sometimes an unfortunate hand of fate when a person cannot fulfill their ambitions. For many, dreams do crumble for lack of means.
ICCA (International Centre of Culinary Arts) Dubai's Culinary Scholarship Program is a steadfast effort and tangible step to provide the financially underprivileged young chefs with the training and resources that will help cement their foothold in the world of culinary. This year, it felicitated its fourth and fifth batch of graduates under its Scholarship Program – the 'Annual One Million Continuing Education Award for UAE Young Industry Chefs'. This noble, first-of-its-kind initiative was established in 2014 in strategic partnership with the Emirates Culinary Guild, City & Guilds, London, and the Worldchefs. Since its inception, the program has seen 125 worthy industry scholars graduate with the right knowledge,  skills, and exposure needed to conquer professional kitchens across UAE and the world.
This Continuing Education Award and its associated Scholarship Program have garnered several acknowledgments and recognitions, including the Dubai Knowledge Park and Dubai International Academic City Recognition for the "Year of Giving 2017".
The foundation was laid when ICCA acknowledged that there were stellar chefs who had proved their merit in the kitchen but had never received formal education and training. Despite a rich tapestry of work experience, this became a block in their path when they sought to evolve in the culinary space. The education & qualification through the scholarship program acts as a connecting bridge between their work experience and their higher ambitions.
ICCA's initiative towards bridging the skills gap within the hospitality industry also ties into the Government of Dubai's wider vision of developing a knowledge-based economy. Each year, under the aegis of the Continuing Education Award, a batch of 30 deserving individuals are handpicked who lack the resources but are filled with oodles of grit and talent. These candidates are then initiated on the path of culinary education at the state-of-the-art, award-winning, world-class culinary training facility in Dubai Knowledge Park. All without any Fee or related Costs.
The scholars-in-training are given the opportunity to learn at ICCA's culinary training facility in Dubai, where they are taught by some of the most eminent industry chefs and culinary professionals. They are also given access to best-in-class equipment, high-quality ingredients, and extensive learning materials produced in-house. The cost for all of this – amounting to nearly $10,500 per student chef is borne by ICCA Dubai.
The Evolution From A Cook To Chef
"The difference between a Cook and a Chef lies in the knowledge and understanding of the Whys from the Hows of cooking. With so many young chefs coming from a non-culinary background and having entered the industry without formal training, this program has helped articulate their fundamentals while strengthening their knowledge and skills to make them more confident and proficient in the kitchen. Needless to say, immense opportunities await these graduated scholars, who are now well equipped for professional growth and excellence," says Shanaaz Raja, the Director of Courses at ICCA Dubai and a Member of the ICCA Dubai Culinary Scholarship Committee.

The importance of technical and skills-based education is paramount to substantiate passion with caliber. As ideas flow naturally due to the immersion in the field, while the robust knowledge and skills-set imparted by education means that the execution of no idea is out of reach. In the creative industry, this is a winning combination. "This trend can be seen all over the world, with various governments implementing serious training initiatives to develop knowledge and skills, as building a skills-based economy is considered the need of the hour," says Sunjeh Raja, the Director, and CEO of ICCA Dubai and a Member of ICCA Dubai Culinary Scholarship Committee.
The benefits to an evolving chef are immense. It has been noted that after graduating, past Scholars have commanded salaries that are tenfold their previous paycheck, thanks to having relevant experience as well as now gaining the required qualifications.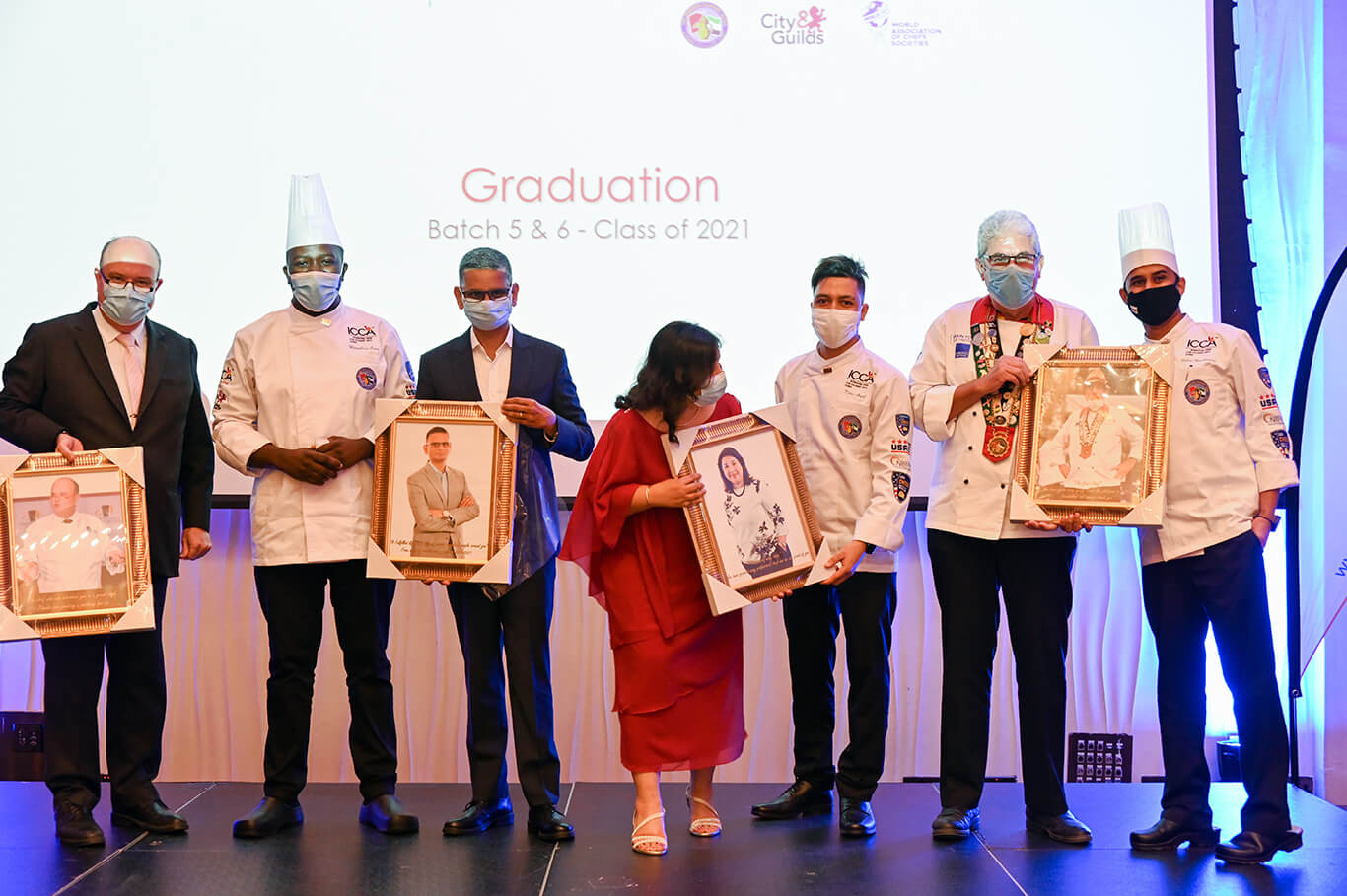 This flame of generosity has lit countless others without losing its own fire. For instance, leading establishments in the industry have expressed a desire to sponsor more scholarships to enable more Scholars to live their dreams, not just a precious few. These include notable sponsors such as US Cheese Guild, US Poultry & Egg Export Council, and Nestle Professional. The additional helping hands have made the course richer and more diverse, with Baking and Patisserie training added to the repertoire along with Hot Kitchen.
The opportunity here could be pivotal to shaping the trajectory of a young chef's life. A training of this caliber could uplift their inherent talent, providing the perfect amalgamation of passion and skill that the culinary world demands. Once the young aspirants have successfully completed the program, they are conferred with the International Diploma from City & Guilds, London UK Global, along with a Global Chef Certification from Worldchefs. Earning this widely renowned qualification opens doors that take young chefs across the finest restaurant kitchens around the world.
This Program has been tremendously successful not only in helping the young chefs enhance their careers but also in helping uplift their dependants as well as their families in the long run. ICCA truly lives up to its vision of 'Making Lives Happen!"