One of the foremost, rich, and transcending cultures in the world, the African heritage, has been rather shrouded in our times. Now, the All Africa Festival plans to remedy that with a spectacle worthy of the intent, and one woman in particular is at the forefront, leaving no stone unturned in introducing the best of Africa to the world.
We're in conversation with Nina Olatoke, the co-founder of All Africa Festival, talking about their tentative beginning, the extravaganza that is AAF 2022, and what the future holds for them.
As a child, Nina grew up in Nigeria in the 80s, raised by a determined, hardworking mother. She was an entrepreneur in her own right, involved in several local businesses, which afforded Nina and her siblings a privileged upbringing.
"A lot of the values instilled in me today are the values my mother upheld through her life – being direct, open, transparent, and honest. She believed in creating a wide impact in the lives of the people around her, and staying determined and succeeding despite the circumstances, knowing that life can be unfair."
Raised in the umbra of her mother's infallible principles, Nina carries that very determination, drive, and inclusivity within herself. She puts it best as she quietly proclaims, "I'm very much my mother's daughter."
The genesis of the All Africa Festival
Perhaps these very principles formed the trigger point of the All Africa Festival. Nina was involved with the African Food Festival in 2018 at Creek park. To Nina, that event was a humble attempt at exploring if people would enjoy a little slice of Africa through its expansive gastronomic offerings.
Walking through the attendees, Nina stumbled across two people who would plant the seed in her mind to take this experiment to the next level, Kai Lea Charles, founder of Black Girl in Dubai where she promotes black businesses, and Delroy Simms, a Jamaican freelance journalist. Kai said something that stayed imprinted in Nina's mind, "It's beautiful to see so many African cultures together. But as a British Caribbean, with my heritage, where am I? I don't see myself here." On the other hand, Delroy drew her attention to a typical festival goof-up that didn't fit well into African American heritage. Gathering this feedback, Nina realized that the African story was bigger and as yet untold.
The first year of the All Africa festival in 2021 was essentially a viability test of the idea. The first All-African festival was held in Burj Park, drawing a crowd of 12,000 people over three days. The humongous attendance gave Nina the confidence to scale it up, confident that she had created something people wanted to experience.


Speaking of the artist lineup this year, Nina appears visibly excited when she says, "We had artists like Mohamed Ramadan, who I am a huge fan of and just totally in awe of as a person. We're delighted to say he's coming back again this year. South African amapiano artists including Focalistic are also returning this year. We have Zimbabwean artist Gemma Griffiths also returning this year, who's very popular for singing in Shona, the local language. We also have Boubou Design, the social media artist from Senegal, who paints online upside down and flips it."
The festival is working closely with the Cuban embassy this year to showcase a strong Afro-Cuban presence, as well as with other non-African nations, like vendors from Trinidad and Tobago, whose government has taken part in sponsoring some of those cultures. Last year, AAF had a film tent, literature, art, fashion, food, and authentic African furniture design.
"This year, we're picking some categories and honing in on them. For instance, we want to expand the film tent and create its stream that makes it viable. Last year, we did trailers of three movies produced locally by people from the African community. This year, we're working with a film producer to curate something special around that, hoping that it will pick up a life of its own and then expand into a kind of film festival dedicated to African movies next year. So when we do this in 2023, we will actually have the Africa Film Festival, happening the week after the festival in the park."
In terms of art, Nina is proud to note that one of their major successes from last year was to host blue chip or high-profile African art. The idea often propagated is that African artistry is more handicrafts, not 'real' art. "We wanted to dispel that myth, so we built a fantastic gallery last year. At the time, we called it the Efie gallery to hold odd pieces for the festival. But based on the reception we received from the art world, it opened our eyes that there is a huge demand. You tend to have galleries that are walled galleries or European galleries with a section for African artists, but you never see galleries that are predominantly 100% African art dedicated to African artists. So as a result of that, my partners created Efie gallery which is now a full functioning gallery in the UAE based out of Dubai."




This year, Nina's team is working closely with Africa Fashion Week, which will debut this year with AAF. While the festival will still have a runway elements, the major fashion event will take place the weekend of the festival, which they will be cross-promoting on their platforms as the fashion extension of AAF.
"As part of my team, we have Eliane Sarr, owner and creative director for Savannah creations, a huge fashion African-owned brand in Dubai. She was the first African designer to have her own space in Galeries Lafayette in Dubai Mall, and we're so proud of her. She will be curating everything regarding fashion on the AAF stage. We don't want to own everything. We have subject matter experts that run the things."
The Fashion Week will be debuting this year under Thando, who is the owner and creative director for Ntombi Couture. Nina says, "She has been on this journey with us before we even became the All Africa Festival. The fact that she was part of the board made it easy for me to agree to plug it into the festival."
AAF is also going wider on the food spread this year. "We're having a lot of interest from businesses that are setting up for the first time in the UAE and are using the All Africa Festival as a platform to push their brands. We have a Trinidadian food vendor that's coming up. In fact, we don't just have food vendors that are African Continental, but all diasporan cultures coming in full force, like Jamaican, African-American, Cajun-African-American, Afro-Cuban perspective, food from Nigeria, Ghana, Egypt – the whole wide remit. So we're going beyond the continental aspect to make it all-inclusive."


Celebration, all month round
Altogether, Nina envisions a celebration of the unification of all the cultures and all the aspects brought together, as a three or four-week blowout in Dubai with the tagline 'Afremba'.
Nina elucidates, "Afremba stands for 'Africa', combined with 'ba' from the 'ber' months that is October, November, and December. Thus, we will have a curated time called Afremba, or the African month of celebration in the UAE that will start from the middle of October until probably the second week of November, where we will have different aspects of African culture just plugged in. And in the middle of that will be the All Africa Festival, a big celebration of everything coming together."
Nina promises a jam-packed event that will keep you buzzing from the start, right to the finish line. "Most festivals start the day slow and then build up to a headliner. We're starting the day with a headliner and closing with a headliner too. The stage opens at 4 pm, so if you turn up by 4.30 pm, there's a good chance you might miss one of the biggest acts of the day."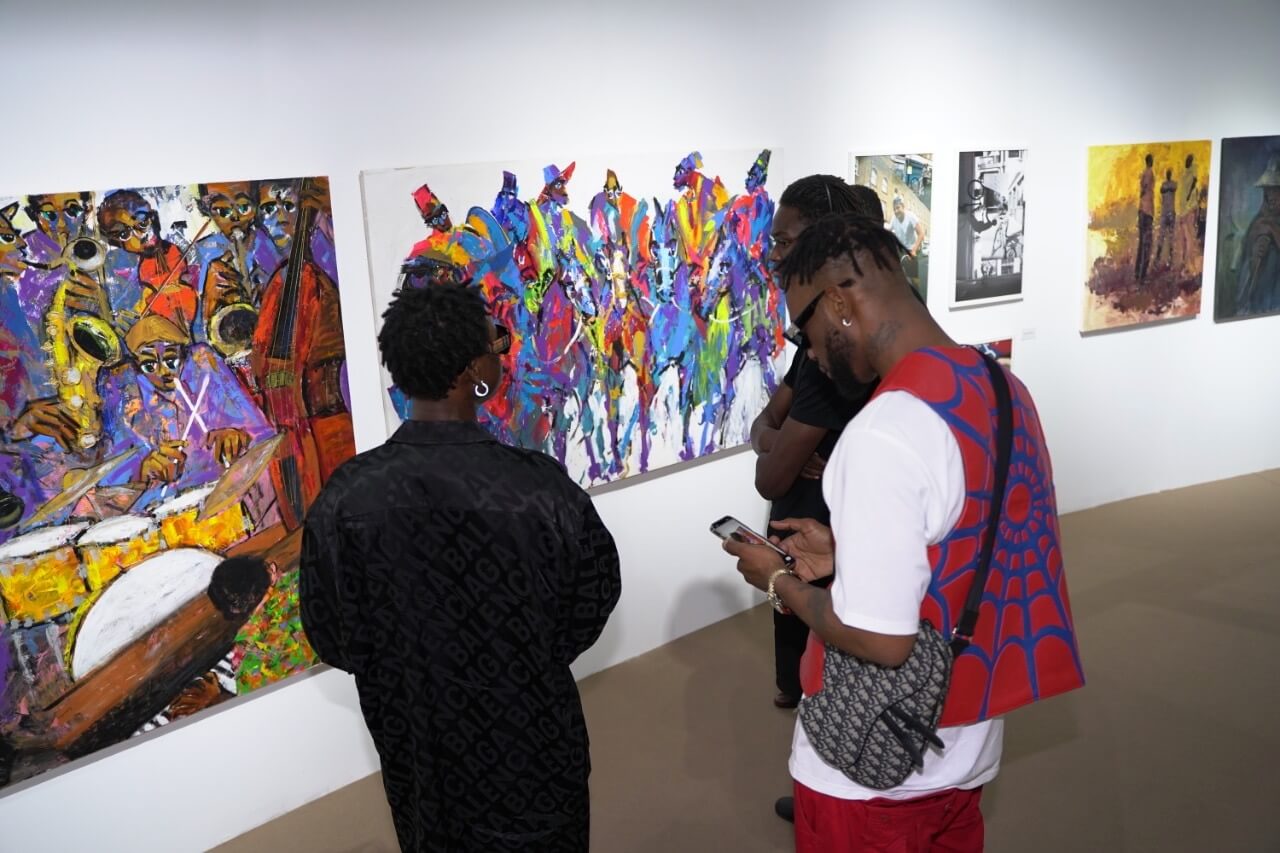 The team behind the spectacle
Nina made a conscious decision to have more diversity and inclusivity in the planning committee to represent all aspects of the African heritage properly. "I've already mentioned Kai and Delroy. We also have William Stenhouse, African American from the UAE Africa Networking Group. We have Heath Baily, a teacher and a principal in Dubai. We have Joe Osawaye, the founder and CEO of Kiza, the biggest Pan African restaurant in Dubai. We have Yvonne Mtengwa from Travel Essence Magazine, a PR expert from Zimbabwe. We have Mayowa Adegoke, a channel correspondent for Channels Television from Nigeria. My life partner, Tim Olatoke, runs Ojamea.com, which is a Pan African online marketplace, one of the biggest in the UAE. We have someone representing Egypt as well. Thus, we are making efforts to bring diverse perspectives to the table, representing all varied cultures of Africa."
Nina also speaks highly of her partner VM, who has been a constant, unflinching support that Nina needed to bring AAF to fruition. "She is one of the most incredible women I have ever met. When it came to setting up the All Africa Festival, she was one of the first people I called to tell me exactly what was going on and what my visions were. And in that moment, after knowing me for barely six months and a handful of conversations, she said, 'Nina, I'm in this with you'. And from that moment on, she has come onboard from not just an advisory perspective, but in all aspects, supporting every step of the way for us to be able to deliver this dream."

Nina is committed to making AAF unique in its identity and a completely family-oriented festival, a rare feat in the festival circuit. "We are the only non-alcohol festival that celebrates African culture in the UAE, and we've done that intentionally because we want to open this to a wider remit of people. Last year, of the 12,000 attendees, 44% were of Middle Eastern backgrounds. Only 33% identified themselves as African. That's because we want to share the culture, narrative, and everything else, not just with the African diaspora but with people of the whole world."
AAF is far from being a profit-driven gambit for Nina; it is an assertion of her heritage and her rich and complex identity. "This is not a money-making venture, nor is it a recipe for popularity. It's really about expanding knowledge, expanding areas of synergy, and building bridges of understanding."
The 2022 festival spans from the 28th to the 30th of October. Follow them on their social media, @allafricafestival, for all the exciting updates, artist lineup, and this wholesome and epic celebration of Africa.

Nina has worked in a number of illustrious organizations, where her expertise and ability to bring people together, leaving their differences aside, has served the companies in not only maintaining employee satisfaction but also meeting their DEI initiatives. Of course, no position has been as close to her heart as her current work with BDP International (logistics solutions company), which understands and wholeheartedly supports her work towards the All Africa festival.
"When I joined BDP, my role had never existed in the organization. It was really the first time a senior HR leader had held the role, based out of Dubai, looking after Europe, the Middle East, and Africa. It was a position to build the HR strategy first from a regional perspective, and then from a global perspective." Every opportunity is a risk, but with this leap, Nina truly found herself home in an organization and has made lifelong friends here. "The kind of support I get from my organization for the All Africa Festival, people can't believe it. Last year, I got promoted to the global vice president for diversity, equity, and inclusion globally, in addition to my role. Part of the reason for that promotion was my work towards the All Africa Festival." To Nina, her progress is a testament to what corporations can achieve when they create space for people to bring their authentic selves to work.
To BDP, the All Africa Festival is an emblem of Nina's passion, relating strongly to her identity as well as her pledge to improve DEI at work. As she puts it, "I think what makes it less clashing is that the All Africa Festival really touches on diversity, equity, and inclusion. That is a big part of my role within BDP, rolling out our DEI strategy globally. So because there is a natural synergy between those two, and both touch my passion fire most of the time, it doesn't feel like work. The support from my boss Marcia Lyssy, CHRO BDP International and leaders within the organization has been phenomenal."
The woman behind the plan
Nina reflects, "I think I'm constantly working on my identity. My aim to have an impact on people around me transcends my background and transcends my race. From a racial perspective, I definitely see myself as a strong black African woman, but my identity is focused more on what I do as a human – How much empathy do I have? How do I support the people around me? How do I have a broader impact while still remaining my authentic self? I never want to walk into a room and have to put on a mask that is so far from who I am that I lose myself in the process. I consider myself a dream chasing, an accountability-enabling person that tries to see the best in everyone and just wants to make a difference."

Nina attributes her fastidious work ethic and the many challenges she takes on to the strength and support lent by her family. Her husband, Tim Olatoke, whom she met when they were in university, is her rock. She remembers, "Two and a half weeks ago, I had to be away on a business trip, which was so packed that I wouldn't be able to do much from an AAF perspective. My husband stepped in and picked everything up while running his company. So I always have his valuable support."
Of course, for her kids, the AAF is a joyous and enthusiastic event where they get to chip in with the 'behind the scenes' stuff, get into the swing of preparations and meet the famous and uber-cool artists who form the performance lineup.
Ultimately, for Nina, there is one thing that she wants someone like a little African kid to take away when he sees the pomp and festivities at the All Africa Festival. PRIDE.
"I want that little kid to stand on the AAF grounds with either or both parents, watch someone like Boubou Design paint on stage and the stellar artists playing music, and see the talents coming out of Africa while the Burj Khalifa lights up behind them. I want that child to look at that and say how proud they are. That they are part of this amazing culture of talented people celebrated at the highest level in the most premium location in Dubai and feel confident in having such a community around them. That's what I would want the child to feel. Pride, in who they are, where they come from."