Born and raised in Qatar in his early years, Samir Geepee had a nomadic life where he was constantly moving between cities for schooling, higher education and later for work. The longest he has been in any place is China, where he lived for eight years between 2006 and 2014.
From China, it was Dubai for a year, then Doha the next year, till Dubai pulled him back and he has been here since 2016, hoping to break his China record. "Unless I plan to move out again," he mutters with a sheepish grin, not knowing what will get him to pack his bag and baggage out of UAE.
"I feel like I need to travel. I need to meet new people, gather new experiences. And I believe this has allowed me to shape my thoughts, to have new ideas that have made me into who I am today," he says feeling blessed that he has been able to move without getting stuck or bounded to any one place.
The shifts weren't only with the places he lived in; he has been into a lot of different careers as well. Right after finishing engineering from the National Institute of Technology, Calicut in 1999, and a year after working as a Site Engineer in a consultancy company, he got into the business of 'framing' where people brought their artworks, paintings and memorabilia to be encased. Samir would happily cut out the glass and the wooden sticks and put it all together.
"It was very artistic. I still enjoy the process of creating to this day, where I am constantly looking to craft something new and once done, I'm scurrying to build the next product." This he solemnly admits is also a challenge he faces.
"I'm learning to slow down and focus on taking things further ahead in the creative process to include mass adoption" He has designed a planner that comes with ten tutorial videos and a workshop, on how best to make use of it. Available on Amazon, Samir knows that he could do so much more to promote this one-of-a-kind planner that is called Awesome Planner. "I have just put it up there hoping that people who are passionate about productivity will discover it.," he sighs with a hint of guilt.
Done with 'framing', he set up a business in China, with offices in Hong Kong and Yiwu, where people reached out to him for product sourcing, buying and the logistics as well. He learnt to speak Chinese in the bargain too. Finding himself caught in the repetitive web, with nothing new and exciting to challenge him, he woke up one day with the question, "What am I doing here. What's the point?" And he just wrapped it all up.
Samir was at the time the President of both the Indian Association and the Malayali Association in Guangzhou. He called up the community people, sold his company, let his friends take whatever they found of use from his home. All he packed away were his books to be shipped.  Within two weeks he moved to Dubai.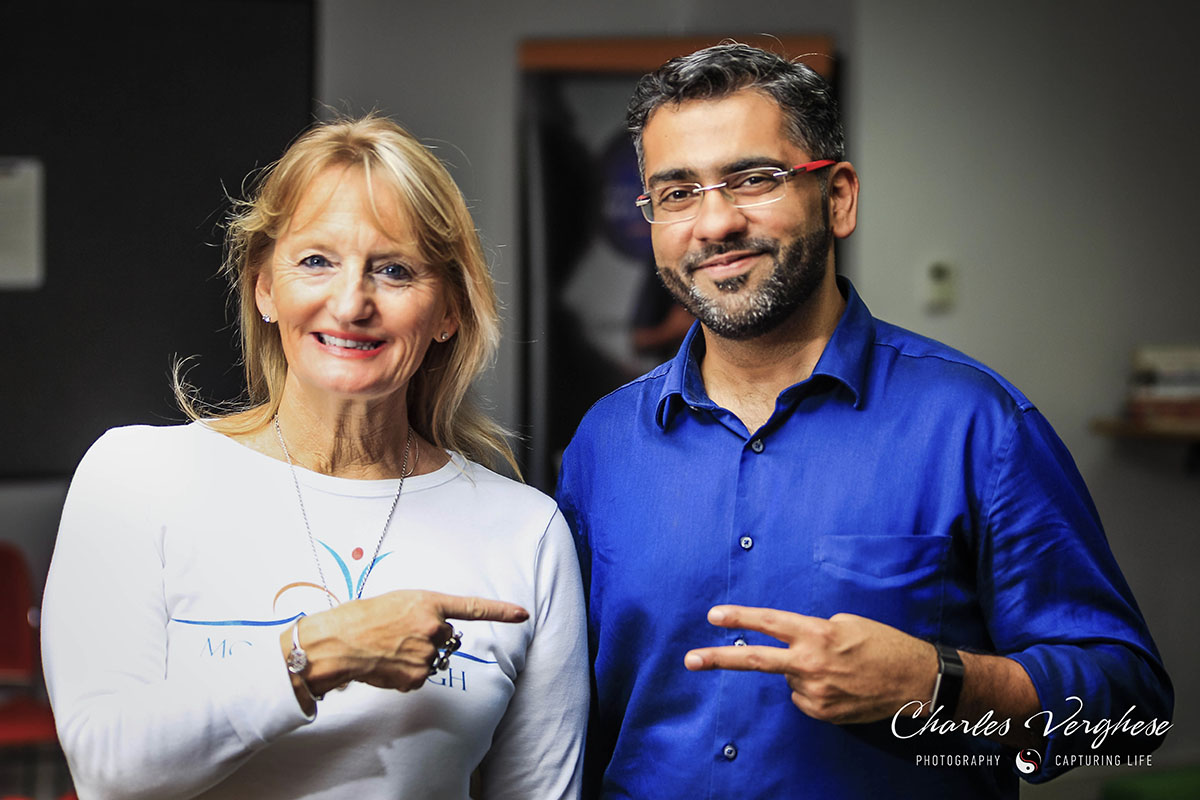 "I never thought I would come back to the Middle East," he says. But when he looked at the entire world map and had the opportunity to go anywhere in the world, Dubai had a comforting liveliness to it.
After a year of exploring the real estate market in Dubai, he moved to Doha, Qatar to test his taste for the food and hospitality industry. He was hired as VP for a food brand and within a year realized that selling tea was not his cup of tea. So he came back to Dubai.
Amidst all of this dabbling between places and professions, he discovered the world of NLP. "I did an NLP coaching programme, and it felt like I was born to do this." He recalls sitting in class, learning the tools and techniques when the guy he is practicing an NLP modality with has a breakthrough. Samir was stumped that this came so naturally to him.
He advises, "When people tell you that you are good at something, then you have to ask yourself – Is this in my blind spot? Is it something that I'm not aware of? Is it something that I'm leveraging and using to my advantage?" This he says has been his greatest learning and lesson.
To bring more focus to the point, he shared that one of the most profound feedbacks he received was that job positions he was offered wasn't for his technical skills; instead what they saw in him were his people skills and how he related with associates."I was made aware of this for the first time in 2005 when I was being hired for a real estate company back in India."
He also cautions us that when someone points out our strengths and the good in us, and we brush it off, or if we don't acknowledge and accept it; then we miss the plot. He is convinced that only when one starts becoming more mindful about their strengths, is when one can start getting better at it.
Sharing his learnt wisdom, he says, "When you know what you're naturally gifted and good at, and ask yourself how I can harness this, that's when your life goes through a transformative shift, and you experience an upward swing."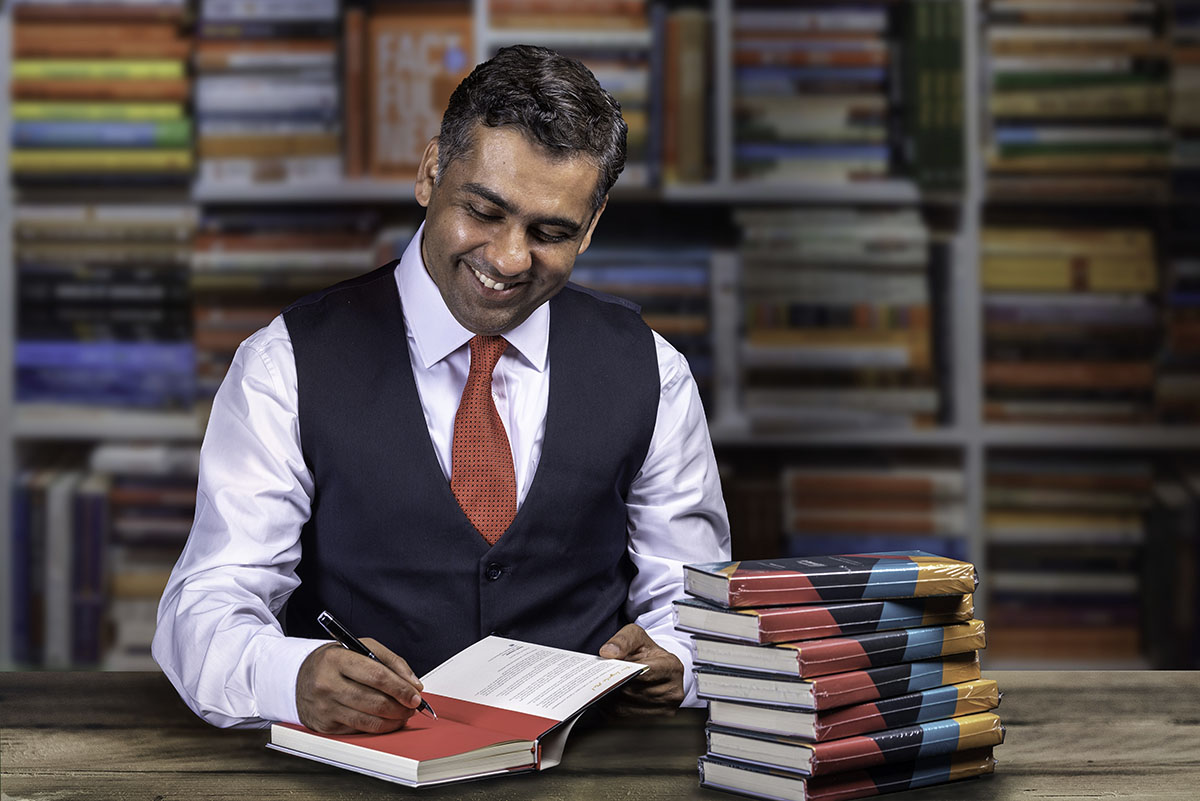 The Start Of Everything Awesome
Samir is naturally gifted at the art of holding conversations. Inspired by the Mindvalley workplace in Malaysia, he fitted his JLT office with bean bags, threw in some cushiony rugs and invited a few of his close friends to have a dialogue where he spoke to one person, and the others listened.
With no formal structure in mind, he began doing what he did best. He did not want it to be formal as that meant preparation, research and getting to know all their history. "I am not that kind of a person. I want to be chilled and be having a good time conversing, that's all," he states casually.
Adding to this: "I love people who walk their talk while doing it with a huge scoop of awesomeness." And so, on the 17th of July 2017, 'Awesome Walkers' had its first spectacle. The people loved the simple, easy and engaging format. His friends were of the opinion that he should host this once a month, but Samir being Samir, realized that his whole intention was to meet interesting people to converse with and decided to host it every week.
"I started seeing the impact on the speakers. Most of them would say they have never been asked that question before, or they would be sitting there and answering a question with tears in their eyes," he said, getting a bit emotional himself.

The guests admitted having never been able to open up and be vulnerable in a crowd on certain topics before. What was happening that made them feel they're able to open up easily?
Samir says that when he asks a question, he does it from a space of self-learning where he is attempting to peel layers to understand things better. He replays an incident where he had an RJ (radio-jockey) as his guest, who had recently graduated in Mass Communication. "She only knew that she loved to talk and she had to figure out something around that," he narrates. Recalling further he says that she had no clue where to apply and where to start about; just then she heard an audition call on the radio and went for a sound test. They found her interesting, and she landed a job she loves.
"Whilst she was narrating, I asked myself, what is it that I love so much that I will do it with joy every single day? And I realized it is conversations." That is how a 'Conversationalist' came into being.
As the weeks progressed, Samir began to see a difference between communication and conversation. "There's a clear distinction. Effective communication is a sum of several important parts, not simply words spoken or sounds heard. Talking is opening our mouths and letting the words flow… Conversation is an exchange of words, while communication is the transformation of thoughts and words into meaningful action", he enlightens us.
From then on, he minutely observed every interaction he had and assimilated pointers from his tête-á-tête that he could package as a tool to offer people. This tool they could apply and improve the quality of their conversations, and consequently their relationships, and also their life. The result came in the shape of a book titled 'Awesome Cup'.
"The book is 18 years into the making," he says. The story idea for the book came from the recent two-day school reunion that he attended with his friends from 20 years ago, but the central takeaway is what he wrote on a piece of paper that still resonates with him till this day. "What was missing then was a structure, a platform, a setting that all came together in bits and pieces over these 18 years ending up as this wonderful book," he continues with a sense of pride and accomplishment.
Coaching Corporates and Young Minds
Having this unique gift of crafting deep conversations that binds people into a unit, Samir saw it missing in team cultures and offered his services to companies for forging stronger teams. It worked.
"Issue is, people have superficial talks, not deep exchanges. One conversation can change everything. When you have opened the doors of your heart and your mind to
somebody in the room, there is no going back."
All he does is create a safe space where participants are able to share sometimes what they have never shared before. That does the magic. When he goes back a second or a third time people jokingly retort they don't want to talk to him. "We don't know what we will divulge," they tell him with a guffaw.
Emphasizing on the power of these team conversations which led to one of the participants being able to express how she was sexually abused as a child, he tells us, "The liberation was there for all to feel." This "painful secret" which she had never disclosed to anyone ever before, when vocalized had a profound impact upon herself and therefore on the team interactions after that day.
Another time, one girl admitted an attempt at suicide which she had made a couple of months ago. Her colleagues just stood up, went up to her, hugged her and let her know that she is not alone anymore.
"You can't make up these stories… and when this happens, the dynamics of the group changes completely. Once you are in that space of love, gratitude and affection; it feels like a gift," he says, feeling thankful for the work he does.
Having undergone no formal training or any certification for becoming a Conversationalist, Samir says that there is no process he follows and has only one way to explain how he does it: "When you're your truest, most authentic self, the divinity works through you."
'Young Leaders Mastermind' (YLM) is his other program specially designed for youngsters between the age of 12 to 21 years. A unique twelve month-long program as opposed to a quick 4 or 8 week bootcamp, the group meets every week over a year. Each month the focus is on a different life-skill, and each week, the kids go into a deeper understanding of each of these skills.
The YLM program includes twelve months and twelve themes such as Goal Setting, Productivity & Habits, Creativity, Finance, Health… and towards the end is Community Contribution. Quite sad that he wasn't taught these essentials when he was a boy, he wants kids to learn these useful skills and philosophies, so that it steadily gets ingrained in them as they practice it with each other by way of a buddy-support system.
A father to two young boys himself, one can sense the value he wants to bring to the juveniles that will be priceless for them moving forward in life.

The last time he ever got into a fight was in grade eight in boarding school when he got into an argument with the boy seated beside him at the dinner table. The argument turned into a fight, and the next moment everyone around them started cheering on to "make it a real fight."
Beds were laid in the middle of the dormitory as a make-shift boxing ring, and the real fight began. "There were no rules. It was like MMA (mixed martial arts) where you can do anything you want."
Samir caught hold of the boy's neck, pushed him against one of the walls and almost choked the fella to near death. The others had to pull them apart literally.
"There is an animal in each one of us, if not tamed, then it is easy to get out of control. I promised myself that day that I would be a 'Nice Guy'," he grins from ear to ear.
His big dream is to have his talk show, the likes of Oprah Winfrey and David Letterman. "Either on Netflix or Amazon Prime, it doesn't matter which one!" he clarifies as he also fills us in with his project in the pipeline: a Podcast for Turning Point (the weekly online meetup he started during the pandemic), Awesome Walkers and his next book.
"I don't know if the new book will take another 18 years; I will let the process do its work. When you just let it be a labour of love, the result is always something very phenomenal," he ends our conversation leaving me with a lot to ponder upon.